September 7, 2016.. iPhone 7 came out. Check out if iPhone 7 Sucks or it doesn't!
In March 2016, Apple announced its big quarter earning estimated over $75 billion which proved that iPhone was still fooling people like no other phone after the company lost it track after Steve Jobs. This article has those few reasons why Apple's iPhone Sucks; enough to make you agree – that it does suck.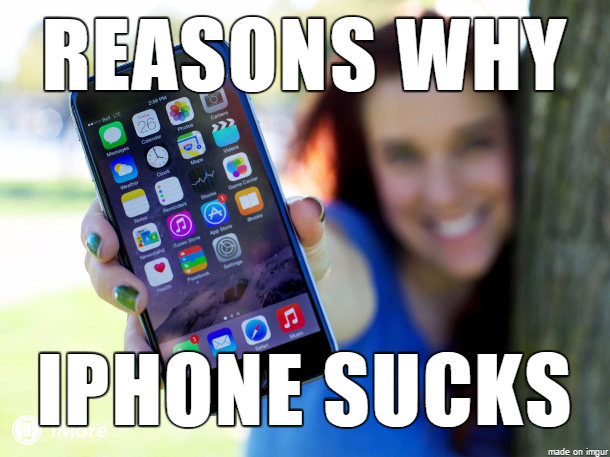 Before we start, let's catch up with some facts and stuff I found on the internet. Please don't get offended, it's just to add a comic element to this article. Though I have a lot to say to hurt Apple Fan Boys.
Did you know the average IQ of an iPhone user is 119? 
There were times when iPhone used to be the best in the market. I personally still believe that iOS is the best operating system a Smartphone can ever have! Earlier, with every phone, they released they had a point. But the new iPhones are pointless ( and now jack-less 😛 ). The almost same old UI and not much has changed on the phone since then. If you are an Apple fan, we do not intend to hurt you, but this post may contain some offensive text. Of course, the iPhone 6 had new body design, better processing, and better display but the phone still didn't leave a mark. Well, let's see why you should not buy an iPhone.