Before the Internet was even a glint in Tim Berners-Lee's eye, gambling was big business. Most gambling was on a local level, although some resorts built an entire tourist industry around it. Once the Internet reached a certain point of usability a few of the bigger brands in gambling dipped their toes into the waters of the digital lake. The sites didn't offer much variety, and by today's standards wouldn't even be acceptable on even the oldest of smartphones.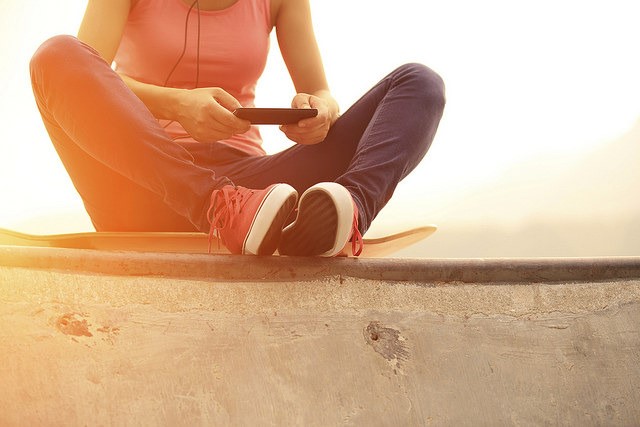 'woman skateboarder at skate park' – verkeorg via flickr (CC BY-SA 2.0)
Fast forward a couple of decades and most of the same brands now see their digital presence as one of the most important facets of their business. It's perhaps not surprising so many online casinos are investing in developing their apps as if the current upwards trend continues then projections expect global online gambling revenue to reach close to £75 billion in the next 8 years.
Everybody eventually folds to demand
Even Google, who up until recently always took a hard line on real money gambling apps being offered through their Play Store, are testing the waters in certain regions. Successful implementation in these regions will inevitably lead to a global shift.
With Android currently being the biggest OS used in smartphones, and the Play Store being the majority of users' favourite way to download apps, this policy shift will increase the iGaming publishers' visibility among Android users considerably.
In order to offer their app through Google's Play Store operators are going to need to provide all the required licensing for the region. This means that using the Play Store to find your app offers a degree of security, as you will know the casino meets all its legal requirements.
What advancements in tech have facilitated this growth?
The speed and capabilities of modern devices have undoubtedly allowed casino operators to become more creative. The games are more engaging, run faster and are playable on virtually every device. The variety of games has increased and the graphics on slot games are comparable to real life digital slots in a physical casino.
Another boost to the iGaming industry was the ability to live stream video. This allows users to experience the closest thing to being in a physical casino while sitting at home. A real-time dealer who interacts with users added a much-needed human touch to the table games.
Advancements in security have the reduced the time between clicking on a site or app and playing your chosen game. Advancements in the smartphone market have further fuelled the expansion of iGaming, making it accessible virtually anywhere you go. These developments alone didn't create the growth. It was the industry embracing technological advancements that really moved the goalposts.
What differentiates online casino apps?
While many iGaming casinos will offer some of the same games, a lot develop exclusive games that are unique to their app and that are constantly pushing the boundaries of the industry. The depth and density of the online casino market mean that games developers are in constant competition to offer the best value, offers and indeed the best games. Indeed, the casino game playing apps themselves are not the only ones useful to iGamers, with gambling affiliate Oddschecker showcasing bonus offers and spins as well as up-to-the-minute odds news through their own app.
Where will tech take iGaming from here?
With competition for users growing ever stronger we would expect to see iGaming publishers continuing their investment in innovative new ways to create a better experience for the gambling community. Virtual reality and augmented reality will definitely play a role. If live video streaming provided a boost for iGaming, then virtual or augmented reality has the potential to become the biggest single game changer for online gambling.
The introduction of Oculus Rift and Samsung Gear are already bringing basic VR capabilities into homes. So many industries can see potential uses and areas of expansion for this technology that investment will be high and development will be quick.
While in the longer-term the casinos will end up with similar tech across the board, the first to successfully implement a new experience for users will have a monopoly on the market for a short time while other developers play catch-up. This will be worth billions of pounds.