Let's say, you diligently exercise your creativity and work from home. You are engaged in handmade crafts and sometimes sell your greeting cards, scented candles or beads jewelry at a rare outdoor event, competing with other vendors. Why not sell your creations online? We hope you'll immediately come to this idea after looking at best WordPress themes for business. Today it's time to get a clear-cut idea of how responsive WordPress templates help in promoting home based business ideas.
How Small Business Can Benefit From a Ready-Made Theme
If you are engaged in handmade business, you know how difficult it is to find customers. Having a website helps you solve this problem effortlessly and sell your original creations online.
The idea of creating your own website is easily attainable if you resolve to ready-made templates. First, this step doesn't demand too much time and money. Instead of spending 1-2 thousand dollars on a custom site, you invest only about 100$. But still, you get terrific design and powerful functionality tailored for your niche without needless elements.
Second, you spend only some time on installation and being acquainted with possibilities of the intuitive admin panel. Good news: you don't have to acquire any programming skills or be into coding. The widgets and plugins of templates are very easily tuned and you perform the customization of the site in an admin-friendly interface by dragging-and-dropping various elemThe skills you get mastering the site are precious: you won't need to hire an administrator to change the layout or add a text or a video.
Third, you can get more creative and actually customize the website to your taste. Your website will acquire a unique look and individuality. The templates are truly flexible and a set of terrific tools help you create eye-catching websites for any purpose.
Fourth, ready-made themes use a terrific responsive design that means they adapt well to any device screen. Most of the themes are retina ready and look great on high-resolution screens and within most website browsers. Ready-made themes are usually SEO-optimized and work right for your high sales.
You can choose a theme with a content managing system which suits your needs. If you are a novice to the sphere, WordPress theme will be proper, as adding any kind of content is extremely easy convenient within this framework. You also can choose some e-Commerce website templates (based on Magenta, OpenCart, PrestaShop CMS) that lets you sell directly from your website and allows creating several online stores. Moreover, some convenient modules can make your products buyable on the social networks and online markets.
So let's look at some sweet ideas for your handmade business which will satisfy anybody's needs and taste.
Moon Flower – Flower Shop WordPress Theme
This beautifully crafted responsive theme with clean layouts will reflect all the fairness of your florist business. You can insert all kinds of information into ready information blocks Our Team, Portfolio, Projects, Testimonials pages etc. On top of that, the template is easily customized and you can fine-tune the navigation, layout, and the style to your liking.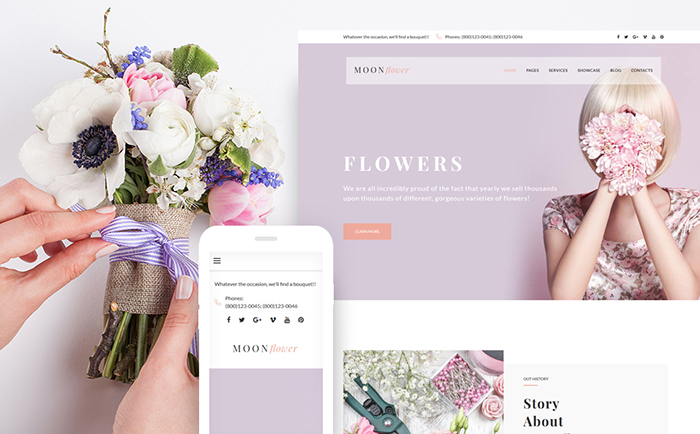 Amaryllis – Flower Shop WooCommerce Theme
Meet one more flower shop theme with powerful WooCommerce plugin allowing you to sell you bouquets online. Its responsive design, SEO-optimization, fast performance and rich functionality make it indispensable for small home business. The theme comes with high flexibility which allows you to change the styles, palette, layout and fully customize it to your needs.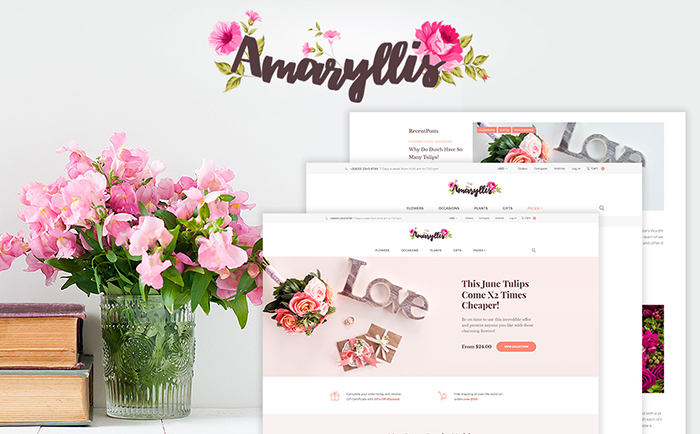 Handmade Charlotte
Have a look at this a blog about handmade business, DIY crafts, recipes, and ideas for a creative family living. Its user-friendly navigation, classical layout, responsive design attract loyal readers daily. There readers find social options and enjoy following the blog on the social media!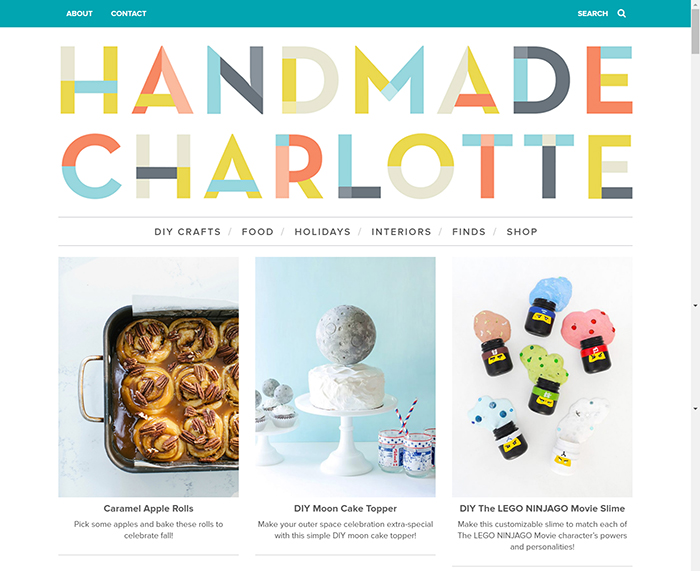 SmileHerbic PrestaShop Theme
If you are into growing organic herbs, spices, teas, this responsive template fit most efficiently into the nice. You can create your own style of the website, choosing from 3 pre-made layouts, tons of exclusive TM modules, create a menu of any complexity and much more. The template is packed with all the functions on an online store, well-documented and compatible with most browsers.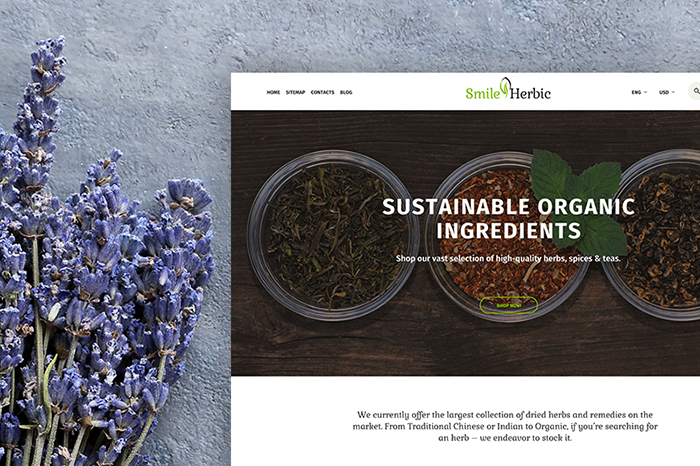 Tm Francy WooCommerce Theme
This eye-pleasing responsive theme with strong WooCommerce plugin will allow you sell whatever beauty products you produce. Quick installation, rich documentation, and friendly support let you create a thriving online store on the fly. You can modify the style, layout, content modules to your taste with the help of powerful customization toolkit.
Homespun – Modern Handmade
Enjoy this site with a full-size header with slider that highlights handmade and locally-crafted goods. It has online store functionality, a blog, eye-catching vintage typography and a handy calendar to follow main events. Mind how social options, a Google map, the handy search and the contact forms make the navigation smooth and pleasing.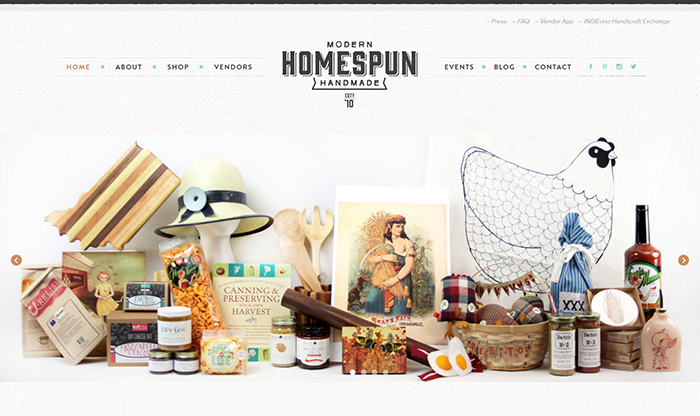 Deluxe Card – Special Occasion Cards Store Magento Theme
Show off your own artistic talents and sell your holidays handmade cards in an online store created on the basis of this Magenta responsive template. It allows creating several online stores that you can run from a single admin panel. The theme goes with attention-grabbing UI elements, sorting options, TM Ajax search, animated banners that make purchasing process easy and enjoyable.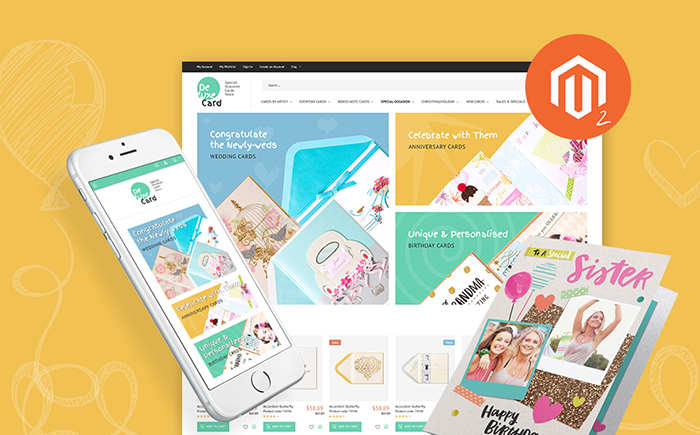 Cosmetics Store Responsive VirtueMart Template
If you want to sell cosmetic products online, this template with gorgeous design will do all the work for you! Multiple currencies support and smooth purchasing process, fantastic options to display the products will attract most sophisticated clients. Moreover, the theme is very flexible will all necessary tools for customization.
Jennifer Lauren Handmade Store
This website with full-width header slider demonstrates all possibilities of online store if you created a line of dresses or other clothing items to sell online. The clean design, easy navigation, simple classical layout draws maximum attention to the items on sale. The overall purchase takes no more than several clicks, which is very timesaving and convenient.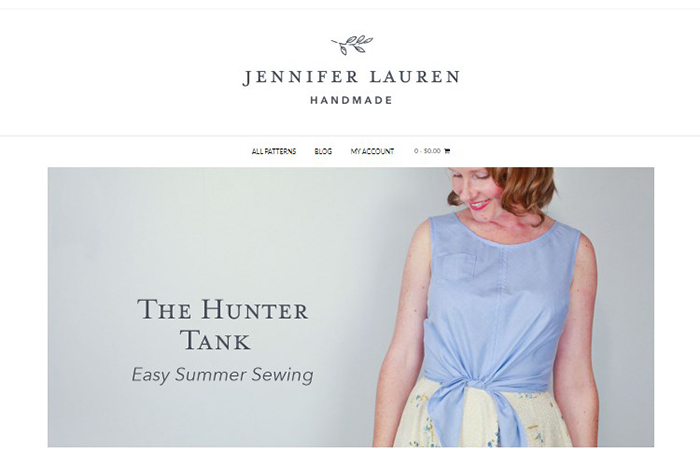 Agrilloc – Natural Products Store Responsive OpenCart Template
This responsive e-commerce theme is tailored to organic food niche. It is ready to be translated into different languages and supports many currencies. You will highlight natural products with eye-catching website slider and the visitor can view the products in many sorting options.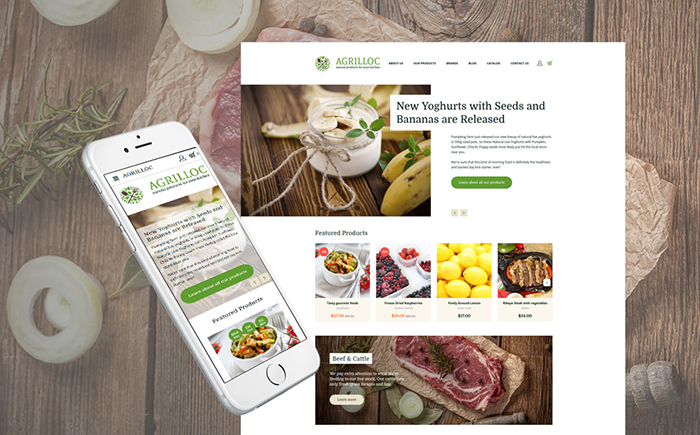 Handmade Toledo
Make note of this handmade-oriented website with extended blogging options. It doesn't use excessive distracting element and its clear design with classical layouts and rich typography makes it very readable. Sticky menu with clear structure make the navigation simple and the social option with subscribe button let the readers follow them effortlessly.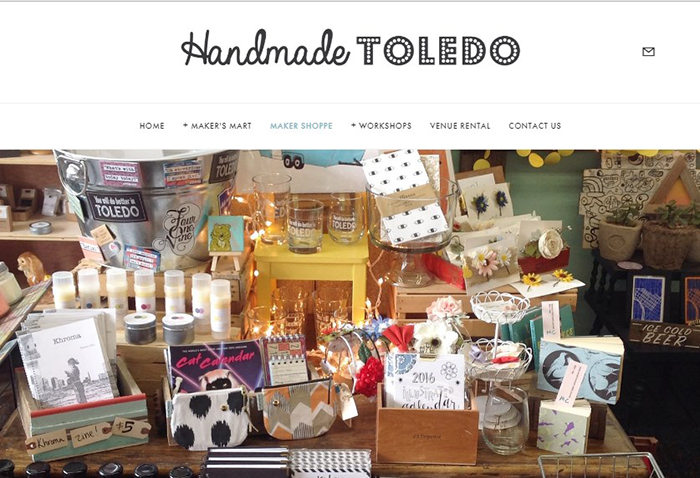 Jewelsado PrestaShop Theme
Choose this PrestaShop responsive template with top-notch TM modules to succeed in an online selling. You will manage your jewelry or any other kind of shop in the intuitive dashboard and your client will enjoy the smooth purchasing process. The theme is cross-browser compatible and goes with detailed documentation and technical support.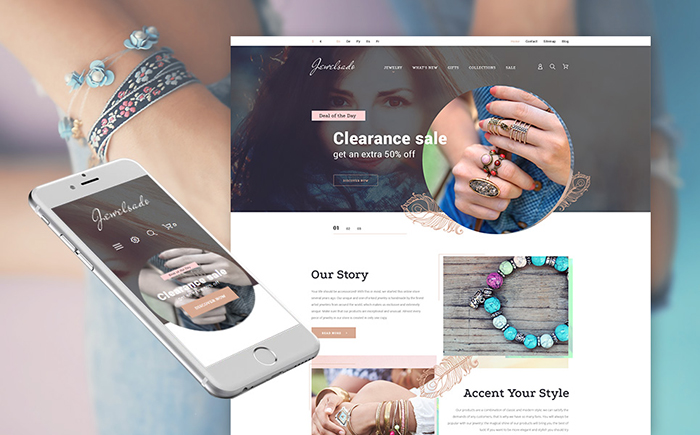 Spice Shop – Seasonings and Herbs Store Responsive Magento Theme
Promote you seasoning and herbs on the web and sell them successfully using this flexible Magento theme with a pack of extremely useful TM modules. Your visitors reliably get safe and smooth purchasing experience along with engaging browsing experience as the theme goes with an awesome Parallax effect. The product carousel, multiple badges, and banners provide you with catchy presentation of products.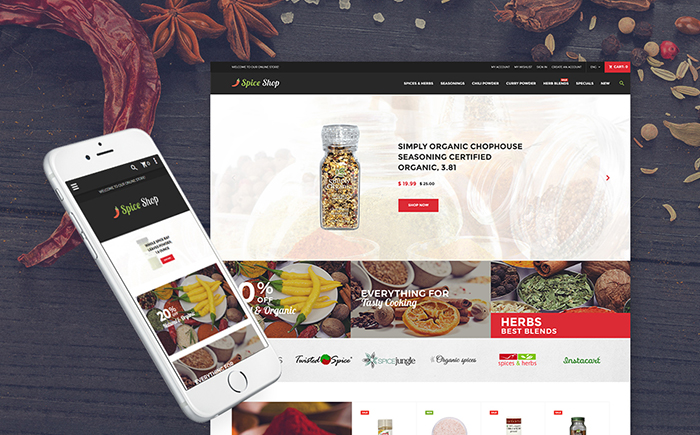 Denton Independent – Maker Exchange
Set your eyes on this cozy website with minimalistic design yet effective handmade promotion decisions. Big images draw attention to workshops and the gallery effectively displays local makers. There is a blog to read and social options to follow your favourite garmentmakers on social media.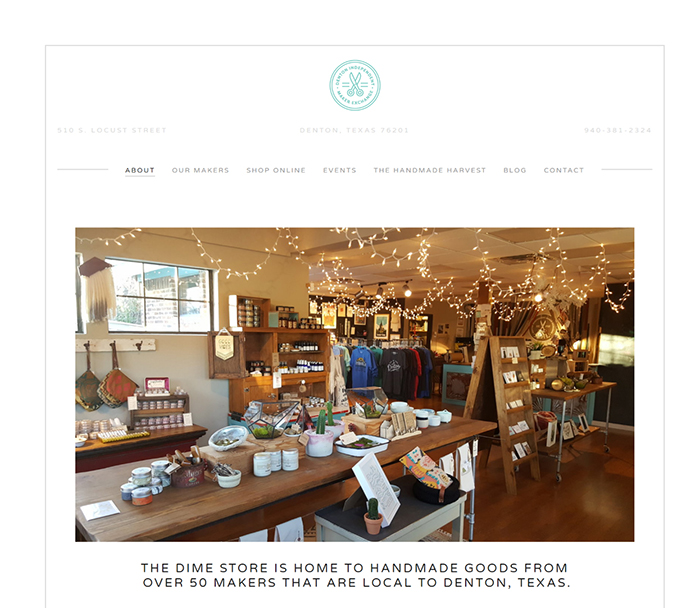 Sweet Shop Responsive Shopify Theme
The mouthwatering design of this top-notch responsive template has benefits for promoting your homemade sweets. Being built with Bootstrap, this theme boasts retina ready design and limitless opportunities for customization. It allows payments with different currencies and goes with multiple language support.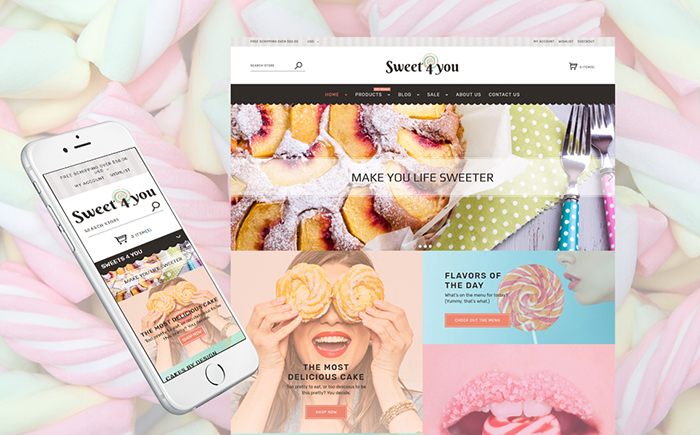 Alleando – Decor Accessories Responsive PrestaShop Theme
Sell your handmade products online with this vivid eCommerce theme with engaging Parallax effect. It goes with a wide selection of design elements, TM commercial modules, and specific-purpose pages. It goes with a blog, an online chat to help your clients and multiple forms will facilitate your interaction with them.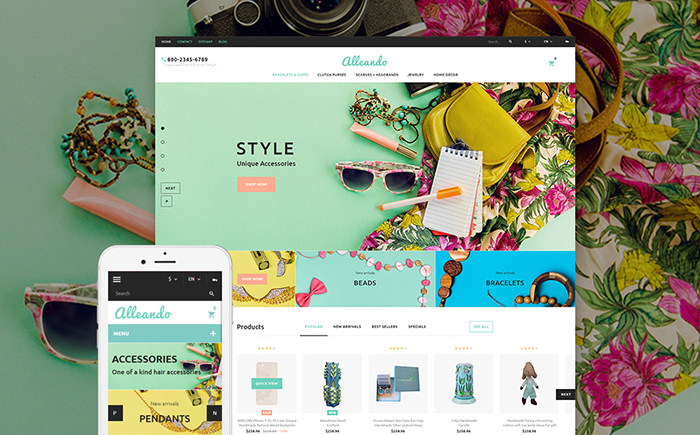 Handmade Canberra
Enjoy the delicacy of this design and the functionality of the Australian handmade market website! Pay attention how sticky laconic menu and handy contact form add to user-friendly navigation. The display of services in a stylish gallery and a big slider say more than thousand words. The embedded video makes the website dynamic and the browsing experience very engaging.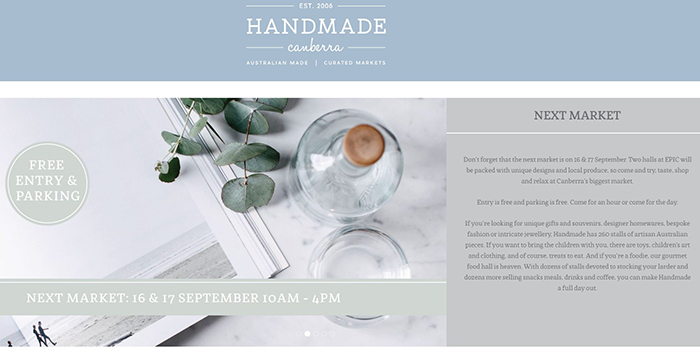 FloraFest – Flower Shop Responsive Magento Theme
Your floristic business will undoubtedly benefit from this responsive theme built on the e-commerce platform. The powerful web slider will showcase your works in the best possible way, and will create beautifully customized menus for your site with MegaMenu plugin. The theme is equipped with multiple modules for advanced search and purchasing, a blog and pack of documentation.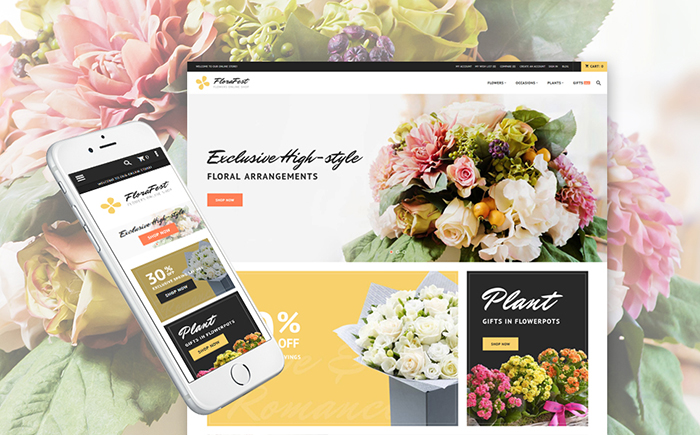 Flower Shop Responsive OpenCart Template
If you decide to choose the OpenCart platform for your flower shop, you will enjoy multi-tax and multilingual support. The terrific slider will showcase your best floral arrangements and posies, and multiple badges and banners will attract attention to special offers and sales. Online shoppers will take advantage of sorting options and Ajax advanced search.
Handmade Soap Company
You will love the exquisite clean design of the website selling handmade soap. The big slider and embedded engaging video do all the selling. Customers can choose the currency and effortlessly add the items they like to the cart. The social options work well to follow the manufacturer in the most convenient way.