How To Change KIK Display Name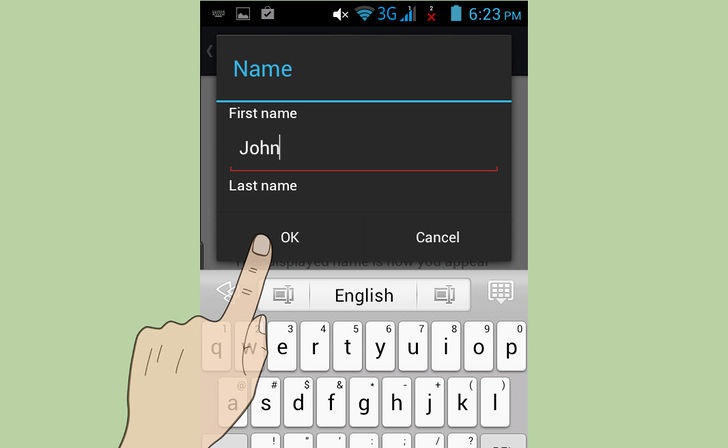 KIK is one of the top chat messengers in the world. Over 150 million users use this application daily to interact with friends. KIK has some premium features of chatting and stickers to be the top messenger.
One attractive part about KIK is the anonymous display name. While in other social messengers, you have to give your username. That username will be visible to the friends. While in the case of KIK, you have the power to keep your identity unknown. It offers options for both username and display name. You need to give both names. The best part is that only display name will be visible to your contacts. Your real name will be protected to yourself. This is a great feature offered by KIK!
Sometimes, we really want to hide our identities. We may not want to reveal our real names in the social chats. KIK is the best option to interact with people without revealing your real identity.
Here in this post, I will how you how to change the display name.
Kik Display Name
Users get confused between username and display name. The display name is the name which is visible to your folks. When you in conversation, that display name will appear in your friend's conversation with you! Same applies to your friend. This way, you can keep your identity unknown.
Well, the reasons for such confidentiality differ person to person. Sometimes, girls don't want to reveal identities but want to take part in social activities.
Recommended: how to bypass frp
Steps In Changing KIK Display Name
Well, there is not particular reason for changing the display name. Some really need to be creative or someone got married and want to change the display name. As said earlier, reason differs a lot.
So coming to the main part, here are the essential steps for changing the display name:
On the top side of KIK screen, there is a Settings gear icon.
Click on "Settings" and select "your Account".
In account menu, click on "Name".
Here you will find your current display name. A new window will pop up for making a new display name.
You need to enter the first and last name. Now simply press OK and you are done!
So, these are simple steps to change your KIK display name. You can change it as many times you want to!
Kik Display Name Generator
You can generate Kik Display name easily by filling a simple form which has you Name, Nickname, your Hobbies as required fields on this site: http://www.spinxo.com/kik-names
Cute Kik Display Names
Username Ideas for Kik Messenger
Usernames for Guys
Babble.Boy
Roger-on-the-run
Mischief-drawn
Candyphobia
ShinningStallion
DeanDude
Studmuffin
Guffawing-guy
Technophile
Airjockey18
Pegasus227
HowlingHawk
WizardyWheezes
Commando-Chuckles
Hobgoblin007
Suave-Sorceror
PapaSmurf
Thunder_Grinder
BayBailiwick
ToxicRooster
Usernames for Girls
GirlyGears
Sillypie292
Tinytwinkles
Cherub_cherry
PetitePearls
Periwinkle-Pixie
Gorgeoriffic
Flying_Pebbles
WaftingWaffles
SnazzyNinja
HoneyDewDreams
Old-laceVintage
DivaDoodles
FizzyFuchsia
CoralCute
Melting_Marshmallow
Honeybeans107
JellyJasmine
Divinely.Delicious
Preening-Beauty
Cool Kik Display Names
Pacific Paint
Swag Headlines
Naught Trends
Frozen Gas
Catchy Nails
Massive Vision
Punch Industry
Engaged Guilty
Dumb Subject
Crazy Focus
Absolutely Shine
Rabbit Jump
Leap Grave
Tango Tree
Cute Ownership
Delta Nights
Demon Dreams
Capri Crown
Tiny Force
Hulu Girl
Women Spin
Atlantic good looks
California Lionfish
Terror Coast
Pretty Law
Pandora Plug
Event Include
Incident Incomer
Occurrence Kent
Incident Serene
Incident Story
Laser Painter
Rare Raw
Mars Blue
Matrix Incident
Naylor Mysterious
Painter Activist
Painter Blue
Painter Crater
Painter Delight
Watercolorist Hurter
Painter Mysterious
Rigger Scoter
Painter Prank
Post Ghost
Sweet Blue
Peanut Looks
Butter Kiss
Positive Next
Foxy role
Career Train
Scratching Facts
Big Fart
Nice Mouth
Dirty Teeth
Dead Informed
Dino Turn
Serious Classification
Black Square
Crush Hunter
Northern Glory
Minor Leak
Nearly Effective
Whirlwind 18
Legislation Kara
Masterpiece Eyes
Infamous Freak
Strides Drink
Fantastic Fool
Ranging Ride
Overtaking Dupe
Aggressively Cool
Promo Punch
Snack Lips
Transplant Soul
Destination Blood
Stolen King
Proximity Pain
Passenger Plan
Sensor Glass
Concerns Line
Smash Fun
Affordable Love
Doodle Done
Rare Rips
Conflict Mentality
Rocking Profile
Blade Fart
Triple Sense
Drone Ground
Dracula Nurse
Nice Rider
Drafting Zeal
Flexible Look
Lawrence Legend
Cathy shore
About Blue
Objector Act
Activist Actuate
Protester Blue
Activist Cist
Beast Bow
Militant Exec
Activist Fully
Futuristic Precise
Activist Purist
Blue Activist
Red band
Blue Clue
Pink Flue
Bullion
Blue Mysterious
Blue Anna
Blur Blue
Borg Painter
Cent Incident
Cist Activist
Freaking Fun
Exec Incident
Fatter Painter
Fighter Ghost
Frog Painter
Ghost Activist
Specter cherub
Ghost Chilled
Spirit Ghoul
Idol Activist
Incest Incident
Confrontation Girl
Incident Activist
Episode Fix
Incident Ghost
Unique Fun
Weird Touch
Lost Granny
Momma Mist
Mango Ring
Also Read: 250+ Creative Bio for Instagram!