Find a suitable logo is an essential part of establishing a successful business. If you have a company with enormous assets, please do not hesitate to hire a professional designer to design a most suitable logo for your brand. Otherwise, if you run a small business and have a budget problem, please feel free to use DesignEvo logo maker to customize a proper logo yourself.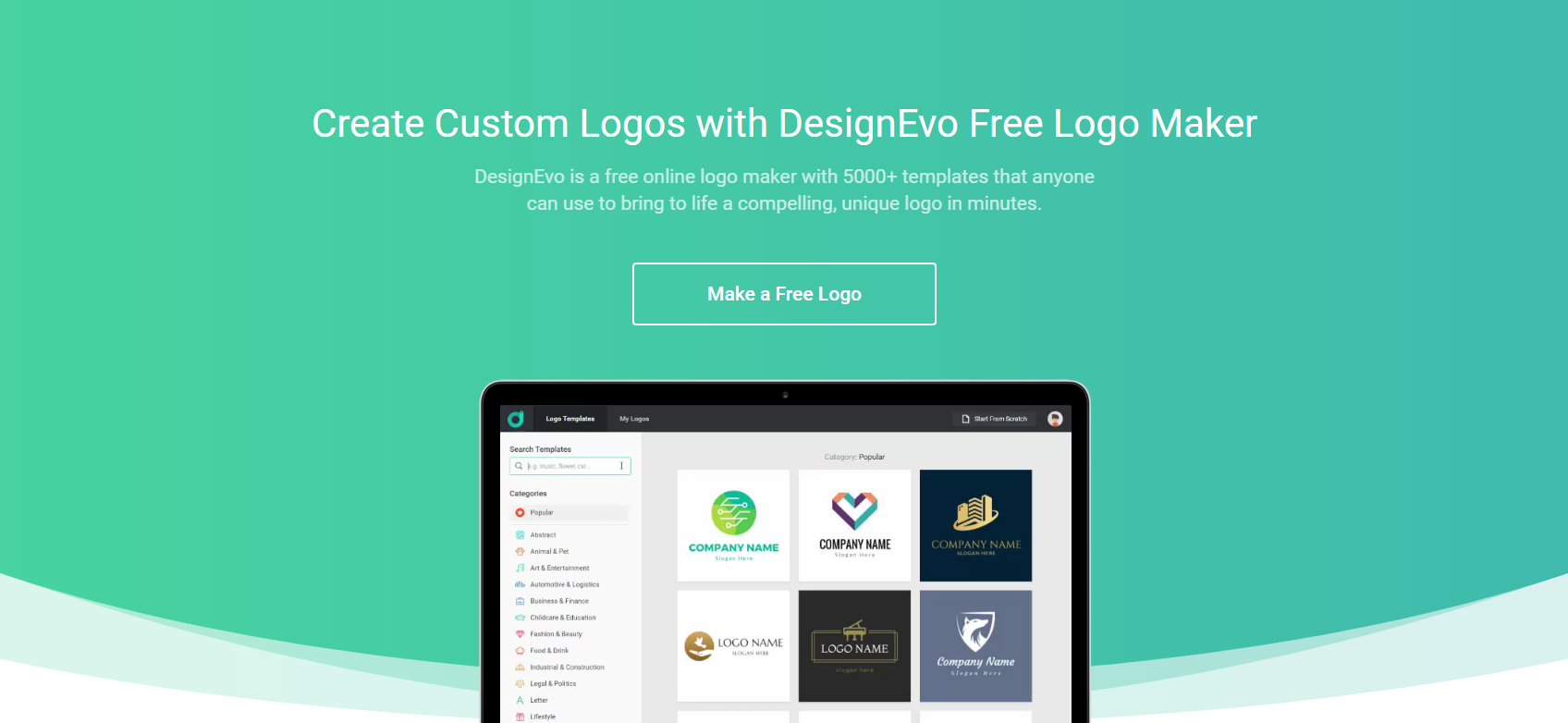 What is DesignEvo logo maker?
DesignEvo is a web-based logo maker that serves people who need logos. It offers resourceful features like 5,000+ well-designed logo templates, a large number of resources cover as icons, fonts and shapes, and powerful editing tools, which allow you to resize, rotate, layer management, duplicate, undo & redo, etc. DesignEvo logo maker has prepared everything you need to design a logo, so you don't need to worry about the professional skills or knowledge. Even if you are a newbie, you can entirely customize a beautiful logo easily.
Create a logo with DesignEvo in 3 steps:
First, choose from 5,000+ logo templates & millions of icons.
If you have no experience of creating a logo, please feel free to start your logo design from a delicate logo template or icon. DesignEvo logo maker has prepared more than 5,000 delicate logo templates with many kinds of themes and styles for you, which including animal & pet logos, makeup logos, gaming logos, sports & fitness logos, etc. No matter what you need, you will always find a right one there. As all of the templates are fully customizable, you can adjust every element at will to customize personal logo for your brand.
Apart from the well-designed templates, DesignEvo has also developed a resource library with millions of icons. On the editing page, you can search any keyword to find a preferred vector icon and use it to do your logo design. All the icons are vector graphics so you'll never worry about the quality.
Second, decorate the logo with hundreds of shapes and stylish fonts.
A complete logo need some decoration to make is unique. DesignEvo provides hundreds of different shapes for your logos, including banners, symbols, lines, solid & outlined shapes, badges and many beautiful graphics.
The stylish fonts can be important for an effective logo. After all, a unique company name can catch many more people's eyes. DesignEvo logo maker offers you classic and art fonts with hundreds of characteristic forms and styles for you to select. Just choose a favorite one to decorate your company name and slogan.
Finally, adjust the details & download.
DesignEvo develops powerful editing tools to allow you to rotate, click & drag, change colors, backgrounds, effects, layout and so on. What's more, DesignEvo enables you to preview your logo after finishing it. You can check your logo on a T-shirt, on a book cover, on a business card, on a wall, and so on to estimate if it is suitable for your purpose. Once there are some flaws you can redesign in no time.
There are three options when you download a logo: FREE package, BASIC package, and PLUS package. The latter two are paid choices, but there are many more features that you need. Choose a proper package for you, and you'll get your logo immediately.
Final Words
DesignEvo logo maker is developed for a large number of small businesses, startups, bloggers and many other people who need logos. All of the features and resources are free to use, so you can try to test it whenever you want. Besides, you can add some favorite logos to "my logos" to make it convenient for your logo design.
DeisgnEvo logo maker is waiting to serve you. Come to start your logo design journey now!