The world has been moving towards a completely online state of existence for a while now. Everyone saw it coming from a while ago, and most people even reacted just in time to get their business online and now sit reaping the rewards. Having a website in general is the least one can do for the overall growth of their business.
Doing so not only opens up the gate for various sources of income other than sales but also allows you to take your products to parts of the world where you could never have thought of marketing before.
Now us saying all this is all well and good but the actual process of getting a website up and running is actually a very long and arduous process. And not to mention that not all of us are Mark Zuckerberg's here to be able to visualise and create a working website in a couple of days.
Or are we?
Well, the service we're reviewing here today will surely make you feel like you're a technological genius, whereas in reality all you'd be doing is dragging and dropping UI elements and clicking a few buttons. All this to build up your dream website. Yes you read that right and no this is not false advertising. The service we've bought in for you today is something that will help you achieve everything we just spoke about and much more. Don't believe us?
Read on to find out.
Gator Website Builder Review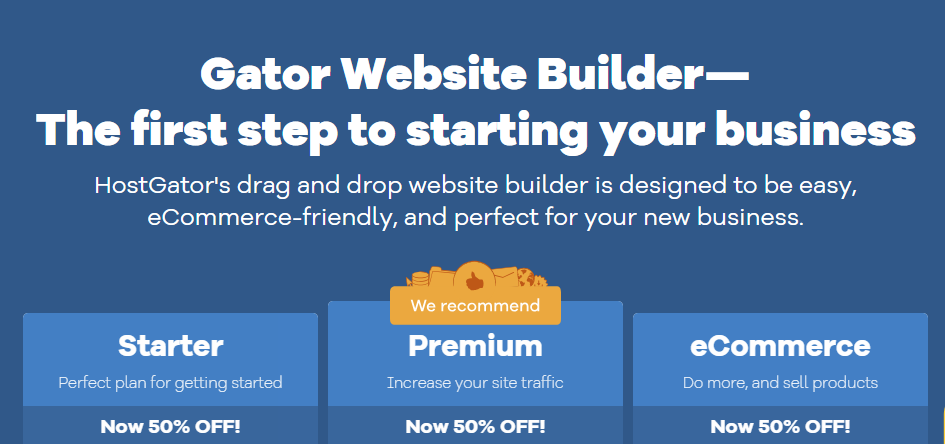 Gator website builder is an online service that allows users to build their own websites using templates, and other UI elements that are readily available to help them find their dream of taking their business online and truly, to the very next level.
HostGator features a truly revolutionary drag and drop mechanism that makes building websites something that you wouldn't have to think twice about. With something in it for everyone, HostGator comes in with plans starting at just about $4 a month to help you set up and host your business online, this however is only the most basic plan available. Refer to the graphic for more details on the different plans that are available to users.
Something that really amazed us about using GatorHost to build websites is the sheer simplicity of the entire process altogether. When we say that it literally is restricted to a simple drag and drop mechanic, we truly mean it. Everything that you want for your website, whether it be a simple blogging page or a complete e commerce website, you can find it all on GatorHost. What's more? Well these website are not only web compatible but are also fully functional on mobile devices as well. And you get to select how they look and feel on each and every platform! How great is that?
Tools that help your business prosper
GatorHost also provides you with all the tools one could ever need to maximise the returns on their ventures. With easy to understand analytics, one can see exactly how people are interacting with the content one is delivering and aim to improve in areas that need improvement. Social media tools also help you link up your Twitter, Instagram and Facebook to help you stay engaged with all your fans and get your name out there.
Conclusion:
GatorHost, truly is a powerhouse when it comes to website building and hosting and one can easily recognise why it is so highly recommended in the market today. With really cheap and affordable starter packs, and a tech support that is available 24*7*365 (366 on leap years, is something they like to boast about) we really don't see how one could go wrong by choosing them. Especially if this is your first venture into websites and e commerce, GatorHost is definitely the way to go.