Plagiarism means picking or stealing one's ideas or works and receiving their credit without appreciating or honoring the owner. It is generally regarded as the wrongful appropriation of others' thoughtful ideas, opinions, judgments, and expressions. It is considered the most improper and unprofessional act in the field of online business, writing, web development, research, and academic writing. It is commonly regarded as stealing, theft, or crime. Even unintentional plagiarism in your online business endeavors can prove harmful.
It is in every way harmful for your repute and your company's regard. The issue of plagiarism is not new but it is not something that can't be avoided. In the era of the internet and technology, small business owners and entrepreneurs are required to take steps very consciously. Avoid plagiarism at any cost as it has adverse effects on your good name and your business, no matter it was done without malicious intent. The beginners may commit such mistakes as they do not know who to trust, take advice from, and what principles they are supposed to follow. The proliferation of the internet has heightened the ratio of plagiarism.
The rise of the HVAC industry has also added to the plagiarism proportion. It is a kind of theft of intellectual property. Despite its adverse consequences, plagiarism is continuing practice. Nobody wants to get his ideas, thoughts, or content copied. It is something like a legal asset that no one should steal, but it is happening.
Let me share some negative effects of plagiarism through this article. This article is a guiding light for plagiarists, students, bloggers, publishers, and online business owners.
Consequences of Plagiarism in Online Business
Plagiarism in any form can cost your business. It is considered a kind of business-destroying or a career-ending that can pollute your reputation in the market. You may have committed plagiarism only once in your life, it will cause your reputation to go down. This unethical act will become your identification and people will always remember it. Such an attitude may resonate throughout the tenure of your business. So, we assume that plagiarism is a permanent threat to the survival of your online business.
If your polite, ethical, and professional behavior can connect you with your clients in a long-term and trustworthy relationship. Plagiarism can tarnish this trust and snatch opportunities to flourish. Plagiarism in any online business will decline your sales and may lead to bankruptcy. It can cause your business to get blacklisted, thus making it difficult for you to find good business partners.
There are a few more negative impacts of plagiarism. Let's have an overview.
Plagiarism Spoils Your Reputation
Plagiarism leaves long-lasting effects on your good repute. It can damage the entire career of a business owner, public figure, or politician. Once any of them is suspected to commit plagiarism, they will be dropped from their current position and it will become difficult for them to get some respectable opportunity.
By committing plagiarism, people ruin their good repute with their own hands and shut the doors of any kind of meaningful career to them
Plagiarism not only snatches your good name, but it is a serious ethical offense and a legal crime that can't be ignored. Once the offender is proved guilty of plagiarism, he is supposed to face legal repercussions. If a plagiarist or content thief does not cite, refer, or credit his source on another, he may end up with a prison sentence. From here the reader can understand how hard the consequences may be. That's why most online business owners hire virtual and professional secretaries or assistants who are expert at writing and are professionally aware of copyright laws and the ways to check for plagiarism and how to avoid it.
The copyright laws being absolute, nobody is allowed to use another person's content without reference and citation. Those who have opted for writing as a profession, such as authors or journalists often face plagiarism issues. That's why they have the right to claim legal charges against a plagiarist. So, plagiarism is in no way acceptable.
A plagiarist or the business owner may face monetary repercussions which can be enormous financial damage to his business. If you are running the business of a website or a blog, make sure that your writers pass their content through a reliable plagiarism checker to check for plagiarism.
Thus, you can maintain the good reputation of your business and prevent it from paying heavy fines only by avoiding plagiarism.
Always mind your position, rank, and honor that you have earned over time. If a business executive, politician, or one working for a media outlet commits plagiarism, he tarnishes his name with the label "plagiarist" that can follow throughout his career. The authorities can step you down from your position, charge a tremendous fine, or dismiss you from respectable work.
Academic Plagiarism can Expel You from College or University
Whenever the consequences of plagiarism are discussed, we cannot forget students and academic writers. Plagiarism in assignments, essays, research papers, or thesis can damage the whole career of a student. That's why all college and university students are highly conscious when they research their tasks. They spend lots of hours and days preparing their assignments.
The custom of plagiarism in university students may reflect poor grades on their degree and it can also put the academic status of the college or university into jeopardy. The good repute of universities in the global market maximizes their business, thus attracting more and more international students to enroll. Only the habit of plagiarism in students may cause drastic effects on their degree as well as their institute's repute and honor. There is no margin of plagiarism in any high-level research. Plagiarism in student's assignments reveals that they have not studied the subject matter deeply and it also reduces their creativity and genius thought. So, be creative, carry out deep research on your topic and check for plagiarism in the favorite and result-generating plagiarism checker.
Effects of Plagiarism on Economy
As plagiarism leaves adverse effects on the academic career of universities, it also has an impact on the economy. The plagiarizing act of an individual student can significantly lessen a university's economy. The degree doesn't sound valuable when the graduates have not acquired the requisite skill sets essential to upgrade the economy – problem solving capability, commercial awareness, the ability to think highly, and genius to contemplate critically.
Those graduates will not play a key role to elevate the economic status of the organization, who have obtained their degrees seeking help from plagiarism and not by learning creative skills. By committing plagiarism, the students are indeed spoiling their careers. So, the students have to leave plagiarism behind if they want to go ahead and achieve higher goals!
How to Avoid Plagiarism
Plagiarism is a great hurdle in polishing students' creativity, writers' insight, and business owners' trustworthiness. However, is it not something that can't be avoided? Many effective tools check for the plagiarism of the given content within a few minutes. Other than putting your content into the Al-based plagiarism tools, there are a few effective methods of finishing plagiarism manually.
Here are five tips.
a) Paraphrase & Summaries
It's a very simple solution to end plagiarism. The writers, bloggers, essayists, and online business persons can easily learn how to paraphrase and summarize the researched content. To paraphrase the selected content, you need to completely understand the available material so that you can paraphrase it yourself in your own words, style, and vocabulary. In paraphrasing, the rewritten content can be the same in length, longer or shorter.
While in summary, you only focus on the key points mentioned in the given text. A summary of a book must not be longer than a page. One page summary consists of a couple of paragraphs, each possessing a few lines. Practice it at home for a few days, say goodbye to plagiarism, and take your business to new heights.
b) Cite & Quote Instead of Copying
Another great tip to achieve zero plagiarism results is citing and quoting the selected material when necessary. Usually, the writers or business persons need to cite and quote the content when they are not sure of their paraphrasing activity with no plagiarism. The students and writers sometimes also need to quote the original text for a more powerful impact and customer inspiration. If such a valuable and engaging sentence or paragraph is rephrased, it may not produce the desired results. You can properly quote a source and cite when you happen to deal with statistics, figures, maps, or research findings, etc. Perfect online guides are available 24/7 that can help you understand how to cite the sources. In this way, due credit goes to the researchers and your document gets free of plagiarism.
c) Referencing
It is one of the most significant tips to opt for referencing as a way to cite the works you are using in your research papers, blogs, essays, or assignments. The writers, students, or publishers do it by adding a page of reference or works cited page by the end of the whole content. There are various methods to add references to your paper, essay, or article.
Some institutes follow MLA style, some APA and still others follow Harvard or Chicago style. Follow the one that is specified by your instructor.
d) Cite Your Own Work
You might be hearing about citing your own work for the first time. But it is allowed to pick your previously crafted and published content and add to your document if it has some relevance to it. Often the writers plagiarize their already written content when they need to write on similar topics. Remember, you can only cite your previous work if it has already been published.
e) Use a Quality Plagiarism Checker
Sometimes, without any malicious intention, a few phrases or sentences show matching with other's content which is considered plagiarism. You might be surprised to know the accidental plagiarism in your essay or research paper.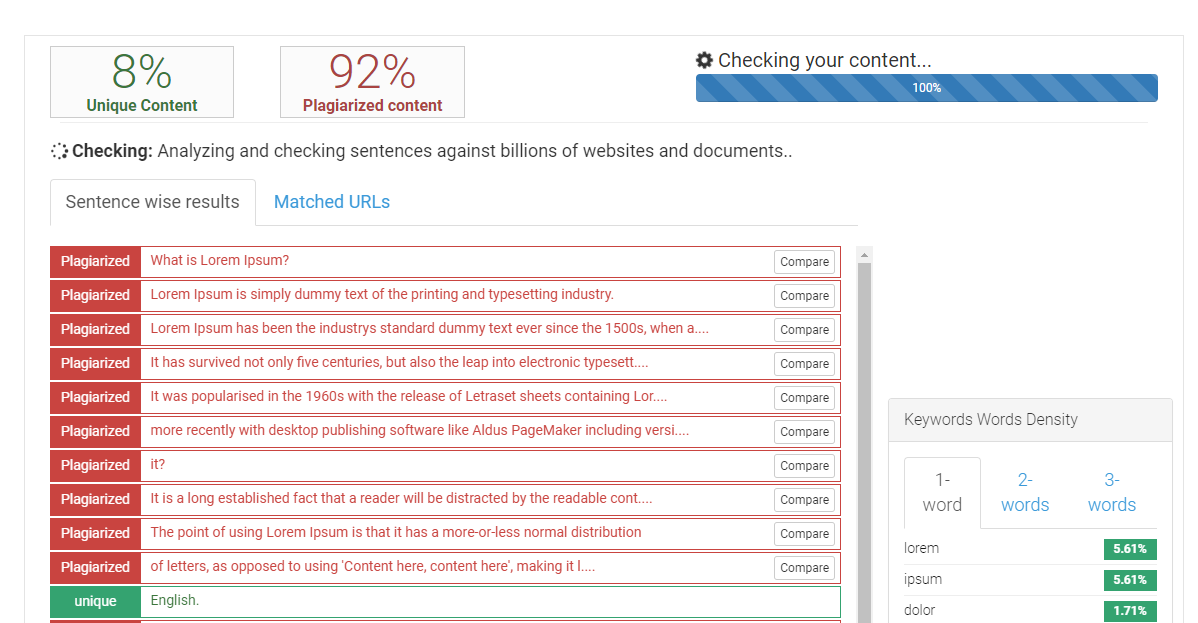 When you pass your content through a valuable tool to check for plagiarism, you can have the plagiarized content along with the source to analyze which part of the content needs to be edited.
There are a lot of copied content checkers available on the internet but try to find a tool using advanced algorithms to check for plagiarism.
F) Use a paraphrasing tool
Replace the plagiarized sentences by changing some synonyms, forms of words, phrases, or the structure of the sentence.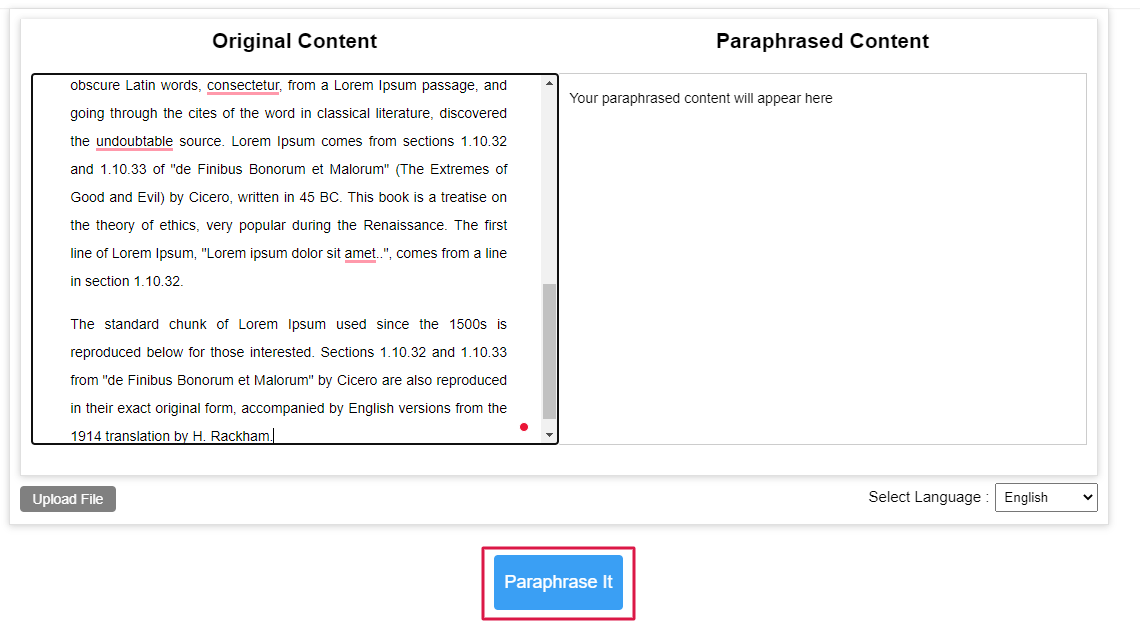 But if you don't have enough time to do manual paraphrasing, paste your plagiarized material in the paraphrasing tool and click, 'paraphrase it'. In a few seconds, you will receive entirely new sentences free of grammatical mistakes and spelling errors. Thus, seeking help from an online paraphrasing tool will make your content free of plagiarism.
Conclusion
Now, you have got an idea of how plagiarism can cost your online business and how you can get rid of it. Avoiding plagiarism is very easy. Just pay a little more attention to your work and invest a few more minutes to make your content 100% original and plagiarism-free.
The devotion of a few seconds and minutes will save you tons of time, maintain your good repute throughout your career and take your online business to the next level!