Thinking of getting a new phone? Smartphones become outdated rather quickly nowadays and thus you may want to update your phone. When your new phone arrives, the first thing you need to do is to transfer the files from old phone to the new one so that you can switch to the new phone and use it as normal. If you manually migrate data such as contact photos, music, movies and more from old phone to the new one, it may take a very long time to finish. Obviously, it is not a good way to do it yourself. So is there a feasible way to help move the files from old phone to the new one? Want to back up, clean, and manage your iPhone contact? Try the best iPhone manager on the market.
Fortunately, this guide will help. Below you will see the quick way on how to transfer data from old Android to new phone (Android or iPhone) with a mobile data transfer tool. You can now scroll down and see the details!
Quick Way to Transfer Data from Phone to Phone
To transfer data from phone to phone, you can try FonePaw Mobile Transfer, which helps iPhone and Android users seamlessly transfer contacts, photos, music, videos and more files between phones/tablets with same or different OS.

Now you can follow the steps below to transfer data from phone to phone with the FonePaw Mobile Transfer tool.
Step 1: Download and install the data transfer tool on your computer and then launch it.
Step 2. Connect your old smartphone and the new one (iOS devices or Android phones) to computer with the USB cables. You should firstly connect your old phone and then the new one. In this way, the old smartphone will be shown as source device at the left and the target device at the right.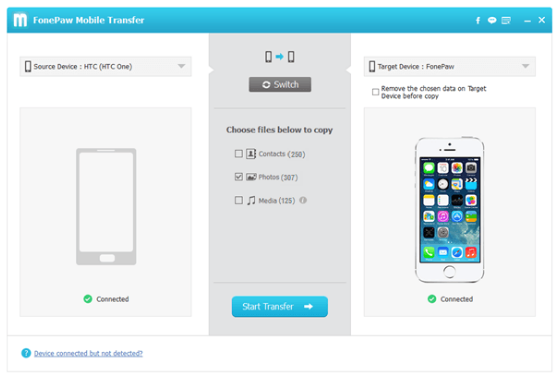 Step 3. After the two devices are detected by the software, you can then choose the data types including Contacts, Photos, and Media to transfer. Click on the "Start Transfer" button on the interface of the software to start the transferring process.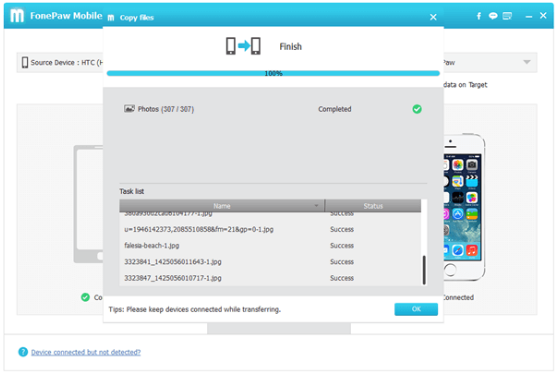 Step 4. The transfer software will automatically move the selected data from your old phone to the target phone. When it completes, you can disconnect the two phones and head to the new smartphone to check if the important files such as contacts, photos, videos and music are successfully saved.
Conclusion
Of course, if you want to transfer data from iPhone to iPhone, you can easily backup your old iPhone to iCloud and then restore the backup to your new iPhone. But if you want to transfer data between smartphone phones with different OS, for example, transfer files from Android to iPhone, or vice versus, it's advisable to use the FonePaw Mobile Transfer software. As you can see above, the steps are pretty simple and only several clicks, you can get the important files transferred from old phone to the new one in no time. So if you are looking for a good way to copy data from phone to phone, why not try this terrific FonePaw Mobile Transfer software?