Cybercrimes are becoming increasingly popular, posing a high threat to many businesses, organizations, and even the government. Even top-tier governments like Russia, India, and the U.S. have been subjected to cyberattacks.  Cybercrime comprises more than financial attacks since hackers are involved for a variety of reasons. Considering how quickly the tactics of cyber warfare are evolving, it is important to understand what the risks are and how we can protect ourselves.
Cyber Threat
A cybercrime occurs in cyberspace. It is a threat that targets or uses a computer, or a network of computers, or a networked device.
Even though cyber threats are limitless, businesses need the internet to survive in the modern market. Several tools and strategies are required to maintain a business website, out of which cloud system for data storage is the most basic one.
Cyberspace also helps in reducing the cost of traditional marketing, backups, and archiving the data. So if one wants to make the most out of it, they must prioritize securing their cyberspace. The best way to move forward is to work on data protection and data privacy. With credible protection, you can easily prevent cybersecurity threats.
Hackers usually commit cybercrime for financial gains. However, there were instances where hackers had political or personal motives. For example, the North Korean hackers – Guardians of Peace – leaked confidential data of Sony Pictures Entertainment Inc. It was due to the portrayal of North Korea and its leader in the film — The Interview.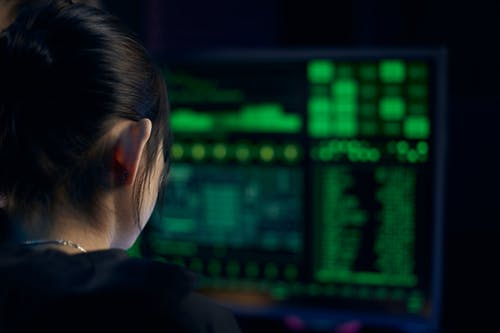 Ensure the Safety of Your Business in these 7 Pro Tips
Here is our list of 7 tips that can help you prevent a cyber-attack on your business. Check them out.  
1. Use Strong Passwords and Change Frequently
Start with creating strong passwords – it's the simplest step. Make strong passwords your norm when it comes to all of your accounts. You may try a combination of letters, special characters, and digits. Most account settings demand at least 8 characters; however, it is advisable to have more than 8.
After you have set a strong password, it is also essential that you keep on updating it frequently. The more frequently you update it, the fewer chances of hacking. Keep three or four strong passwords in your head and keep rotating them.
2. Limit the Number of Staff that can Access Sensitive Data
A good way to keep data secure is to limit the access of your staff to confidential information. First, it will reduce the chances of any negligence. You can choose a couple of credible and skilled employees who are reliable.
Second, employees will see that as a gesture of trust on your behalf and take that as an honor. It will help them in being extra-vigilant with the confidential information.
Finally, since there are only a few people in possession of the information, it will be less likely for any of the employees to leak it.
3. Use Credible VPNs
A Virtual Private Network (VPN) is a security service that establishes an encrypted connection between the server(s) and the device of the user. Businesses can block their data from being exposed to the open internet when they use VPN services, which helps maintain the privacy of their data.
VPN services come in handy when a company has remote employees. To access the internal network of the business, remote workers must connect to the public internet. Data can only be accessed by those with access to the VPN service. Cyberattacks can be severe when sensitive data is exposed to malware and viruses. However, VPN encryption reduces the chances of any cyber threat.
4. Restrict Social Media Settings
Cybercriminals only need a few data points to track personal information. Therefore, it is imperative that you lock down any personal information on social media platforms.
For instance, posting a picture of your first puppy on Instagram may seem harmless. The problem is that once hackers get hold of that information, they can easily gain access to your accounts. As many of the security questions include names of the first pet, maiden name, etc.
5. Update the Software Regularly
Another thing you need to constantly update is the software. Updating the internet security and operating system software are the most significant in these terms. The hackers frequently use the blind spots or the holes in the software to penetrate your system and access the data. With regular updates, the holes will be closed hindering the access of a cybercriminal.
6. Keep Yourself Up-to-Date with Security Breaches
You can receive notifications when certain apps detect unusual activity.
For instance, you live in the United States, but someone from their computer in another country logged into your account, you will be notified immediately of the new location. It is quite possible that you checked up on your emails while on a business trip, however, if you do not recognize the activity, it may very well be a hacker. In that case, report the action immediately and hinder any further advancements by the unknown source.
7. Be Aware of the Identity Theft
Identity theft occurs when someone obtains your personal information and poses as you. This may be done for a variety of reasons, including profit or deception. Regardless of the level, identity theft is still a crime.
Businesses need to be very vigilant as cybercrime can jeopardize years of brand reputation. Someone may pose as your company and leak customer information or deliver faulty orders. You can prevent it by limiting the amount of data you send and receive over the internet. Using a VPN is a great way to do so.
Conclusion
It is the silent nature of a cyber threat that makes it all the more dangerous. Ensuring the security of a business is essential to avoid any malicious cyber-attacks. Without implementing proper security, a business can end up losing it all, including its reputation.
Staying off the internet out of the fear of hackers is not smart either. Especially if you are a small business, an online presence is mandatory if you want to establish yourself in the market. To run your business smoothly, you should invest in protecting and securing your data and cyberspace.