Have you ever wondered what is Impressum Meaning? Impressum Facebook and Impressum nedir are searched about a lot after Facebook enabled it for Facebook Pages. Well we have sorted down all your top queries and answered them in this post all about Impressum. This post will tell you impressum meaning, how to add impressum on Facebook, few ways which can act as an Impressum Generator, some Impressum Samples and all the Impressum Requirements.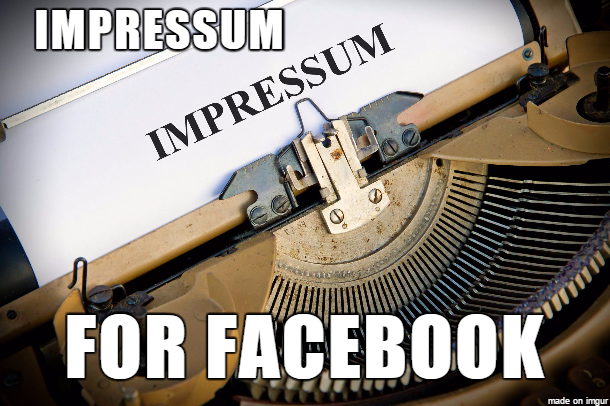 Impressum Meaning
First of all, we need to clear what is Impressum. Impressum is nothing but a legally mandated statement which states your authority and ownership over something for example a document or a product. It is a MUST for people in Germany and other nearby countries such as Austria to include Impressum in books, magazines, newspapers, etc. However Impressum is not that mandatory in other places, specially people searching Impressum for Facebook may take a deep breath because its not necessary for most of you to add Impressum to Facebook. There are some people from countries like Germany you need to add an impressum and it is always good to add an Impressum to your document to make it more expressive and authorized. So if you want Impressum for Facebook keep reading. 😀
Impressum Facebook for Page
Facebook added the option to add Impressum to Facebook some time ago to improve authentication of Facebook Pages which is indeed a beautiful thing they did. Some of the fans who might really want to know about your Facebook Page do take a look at your Impressum.
How to add Facebook Impressum on Facebook Page
For people who are required to add an Impressum on their Facebook Page or the ones who want to may follow these steps to add an impressum on facebook page :
Click About Button which is right below your Facebook Page's cover photo.
Click Page Info which is present in the left column.
Click to edit the Impressum section and add your info.
Click on Save Changes.
Impressum Requirements
Almost all German sites are required to add Impressum and people across Germany using Facebook are also required to add an Impressum to their website. If the owner of the document or a website fails to provide an Impressum, he/she might even face a fine!
Here are all the things that is must in your Impressum :
Full name and address of the Company.
Names of the managing directors of the company.
Telephone number, fax number and email address of the company.
Name and address of the companies´ court of registration and its registration number.
VAT identification number of the company.
If the owner of the website offers services within the framework of an activity which requires the approval of any public authorities, details of the responsible supervisory authority have to be provided.
Impressum Sample
Here's the sample :
Responsible for this content
Manav Sharma
Concept & Design
Manav Sharma
Mohit Yadav
Photos
Internet
Copyright © 2016
All texts and photos are protected by copyright and can only be used with particular permission of Manav Sharma.
Privacy Policy
With the following information we would like to inform you of:
how we regard data protection,
how we go about protecting personal data,
how we utilize your data if you make them available to us in conjunction with the services we offer (e.g. newsletters, sweepstakes, orders)
that you may rescind your consent to the storing and use of your personal data at any time.
Our attitude to data protection
We take the protection of personal data very seriously and are committed to respecting the privacy of all persons using our site. We guarantee that our handling of the personal data of our site's users is in accordance with German data protection (Bundesdatenschutzgesetz BDSG) and telecommunications data protection laws (Teledienstedatenschutzgesetz TDDSG).
What are personal data and why do we use them?
Personal data include, for example, name, street address, e-mail address, phone number, age, gender, areas of interest.
Do we ever make your personal data available to third parties?
In principle we utilize your personal data only internally, within our own company.
You have the option at any time of rescinding your consent to the processing and use of your personal data or to alter your data.
Disclaimer
All the pictures and news shown on this site are the property of their respective owners. We don't hold any copyright about these pictures and news. These pictures have been collected from different public sources including different websites, considering to be in public domain. If any one has any objection to displaying of any picture and news, it may be brought to our notice by sending email(contact us) & the same will be be removed immediately,after verification of the claim.
Impressum Generator
You are not required to take all the pain in order to create an Impressum. You don't need to write every single line which is indeed frustrating and boring. Well, thanks to all those web developers who are easing off our lives all the time. Just follow the link or copy the given impressum and replace your detail in a minute and in few seconds your Impressum will ball ready to be copied and pasted on your website or Facebook Page.
Impressum English
REPLACE IMPORTANT DETAILS FROM THE IMPRESSUM SAMPLE GIVEN BELOW :
<your name>
<other names>
<organisation name>
<Telephone numbers>
<email addresses>
<address>
<POSITION for eg. Marketing>
<Name of Position Holder>
The author reserves the right not to be responsible for the topicality, correctness, completeness or quality of the information provided. Liability claims regarding damage caused by the use of any information provided, including any kind of information which is incomplete or incorrect, will therefore be rejected. All offers are not-binding and without obligation. Parts of the pages or the complete publication including all offers and information might be extended, changed or partly or completely deleted by the author without separate announcement.
The Author is not responsible for any contents linked or referred to from his pages – unless he has full knowlegde of illegal contents and would be able to prevent the visitors of his site from viewing those pages. If any damage occurs by the use of information presented there, only the author of the respective pages might be liable, not the one who has linked to these pages. Furthermore the author is not liable for any postings or messages published by users of discussion boards, guestbooks or mailinglists provided on his page.
The author intended not to use any copyrighted material for the publication or, if not possible, to indicate the copyright of the respective object. The copyright for any material created by the author is reserved. Any duplication or use of such diagrams, sounds or texts in other electronic or printed publications is not permitted without the author's agreement.
If the possibility for the input of personal or business data (email addresses, name, addresses) exists, the input of these data takes place voluntarily. The use and payment of all offered services are permitted – if and so far technically possible and reasonable – without specification of such data or under specification of anonymizated data or an alias.
5. Google Analytics  ( For Websites )
This website uses Google Analytics, a web analytics service provided by Google, Inc. ("Google"). Google Analytics uses "cookies", which are text files placed on your computer, to help the website analyze how users use the site. The information generated by the cookie about your use of the website (including your IP address) will be transmitted to and stored by Google on servers in the United States . Google will use this information for the purpose of evaluating your use of the website, compiling reports on website activity for website operators and providing other services relating to website activity and internet usage. Google may also transfer this information to third parties where required to do so by law, or where such third parties process the information on Google's behalf. Google will not associate your IP address with any other data held by Google. You may refuse the use of cookies by selecting the appropriate settings on your browser, however please note that if you do this you may not be able to use the full functionality of this website. By using this website, you consent to the processing of data about you by Google in the manner and for the purposes set out above.
5. Legal force of this disclaimer  
This disclaimer is to be regarded as part of the internet publication which you were referred from. If sections or individual formulations of this text are not legal or correct, the content or validity of the other parts remain uninfluenced by this fact.
Impressum Generator German
Follow this link to generate your Impressum in German language.
Thank you, I hope you have the answers of all the queries on Impressum. Comment if there's any further help required and DON'T FORGET TO SHARE!! 😀