Are you looking for a software which will help you to change the location of your iOS device such as iPhone or an iPad? We have a software for you which will help you do that easily.
With the help of the new software, iMyFone AnyTo, you can easily change the location of your iPhone to anywhere, instantly. If you have not heard about this software yet, you have nothing to worry about because in this article, we will review this latest software and help you know the features that this software comes with.

If you are looking to change your location and let your friends know about your fake location, you can easily do so with the help of the new iMyFone AnyTo iOS Location Changer software. With this software, you will not be tracked by your friends or anyone else for that matter and you can send the person in the completely opposite direction. Not only this, the software also works well if you are looking to use it on a location-based game.

With this software, you can:
Change the GPS location to anywhere in the world instantly
Use it on the location based apps and games and enjoy the benefits of the specific region.
Easily plan a route to anywhere on the map and customize the speed at which you want to show others that you are moving in.
Allows you to share a virtual location on a Social Platform
With iMyFone AnyTo software, you can trick your friends into thinking that you are somewhere else. With the fake GPS location, you can make your friends think that you are in Russia, or Australia, or UK, or US, or anywhere else in the world. The software helps you to teleport your iPhone in any corner of the world.
Hide your Device's location
Another thing which is excellent about iMyFone AnyTo software is that you can easily hide the location of your device if you think someone is keeping a track of your iPhone's location. With this, you can change the location of your device easily.
Another cool thing about this software is that you can use any location when you log into the dating apps and find a wider range of people to connect with.
Access Content with is restricted in your area
Another one of the best features offered by iMyFone AnyTo is that you can now easily view the content which is restricted in your area by simply changing your location. Sometimes, you cannot view a certain video or movies or even music for that matter because of the restrictions implied on your region, however, through iMyFone AnyTo software, you do not have to face that.
Customize your route and your GPS Movement
With iMyFone AnyTo software, you can now create virtual routes on the map and move along. This feature comes in handy when you are playing AR games and you just want to sit at home and do not want to go outside. You will then see that you are moving on the map and in the game as well, and that too without any lag.
Other features include:
Customize speed
Set coordinates
Pause whenever you wish to pause
Historical records, which shows the locations where you have been to
Change GPS Location in 3 Steps;
Changing your GPS location through the iMyFone AnyTo software is an easy process and it just takes 3 steps for you to change your location. The three steps are as follows:
Firstly, you need to connect your iOS device to your computer
Once done, you have to select a destination or a route
Once the location or route is set, you have now easily and successfully changed your GPS location.
iMyFone AnyTo Giveaway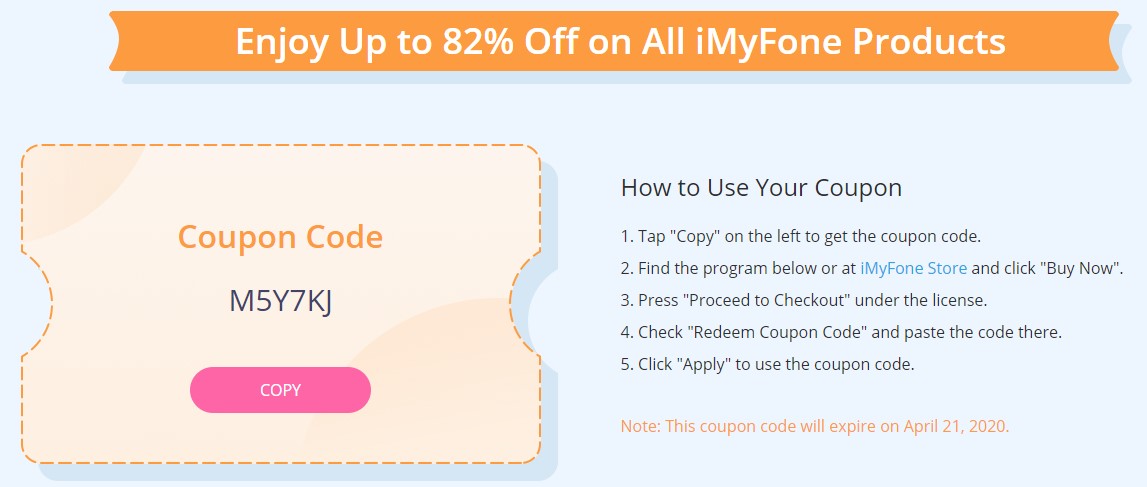 iMyFone is celebrating its fifth anniversary because of which they are offering their users a chance to win the software and use its services absolutely free of cost. You will not have to worry about spending money because of the huge giveaway on the cards. Only limited users will get the free license giveaway, thus, if you are lucky enough, you will get the software for free. With that, you will save a massive amount of money because the software does not come cheaper, not as cheap as you would like anyway. This giveaway is your chance to get the software for free and enjoy the premium services to the fullest.
If you are thinking that iMyFone 5th Anniversary only brings a free giveaway and nothing more, you are absolutely wrong because with the anniversary comes a lot of amazing offers for the users. With these offers, you will get massive discounts on buying all the iMyFone products that are on offer to the users. If you do not win the giveaway for iMyFone products, you can get the same products for a way cheaper price. There is an 8-in-1 bundle which is available for the users, which they can get for a cheap price. The 8-in-1 bundle includes a lot of software and products offered by iMyFone. The combined cost of these 8 software is close to $700, however, with the anniversary celebration, you can get all these products for just a little over $100, which is undoubtedly a great deal for the users. These licenses will be valid for lifetime, not just one time.
This is not all because there is another great option for you which we have. If you do not want these 8 products and you do not win a giveaway, this does not mean you cannot enjoy the benefits you get on the 5th year anniversary. Another great offer available for the users is that there is a massive discount on all the products for the anniversary and you will have to pay just a minimal price to get whatever product you wish to buy. Another thing which is offered to the users is a 82% discount on all the products, which is a perfect option for the user, especially if he does not win the giveaway or does not want all those 8 products. You can apply the coupon for all the products offered and thus, enjoy heavy discounts on the products.