Remix OS Review and Installation Guide
Jide Technology, one of my favorite start-ups of the year 2015 is all about awesome sauce experiment for bringing the personal computers with the heart of android to existence. Yes, android on pc is already emulated by soft wares like the Bluestacks and others, but this is different. Presenting to you the first of its kind, the Remix OS, an Android operating system made for your personal computers.
About Jide Technology


First thing first, what is Jide Technology? Jide Technology was founded by three ex-Google engineers Jeremy Chau, Ben Luk and David Ko whose current main focus is on developing android operating software named the Remix OS. They have also released the Remix mini and the Remix ultra tablet Why the start-up? "We started Jide…
-to embrace the mobile era.
-because we think it's time for a change.
-because we think Android is the platform to achieve that change.
-to take advantage of Android's incredible ecosystem.
-because we understand that it's the content and what you can do on your platform that matters.
-because we see that the future of operating systems is Android, and we're here to take it to the next level."
That's what they say, but one can only hope that the company turns out to be as awesome as it seems right now.
About Remix OS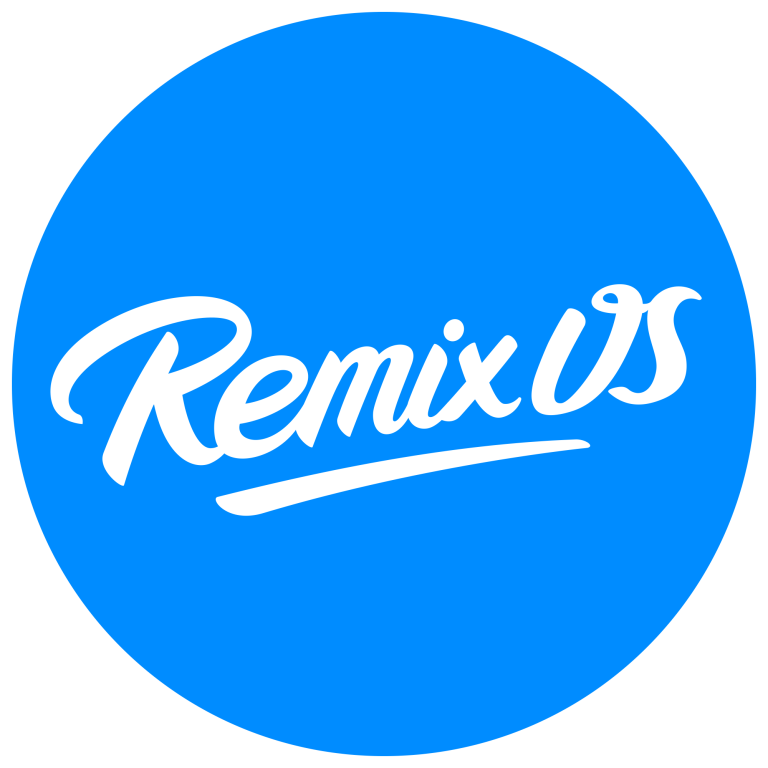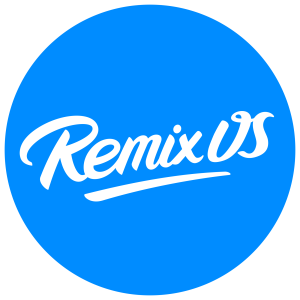 Android is everywhere on our phone, tablets, TVs, wearable, and even cars, but unfortunately not in our PCs. But Remix OS does a great job of providing just that. Remix OS is the operating system developed by Jide Technology and this operating is totally based on Android. The Remix OS was exhibited in the CES 2016 showcasing its abilities which were quite impressive. They said, "You get a PC experience unlike anything on Android and an Android experience unlike anything on a PC".
Features of Remix OS
Limitless multitasking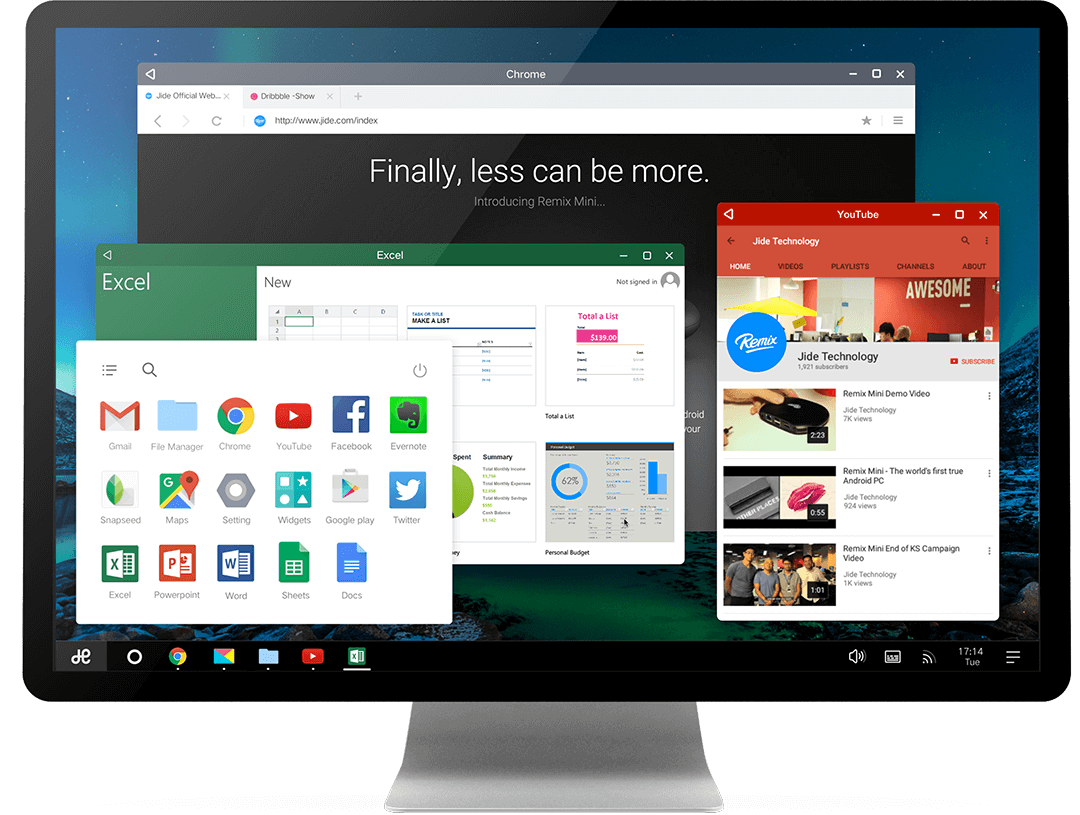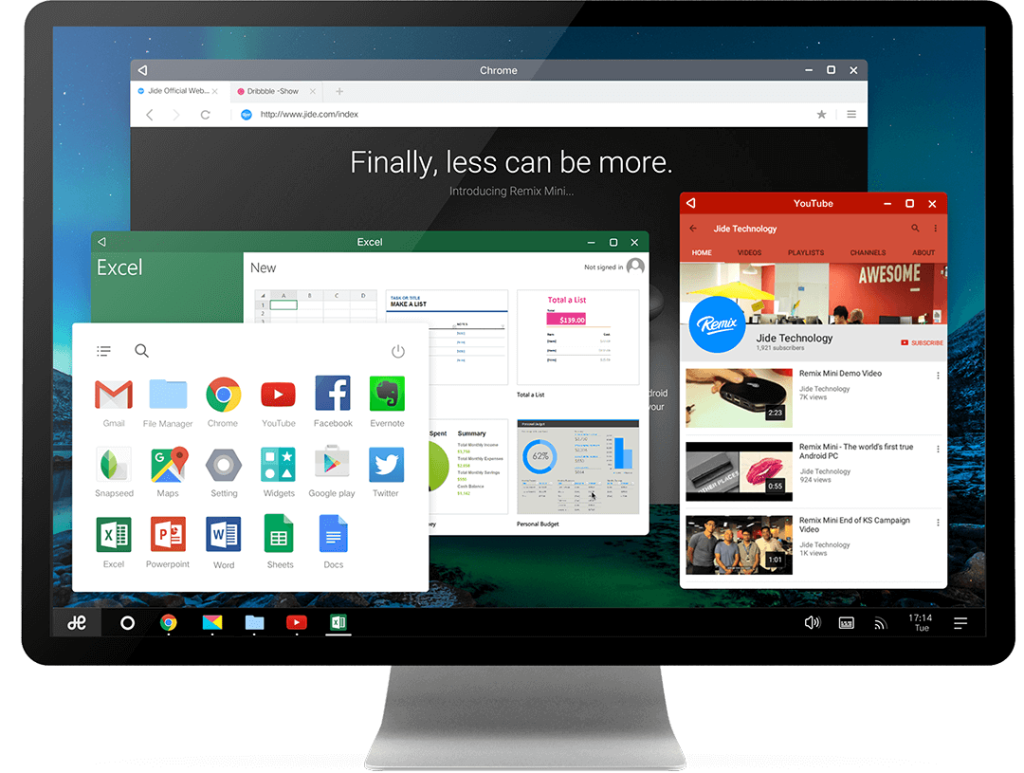 This is one of the best features I came across. Opening multiple windows have always been a plus point for PC operating systems. Imagining this on an android surface is fascinating. Just imagine you being able to play clash of clans, talking to someone on Whatsapp and simultaneously watching a music video on YouTube, which is totally impossible on a smartphone.
The Taskbar
The Taskbar has always been a time saver. Similar to windows, mac, Linux etc. Remix OS has decided to keep the Taskbar. Which is great since you can pin any app there and find all the apps in the start menu. It would make become easier to reach to general settings such as WiFi, Bluetooth, brightness etc. And the unique thing about the Taskbar in Remix OS is that it has an all-clear button which allows you to close all the apps that are open.
The Notification Area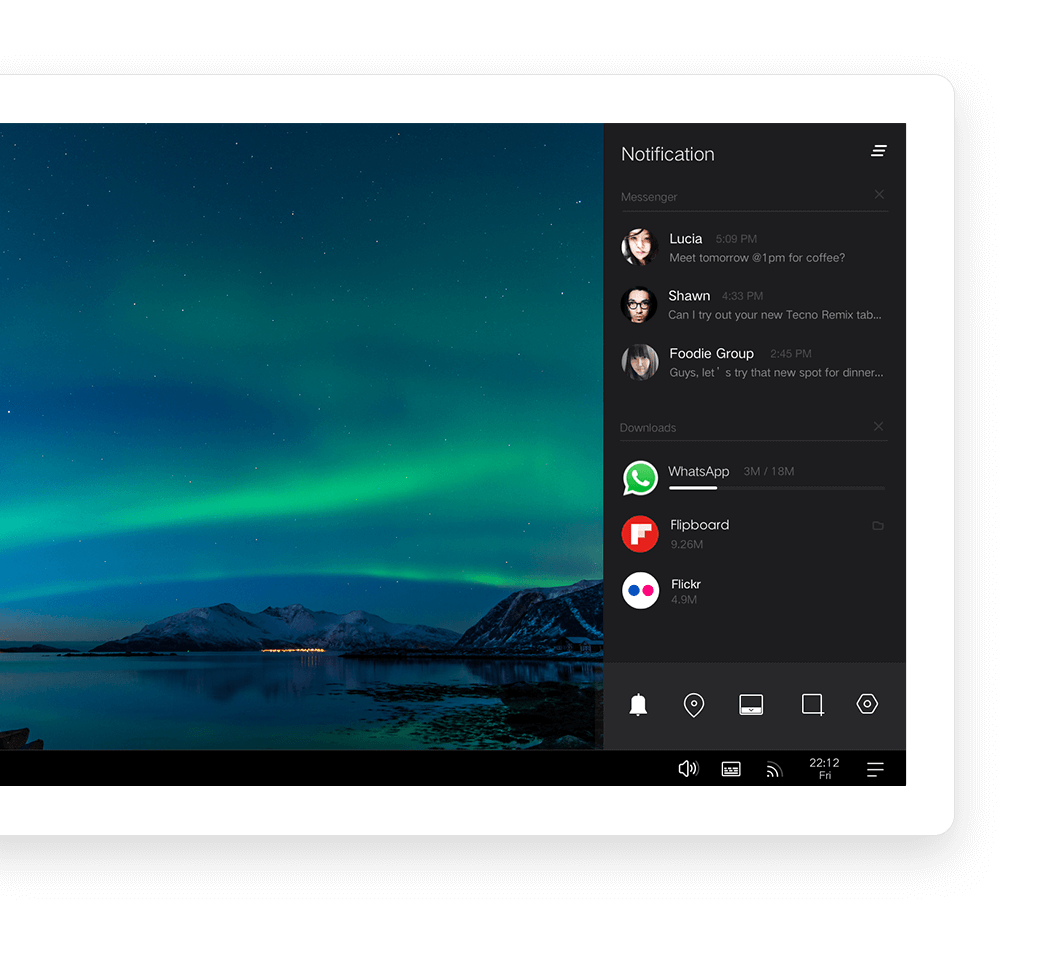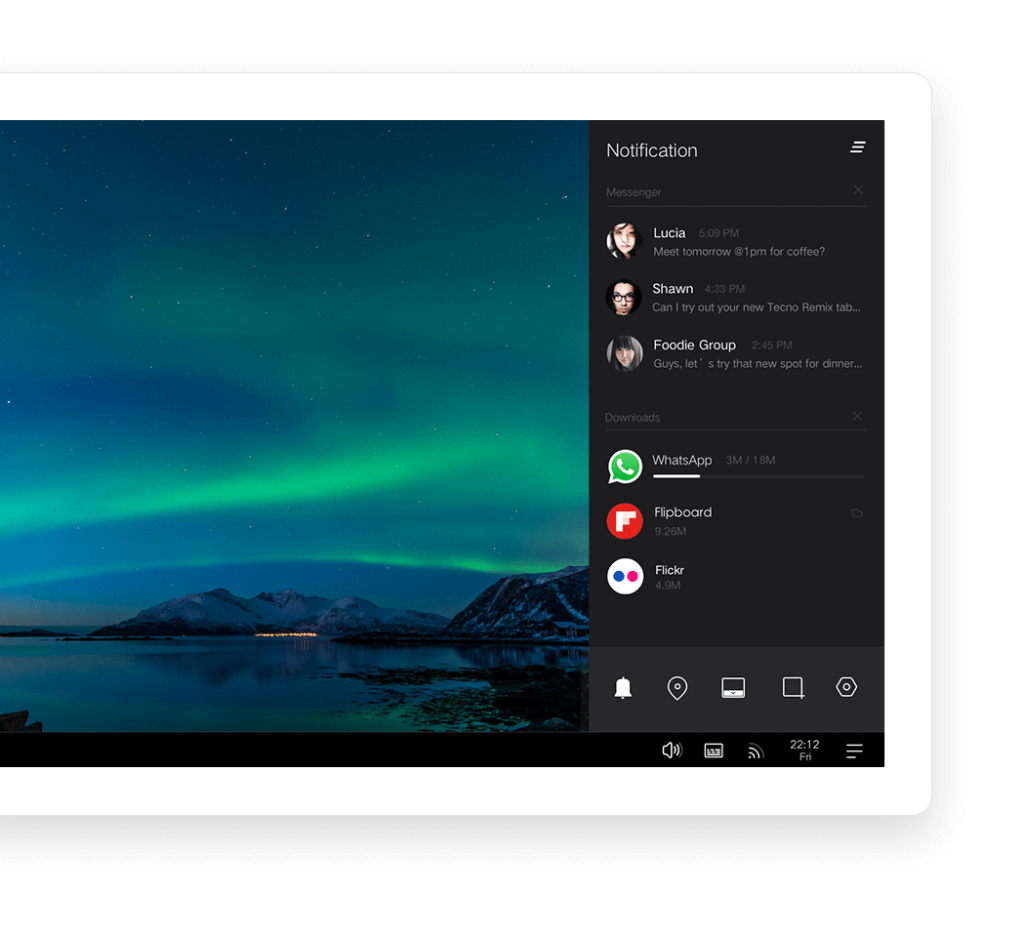 Yes, they have included a notification area which is quite similar to Android and as I say that I don't mean it comes from the top, but instead, it pops form a button at right bottom corner in the taskbar. Actually, the notification section that these guys built has a catch, it's a bit different from the original android notification area. In Remix OS you actually get this much more organized. And there is actually a lot of area in this notification area to add the general settings over there.
The Shortcuts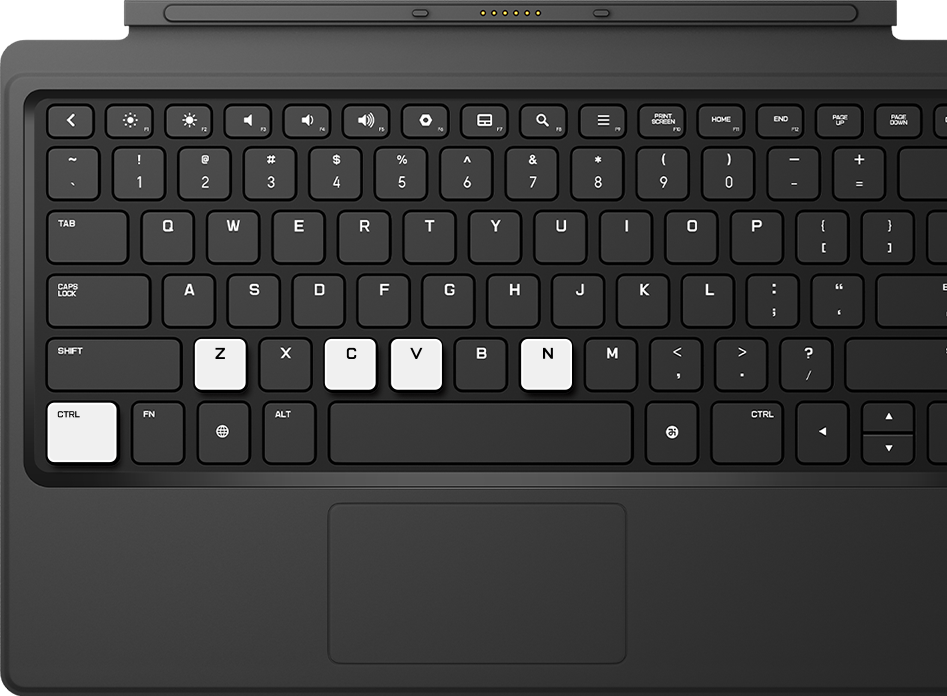 Another one my favorite abilities in this Android operating system. Shortcuts are heavenly abilities given to us by God himself (I actually don't know who invented them). Everything from ctrl+n to ctrl+s and everything from ctrl+c to ctrl+v is included here. I would rate this as one of its best traits so far.
The Right Click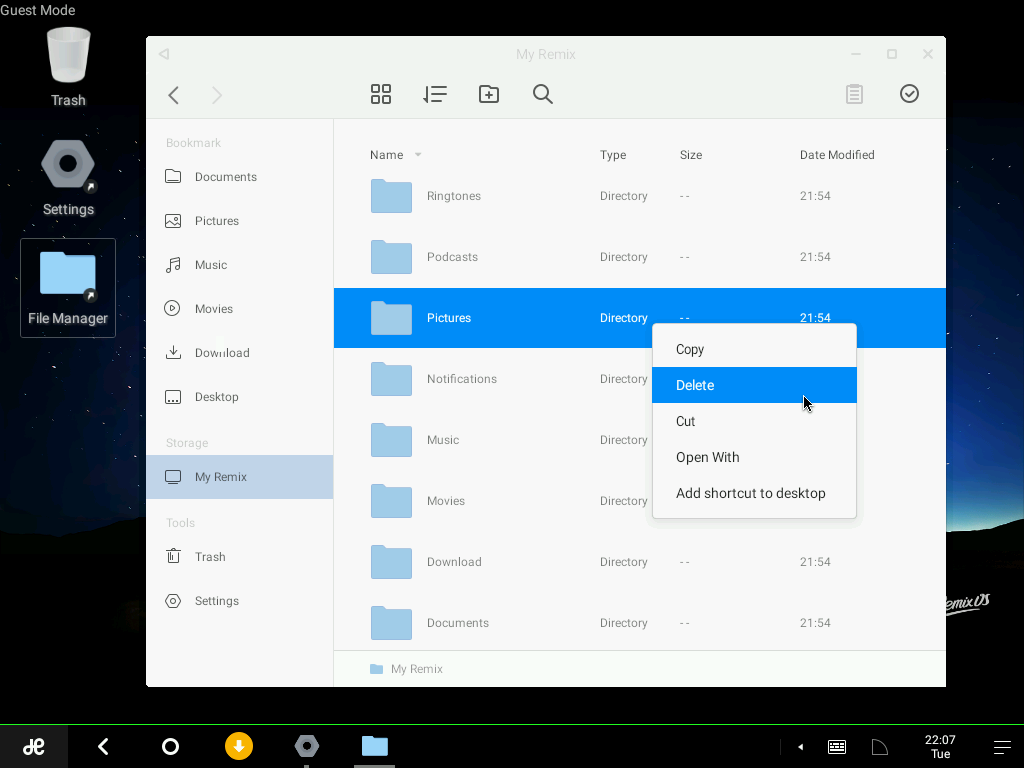 I know this was kind of available in the traditional android but the feel of clicking the right buttons gives the perfect sense of computing. It is similar to what you see in a normal PC operating system. Well, there is not much to say about it but I would say that the right click makes any operating system a lot easier to use.
Remix OS File Manager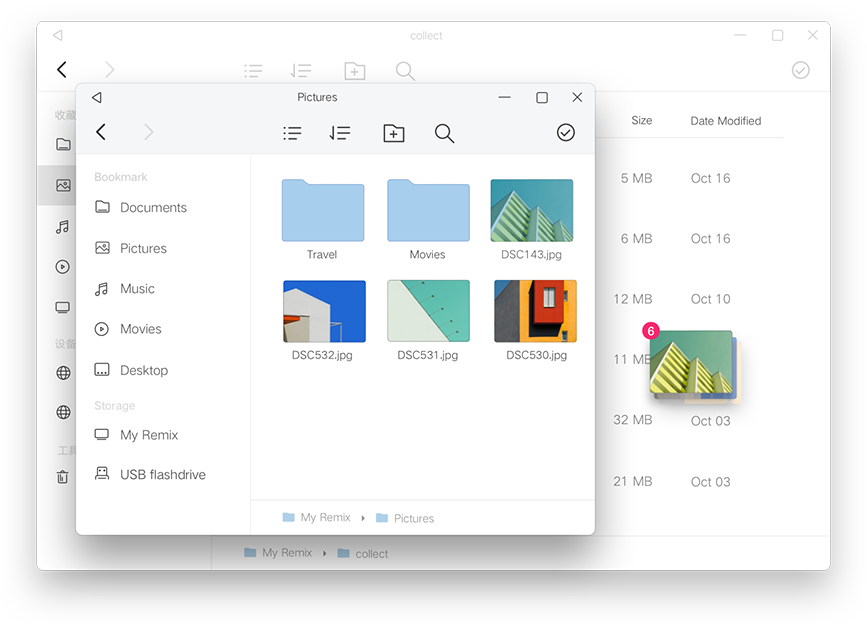 Just imagine if there was no file manager. Your desktop would freaking look like the Milky Way flooded with file and application. Thanks for the file manager you won't feel like you are searching for a lost sock in your room. The file manager in Remix OS is very much like it is on the windows. And that is a good thing because the file manager on the Android is quite messed up.
The Remix OS Play Store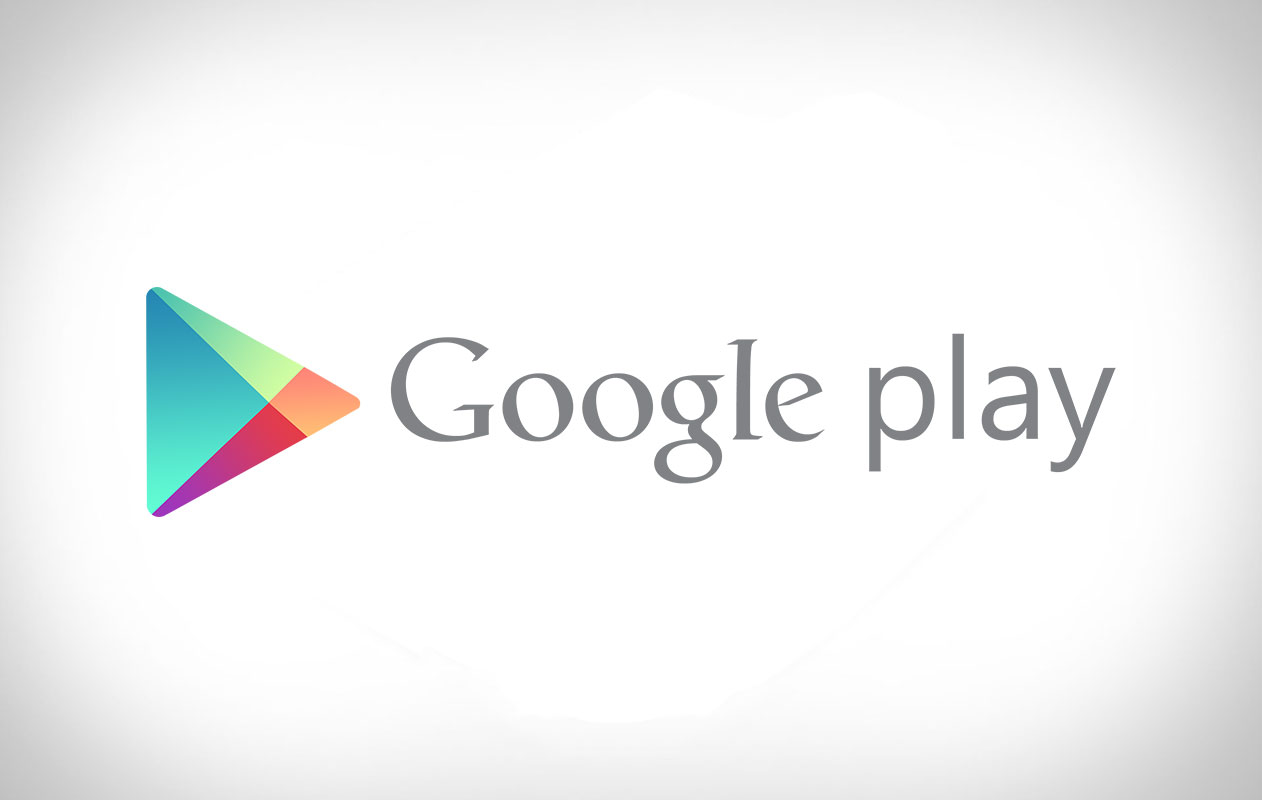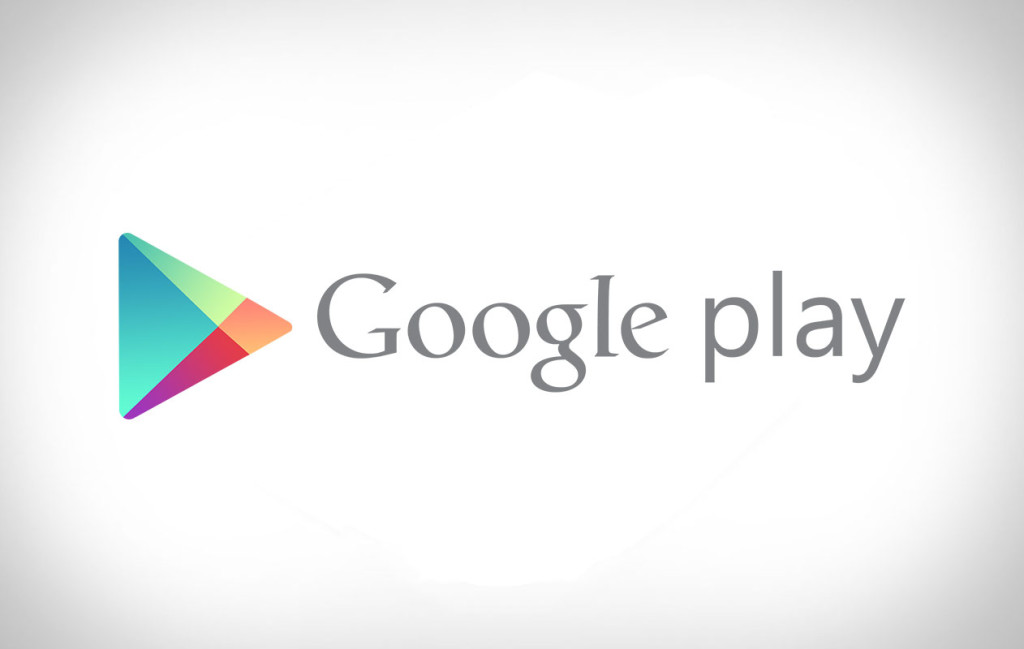 Yes, they have included the whole play store and haven't kept them limited to the apps that are 'compatible' with the pc version of Android. Well, this will surely create bugs with the apps that require gyroscope or touch screen with the pc that doesn't have any of it but this is just the starting and the Remix team is working with developers to overcome this issue.
Updates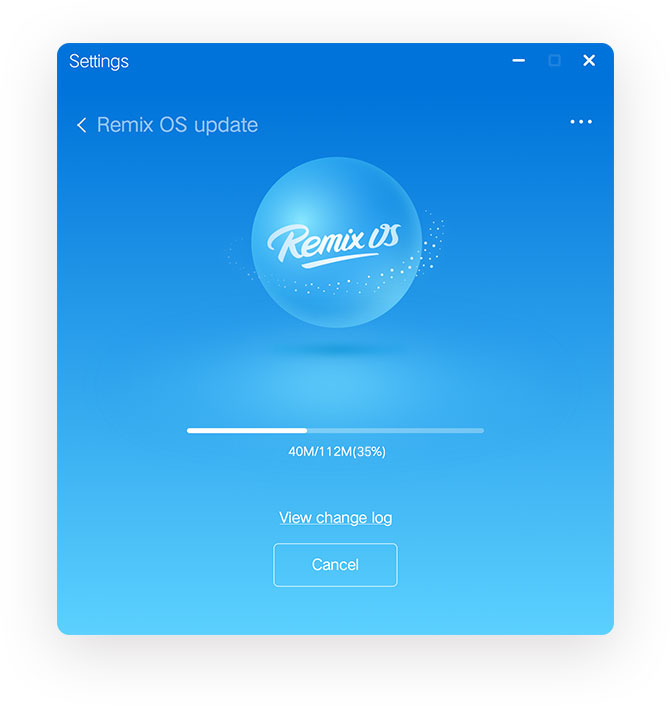 Updates are totally similar to what u get on an Android device. The OTA updater automatically downloads the latest version of Remix OS published. For those of you who think that the versions of Remix OS will be named in a fancy way like lollypop or marshmallow, sadly you might be mistaken. Surely the current system is based on the lollipop but It is not clear of what will the names of the updates be. I don't personally think that they would give the operating system a fancy name, I hope I am wrong.
All in all the Remix OS is a pretty interesting and amazing idea. Since this is a new OS we are supposed to find all sorts of bugs but the experience of using Android on a PC is so overwhelming that u can neglect the bugs and stuff.
How to install Remix OS?
It is super simple to download the Remix OS all you need is a pen drive (At least 8GB), the ISO file and a 64x (64-bit) compatible PC with internet connection.
Steps:
1 Go to jide.com
2 click on Remix OS for pc
3 click on free download
4 scroll down a bit and tick "I am a developer and have read the above message."
5 there are two options legacy and EFI, choose whichever you want. If you have no idea what that means just go for the legacy.
How to install and boot
1 you will have downloaded a zip folder after following the steps above.
2 extract the zip folder.
3 you will find an ISO file, a Remix OS USB Tool, and a readme file.
4 now insert your pen drive, should be 8 GB or greater, format it in FAT32 format.
5 if you have a pen drive with less space than 8 GB it will work but first you will have to download Rufus or any other bootable drive creating software.
6 now mount the ISO file on your pen drive. This might take a while.
Voilà your pen drive, with Remix OS, is ready to boot
7 shut down your PC, insert the pen drive and restart.
8 open the BIOS menu on your pc and select the boot order such that the flash drive is booted before the hard disk present inside the computer.
9 now you will be asked for selecting either to enter as a guest or in resident mode.
10 choose whichever fits your need. Wait a minute or two and Remix OS should be good to go.
11 if you are still not sure how the installing was done or having trouble booting your pen drive then click here.