You may not know how to build trading websites – this is a task for professional developers. Their experience of creating and developing projects for e-commerce is embodied in the Online Marketplace Software – a reliable tool for successful marketplace development.
Marketplace website development today and tomorrow
The daily life of each person (that is, each your potential customer) is closely related to online technology. Websites and mobile app provide simple solutions for solving large and small tasks from the field of foods, medicine, fashion, freelance jobs, sports, transportation, educational, household services, real estate and other property. The ideas of e-commerce companies simplify work and business operations, make peer-to-peer communication faster and more efficiently.
Thus the development of digital marketplaces contributes to the satisfaction of all business participants: partners, customers, like-minded people. To create not just a website, but a whole community, you need quality management. And in order to design and launch your own original online marketplace, you need a professional marketplace development with expert ready-made software. OMS by Rademade is the best example of such software.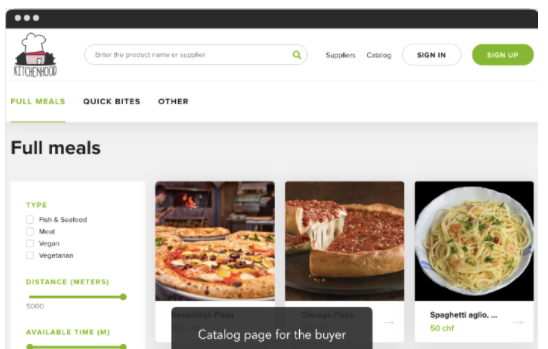 Software for marketplace development
Amazon, eBay, Etsy, AppStore are bright examples of successful multi-vendor platforms. Each of them has its own specialization and its own audience. But the difference between platforms is not only in products and services but in different business models, different sets of functions that they offer their sellers and buyers, the various market niches that they occupy. The builder must consider all this before the construction of the marketplace. Strategic planning, in theory, will become a guarantee of a problem-free marketplace development and expansion in the future.
But in practice, you need to start small, to be exact – with a minimum viable product. MVP will provide meaningful feedback from users, understand exactly what they need and how to develop the project further. This approach will provide more useful data than academic advisors. Here is the optimal marketplace MVP:
Admin dashboards

Your own domain name

One time payment

Unlimited categories

Unlimited vendors

Unlimited products

Review & approve vendors.
Using OMS by Rademade allows you to successfully overcome the alpha and beta testing stages and go on to custom setting and unique features of your site and/or application.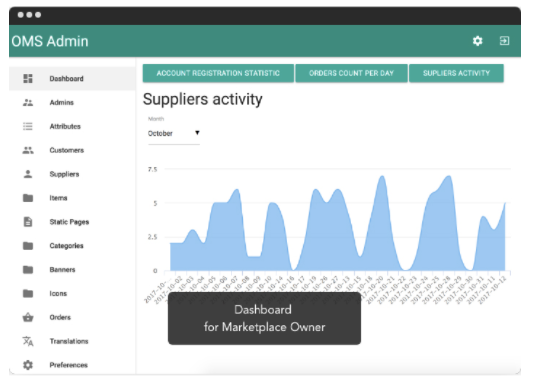 Individual customizable marketplace development
After successfully launching and testing MVP, you can and should focus on services for sellers and buyers, including a customer protection program, flexible procure, payment and delivery services, order processing and everything that will increase the number of users. To do this, you will need to redesign some parts and add more than one script. And also iOS and Android apps that sync seamlessly with your marketplace. Here are the most necessary functions (plugins) of effective CRM:
Geolocation

Notifications и Chat

Calendar

Different business models

Payment system

Rating system и другие индивидуальные возможности.
So marketplace website development acquires exclusive features. But you do not need an expensive programmer, graphic designer, developer and marketer for this. Online Marketplace Software by Rademade will replace all these specialists.
Origin of OMS by Rademade
Our company often receives requests to build a marketplace like Amazon or develop a marketplace like Etsy. We created many projects from scratch for individual and corporate clients. Many years of our experience in writing code, market analysis, business modeling and online developing was embodied in the Online Marketplace Software.
OMS is based on the optimized programming language Ruby-on-Rails/Angular4. The reliability of this code can be estimated on such global platforms as Airbnb or Kickstarter. Therefore, OMS is ideal for creating a coherent and secure system for managing the marketplace for any niche, from retail goods and domestic services to reality and auto/moto rentals. Online Marketplace Software by Rademade is designed to develop a profitable online market platform.