On the whole photo editors are infamously complicated, and the ones that aren't often only have the most basic features. That is why trying to find one that is easy to use and yet has all the features that you need may feel like an uphill battle.
Before you give up, however, it would be worth your while to try out Movavi Photo Editor. As far as editors go it is definitely rich in features, but at the same time is designed with an intuitive approach that optimizes the user experience.
Movavi Photo Editor Review
Although you may have no prior experience or photo editing skills, it won't take you long to familiarize yourself with Movavi Photo Editor. Its user interface is easy to navigate, and its features use simple actions that can be figured out quickly. Some of the features are even automated and can be applied with a single click.
As far as the scope of features in Movavi Photo Editor goes, odds are you won't be disappointed with what you find. It is comprehensive, to say the least and will let you improve the quality of your photos, fix any problems, or even transform them into artistic tools.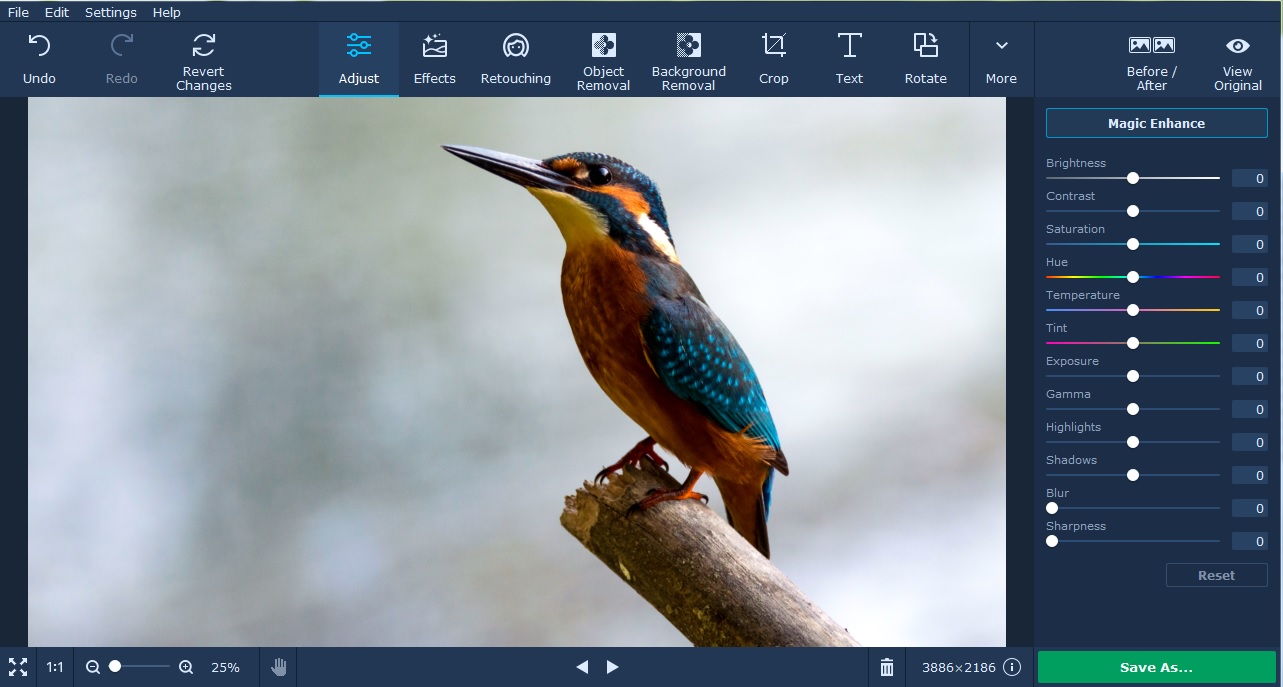 Features
Some of the ways in which you could improve your photos with Movavi Photo Editor include using it to:
Enhance the quality of your photos by adjusting the color settings manually or automatically.
Fix common issues such as blurry and out of focus or pixelated images.
Alter the visual style of your photos with artistic filters and effects.
Adjust the frame and composition of photos by cropping, rotating, flipping, resizing or leveling it.
Include captions, titles or watermarks by inserting text fields and customizing their appearance.
Touch up portraits by applying digital makeup, removing blemishes and imperfections, or whitening teeth.
Get rid of people, objects or other unwanted elements by deleting them and ensuring no traces are left behind.
Replace the background by removing it and then adding an image of your choice.
Make no mistake there are lots of other features in Movavi Photo Editor, but you should be starting to see just how extensive it is. At the end of the day you can expect to have all the tools you need to edit your photos at your fingertips, and with a bit of experimentation, you should be able to easily apply them to the task at hand.