Music Hosting refers to adding up your music files online where you as well as people from the world can access it, such as playing it, downloading it, sharing it, etc. Putting your music online is the best way to get exposure to your music and also can benefit from music plays and traffic that you generate. Where there are many people searching for music sites to download mp3 for free, there are many who are searching for free file hosting where they can upload mp3. We have sorted down the list of free audio hosting sites for you where you can enjoy maximum benefits such as mp3 upload, mp3 share, etc.
Music Hosting Websites List
1. SoundCloud

SoundCloud is an amazing and very renowned site that provides a social sound platform where anyone can create sounds and share them socially. You can record and upload sounds to SoundCloud and share them privately with your friends or publicly to blogs, sites, and social networks.
2. Reverbnation
Started in 2006, ReverbNation has helped millions of emerging artists build their careers. Reverbnation has an excellent interlinked connection which has helped connect Artists to venues, festivals, brands, publishers, labels, and the fans themselves.
Reverbnation has powerful career management and online marketing tool combined with industry relationships offer emerging Artists from around the world access to the global music industry.
3. Ampslam
Ampslam is independent music sharing community that provides musicians a free, alternative platform to promote and share their musical art with the world. The best thing about Ampslam is that there are no fees or hidden costs. Music lovers can browse a wide selection of musical styles.
4. Bandcamp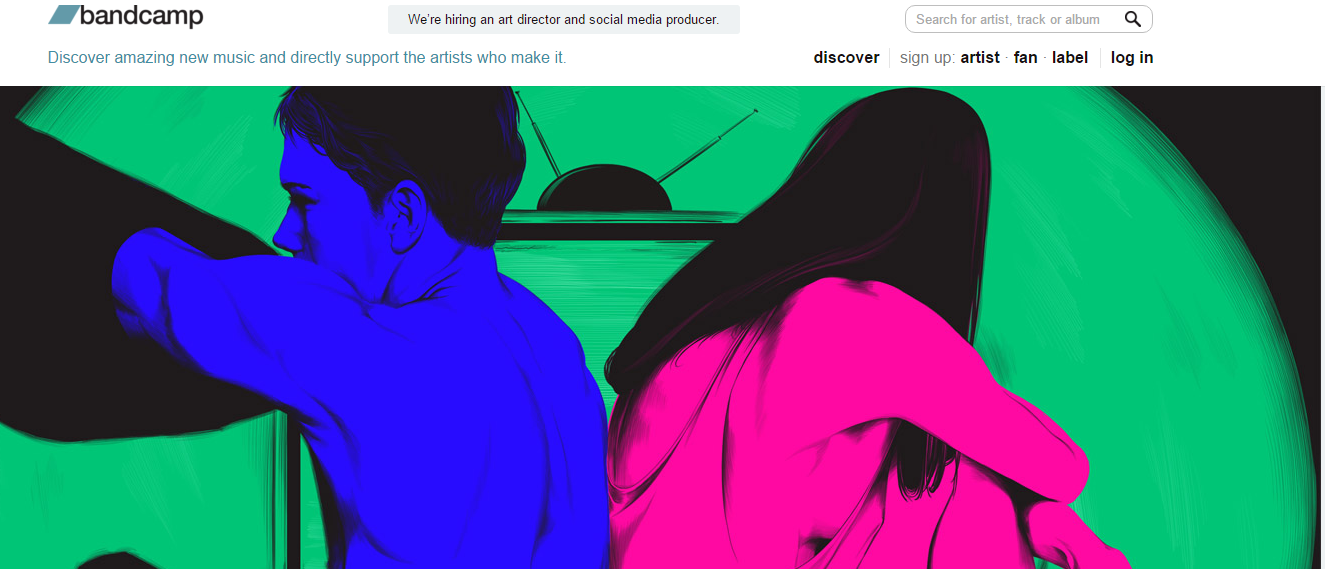 Bandcamp makes it very easy for the fans as well as the artists. Artist can upload their music and fans can show their love by supporting and even buy the music. Bandcamp is successful in selling local artists' music to its fans and generating an overall $145 million to date.
5. HostBaby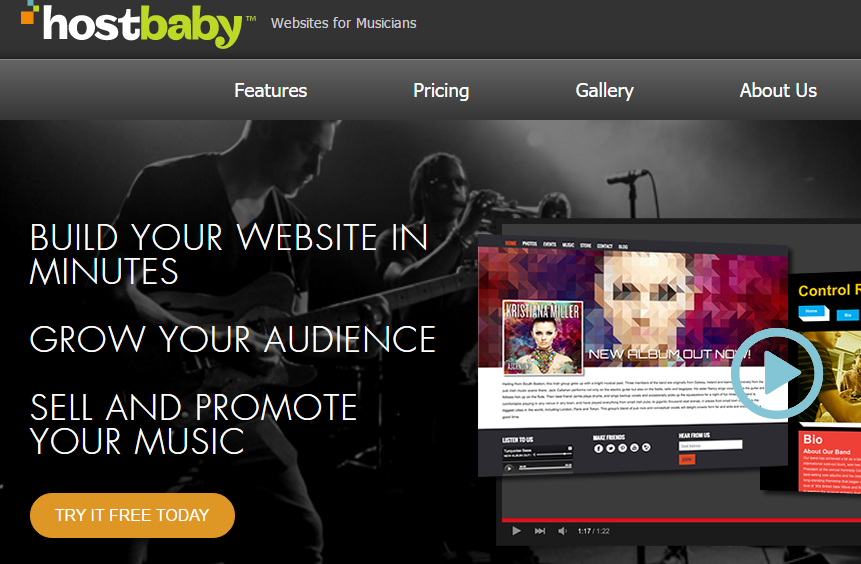 HostBaby was established in 2000 which allows you to build your own music website and create a platform to grow your audience and sell plus promote your music to the fans. HostBaby provides just the right tools to the new independent upcoming musicians and artists to grow their careers online.
6. 7161.com
Upload mp3 for free! 7161 is one of the simplest platforms for free web audio hosting facilities to musicians, bands & Deejays, and providing Free music websites for bands deejays and musicians.
Artist/Band/Label and Deejay users get 100mb of free track/mix space.
Deejays users you can add a 65mb-max one-hour long radio mix set encoded at 128kb .mp3
Features:
A dedicated forum
Share widgets for Facebook etc
news-item visitor comments
Track/mix visitor comments
mailing list add & contact forms
All your added tracks/mixes
Stream & download links
Podcasting
RSS blog of all news
Gigs, gallery & videos pages
7. f3Music
F3music is an online music distributor that promotes both signed and unsigned musicians. f3music do not display ads on your music page or force unwanted pop-ups unlike other audio hosting services online. If you are a music lover you can browse around original and new charts to hear audios of all genres across the world. In case you are a musician yourself you can upload your own songs.
8. Bandzoogle
Another website for you to upload your mp3 free and share it among people online by building your own music website platform.
9. Bluby
Bluby.com provides Web Hosting for Musicians, Bands, Artists, Recording Studios, Restaurants, and Businesses at the absolute best affordable prices. Blaby is special for its amazing optimization which helps you keep gaining fans and followers regularly.
10. BroadJam
BroadJam members can create free of charge website to upload mp3 and host their audio which includes features such as :
Hosting Features
Make quick & easy updates
Track your visitor traffic
Sell your downloads
Set up hosting email
Customize your menu
Post your latest news
Sell your merchandise