After more than two years of development, including ongoing testing and optimization, PIN Genie Smart Lock has passed the high-security certifications and received great feedback from its 256 Kickstarter backers. The team is now proud to announce the launch of PIN Genie Smart Lock at shop.pingenie.com after done hundreds of extensive head-to-head competition among leading smart locks. The retail price is set at $159 for PIN Genie Smart Lock Essential and $199 for PIN Genie Smart Lock Pro.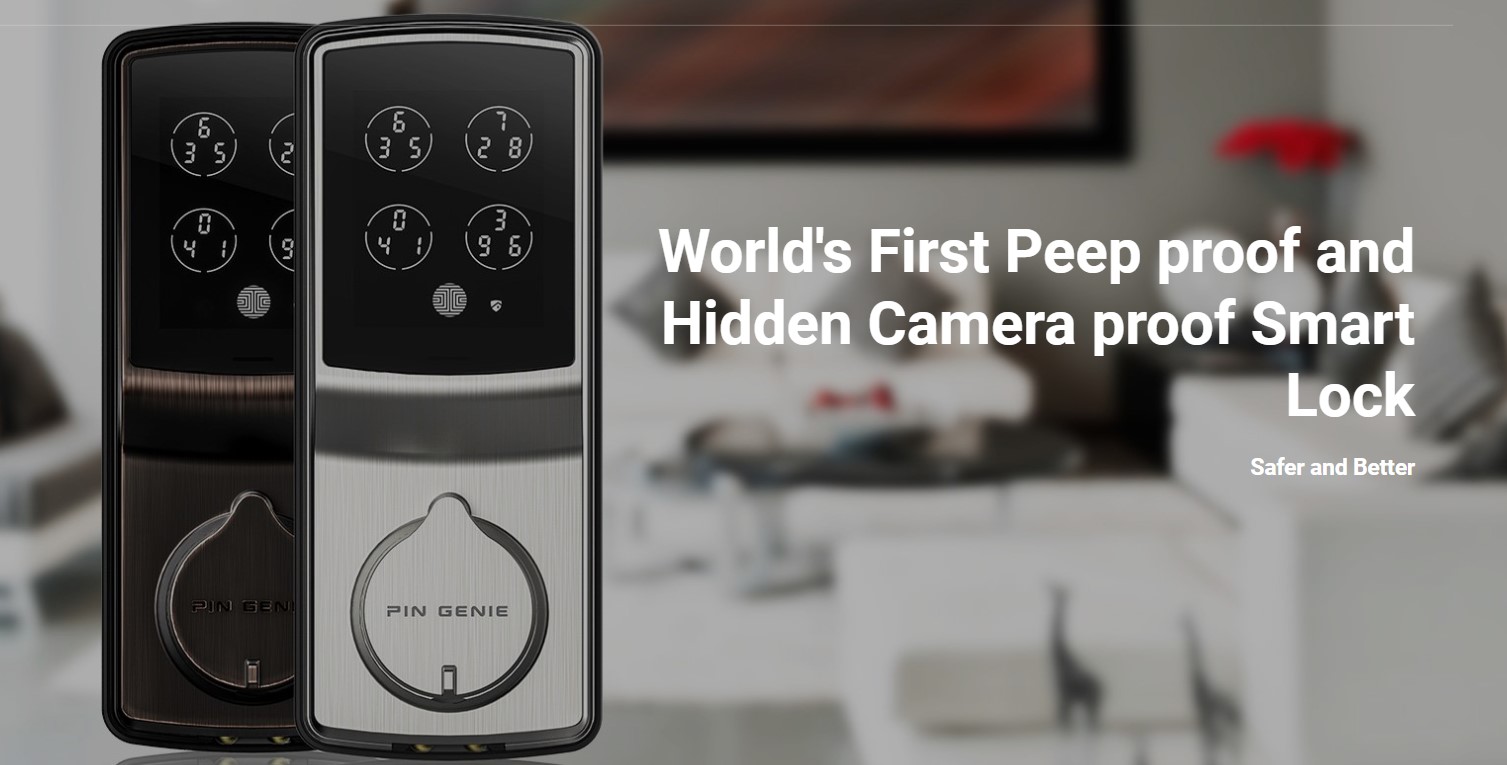 What makes PIN Genie Smart Lock unique?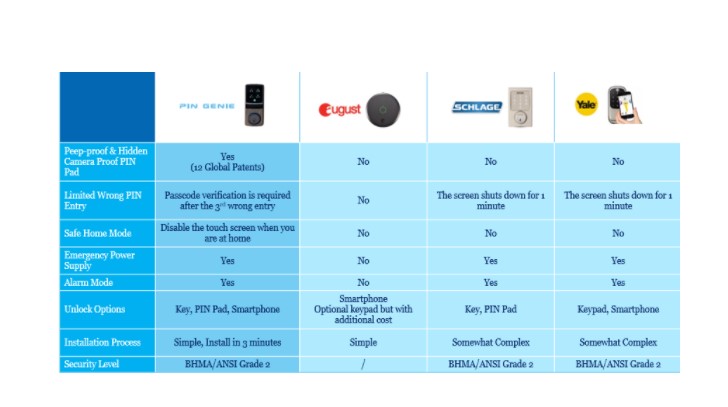 Check out: https://www.strongholdlocksmiths.com
The globally patented peep proof and hidden camera proof PIN Pad.
The most common and cost-effective solution of top smart locks in the current market is to apply a digital keypad on the lock to achieve a keyless experience.  However, as we all know, the password on our traditional PIN pad is very vulnerable to the hidden camera or even just a glance over the shoulder. Statistics show that 2 out of 5 people reported that their passwords have been stolen.
PIN Genie Smart Lock applies the PG PIN pad, which has 12 global patents on it. It is simply designed and easy to use while provides the highest protection of your e-key to your home. It randomly distributes the 10 numbers (0-9) into four buttons, and all numbers reshuffle after each time of use. Therefore, even when someone watches you or records you entering your password, he/she still wouldn't be able to know it. PIN Genie makes PIN theft a thing of the past. The team has first applied the PIN pad into two mobile Apps and launched in 2016. They are PIN Genie Locker, the highest-rated screen lock and app lock on google play that has over 3 million users worldwide, and PIN Genie Vault on iOS, which is an all-in-one vault to save all kinds of your private files, including photos, videos, logins, etc., PIN Genie PIN Pad has been loved by users and PIN Genie Smart Lock is the only one smart lock in the market that is equipped with such high-security level of PIN pad. Access combinations of PIN Genie Smart Lock can have up to eight digits, and its memory holds up to 8 sets at a time.
Low Energy Bluetooth Connectivity turns your phone into your key and manages access from anywhere anytime
PIN Genie team aims to provide not only a safer but also a better experience. The PGD 728 Model connects the smart lock to the smartphone through Bluetooth and turns your smartphone into the key to your phone. We love PGD 728 model as it enables hosts to manage access on their smartphones. It eases the worries in sharing your physical keys to housekeepers, delivery guys, and other guests, etc., Homeowners can simply create temporary passcodes on their smartphones with expiring time and share them with their guests. This is super useful for hosts who list their homes on Airbnb and VRBOs, which no longer need to pass the physical keys to guests and worry about keys being stolen and duplicated.
You can set up to 8 access codes for each of your family members and know who is home by checking the access history. This is super helpful for families with children and grandparents. PIN Genie make sure you don't worry about family during business hours.     
Tamper-proof high-quality finish and built-in 120dB siren Alarm keep your home free of burglary  
PIN Genie Smart Locks has passed extensive tests by 3rd party lab, which has the same safety level as BHMA 156 Grade B. The deadbolt meets the highest industry rating for security. Its built-in alarm has three levels of sensitivity that customizable for your needs, which the alarm will be triggered from slight vibrations too strong tampering attempts. PIN Genie Smart Lock protects you from any damage to your door. For additional security, you can activate the "Safe Home" mode when you arrive home, which you simply press the button on the back of the lock and disable the touchscreen. No one would be able to activate the smart lock from outside unless he/she has the physical keys.
Totally D.I.Y and easy to use
We firmly believe that if you need to hire a locksmith like Locksmith-Romo to install the lock or find it confusing to use, the smart lock is not good enough. PIN Genie Smart Lock is designed to fit in most standard door sizes and can fit into your existing door hole. We have prepared a detailed user manual with step-by-step instructions. Over 30 plus users were asked to install the lock by following the manual and most of them finished in 5 minutes. PIN Genie Smart Lock works perfectly with both doors opened from the left side and right side.  

PIN Genie Smart Lock fits in most standard door size.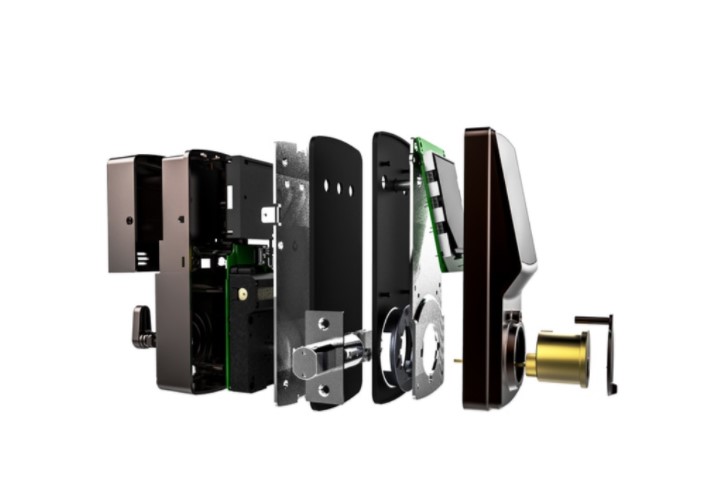 PIN Genie Smart Lock is compromised with simple parts for you to install.
Other available features: PIN Genie Smart Lock does more than locks and unlocks your home!
Other than the above features, PIN Genie Smart Lock has many other features for you to explore. With its 30s auto-lock feature, you no longer need to worry about forgetting to lock the door.  If you are first-time smart lock user and is thinking about being locked out when the smart lock runs out of battery. PIN Genie has perfectly solved that. It is powered by 4 AA batteries that run approximately 12 months with 10 times of lock / unlock each day. It will remind you by flashing the PIN Genie button in the back to alert you with the battery gets low. Even if you forget to charge the battery in the low battery period, there is a 9V battery socket from outside that you can use to activate the smart lock when it completely runs out of battery.  
About PIN Genie
PIN Genie is founded in Silicon Valley in 2014. The team is comprised of experts specializing in both security software and electronic hardware developments. The team has brought three mobile security apps with over 3 million PIN Genie fans worldwide.  PIN Genie founder, Lee Zheng has over 20 years in electronic product development and manufacturing. He and the team hold over 70 patents and have brought hundreds of successful projects to the market. The team has planned a full range of PIN Genie Smart locks that will be compatible with Apple Homekit and Alexa that will be available in Q1 2018. Other than PIN Genie Smart Lock, the team has applied the PIN Genie technology into PIN Genie Smart Safe and PIN Genie Smart Lock padlocks, which will launch in 2018.  Apart from installing a smart lock for your home, you can also place some automatic trash cans to make your life smarter and cleaner.