Today, I come to leave a small article about an online tool, free and that does not need registration or downloads of any kind. It's about the RecordCast screen recorder.
This tool will allow users to record what happens on our screen or a specific application window. We will only need a web browser with which to access the tool. While testing the tool, I have to say that I used several browsers, and the best result was obtained with Chrome.
Introduction
RecordCast is a video editor as well as a screen recorder that can capture games and videos output on the screen with microphones and capture the movement within the specified Chrome tab or application or the entire screen. If you are recording desktop applications for reference, such as for explaining how to operate an application, you can choose the app before recording starts. You can make a more understandable video by editing the recording and adding text annotations with its video editor.
How to use
To start using this online service, we will only have to open a web browser and go to the URL of the service. We will see that a screen is loaded like the following screenshot:
Here we will only have to click on the button that says, " Start recording."
Select the recording method
It will take us to the next step, where we can select the audio recording method during screen recording. We can choose between; Microphone, System Audio, or No Audio.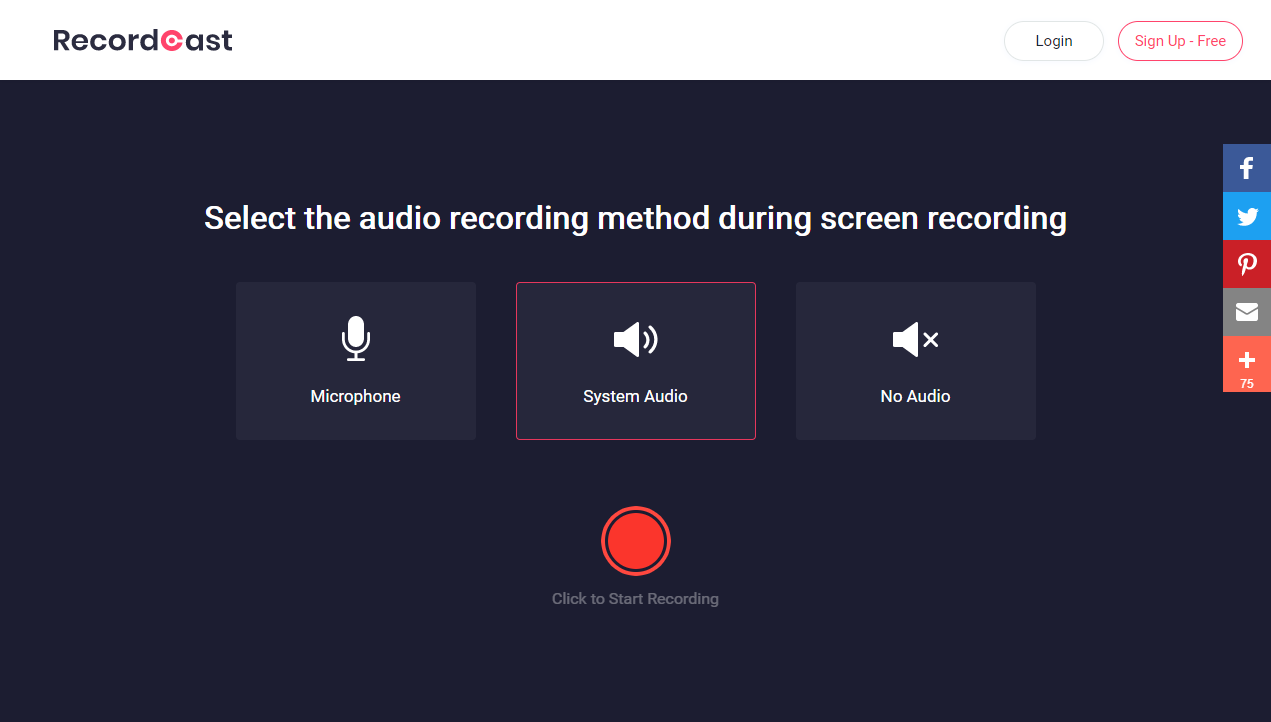 Recording
After the selection, we will see a new tab appear. In it, we will have to select what we want to record. You can record the entire screen, a Chrome tab, an application.
Once we have selected the option that interests us, we can click on "Share" and "Continue" to move forward. This will start recording all the things that happen in the section we select. When we want to stop the recording in the browser tab in which we have the RecordCast service open, we can click on the red icon on the center screen of RecordCast.
After stopping the recording, the video will begin to be processed. And we will see something like the following screen. From it, we can Download the video or Edit it.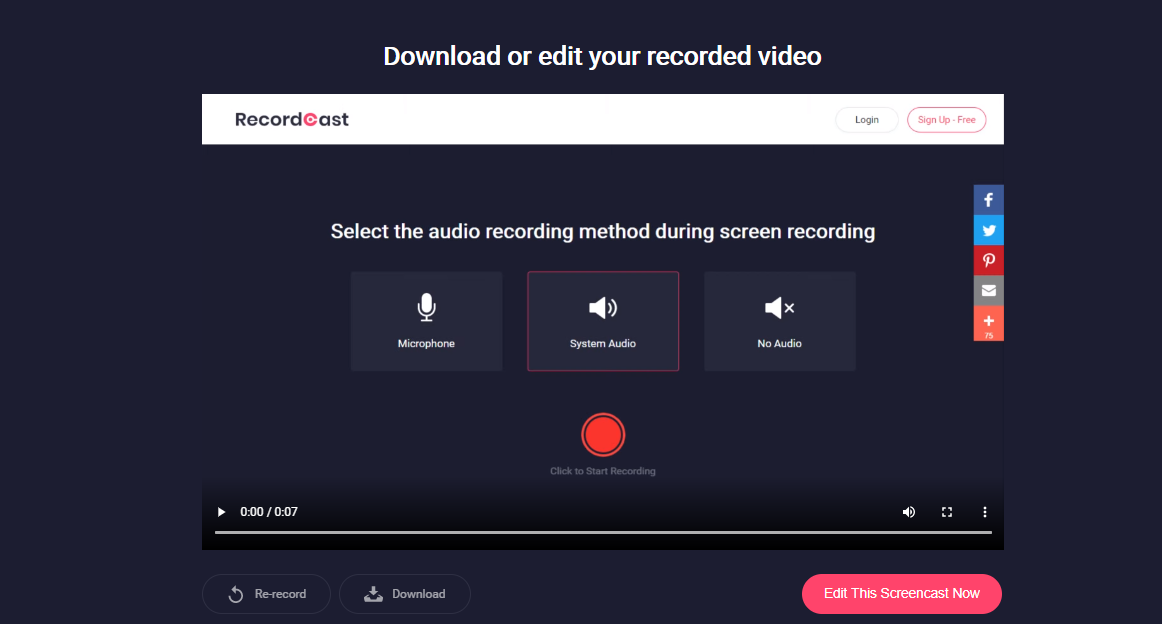 Edit the recording
If we choose to edit the video, we'd better login with an account, which will allow us to save our videos to the cloud for further editing. With this, we can make our videos beautiful with a good handful of available options, such as adding images, text, music, etc.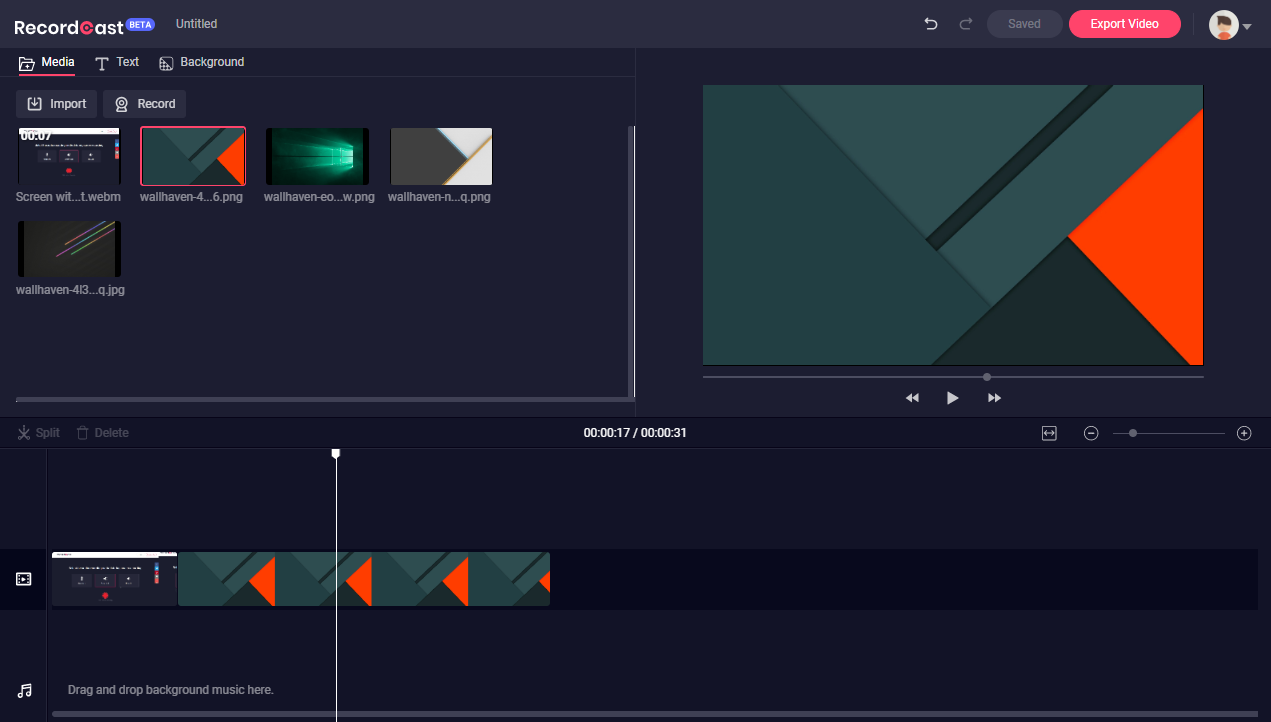 Once everything is satisfied, you can download the video with a high resolution to 1080p. What's the best, all of those are free of charge.
My opinion
And well, with RecordCast, we can now ready to record the screen and edit the video. If you want to record a screen video of your computer, and you don't want or don't have time to install anything, this is an excellent option to use. After all, RecordCast is a screen recorder software that can capture game videos and desktop operations with microphone sound online easily.