Using the Huawei watch offers a clear and broader experience. With an auto-brightness setting for increased transparency in the sun, the user can represent his style and expression on any given day using one of the available Huawei watches.
You can alter the theme to go with your everyday look by choosing from a range of colorful watch faces. There are also many exquisite watch faces available on the Watch Face Store. Alternatively, you can customize by choosing any photo from your smartphone. The bright and silky straps look fantastic with the matte, glossy watch frame because of its quality and solid appearance. Thanks to the Huawei Watch, you will always have a chic and current look.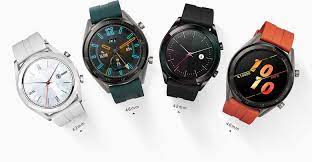 Features:
The watch's face-dependent features can now be easily adjusted. You can select and configure the most critical features to suit your browsing preferences, including heart rate monitoring, temperature measurement, battery capacity, step counting, and others.
Long battery life with a beautiful and slim design:
The Huawei watch is a fantastic all-day companion because it packs enhanced battery efficiency into just 21 grams. This watch's dual-processor layout and power-saving features give it ten-day battery power. Because of the rapid charge capability, the Huawei watch can also support you for a full day on a 5-minute charge. The rapid charge capability, the Huawei Watch, can also support you for a full day on a 5-minute charge.
Instructional Personal Trainer:
huawei watch deals with an automatic instructor. So now, you do not need to search for fitness demo tutorials when you have the Huawei watch since you can start working out whenever you want. This watch features twelve additional illustrated short exercises, including Full-Body Stretch, Exercise at Work, and Ab Ripper, in addition to forty-four standard movement demonstrations. Utilize your free time, like tea breaks or weekend downtime, to stay active and healthy by wearing the Huawei smartwatch.
Measurement of Pulse Rate for 24 Hours:
Huawei watch deals with an accurate pulse rate tracking system in real-time throughout the day or even while you are asleep because of the Huawei TruSeenTM 4.0 heart rate tracking system. Additionally, it can detect when the typical heartbeat range is exceeded and provide a reminder to preserve your health.
Stress Tracker:
Blood oxygen saturation is a biophysical sign of pulmonary and respiration activity. If you stay up all night or push your mental limits, the Huawei watch automatically reminds you to help you shift your status and enable continuous blood oxygen tracking. The Huawei TruRelaxTM algorithm and stress tracker for an entire day can effectively track your stress levels to determine whether you are experiencing stress. Use the offered guided breathing exercises to calm down when you're worried.
Bottom Line:
The Huawei watch has a GPS sensor, an AI heart rate technology, and new sensors. It is made for all forms of fitness, including swimming, jogging, cycling, and more. This watch gives you real-time metrics, scholarly analyses of your training's effects, and professional recommendations to help you improve your workouts. So, it is clear that Huawei watch deals with all essential daily life features.