If you want your brand to make a lasting experience, then you need to make something unique and stunning for its marketing and advertising.
All this is possible if you use custom logo stickers that specify your brand. It would not be easy for you to make these logo stickers to make your business grow in this competitive marketplace. So, you need to get some important tips and tricks if you are serious about creating your custom logo stickers.
This read is based on the best tips and steps that will guide you toward creating your custom logo stickers to make your brand popular in this competitive age.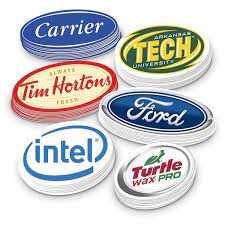 How can you start your custom logo sticker business?
Creating custom logo stickers ask you a lot of things. A list of those things has been added to this article for your guidance.
Choosing the right business niche is important if you want to excel in your sticker logo business.
You need to market your products by targeting the exact audience to reap the benefits in the long run.
This is important to create a business plan. You need to decide on all the things, such as the location of your business, expenses, expenditures, investment, product quality, and many more things in this way. A right business plan will help you grow your business.
Create a custom logo sticker for your business:
Creating a custom logo sticker will be done with two options. You can use canvas for this purpose or go for manual creation. You can choose polyester or vinyl paper for making stickers.
Download and install Canva:
This is important for getting rid of manual handling and working.
Choose your favorite template:
You will find a lot of unique templates for your custom logo stickers. So, choose the right one.
Use the free online editor:
There you will find the free online editor that you can use the make the necessary edits, such as to customize the template by changing its color, size, shape, and design.
Make required edits for your personalization:
You can also add any photo and get it printed for your logo stickers. These edits will add personalization to your items.
Then you will give a final touch to your creation. This is required to keep your logos distinguished from other competitive brands.
Use Canva print and get your logo downloaded:
Getting the print is essential if you are sure about your logos and then start using them.
Set the prices and shipping methods:
You must carefully choose the prices and shipping methods for these custom logo stickers. Make sure that you offer reasonable products so that people will visit your place frequently.
Marketing, advertising, and commercializing are the three main pillars that can take your business to the next level. So, create and use unique marketing strategies for your business.
Wrap up:
Custom logo stickers are the easiest ways to get your brand's market and stand out among competitors. These are needed for unifying your brand, company, and organization. You can use these stickers for marketing anything and for decorating as well.