"45 million songs. Three months on us…." This is what Apple says on its website, claiming that 45 million songs are available on Apple Music. However, you can only have three-month trial. That being said, you must pay for songs you want to listen to after three-month free trial. Worse than that, music tracks in Apple Music library are protected by Digital Right Management policy, which is employed to restrict the use, modification, and distribution of proprietary copyrighted works, especially music. Due to DRM restriction, you cannot make full use of purchased Apple music, such as setting purchased Apple music as iMovie background music or turning purchased music as iPhone ringtone. Additionally, you cannot stream the purchased Apple music in non-Apple devices.
Luckily, there is remedy for DRM protection decryption, empowering you to really own million Apple songs and uttermost enjoy music on any device. The remedy is TuneFab Apple Music Converter.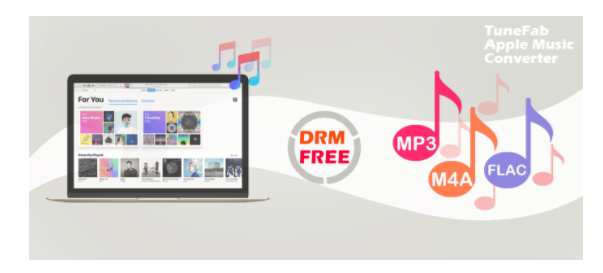 Feature List: What TuneFab Apple Music Converter Can Do
Pleasant and Easy-to-Navigate User Interface: TuneFab Apple Music Converter has a simple and intuitive user interface, making the software well thought out and well executed. It doesn't set up any roadblocks for users. Therefore users will not have issues with using the product. Once the program is activated, you can easily figure out where features are located.
Customizable Options: There are customizable options for you according to you need. You can, for example, define output folder to store output files, adjust conversion speed, etc.
Convert Apple Music to Any Format: This is the most significant feature of TuneFab Apple Music Converter. And it is also the purpose of using this program. TuneFab Apple Music Converter is in a professional capacity on the job to convert Apple Music to 300+ formats, such as MP3, M4A, etc. without losing sound quality.
Remove DRM from Apple Music: When converting music tracks to other formats like MP3, TuneFab Apple Music Converter removes digital right management from the music simultaneously. Afterwards, the music will be compatible with non-Apple phones/tablets.
Working Principle: Why TuneFab Apple Music Converter Is So Powerful
TuneFab, the developer team of TuneFab Apple Music Converter, is an experienced team in the field of media format conversion and DRM decryption. The team has specialized in developing DRM removal program for years. Advanced algorithms are employed to build powerful conversion ability. In order to enhance performance of the software and seamlessly meet users' needs, the team attaches great importance to user's comment on this program. They fix bugs and improve the program features based on negative feedback.
You may wonder how TuneFab Apple Music Converter works. You don't need to import the Apple Music tracks one by one, because this program can automatically detect all music files stored in iTunes music library. Also, it will do no harm to the original Apple Music tracks because it will only record and convert the Apple Music to your desired format in the background and finally create a completely new file, which is DRM-free.
During conversion, TuneFab Apple Music may cut some info which is beyond human's hearing so as to compress the file size and make it readable. This doesn't cause sound quality loss owning to precise data analysis. After conversion, DRM will be removed from the track. Then you can enjoy the song on any non-Apple device.
User Guide: Remove DRM from Apple Music with TuneFab Apple Music Converter
Step 1. Prepare for DRM Removal
Before you convert Apple Music format and remove DRM protection from TuneFab Apple Music Converter, you need to prepare conversion tools.
Tools you need:
Apple Music downloaded from Apple Music Store
TuneFab Apple Music Converter (Click here to download the program on your computer.)
Windows/Mac computer
Latest iTunes
Step 2. Open TuneFab Apple Music Converter
Click to open TuneFab Apple Music Converter on your Windows/Mac computer. When you have the register page, enter the registration code into the blank. Then click the "Unlock" button to confirm register. Once TuneFab Apple Music Converter is activated, iTunes in your computer will be activated automatically.
Step 3. Select Music Items to Convert
TuneFab Apple Music Converter will detect Apple Music tracks and albums. Then you can preview them in the "Playlist" menu. If detection is failed, please click the "Refresh" button to update data.
When music tracks are loaded, select the playlist category at the left pane and choose songs you want to convert.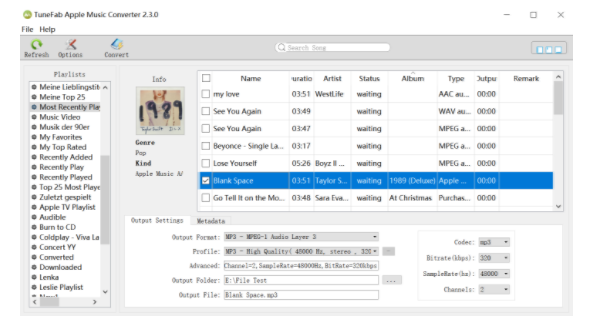 Step 4. Adjust Output Settings
Go to the "Output Settings" section. Then select output format from the drop-down list for Apple Music. Output formats include but not limited to MP3, M4A, AC3, AIFF, AU, FLAC, M4R, and MKA. In addition, you can also define output path to store converted songs.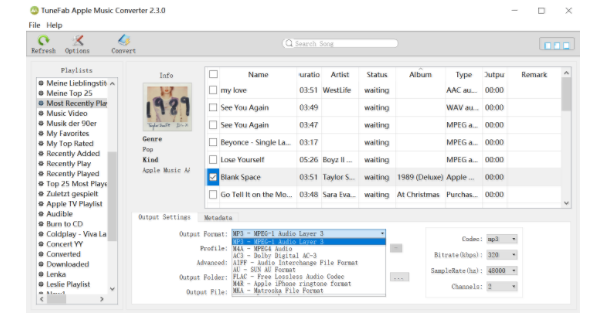 Step 5. Convert Music Format and Remove DRM
Click the "Convert" button. Then Apple Music will be converted to pre-selected format. Meanwhile, DRM protection will be removed from Apple Music. When conversion is finished, you can find the file in the pre-defined output folder.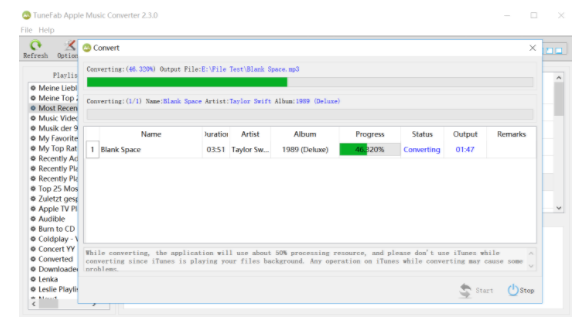 Comments: What Users Say About TuneFab Apple Music Converter
Troy Taylor
"It's cool to use TuneFab Apple Music Converter. DRM is really annoying because I often need to listen to them on my MP3 player. TuneFab Apple Music Converter really helps."
John Smith
"The BEST converter for Apple Music. It works as one would expect. Constant updates and good technical support."
Andrea Green
"I'm using TuneFab Apple Music Converter to convert Apple Music format. I like its interface which is extremely user friendly. Besides, it can auto-detect Apple Music and convert in one click."