Android continues to lead the market with around a share of 67% in the worldwide smartphone market. This huge popularity has led to the development of tons of applications and features in the Android phones and every day millions of applications are downloaded for playing music, games, movies and for a lot more things. The more you download applications in your phone lead to a risk of overloading your phone memory or losing your data. There may also be incidents of accidentally deleting your data and you'll be left stranded without your precious data in your hands including your contacts, messages, photos and other files.
But no need to worry if you lose your data and you don't need to visit a mobile service center and spend lots of money to recover your data. You may have several confidential information on your phone and hence you may be reluctant to hand over your phone to any third person. So what is the solution to recover your precious data? If there is a problem, there's always a solution right. Yes, you have the TunesBro Disklab for Android that can help you recover all your data easily.
TunesBro DiskLab – A Reliable Android Data Recovery in 2017

TunesBro DiskLab for Android is an excellent program that helps you to recover all data from your android mobile phone no matter for what reason it got deleted. You can recover all your messages, videos, songs, movies, files, contacts from your Android mobile phone. You never need to worry as the Disklab software provides recovery from all kinds of data loss caused due to accidental deletion, unexpected system crash or data loss due to factory reset etc.
Tunesbro Disklab has been specially developed keeping in mind the average computer user and hence the user interface is very simple and easy to use. You don't need any other technical person to explain the functionality of the software as everything is easy to understand. The data recovery software is compatible to both Windows OS and Mac OS.
How to Recover Your Data Easily with TunesBro DiskLab
It is always better to take a backup of all your data regularly. But if you don't have a backup of your important data, then it is utterly difficult to recover your data without the help of a third party data recovery software. When it comes to data recovery, Tunesbro DiskLab is one of the best software recommended by many data recovery specialists. With the DiskLab in your hands, you can recover any kind of data loss both from your internal memory as well as external memory SD card also easily. One of the important aspects of the Tunesbro Disklab is that you can preview all the data and recover only the data you need. Please follow the steps outlined below to recover your data using the TunesBro Disklab software easily: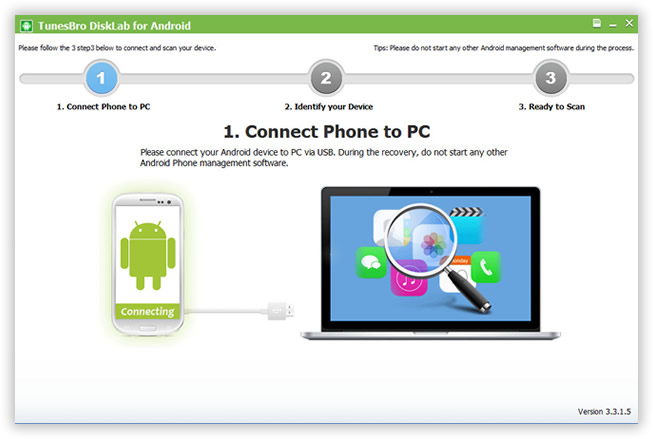 First, make sure to download the Tunesbro Disklab software and install it in your system

Switch on your Android Phone and turn the "USB Debugging" option on.

In order to recover your data, you need to root your Android Phone

Now it is time to connect the phone to your computer and in the Disklab software click "Start Scan" to get the scanning process started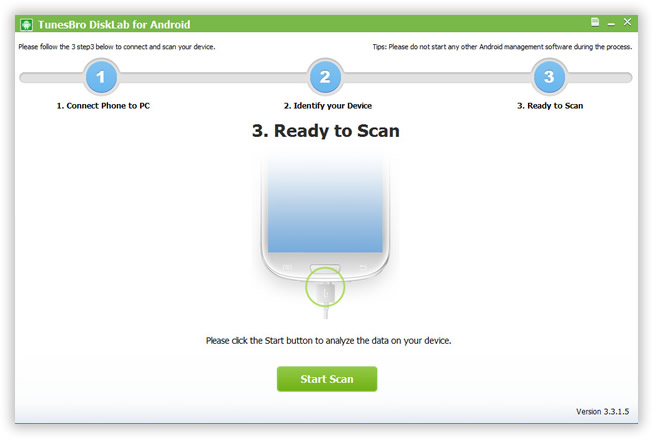 The scan process detects all the data and shows a preview of all the data found on your phone

Choose only the files you need and click "Recover" option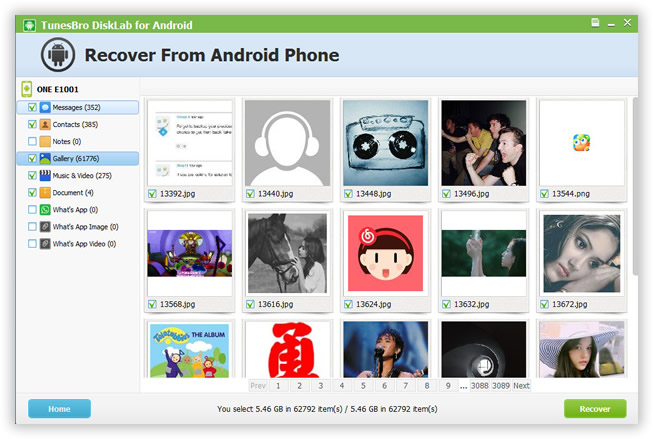 Conclusion:
When it comes to data recovery nothing can beat TunesBro Disklab data recovery software that can recover all kinds of data from any kind of data loss. It is a must have software in your computer as you never known when you can lose your mobile data.