Beehive is a cloud based human resource and payroll management software that works on Microsoft Azure servers. This software streamlines your employee management processes from hire to retire. Moreover, it optimizes a whole range of business functions to deliver better and high-quality results. It can run on internet, intranet VPN and WAN.

The software centralizes all your business operations apart from enabling you to track all your projects from a single point. With employee service management, you can easily manage complex task such as leave management, payroll management, punctuality, attendance management and many more. It facilitates you to easily manage the employee recruitment and training processes. The software is a genuine and complete package for all your HR and business management needs.
This HRM and payroll management software offers various modules, human resource information system, employee self-service, leave, payroll and attendance management. You can manage your taxes including dealings related to Form 16, claims, reimbursements, performance management, training management, travel and time sheet management and many more. 
Beehive software is configured in accordance with your business protocol in order to deliver efficient human resource management at your fingerprints. It enhances the relationship between the employee and employer. Based on your specific needs, you can easily customise this software.
This HRMS is backed by a professional team of human resource strategists, implementation strategists and relevant experts. It can make your life easy by assisting you in all your HR activities with dynamic customising and configuration option.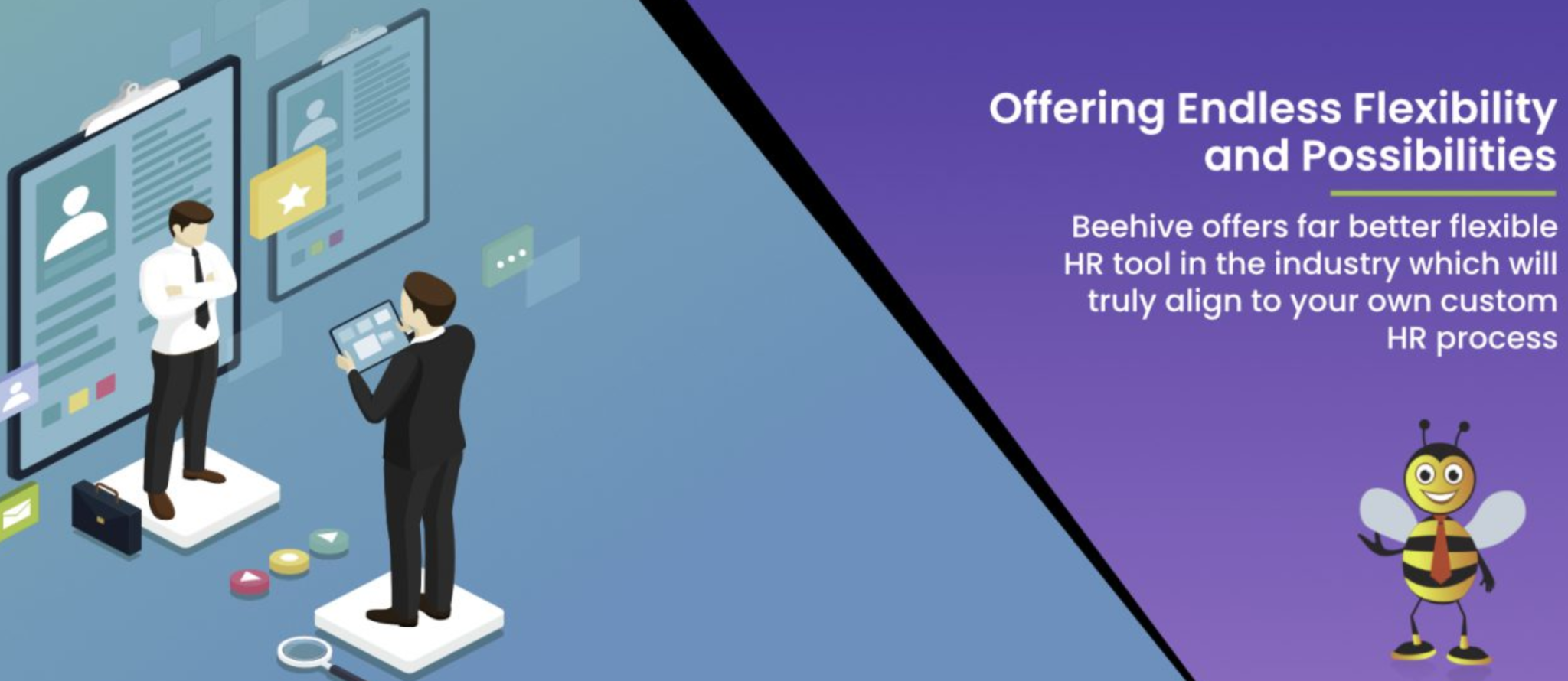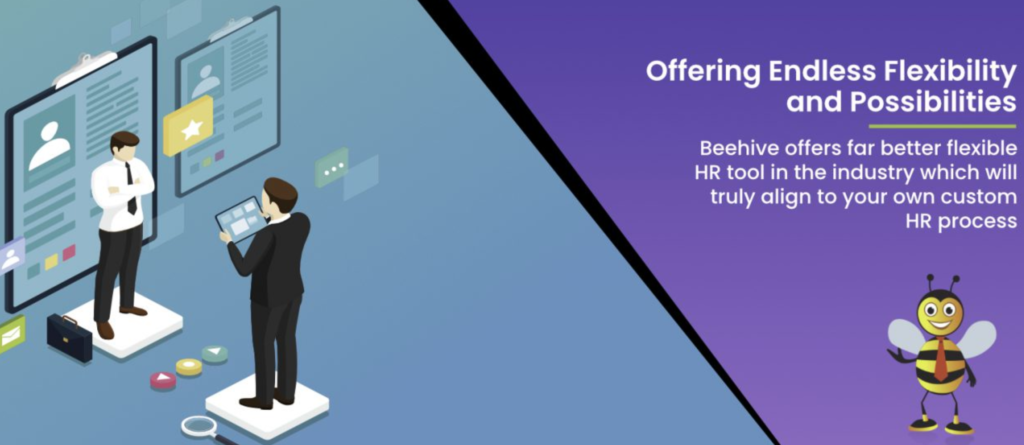 Technical Specifications
Following are the technical specifications of this software:
Organization type : SMEs, start-ups, mid-market, Agencies and enterprises
No. of employees : 1-10, 11-15, 16-200, 201-500, 500-1000, 1001-5000
Platforms : Windows
Devices : Desktop
Deployment : Cloud based
Suitable for : All industries
Business specific : All businesses
Language : English
What features does it offers?
Beehive human resource management (HRM) and payroll management software offers a wide range of comprehensive features. These features allow you to upgrade the productivity of your business operations to sky high levels. Following are the key features offered by this software of versatile utility:
Time & Attendance Management

Training Management

Travel Management

Workflow Administration

Employee Data Base

Mobile App

Pay Slip

Leave Management

Compatibility with Swap Card

Formula Defined Salary Calculation

Arrears Calculation

Multi Company

Data Security

Payroll Management

Performance Management

Project Management

Recruitment Management

Reimbursement Management

Shift Management

Statutory Compliances

Task Management

Taxation Management

Salary Adjustment

Self Service Portal

Application Security

Workflow Management

Compliance Management

Project Planning

360 Degree Feedback

Compensation Management

Performance Appraisal

Dashboard

Workforce Management

MIS Reports

Timesheets

Analytical Reports

Reporting

On-Boarding

Integration with Biometric

Events & Reminders

Excel Import

PF/ESIS Calculation

Grievance Management

Salary Information & History

Appraisal Management

Back Office Assistance

People Management

Talent Management

TDS Calculation

Letter generation

Offer management

Asset Management

Attendance management

Bonus, Loan & Advances Management

Document Management

Email Integration

Employee Self Service Management

Exit Management &Separation Management

Expense Management

Help Desk

HR & Payroll

Mobile Support

Multi User login & Roll based access

Self-onboarding

Employee field customization

Online resignation

Geo tracking

Request hierarchy

Resource cost estimation

Employee Lifecycle Management

Expense Reporting

Vacation / Leave Tracking

HR Drive
What are the Advantages of Using Beehive HRM and Payroll Software?
From the above list of features, you can easily judge that this software is one of great use for your business. Following are the various benefits of using Beehive software:
In an organisation, employees are the most important asset. Therefore, tracking their attendance is an important and, at the same time, a cumbersome task. Beehive HRMS and payroll management software allows you to track and manage the employee attendance very easily. In fact, it can completely automate your attendance management system. 
With the integration of the biometric mechanism, you can track the employee login and logout time and can make them more accountable towards their work hours.
This HRM and payroll management system prompts availability of data, self-service, transparency and data security. It reduces the time which is usually spent in dealing with multiple systems. It speeds up all your business operations and helps in improvising the overall strategy and planning of your business. 
Through all this, the software helps you to gain excellence in delivering HR services. Ultimately, it accelerates the pace of progress and helps in achieving goals.
Beehive software's

cloud-based management boosts collaboration and engagement among different departments and stakeholders in your organisation. This enhanced engagement improves the satisfaction of the employee. Ultimately, such quality engagements and collaborations improve the accuracy and efficiency of the employees. 
Moreover, this Cloud based HR and payroll system is designed in such a way that it ameliorates the lives of the employees. It also motivates them at workplace with rich customer grade experiences. You can setup a real time connection between the employee and manager by collaboration tools such as blogs, chats, social media handles and many more.
This software helps HR staff in decision making by providing data, dashboard, and progressive reporting that can be beneficial for your organisation.

Beehive HRM and payroll management system provides flexibility in the business processes. It can cleverly accelerate the pace, behaviour and grace of human labour in your organisation. 
It has a user-friendly interface that can be accessed even by a newbie. Training requirements range from low to zero. Plus, it offers a mobile application that enables you to access employee data from anywhere and anytime.
Beehive software enables you to centralise the business functions. It facilitates you to authorise your employee to access the database in accordance with their responsibilities and designations.  
Conclusion
Beehive software is fantastic tool to manage all the HR requirements of your company. It encompasses various important features such as leave management, attendance management, payroll management, task management and many more. It streamlines all your business functions while providing easy access.  
With Beehive HRMS, you can centralise all your crucial business functions and improvise your business strategies and planning. You can constantly track your employee records by monitoring their login and logout time. This feature will ultimately make them more accountable towards their responsibilities and your organisation. All in all, the software spikes your ease of doing business.