Why DesignCap?
I have been looking for a free application to create infographics and marketing content for social networks and I stay with DesignCap. It is a simple tool with a tremendously fast learning curve that allows you to create very wonderful designs in a few minutes.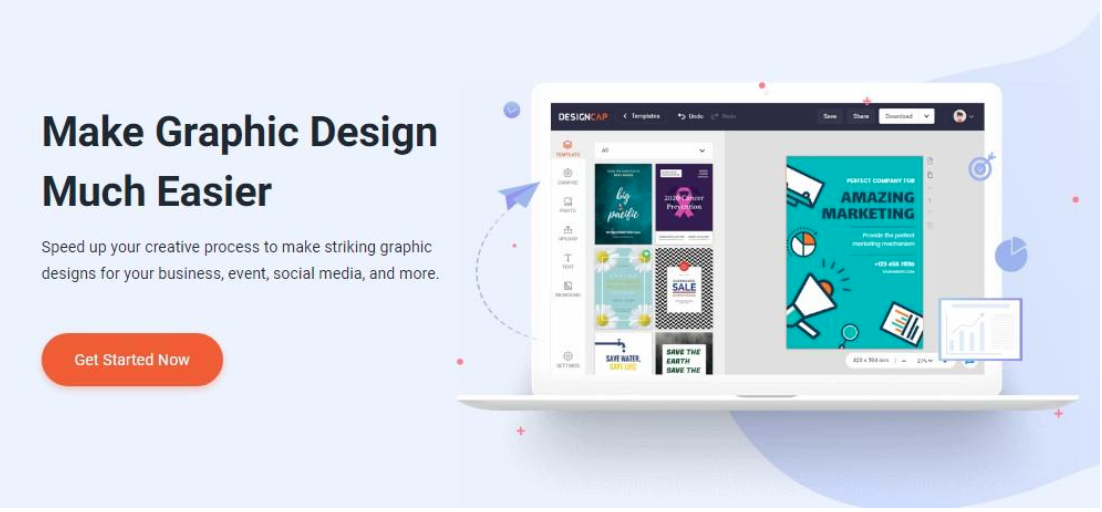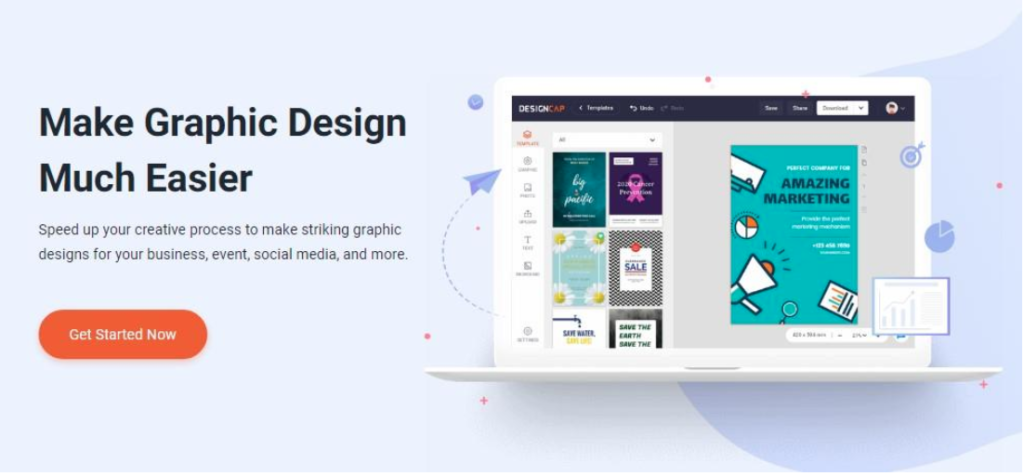 If you are a marketing content or community managers, you can not miss DesignCap for the creation of web or social content since it has predefined templates with the most used topics for social networks and marketing which will speed up the creation of content.
Unlike other graphic designers in the marketing, it is optional to register. But if you want to save your photos and project online under your account for later editing, register one. It's pretty simple to register with email or just login with your Facebook or Google account.    
How to start using DesignCap in 3 steps?
I will tell you how to use this tool so that you can start creating your own infographics and marketing content in three steps within 5 minutes. Once you have open its homepage: https://www.designcap.com/ where you must click on the orange button "Get Started Now" to start your design. 
1. Choose a template
You will see a large number of graphic design templates in many different categories. Take a look and then you will find the most used infographic designs for social networks or marketing. You can also start from a blank design with custom dimensions by clicking on the button at the top right. When you start with a design (predefined or not) it brings you to the DesignCap workspace where you can edit your design using the tools on the left panel. You will check them immediately that it is tremendously simple and intuitive.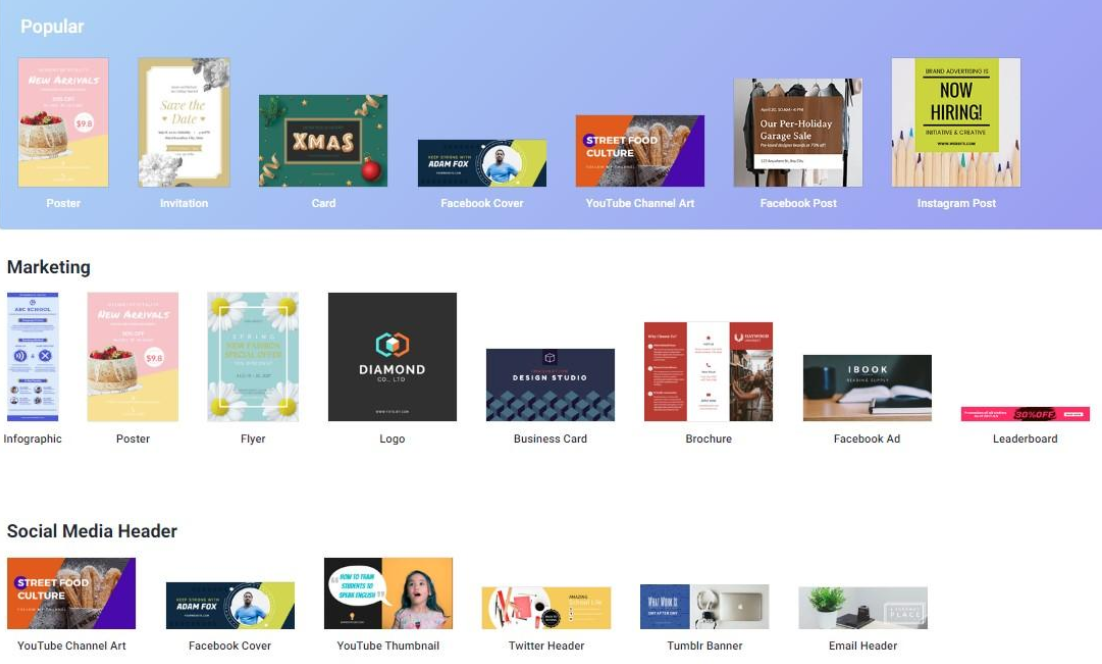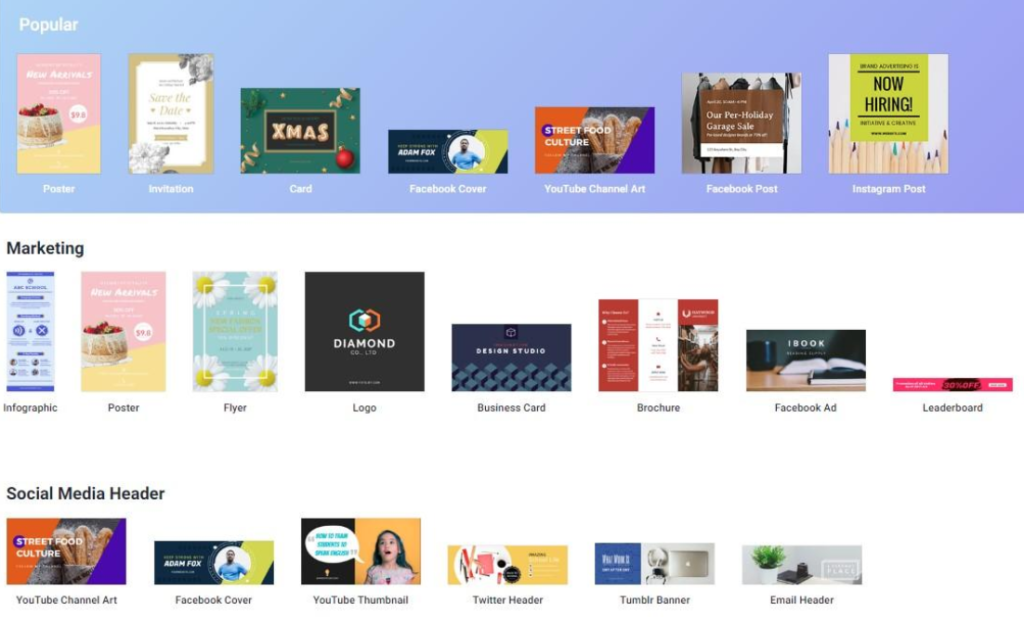 2. Personalize your design
We will start with the TEMPLATE menu. This can be checked if you want to use a predefined template. Browse them by grabbing the slider and pick one template you like to use. The second menu I'd love to say is GRAPHIC. From this menu you will insert on the canvas with many types of visual shapes and icons that you need for your designs. You can use shapes like lines, dots, solid/outlined rectangular, triangular, or outlined solid rectangular, triangular, and many more to try out different results. For Icon section, DesignCap allows you to search from millions of icons online with a specific keyword. You can fine tune both shape elements and icon elements with different colors and opacity.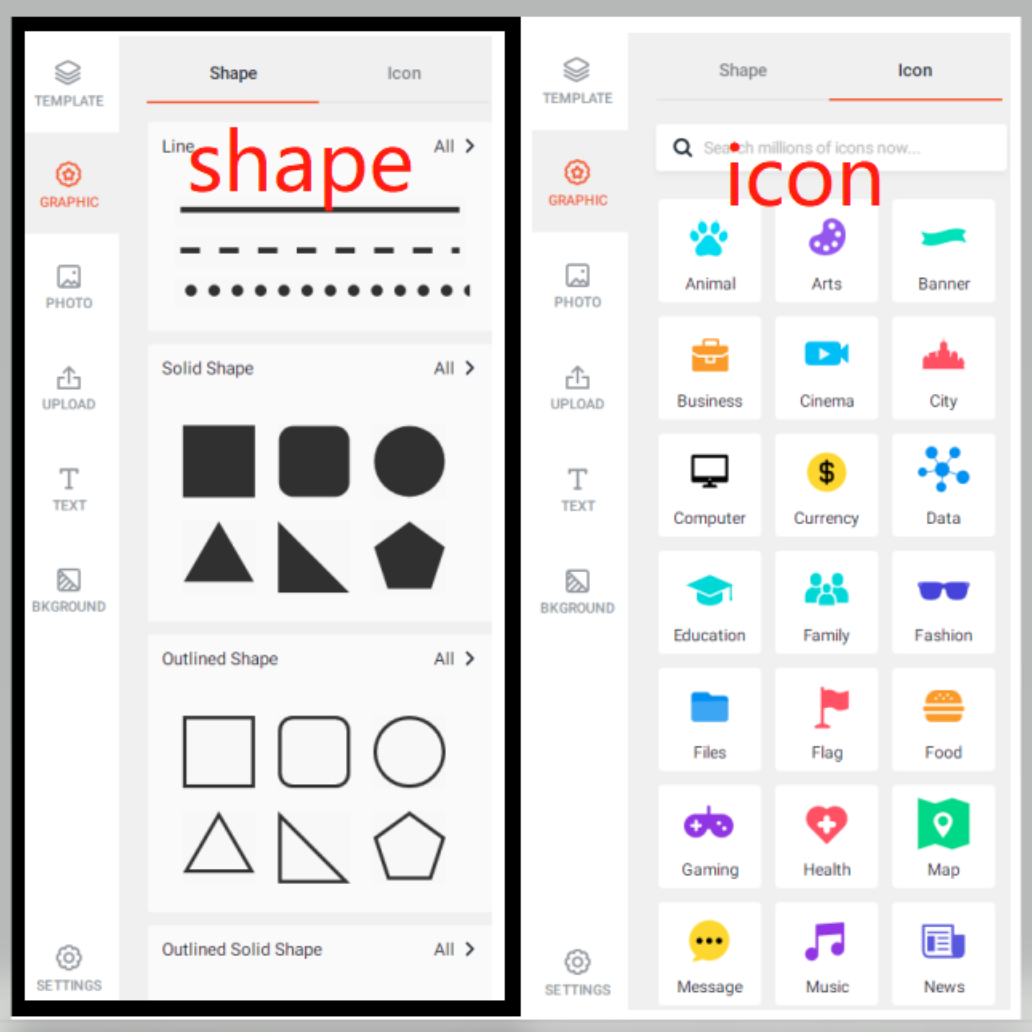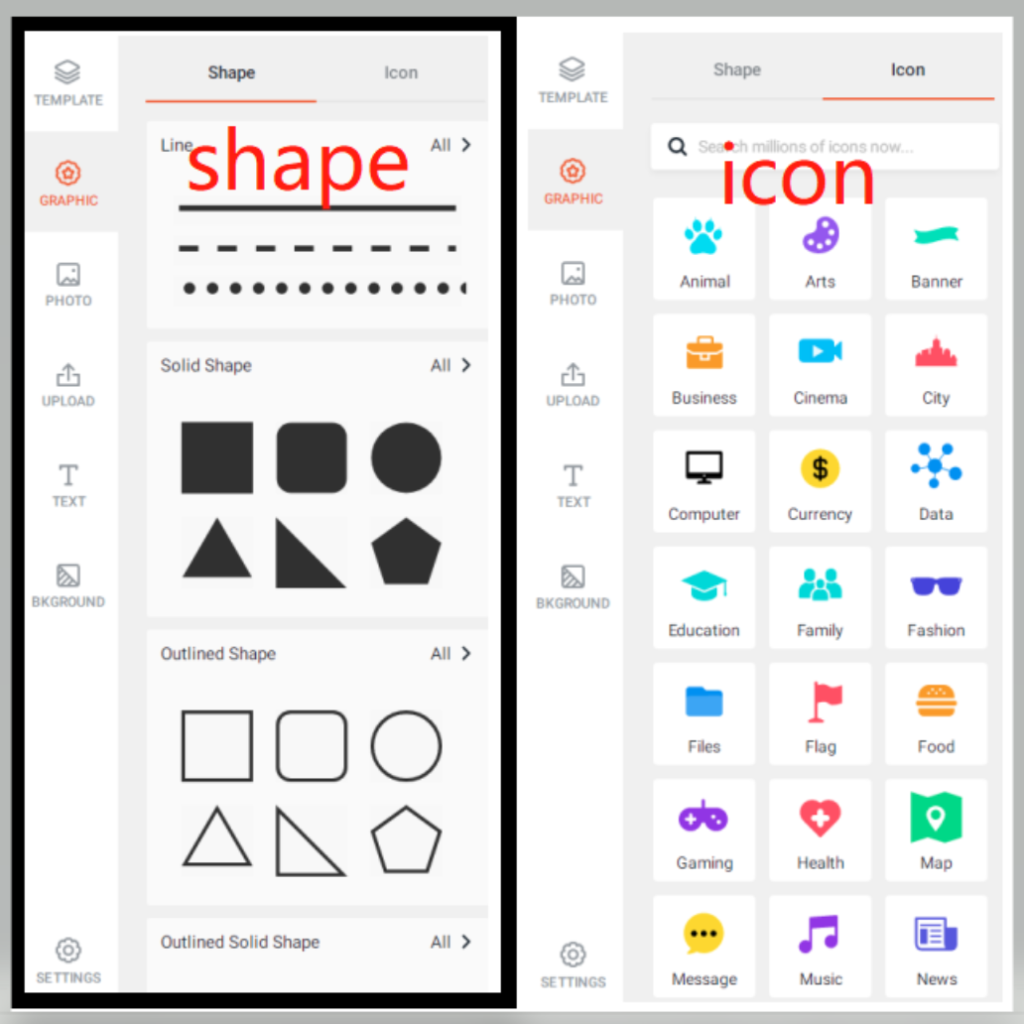 It's time to add text. Text is vital importance to tell your idea. Add text to your infographics will let your reader get your idea at the first sight. With DesignCap text editing tool, you can change the text fonts, size, color, style and opacity, etc. to make it a perfect look.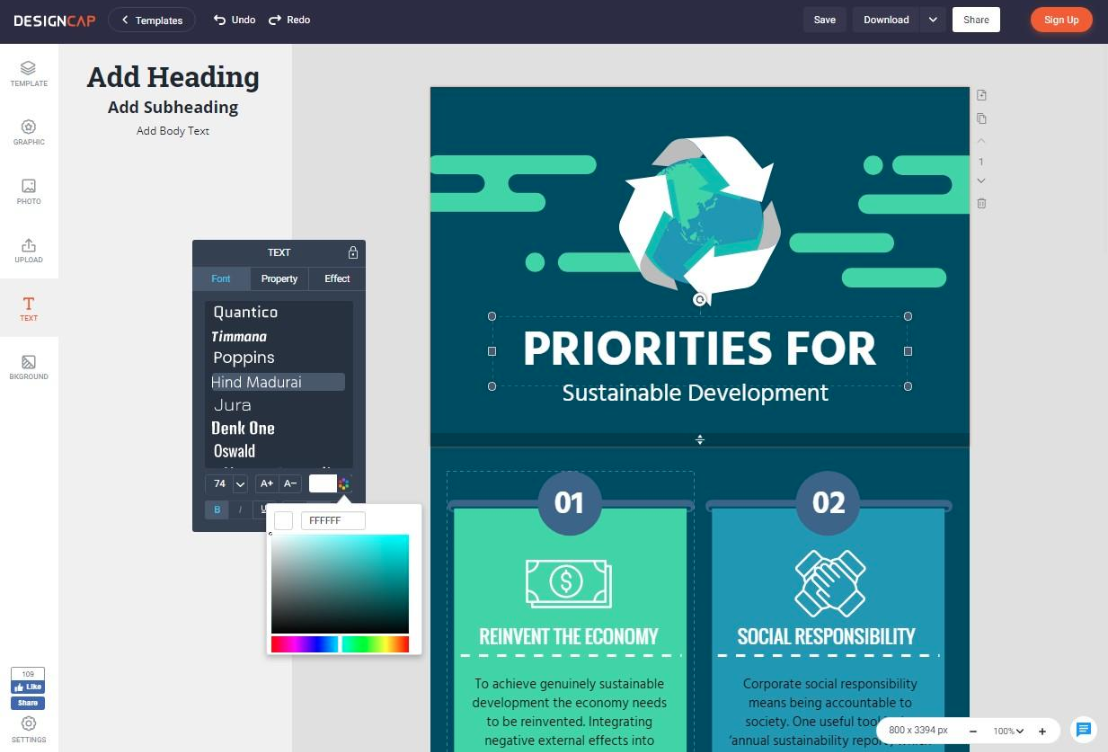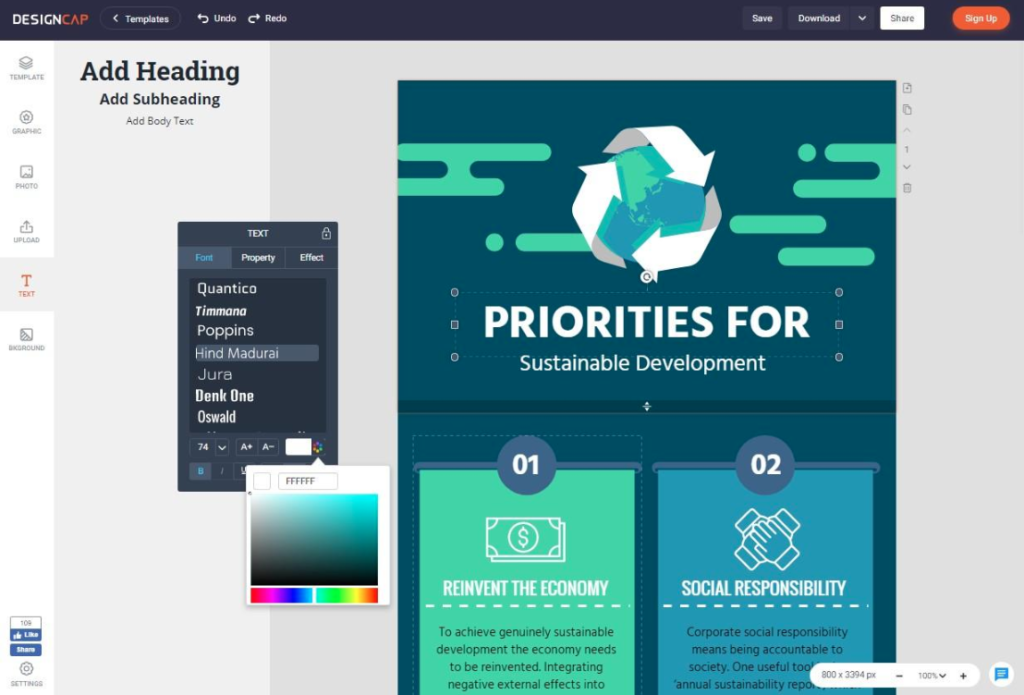 The other menus ("PHOTO" "UPLOAD"and "BACKGROUND") work in the same way with the drag-and-drop mechanism. All elements inserted in the canvas will be handled similarly within the work environment. DesignCap allows you to add photos from your desktop or just use the ones searching within its app. Like many other design programs, DesignCap works in layers. When you are working on a design, you can organize the layers using the "Layer" option for each object.   
The last step is save your infographic design. DesignCap offers the option to save the design online directly under users' account for further editing. When you login your account next time, click "My Designs" under your profile and you can edit it again anywhere. The most basic thing is to save your design to your computer. It allows users to save designs as JPG, PNG and PDF in a large size with a plus subscription. For a smaller one, it's free. To know the details of its Plus plan, you can check it here: https://www.designcap.com/pricing.html.
Here I want to call your attention to its sharing functionality, which will allow you to communicate well with your visitors and fans. To access this option you need login your account first. Click share option and you will see that you can share your infographic directly to Facebook, Twitter, Tumblr or via Email. What I want to mention is the share link. You can also share it on your website or any other where you want online using that sharing link. That would great and easier to sharing it without downloading. 
Final thoughts
DesignCap is very easy to use. It really WYSIWYG tool. If you are looking for one tool to make great infographic and marketing content for website or social media, just have a try. It will save your time and money. I hope that the article is useful to you. If something is not clear do not hesitate to leave comments.