You've probably heard of corporate video, but you may not know exactly what it is. The corporate video is a type of film very similar to the corporate presentation video. A corporate video does not aim to sell a product or service but to tell the company in order to attract new employees.
As we have said, the ultimate aim is to show the company, but this can be declined by focusing more on the details: the company organization, a particular activity, or the occupations of the employees. For this reason, corporate videos are often also called recruiting videos. In this article, we will find out more closely how to create a corporate video that can best enhance your company's culture.
Why make a corporate video
A corporate video is a valuable tool to help your HR department attract bright and capable resources to add value to your brand. In particular, such a video will help you to:
Build your brand awareness by focusing on the history of your company and your employees;
Disclose information more immediately than reading your website;
Show the human side of your company;
Connect emotionally with viewers.
Which approach to use to make a corporate video? There are so many ways a corporate video can be made: fun, serious, viral, moving, inspiring. The "right" approach does not exist. The important thing is to understand what to communicate and choose the style that best suits the message and, of course, your brand.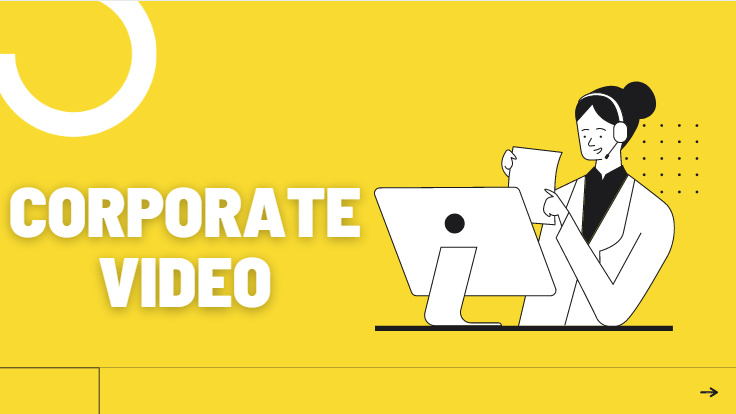 Tips for creating a corporate video
Think about the main message you want to convey
Your video must be a resource capable of giving added value to the viewer. The reason why it is necessary that the video is interesting, but at the same simple: we avoid, for example, getting lost in statistical details that could bore the viewer.
Instead, it is better to focus on the human events of your company, perhaps starting from a memory, a phrase or an important symbol for your brand to which it will be possible to associate a creative idea.
Then let's avoid saturating the video with information. The message can be multifaceted but inserting too many themes in a single video is excessive. No one would ever dream of creating a corporate video where we talk about environmental sustainability, technologies and inclusiveness. Not because it is wrong, on the contrary, but all together, it could be heavy.
Find the right approach
Your video will have to be natural, so you won't have to worry if the original idea will be seen and reviewed several times in the early stages. Working on the draft is very important in identifying the best form in which to make the video. It appears not only professional but also sincere towards the audience.
Don't use corporate jargon
The people who will see the corporate video are not necessarily your employees: they can be aspiring ones, but also customers or consumers. It is therefore not advisable to use company jargon because the video's message would be less immediate and more cumbersome.
Focus on benefits for customers or employees
Why should a potential partner do business with you? Why should a professional application work for you? The purpose of a corporate video is to show the benefits customers and/or employees could have if they came into contact with your brand.
Try to focus on what makes your brand unique, empathize with the viewer without being false. The primary purpose of a corporate video is to convey trust: what users will see must be truthful.
How to make a corporate video
Choose the best forum for corporate video.
As we have already mentioned, a corporate video can be made in different styles. In any case, storytelling cannot be ignored. Choosing to invest in a corporate video means wanting to tell a story capable of involving viewers.
To do this, it is important to be specific, combining a creative idea with the right technical skills to put it into practice. That's why before going to the set to shoot, you will need to spend a lot of time working on the script and, subsequently, on the script and storyboard.
In this way, you will already have a more precise idea of what should be in the video, including the shots and the jokes, which we remind you should not be longer than 2 minutes. Nowadays, everything is extremely fast and to be in line with this trend. You will have to align yourself too.
Plan your corporate video production correctly
Before starting the actual production of the corporate video, it is always better to brainstorm with the customers. You need to ensure that nothing is forgotten and that everything proceeds correctly, as indicated during the pre-production phases. Later it will be possible to go to the set to shoot and set up the shoot.
Lighting and sound
Depending on the location, it will be very important to understand how to obtain a high-quality shot, which is why it is advisable to contact professionals who can properly deal with the sound and lighting aspects.
Taking care of these two aspects is very important for a good performance, which consequently will be synonymous with professional and not-home video. Therefore, the following must be carefully evaluated: the locations of the shooting (external and internal) to understand how to best set up the artificial lighting and the audio recording. As regards the latter aspect, noises, echoes and background noises should be avoided.
Appropriate clothing
A corporate video is not an arthouse film short, so it will be important to take the right care in choosing the extras' clothing: whether it is the CEO or employees. Obviously, the choice of clothing must be in line with the company you want to tell.
A law firm and a fashion house will have completely different needs, with a preference for sobriety in the first case and creativity in the second.
Choose the right music
Music is a great way to connect emotionally with your audience. Choose the soundtrack that can accompany and enhance your story, always trying to keep your message coherent. Depending on your needs, you can request existing music, create a jingle, or opt for free music.
Color grading
We have already mentioned how the right color palette can help make a corporate video more beautiful, but now we explain it to you better. First of all, you need to know that color grading is an important step in post-production.
In fact, colors are able to emphasize emotions and therefore help to underline the type of message we want to launch with the corporate video. Clearly, the chosen palette must be in line with the culture and soul of the brand, as well as with the message itself.
To sum up
In conclusion, we can say that a corporate video represents an excellent investment for all brands that need a tool that enhances their brand awareness. This type of video is ideal for communicating with customers and potential employees and investors, showing corporate values and culture, and particular services.