We all want to ensure that our data are secure and safe. It is undoubtedly a terrific technique to easily encrypt and hide data from prying eyes on your whole device. But we need a very compatible, straightforward, and supporting tool to make sure this is done. If you want to make your data secure on Windows 10 Home with BitLocker, you are landing in the right place.
About Windows 10 Home
As a variant of Windows 10, Windows 10 Home is designed to serve ordinary individuals and home users. This home version features additional protection layers to help Microsoft Digital protect user data more effectively and detect dangerous behaviors and sophisticated assaults.
Windows 10 Home provides users a safe operating environment with the help of its built-in security features including antivirus, firewall, and internet protections, device encryption, parental controls/protection, and secure boot. Although its high security, this version doesn't support BitLocker device encryption. It means that you have to use a third-party BitLocker encryption tool to implement BitLocker encryption on Windows Home versions. If you want to know detailed information about one of the BitLocker encryption tools, this is the way.
About M3 BitLocker Loader for Windows
M3 BitLocker Loader for Windows is a go-to BitLocker encryption program that is available for Windows 7 SP1, Windows 8, Windows 8.1, Windows 10, Windows Server 2008 R2, and Windows Server 2012.
The M3 BitLocker Loader software has a unique data protection feature built into it. The encryption process can restart even if a power failure occurs during encryption. This disk encryption program only encrypts used space on a particular device, which makes the encryption process faster than the BitLocker drive encryption feature provided by Windows 7.
With the help of the M3 BitLocker Loader for Windows, you can quickly create encrypted containers that support the BitLocker drive encryption system. It lets you protect the data security of USB flash drives, SD cards, memory sticks, and more external storage devices connected to the Windows 10/8/7 Home Edition and Windows 7 Professional Edition.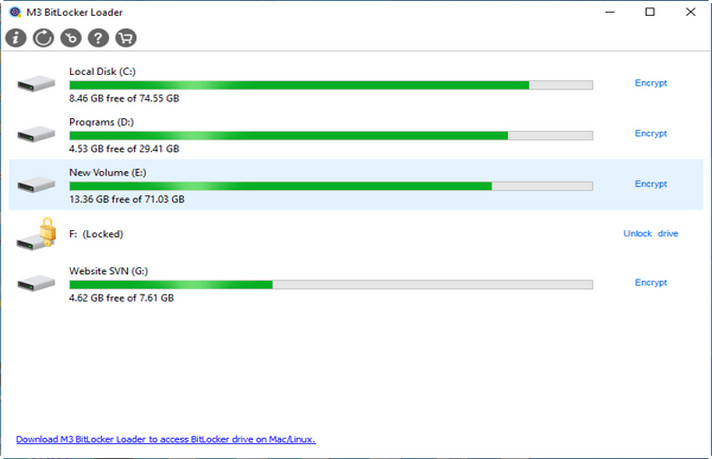 How to Use M3 BitLocker Loader for Windows On Windows 10 Home?
M3 BitLocker Loader for Windows presents a user-friendly interface to you so that you can easily encrypt drives on Windows 10 Home edition using a few steps.
Step 1 Download, install and open the M3 BitLocker Loader for Windows tool on your Windows 10 Home Edition.
Step 2 Click Encrypt situated on the right side of the partition to be encrypted.
Step 3 Input your password. The password is used to encrypt the drive and unlock the BitLocker encrypted drive later. Passwords should contain upper and lower case letters, numbers, spaces, and special symbols.
Step 4 Click the Next button and choose an option to save your recovery key. There are two options to hold the recovery key: save to a file and print the recovery key. The recovery key can release the encrypted BitLocker drive even when the password has been forgotten.
Step 5 Click Next and start encrypting the drive. You need to realize that the encryption process may be completed after a long time if the drive has a big size.
Conclusion
Data encryption is a great way to protect your important information from hackers or unwanted eyes. As a disk encryption utility, M3 BitLocker Loader for Windows is an excellent way to secure your information on Windows 10 Home. If your gadget falls into undesired hands, you can be confident it is out of reach because you have chosen the M3 BitLocker Loader tool to secure your data.