A while ago, I started on a huge project to rip a large of collection of my DVD and Blu-ray discs to my Mac, creating a media center for myself. These circular disks are not popular as they used to be, but I can't bear to throwing them away because they are still in use sometimes.
When I prepare to rip DVDs and Blu-rays, I feel perplexed by the method which to use. For some people, getting video off of a disc is old news. For others, including me, though, it's still a bit of a mystery. So I ask help for Reddit and I am recommended to use MakeMKV which can rip DVD/Blu-ray to MKV. People recommend so just because it's free to use and always work great.
However, I find out MakeMKV is not the best tool to rip Blu-rays DVDs for all practical purposes on Mac.
First of all, MakeMKV is not perfect in ripping Blu-rays/DVDs with newly version of protections.
Second, for some people, MKV can not be sufficient for their special needs in video playing, streaming, editing, etc. Some of them would prefer ripping Bluray DVD to MOV, MP4, AVI, WMV or audio formats directly. And, is MakeMKV able to convert Blu-ray/DVD to 3D MKV? Obviously not.
Third, MakeMKV is lacking of some advanced functions, such as subtitle settings, video editing, output profile parameters adjusting.
Lastly, The interface is not very intuitive and not so easy to navigate. Thus the whole process can be challenging for beginners.
Based on those reasons above, I decided to choose an all-in-one alternative that supports more output formats and devices, featured much higher selectivity, stronger ability in decoding and easier operation. After the tests, I'd like to recommend an awesome MakeMKV alternative for you – VideoSolo BD-DVD Ripper.
The Recommendation Reasons:
With friendly and intuitive interface, fastest trans-coding speed as well as powerful Blu-ray and DVD ripping ability, VideoSolo BD-DVD Ripper can be considered as the best MakeMKV alternative. It can work perfectly with Mac OS X due to its great compatibility and it's a more straight-forward way to rip Blu-ray/DVD directly to over 300 output formats that are not supported by MakeMKV like FLV, MP4, M4V, MOV, audio formats AAC, MP3, FLAC etc and 3D formats like 3D MKV, 3D MP4.
This program can perfectly copy any protected Blu-rays and DVDs including DVD CSS, region code, Disney X-project DRM and the latest technology. The editing feature is powerful to custom your own outputs just as you like. In short, this DVD ripper offers all the key features that MakeMKV has, and supports more extra functions you can't find on it.
Nevertheless, it only has a 5-minute period that would allow you to rip Blu-ray/DVD discs for free. Afterwards, you will have to pay $39.95 in order to keep using it to rip Blu-ray and DVD. But anyway, it is a worthwhile investment for having a fully supported product.
How to Use VideoSolo BD-DVD Ripper to Rip DVD/Blu-ray Disc to Mac?
Before you begin, you'll need some preparations in order to start ripping your DVD/Blu-ray collections.
An external optical Blu-ray drive (which can also rip CDs and DVDs).
Enough storage on a hard drive to save the ripped files. A Blu-ray will make a huge file, so we recommend you have between 30 to 60 GB of free hard drive space.
Download and install VideoSolo BD-DVD Ripper for Mac.
This is all you need. Once you've got all of the necessary materials, it's time to grab your favorite DVD/Blu-Ray movies and get started.
Step 1. Load DVD/Blu-ray Disc
Insert the DVD/Blu-ray disc into your external drive and wait for your Mac to recognize it. Launch VideoSolo BD-DVD Ripper for Mac to parse the content included in the disc. You then need to click on the "Load Disc > Load DVD Disc" or "Load Disc > Load BD Disc" on the program's window to locate the disc on your Mac and select the video titles that you wish to rip. BD/DVD folder, Blu-ray ISO image file, DVD IFO files are all supported.
After loading, you can select subtitles and audio tracks for each title, click the play button on the thumbnail to preview source files, take snapshots on the right built-in preview player, etc.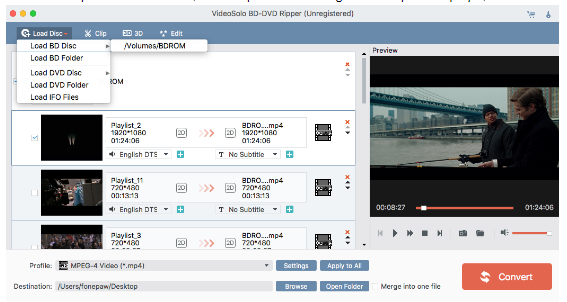 Step 2. Choose Output Profile
Next, go to the output section. Click on the "Profile" drop-down box and this will introduce a new format panel, then you will choose desired profile as output format. Alternatively, if you're converting DVD/Blu-ray for playback on your device, use a preset from device-oriented categories for a specific device like smart phones, tablets, TVs, PSP, PS4. The program will automatically set the suitable settings for matching the device of your choice.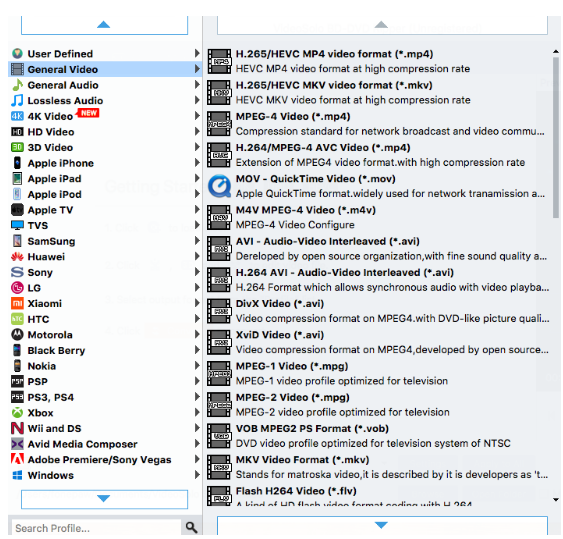 Tips: For advanced user, clicking "Settings" button to customize your video and audio settings. It gives you a wealth of options to tweak the value corresponding for video resolution, bitrate, frame rate as well as audio bitrate, sample rate, etc.
Step 3. Edit Video (Optional)
Before the conversion, you can customize output files by clicking "Edit" option on the top menu bar of the main interface. It allows you to customize videos in tabs: crop, rotate, adjust effect, add 3D/watermark, etc. Besides, you can adjust other effects like brightness, contrast, saturation and hue of the video.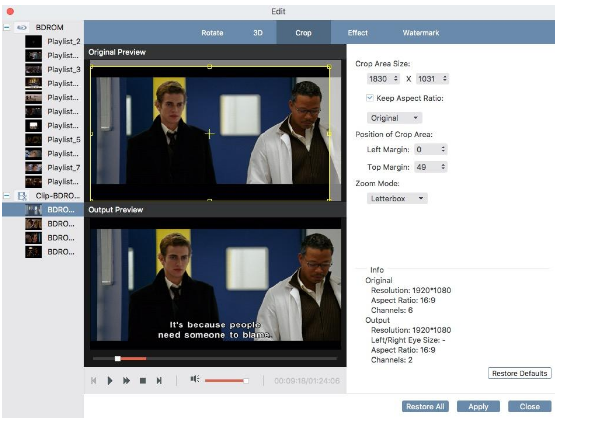 Step 4. Select Output Directory
After setting output profile and parameters, return to the main interface and then select a path for saving the converted files using "Browse" destination field.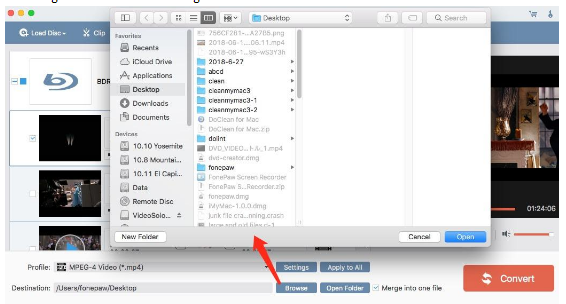 Step 5. Start Ripping DVD/Blu-ray to Mac
Now that you've got all settings completed, go ahead and click the "Convert" button button located in the lower right corner of the interface to start ripping DVD/Blu-ray to video on Mac OS computers. The whole process can take a while depending on the size of your movie, the output parameters that you've set and the power of the Mac.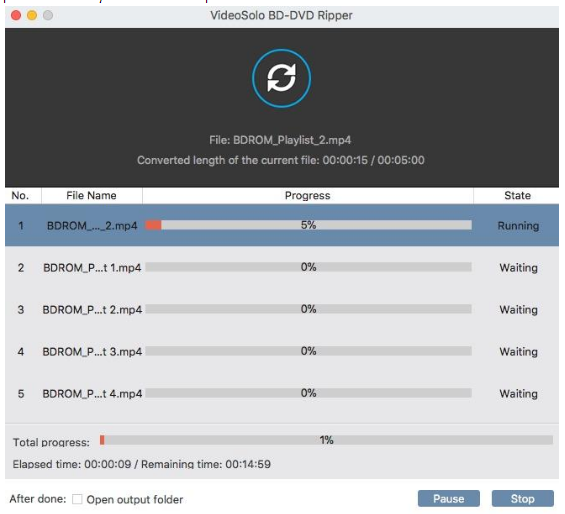 Once it's done ripping, you'll have the converted file in the location you specified earlier. Now, you should be able to play it with media player on your Mac directly, load the freshly file into iTunes, sync to your handheld devices like iPhone, iPad and more, or streaming to smart Apple TV right away, then you are ready to enjoy them at home or on the go. Have a fun!
Conclusion:
Ripping DVD/Blu-ray discs to Mac enriched my movie library. The digital copies also served as a backup, in case the original disks were damaged or lost. Overall, the ripping process is as simple as downloading video from Internet but from DVDs and Blu-rays instead. You can now get going with this VideoSolo BD-DVD Ripper to do a quick rip and conversion for any purpose whenever.