Navigation Apps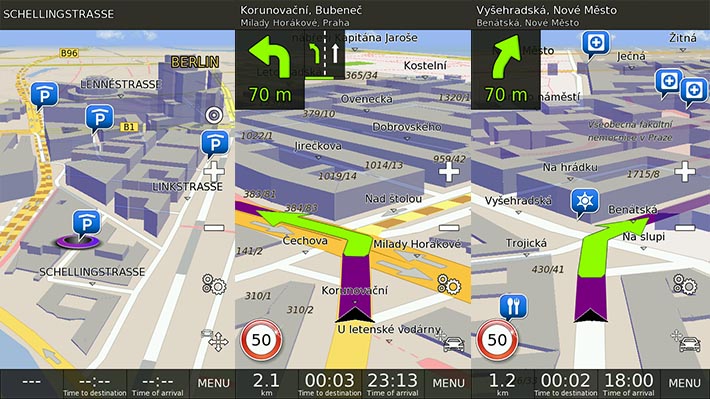 Travelling is one of the best forms of recreation. Most people find it satisfying and very peaceful to find new locations and enjoy the features of their newly found location. And many times reaching an unknown place is the task of the moment. In medieval times it was very difficult to travel which became easier with the correct and intensive use of maps. In the 21st-century hand, help paper maps are things of the past. This is the era of Navigation apps. So here I present you some navigation apps like Where Am I? to help you fulfil your desire of traveling and exploring or to help you reach the destination of your need and choice.
Top Navigation Apps
Co-pilot GPS
CoPilot GPS is a reliable GPS app, it features voice-guided, turn-by-turn navigation and is available in many countries all over the world. It also features a 3D guidance display complete with some fun little map features like lane indicators. The whole package can be tried for free for a week but after that, a subscription needs to be bought. Some maps are a bit old, but overall it's a solid GPS app and worth a try.
BackCountry Navigator GPS Pro
BackCountry Navigator is one of the best and if you're a camper or hiker it's one you should look at it. It's pretty expensive but what you get is a number of offline topographical maps that is perfect for those places where there is no data service to download them as you need them like you need to for apps like Google Maps. There are a few fun features like marking the map and maps from multiple countries. It's expensive but there is a trial version you can try first.
GPS Essentials
GPS Essentials has an antiquated interface. The app allows you to monitor all kinds of stats including your average speed, altitude, distance traveled, moon phase, ETA to the destination, and a number of other stats you can look at it. Another unique feature is a HUD that will show you your waypoints. It also comes with some of the standard navigation features. It appears to be designed for the outdoors rather than just driving.
GPS Navigation BE-ON-ROAD
This app also offers features like turn-by-turn directions. It works around having offline map data that you do have to pay for. There are also a few bugs here and there. Other than that, it's a fairly solid app that doesn't look bad. It's free to try but you'll have to purchase things like a license and maps later on.
HERE Maps
HERE Maps is developed by Nokia. It features a simple, elegant interface with mapping options all over the world. Maps can be downloaded for offline use so one doesn't need a mobile data connection. HERE also shows you traffic information (where applicable), public transit maps, and can be customized by saving places for quick directions later.
MapFactor: GPS Navigation
MapFactor is one of your classic turn-by-turn navigation apps for those looking for a replacement to Google Maps. It downloads and installs the map files to your SD card so you can use it offline if you need to. It uses OffStreetMap data which has support for a lot of countries around the world. It's not as polished as Google Maps but it has enough features to use it effectively and enjoyable. And the map data and the app itself is totally free.
(Google) Maps
Most of you are probably here to find alternatives to Google Maps but we cannot deny that feature-for-feature, Google Maps is better than pretty much everybody. There are consistent features and app updates, worldwide support, you can download maps for offline use if you need them (there is a 14-day time limit on downloaded maps), the venerable Street View, detailed information about 100 million places, and you'll be using a service controlled by Google. There is simply no other way to put it. Google Maps is awesome. And to make it even better, there are tools like Maptive which enable you to extract the maximum from your route planning.
Navigate 6
Navigate 6 is another turn-by-turn alternative with features like offline maps support. Some of the more unique features are Wikipedia entries on the map (where applicable), whether on the map and probably among the best 3D graphics in a GPS app. The licensing itself is pretty expensive. There is a 30-day free trial to see if this is the GPS app for you.
Polaris Navigation GPS
Polaris Navigation Apps tries to be the all-in-one map sources and in most cases, it succeeds. Its biggest feature is that it has access to Google Maps, OpenStreetMaps, MapQuest maps, and Cycle Route Maps. So whatever source you want is the one you get. It also features multiple coordinate formats, trail recording, a unique waypoint management system, and your standard stuff like turn-by-turn directions. It's rated fairly well on the Play Store and appears to be pretty stable. Also, it's free.
Sygic: GPS Navigation and Maps
It provides downloaded maps for offline use except this one uses TomTom maps. It has the usual features like turn-by-turn, voice-guided directions (which include voice-spoken street names so you can concentrate on driving), alternate routes, and even a speed limit display. There are a number of in-app purchases to unlock more features.
TeleNav GPS Navigator
There are two apps specifically for T-Mobile and Sprint customers and a third one called Scout that should be available to most people. It's designed for mainstream use so it has the stuff like traffic flows, turn-by-turn directions, and a dashboard to show you trip stats. It also has some social features baked in like real-time ETA sharing called OnMyWay.
OsmAnd Maps
This navigation app has priority access to high-quality OpenStreetMap data that can be stored on your device for offline use. The apps allow you to dictate instructions with your voice, making it an ideal road trip companion. Turn by turn navigation gets you to your destination with ease and comfort.
The paid version of this great app is also available on the Google Play Store. Rather than limiting the features on the free version, the developers decided to give latest updates and features to the paying customers first. So technically you will only be offering aid and help to the developers by purchasing the paid version. Other than that, all the features are already present in the free app.
MapFactor
MapFactor: GPS Navigation may be just another Android Navigation App to some, but what makes it extra special is that you can hear audible warnings when you approach speed cameras. And its GPS satellite navigation is available in 2D and 3D modes.