In this article, we'll be talking about the never-ending debate over whether students should be allowed to use mobile devices in class. To give you a full picture, we have covered both the pros and cons.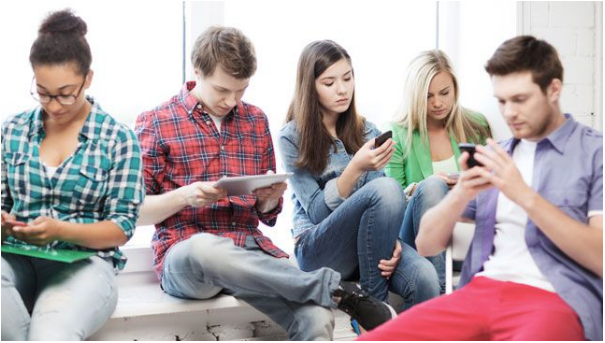 How Mobile Phones Influence Students and Their Academic Performance
While many parents and teachers keep insisting that mobile devices have only adverse effects on students' performance, many studies indicate quite the opposite. Even the experts from The Guardian hold contrasting views on this question.
In this article, we'll be taking an unbiased look at the impact of mobile phones on students.
Increased Convenience
Mobile phones make it easy for the college administration to keep the students' parents always updated on their children's whereabouts and actions. They can alert them to the fact that their son or daughter is frequently late for classes, needs more time to study, or is supposed to take an exam soon. Students, in turn, may notify their parents about the after-class activities they plan to engage in. Unlike in the past when they had to guess whether everything's alright with their kids, parents nowadays find it extremely easy to pinpoint their children's exact location and be aware of their plans for the evening.
Apart from being communication tools, mobile phones can also be used to pay for goods and services. Students can lose their cash, but they treat their mobile phones more carefully because those are something they really value.
As far as studying is concerned, students can now quickly reach their tutors and get answers to any urgent questions they have. Smartphones also make it more convenient for them to take and save notes.
Extended Access to Technologies
Picture-taking, access to the Internet, and other basic features of mobile phones are extremely helpful. The Internet allows students to collect information that they can use when writing essays and research papers. Searching for information in regular brick-and-mortar libraries may take hours and can be compared to finding a needle in a haystack. Another disadvantage of conventional libraries is that they are full of outdated sources, whereas students are usually required to use only up-to-date information.
With the help of online databases, one can collect credible materials and use them in their papers for free. Even if a particular e-book is not available in its entirety, students may still use some abstracts or extracts from it. This way, mobile devices save them a lot of time and effort.
Remote Learning
If a student is sick, they risk falling behind in their class. For sick or socially anxious youngsters, using personal computers and cell phones is a great opportunity to catch up with their classmates and master all topics necessary for their future job.
Nowadays, it only takes having an email app to be able to attend classes in any part of the world. It is also useful for families with children who travel a lot.
Numerous Educational Apps
To improve the knowledge of specific subjects or pick up some critical skills, students can use free and paid ed applications. Tools like Grammarly, Evernote, Hemingway, Flipboard, Pocket, SoloLearn, and even YouTube are full of useful content students may use in their studies. The said apps can also provide their users with advanced skills, using which they can impress their teachers and classmates. No matter whether they have an Android or iOS device, students can always find educational apps to suit their needs. They can also significantly improve their writing skills by using essay writing services such as http://www.the-essays.com.
Even though the advantages of mobile phones for students are almost countless, we should not underestimate their negative impact. Therefore, in the next section, we will be discussing the risks involved in abusing mobile phones.
Cons of Using Mobile Devices in Class
You should keep in mind that students can only benefit from mobile phones if they do not overuse them. Also, a lot depends on the goals they are pursuing by using their mobile gadgets. While educational apps have a positive impact, websites with filthy language or adult content may adversely affect them. It is difficult to control your kid's mobile devices, but, sometimes, this is the only way to save them from Internet threats. Let's talk about the main disadvantages of mobile phones for students.
When used in class, mobile devices can distract students from learning. By playing games and messaging, they run the risk of failing to grasp the topic and never learning their lesson. In fact, texting, on the whole, is the primary source of distraction in class. Most teachers frequently report their students sending messages with inappropriate and even obscene content such as violence or pornography. The very sound of the phone ringing can be a major distraction factor. Students should, therefore, turn off all their mobile devices during class, but unfortunately very few of them actually do so.
Do teachers have a right to seize mobile phones during instructional time? From a legal standpoint, they are not allowed to because those are student property. That said, teachers often have no other choice because they are being ignored by their students.
To sum up, we support that 70% of students interviewed by Psychlopaedia who believe that mobile devices can be highly effective educational tools. As you can see from our independent study, mobile phones, in general, can assist students, but only when used wisely. Students should stay off their mobile devices during class time because they cause a major distraction. Instead, they may use their phones to find information that will help them progress in their studies.