Apart from being a successful entrepreneur of the site ImagesBazaar.com , Sandeep Maheshwari is a guide, a mentor, a role model and a youth icon for millions of people all over the world. People love and adore him for his great mission of making everybody believe in them and helping people to make their life 'Aasaan' (Easy).
Sandeep Maheshwari's Milestones :
Creative Entrepreneur of the Year 2013 by Entrepreneur India Summit
One of India's Most Promising Entrepreneurs by "Business World" magazine
Star Youth Achiever Award instituted by the Global Youth Marketing Forum
Young Creative Entrepreneur Award by the British Council, a division of the British High Commission
Pioneer of Tomorrow Award by the "ET Now" television channel
Apart from this, he has also been featured in almost all the leading magazines, newspapers and television channels such as The Economic Times, India Today, CNBC-TV18, IBN7, ET Now, NewsX and more.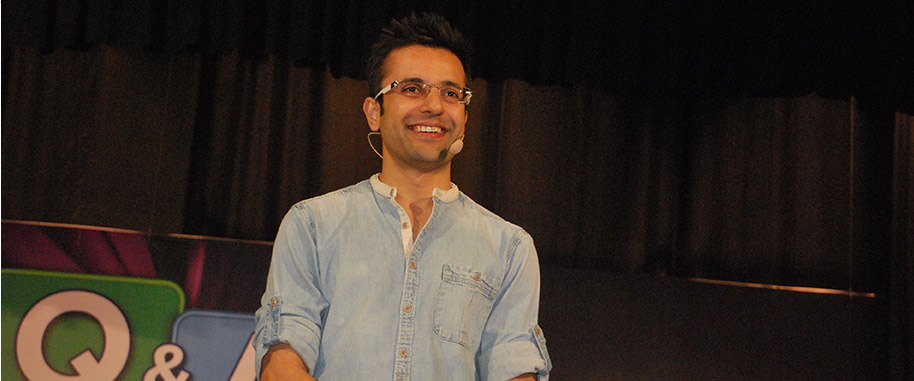 Here are some of his quotes which inspires and motivates every tech geek :
Money is as much important, as is petrol in a car, not more, not less. – Sandeep Maheshwari
Neither runaway nor wait …Just keep moving. – Sandeep Maheshwari
Whether applause rise or fall, what's the difference? Success or failure does not matter? Just go to work, work does not small or big. – Sandeep Maheshwari
Action without Thinking and thinking without action will give you 100% failure.
Wheather you like it or not, Wheather you accept it or not, whether you believe it or not, your life is what you choose to be.
Success always hugs you in private..! But failure always slaps you in the public..! That's Life. – Sandeep Maheshwari
A 'Desire' changes nothing, A 'Decision' changes something but. A 'Determination' changes everything. – Sandeep Maheshwari
The eye you see the world, this is the way you will see all around the world. – Sandeep Maheshwari
If you want to achieve greatness stop asking for permission. – Sandeep Maheshwari
If you are searching for that person who will change your life, take a look in the Mirror. – Sandeep Maheshwari