Following meteoric success on the Play Store, it was inevitable that this Smash Hit, smartphone triumph, in the literal meaning of the phrase, would make its way to VR. Besides, the arcade sensation, with its high-levels of immersion, is ideally suited for VR. After all, there is no other medium out there that demands so much of the senses. That brings us nicely on to Smash Hit.
Smash Hit is a highly immersive and super-slick shooter that thrives off its conceptual simplicity. What's more, the ground-breaking physics, ultra-smooth mechanics and streamlined systems create an experience that's highly absorbing, and equally alluring. As barmy and bizarre as it is beautiful, this is a game that's simple to pick up and play, yet unfeasible to put down. Such is the nature of its addictive properties.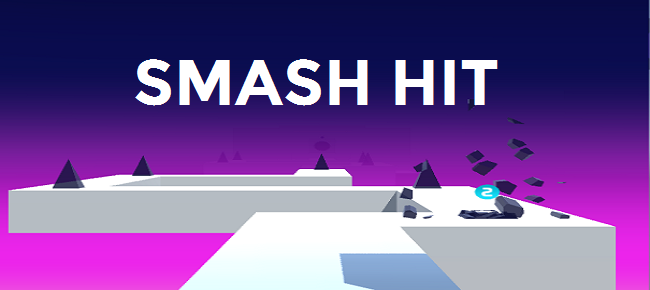 Moreover, the experience is heightened twofold using VR. With that in mind, a whole new world of immersion awaits. So, gear up, and prepare for sensory overload. After all, nothing smacks of fun quite like the metaverse. In actuality, the only feeling I can think of, that garners an equivalent sense of majesty and transcendence is Journey. That's high praise indeed especially once you consider the simple premise. The idea behind smash hit is rather candidly given away in the title. In a nutshell, players fire metal balls into destructible objects and targets, which in turn, credits the player with points. In theory, it's a simple, yet stylish, fast-flowing shooter. But a few aspects set it apart from the rest.
Mainly though, it's a cohesion of working elements that create the stand-out package. As you propel through space and time and push on through the surreal and shape-shifting, geometric worlds, a sense of catharsis consumes you. Thus, it's just so therapeutic to aim and fire at an onslaught of crystals heading your way.
Not only that, but the superb sound design allows you to feel every shattered pane, as the sprinkling of glass descends upon the deck. As well as dramatic sound effects, Smash hit compliments its game-play with beautiful ambient-electro beats. With a futuristic vibe. Hence, the lush soundscapes create a truly unique atmosphere, which adds to the level of immersion. In truth, the music synchronizes with in-game action in such a seamless way, that it carries hypnotic qualities. Such are the levels of enchantment.
To coincide with the sound quality is the visual design, which is second to none. Although the levels are somewhat primitive in their approach, the blocky, and polished geometrics form imposing structures. More still, these, shapes merge and mold with impressive physics, which keeps the levels fresh and unpredictable. At least for the most part.
Now then, one would assume that this rather relaxing arcade title would lack reward, but that couldn't be further from the truth. On that note, there's a real sense of challenge here, and with a total of fifty levels to blast through, there's no shortage of content. Perhaps though, some more visual styles wouldn't go amiss, seeing as there are only eleven.
That said, those varying types do begin to wear a little thin after a while. Thankfully, Smash Hit redeems itself by well-paced difficulty spikes. All of which issue a reasonable degree of challenge throughout the game.
All in all, Smash Hit is the perfect accompaniment to VR. Bursting with effervescence, spirit, and vitality, this is an immersive arcade shooter that you must play before your time is up. Furthermore, the dirt-cheap price tag is just another incentive to go out and play this mind-blowing, otherworldly experience. VR is in its early days and Smash Hit is one of the many innovative games you can play in VR. To find other great VR games, check Salty Truth, a website with reviews of many of the recent VR titles.
What do you think of Smash Hit? Does it live up to the name? Have your say below.