Instant messaging has been the "in" thing of the century. Ever since the advent of AOL instant messenger in the early 1990's where instant messaging became an instant hit ( see what I did there? Tots amaze! (that's the new hip language, from what I collect)) Needless to say we have come far and beyond from the days of AOL messenger. Services like WhatsApp and Skype have now managed to completely turn the messenger game on its head and made it something so easily accessible and even easier to operate that nearly everyone today uses IM services of some kind. I kid you not, even my neighbors 6-year-old has her own phone with WhatsApp, just for emergencies, her parents say. And I understand, you never know when she might run out of crayons or chocolate milk.
However, the one thing required for all the services mentioned above is an active internet connection. Sure, if you run off of juice in your mobile data plan you could send out a text message( remember those?) but let's look at things from a more corporate angle. It's not always feasible for you as a new business owner to shell out the cost of a completely new internet plan just so that your employees can stay in touch throughout the day, from wherever they are. But as mentioned earlier every single IM needs an active data connection, well, we were slightly wrong in assuming that.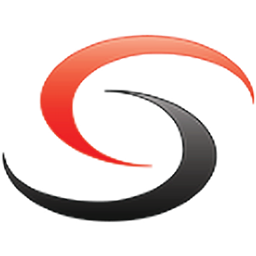 Today we're here with one of the few IM services that Do NOT require an internet connection.
Yes, you read that right, we're here today reviewing LAN based IM service provided by Softros Systems, Inc.
 So what's the deal with this new service?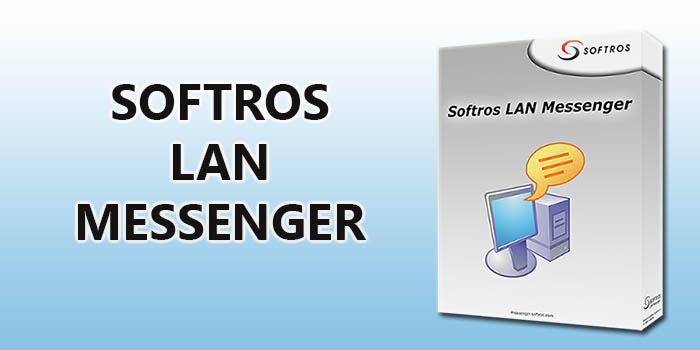 Softros LAN Messenger is an easy-to-use LAN messaging application for safe, secure and effective intra-office communication. It does not require a server to run and is very easy to install. Softros LAN IM comes with a variety of handy features such as PC-to-PC messaging, group LAN chat rooms, broadcast messaging to quickly notify selected individuals or groups about an event, and also drag-and-drop file transfer to exchange files and folders between staff members. All messages and files exchanged by the users are securely encrypted and never go outside your local company network, which guarantees that no unauthorized person will ever read your private correspondence or access your sensitive data.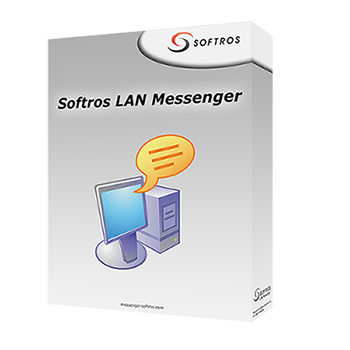 Feature Set
A safe and reliable messenger
The Softros LAN chat software encrypts all data with AES-256 and works strictly within your company network. Allowing your employees with a safe and reliable medium to communicate and share data on, while completely securing them against an attack from outside. How protected are you? Completely. Every single one of your chats is end to end encrypted. End-to-end encryption (E2EE) is a system of communication where only the communicating users can read the messages. In principle, it prevents potential eavesdroppers – including telecom providers, Internet providers, and even the provider of the communication service – from being able to access the cryptographic keys needed to decrypt the conversation.
Ease of installation
The service is ready to go from the word, well, GO. Literally, all you need to do is install it on every computer that's on the same network and you're good to go!
Individual or group chats
We're all well versed at how these work don't we? Unless of course you just woke up from a coma. Then you need to do your bit of research.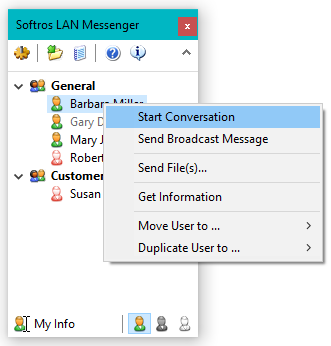 Offline Messages
You can send messages to users even when they are offline. They will receive the messages as and when they come online.
File transfer
Easily exchange documents with your colleagues. Just drag and drop a file or folder on the recipient's icon in the user list or on the conversation you are having with them.
Remote-Desktop sharing
Request remote assistance using LAN Messenger, and the colleague on the other end will securely connect to your desktop to help you configure Windows, install an application, or resolve a technical issue.
Alongside all these features Softros also has 24*7 online support in case you need it.
The Verdict
Softros Systems developers managed to put together a pretty solid solution for the LAN messaging in an office environment.
You can download and try it absolutely free. This IM service could just be the solution you've been looking for, we bet you won't be disappointed.