Space CDN Review
When our organization faced the need of ordering a stronger hosting solution, the first thought was to switch to a more expensive and powerful server. Someone suggested trying a CDN solution, and this recommendation has changed everything in our online business.
We had to learn information about CDN technology from scratch to make sure that such option suits our company, and the choice of the network was a hard task. But the results exceeded all our expectations, and we're ready to share our experience with the same organizations that consider improving their hosting and online presence. This text will educate you on what is a content delivery network, how it may help you, and why SpaceCDN is a perfect solution.
What is CDN?
CDN stands for a Content Delivery Network or Content Distribution Network. This is a large system of servers located in different data centers spread across the globe. These servers are called "edge" as they are situated in different zones and server as a mediator between visitors and the main server. The main or origin server is the user's own server where he downloads the content before it is cached in PoPs (points of presence).They serve data and files to end users at maximum speed.


The idea of CDN is to reduce the distance between the user and the source of content. For instance, if a user from Asia opens a website that is hosted on an American server, he will have to wait longer than users from the USA or Canada. That's because the request and data have to travel thousands of miles before reaching the server and back. Laws of physics cannot be neglected: the further server is located, the more you have to wait for website loading. A CDN reduces this distance. How? As soon as the main server gets the request for some certain file for the first time, it sends the data to the user through the closest edge server. It is cached in the edge server and next time is transferred from this location. Reduction of distance improves the speed and quality of content delivery, helping to reduce latency.
Advantages of CDN

At the first glance, CDN seems to be just a network of servers that accelerate content delivery. However, there are more benefits than we thought. Content delivery networks from SpaceCDN have at least five other useful functions:
It distributes the traffic over edge servers and offloads the origin server. That reduces the risk of downtime and failure.
SpaceCDN offers networks that are powered by a firewall and other means of protection against hacking and DDoS attacks. With an additional layer of security, malicious traffic won't pass through.
The content delivery network is highly recommendable for online businesses that need to expand their coverage in various regions. With such solution, target audience from different continents and countries will be able to access the website quickly and safely.
Since content is stored on edge servers, the risk of total loss of data is almost zero. If an edge server breaks, users will be automatically redirected to another closest PoP. Even if the main server is disrupted, business owners can restore at least some part of their data getting it from edge servers.
Since search engines take speed into consideration when ranking a website, CDN also boosts SEO. As soon as we implemented the network, our website has gained higher positions on the results page.

How to integrate it?
If you develop a WordPress blog, the process of CDN deploying is pretty simple – it requires only four steps:
Create a pull zone that allows CDN network automatically delivering files without the need to upload them. It can be done in the account.
Install a plugin for cache (Enabler, W3 Total Cache, or WP Super Cache).
Configure CDN using documentation supplied by the provider.
Start using the network.
Since this service was new to our team, we simply contacted CDN support agents, and they helped us to install it. Their step-by-step instruction was useful and comprehensible, and we managed to set everything correctly. The network started working right away.
Why have we chosen SpaceCDN?
Finding a suitable CDN provider was a real challenge, but as soon as we stated our demand and budget, the solution became clear. We have settled upon SpaceCDN – a reseller that offers networks of such companies as Verizon, HighWinds, UCDN and AhCDN.
Enormous amount of PoPs
What impressed us first was the number of PoPs available: more than 200 data centers at their disposal! This is more than enough for a company that needs global coverage. Our business has target audience scattered across the planet, so the number of PoPs was one of the determinative factors for us.
Outstanding support service
Another important feature was round the clock quality support. Since we couldn't manage everything on our own, our project required technical assistance. We should note that SpaceCDN customer support service is beyond all praise: they always answered our questions within minutes and helped to solve all kinds of issues. On the contrary, many other providers we tried to contact sent us the reply only in a day or two, and their answers were not ample enough. In some cases, we had to deal with bots and staff who kept repeating the same words. That's so annoying! SpaceCDN outperforms the competitors in the quality of support service.
Agreeable prices
Since we have never worked with CDN providers, it was hard to define an optimal price for the suitable service. However, after comparing similar solutions of different companies we came to the conclusion that SpaceCDN services are pretty cheap. Minimal payment is as low as $10 a month! Any company can afford such network! Of course, the network tailored for our company appeared to be a bit more expensive, but the price wasn't devastating for the budget. The benefits of CDN quickly compensate your expenses.
By the way, SpaceCDN has a pay-as-you-go system, which means that you pay only for the resources that were used. There are no contracts, and no overpaying for unnecessary bandwidth. This is a fair approach.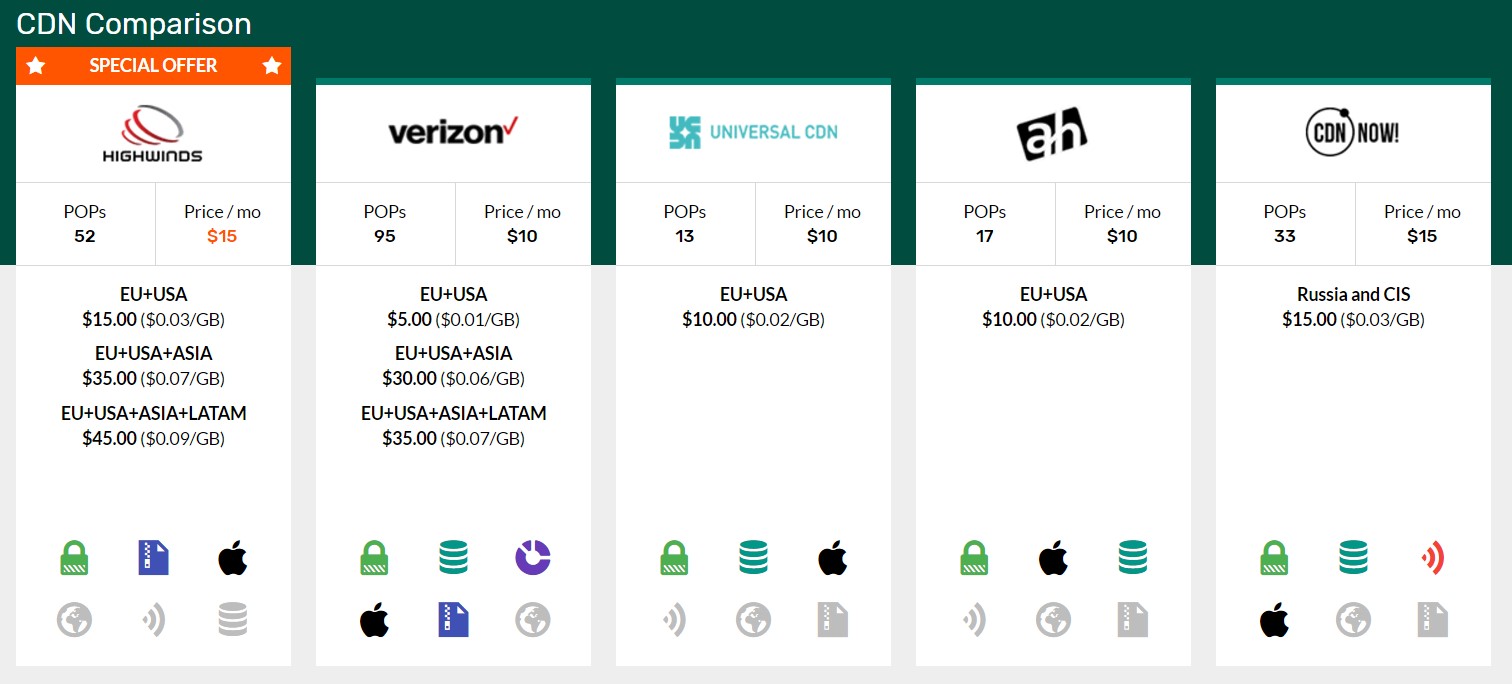 Special offers
Many discounts and special offers we found were either not beneficial, or came with hidden pitfalls. After talking with the agents of SpaceCDN we have agreed upon a special personal offer. Besides, we had a free month of service – this time was enough to evaluate the network and make sure it perfectly suited our demands.
Positive reviews
We know that reviews can be easily forgotten, but what we found on the Net seems to be true. The vast majority of users seems to be content with the services of SpaceCDN and is likely to continue the partnership. Now we know for sure that the company truly deserves praise and trust. It's been several months since we started working together, and our team is totally satisfied with the network and advantages it gives us.
Conclusion: SpaceCDN Review
As soon as we ordered a network in SpaceCDN, our online business started thriving and developing quickly. A number of visitors doubled over 6 months, conversion rates soared, and overall user experience improved (we got many positive reviews). It took us almost a month to find a suitable solution, and we don't regret spending time and money – services of SpaceCDN are definitely worth it!