Despite the fact that YouTube is primarily is a video content sharing website, it is a treasure for music lovers as there is a lot of music content available on YouTube which you will not find anywhere else. However, YouTube, at present, does not offer any option to download MP3 from a vide. To make it easy for music enthusiasts, there are several YouTube MP3 converter available on the internet which can be used to convert a YouTube video into a MP3 file. We have enlisted some of the top YouTube to MP3 converters below: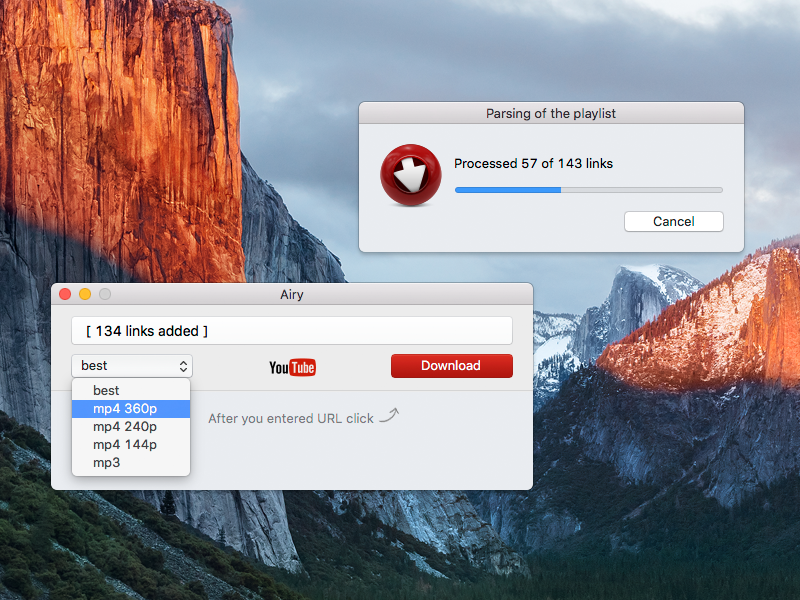 Airy
Airy is one of the best YouTube to MP3 converter app that you can find online. With its a huge set of features, the app makes converting YouTube videos to MP3 a child's play. You can download YouTube in different formats such as MP4, 3GP and FLV.  Interestingly, the app also supports HD and Ultra HD videos. You need to paste the URL for the YouTube video that you want to convert to MP3 in the Airy app and click on the Download button. There is also an option available to download playlists found on YouTube. Moreover, Airy also has an extension available for different browsers – Chrome, Firefox, Safari and Opera. You can download up to 2 YouTube videos in the MP3 format with the free version of Airy app. The app is available for Mac users as well as Windows users. You can also choose the resolution of the video that you want to download. Airy app supports downloading videos in up to 4320p resolution which is a feature rarely available in other downloaders in this list. To convert more videos to MP3, you need to purchase the Airy app.
AllmyTube
AllmyTube is another popular app by Wondershare for converting YouTube videos to MP3. Not only you can download videos from YouTube, you can also convert the downloaded video to different formats. Additionally, AllmyTube also doubles up as a video player in Mac devices. There are options available to organize your library in the app. AllmyTube supports popular video formats like MP4, FLV, and webM videos on Mac.
YTD Video Downloader
YTD is a popular name when it comes to converting YouTube videos to MP3. YTD Video Downloader for Mac allows you to batch download videos from YouTube and it also supports downloading YouTube videos in MP3 format. YTD Video Downloader has an easy to use interface and you simply need to copy-paste the YouTube URL in the app and click on the download button. You can adjust download quality and also choose the location for downloading the video.
4K Downloader
4K Downloader is a paid YouTube to MP3 converter that comes packed with a host of features. You can download playlists with videos up to 24, choose the format and quality of the video to be downloaded. Also, the worth mentioning in this 4K Downloader YouTube to MP3 converter is a "Smart Mode" that keeps the same settings for downloading all the videos automatically. Converting YouTube videos into MP3 is a fairly easy process with 4K Downloader owing to its user-friendly user interface.
Conclusion
With the above-mentioned apps, converting a YouTube video to MP3 format is extremely easy. These apps ensure that you can download any YouTube video in MP3 format. Amongst other apps, we highly recommend using Airy app if you want a hassle free experience in the format with excellent features.