Audio recording and editing are an integral part of the modern-day media. Recording technology has advanced a lot over the years as well. We have gone from analog recorders to modern tape recorders to recording softwares that don't even need their own hardware. Many audio recorder applications are available today across all the modern-day platforms. One name we have been coming across a lot lately is TunesKit Audio Capture. Let's see what the hype is all about.
What Is TunesKit Audio Capture?
TunesKit Audio Capture is an audio recording tool introduced by a developer of the same name. The company offers various technology solutions for platforms like iOS, Windows, and Mac.
TunesKit Audio Capture is a tool for only Mac and Windows-based computers to record any audio running on the system. Examples include calls, video streams, game audio, etc. It also includes extra features that allow you to edit audio, fix ID3 tags, and more. You can download TunesKit Audio Capture from the official website. It is only available for Windows and macOS for now, as mentioned earlier.
Best Features Of TunesKit
TunesKit Audio Capture is a high-profile audio recorder with a wide array of useful features. Here's a good look at some features that make the difference.
Lossless Audio Recording
Lossless audio is something that only professionals truly appreciate. Not everyone in the masses cares about bitrate and everything, but it can make a huge difference, especially in audio recording. TunesKit has lossless audio recording, meaning all of your recordings will sound like high-quality music files. It maintains the original sample rate, codec, audio channel, etc. As a result, every recording done with TunesKit sounds exactly like the original.
If your main priority is high-quality recording, TunesKit will likely never let you down.
Record Multiple Audios
TunesKit Audio Capture supports multi-track recording. It means you can record multiple audio streams simultaneously in high quality. It saves a lot of time and effort as you don't have to record all the tracks individually. Multi-track recording doesn't affect the audio quality; all tracks are recorded without any loss.
Record Audios From Any Application Or Browser
TunesKit can record any sound that your computer can play. No matter if it is playing on your default media player or on a web page. Add streaming applications, media players, and web browsers to the TunesKit Audio Capture interface. It automatically records any audio that it detects. You can record songs, audiobooks, etc, from websites like YouTube, Spotify, Deezer, and more in high quality.
Edit And Fix ID3 Tags
You can add, edit, or fix ID3 tags of your audio within the application.TunesKit can automatically add the right metadata to an audio file. Users can also add it manually.
Audio Editing & Configuration
TunesKit has an embedded editor with which you can cut, trim, split, and merge your audio recordings. You can also choose the exact codec, channel, bit rate, sample rate, etc. for your output audio. TunesKit Audio Capture supports file formats like MP3, M4A, AAC, WAV, FLAC, and more for export.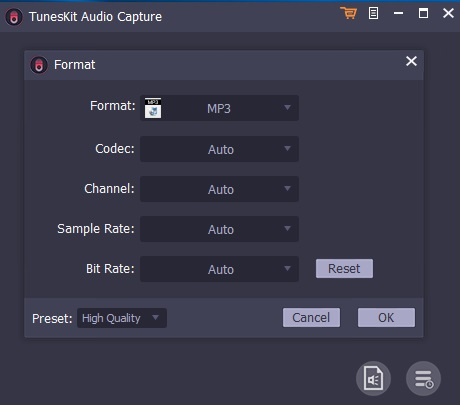 Automatic Silence Detection
TunesKit Audio Capture has automatic silence detection with which it can split your audio files based on silent parts.
How To Use TunesKit?
Here's a little guide to help you figure out how to use TunesKit if you have downloaded and installed the tool. You can record any audio playing on any application with TunesKit. Here's how.
Launch TunesKit Audio Capture. This is what the main interface of the application looks like.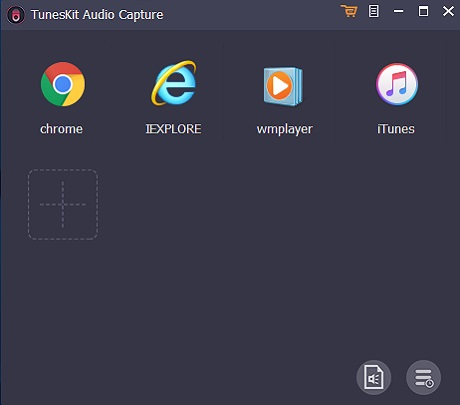 Enter the registration code to unlock the full application or continue using the free version.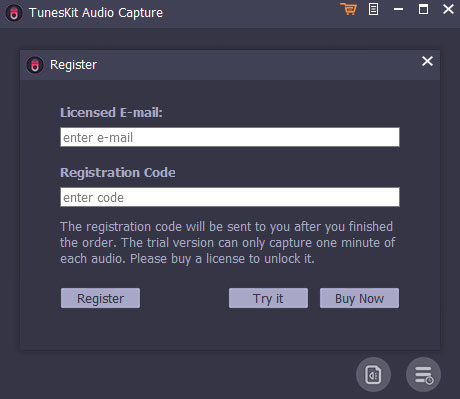 Add any media player or streaming application to the main interface by clicking on the plus sign.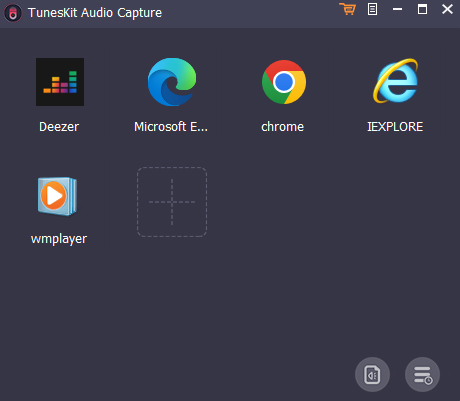 You can also record audio from any website by using a web browser through TunesKit. It helps record audio from websites like YouTube with no external applications.
The software automatically starts recording any audio that you play on a browser, media player, or streaming service. You can stop it manually by clicking on the "Stop" button.
You can edit, split, or merge the files you just recorded too. You can also edit or fix ID3 tags of an audio.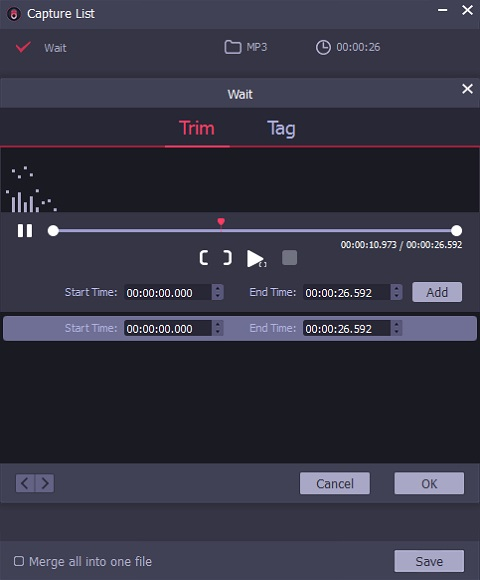 Click on "Save" to save and export your audio. You can access your captured audios from the "History" tab anytime you want.
TunesKit Audio Capture: Worth the price?
You can use TunesKit Audio Capture for free but it's only the full paid version that gives you the true experience.
The free version has a limit that only allows you to record 1 minute of audio. The free software doesn't receive updates or maintenance either. Neither do you get customer support.
The paid version comes with unlimited recording and regular free updates. Users also get access to 24/7 active customer support.
If you find yourself recording audio on your computer system regularly, TunesKit is software that can make it better and easier. It offers lossless recording with unbeatable quality alongside many other recording and editing features. It can turn out to be a great investment if you need a professional audio recording tool.
You can either fully buy TunesKit Audio Recorder over a one-time purchase or subscribe to monthly/annual plans. The plans are well-priced and economical, especially considering the quality you get in return. All in all, TunesKit Audio Capture offers plenty that is worth your consideration and investment.
---
Conclusion
In conclusion, it's safe to say that TunesKit Audio Capture is a very capable audio recorder with quality features that actually make a difference. Be it the multi-track recording or the ability to fix ID3 tags, TunesKit has everything you need in an audio recorder and more. Thanks to its support for lossless audio, the software is good enough for both general use and professional recording. Considering the affordable plans and the value for money, TunesKit can be an excellent investment for anyone who needs an audio recorder for more than just casual use.