As you all know, Apple Music is one of the most popular platforms that allow you to stream music. You can find more than 60 million songs on Apple Music and you can stream them all. However, one thing about Apple Music is that it is a paid app and to use this app, you need to pay monthly. 
But that is not a problem anymore because you can use UkeySoft Apple Music Converter to remove DRM from Apple Music and convert Apple Music songs to MP3, AAC, AC3, WAV, AIFF, AU, FLAC, M4A, M4R, and MKA with 100% original quality, so that you can keep Apple Music songs forever.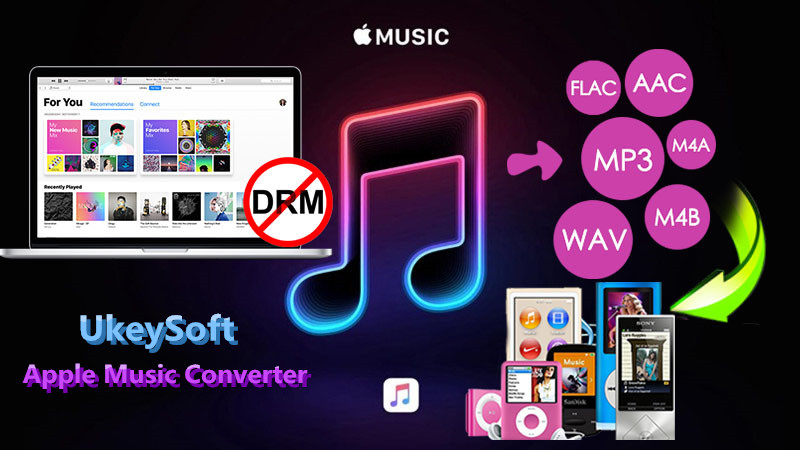 UkeySoft Apple Music Converter for Windows and Mac Review
If you are looking for an app that allows you to keep Apple Music without you having to pay for it, UkeySoft Apple Music Converter is the perfect destination for you. 
With UkeySoft Apple Music Converter, you can enjoy your Apple music on various devices such as iPod Nano, Sony Walkman, iPod Classic, etc. Through this app, you can remove the Apple Music DRM and then you can convert your Apple music to various formats such as DRM-free AAC,  MP3, WAV, M4A, FLAC, etc, and can play it on other audio players like Play Stations, iPods, MP3 players, Mobile devices, etc. You can also convert iTunes MP4 songs, Audible Audiobooks and Audiobooks to DRM-free formats without facing any restrictions. 
Features:
UkeySoft Apple Music Converter allows you to delete DRM from the encrypted audio and converting the songs to AAC, MP3, M4R, AC3, AU, AIFF and MKA formats and you get the same quality as you get in the original audio. The song information will always be maintained in the output file, including your title, artist, album, composer, type, etc. 

You can also convert your entire library at the same time with the help of the Batch Converter feature. You can easily convert the songs that you select from MP4 to MP3 with only one click. 

Most Apple music songs are DRM protected which means that you will not be able to play the songs upon cancellation. However, with UkeySoft Apple Music Converter, you can play the songs even after the subscription is cancelled because the app is designed in such a way that it removes DRM from Apple Music. 

Through UkeySoft, you can also easily convert all the songs which are DRM-protected, into various formats such as AA, iTunes M4A music, AAC, AC3, FLAC, AIFF, M4R, AU, and MKA for any media players. 

You can also convert Apple Music 16 times faster especially if you are using windows version of UkeySoft. However, it might lead to error, so it is highly recommended that you keep it to 5x speed. 

One of the best things about UkeySoft Apple Music Converter is that it does not tinker with the quality while you are converting Apple Music. You will get the same audio quality as you would in the original audio. 

There are multiple languages in which you can convert your songs including English, Spanish, Chinese, Japanese and German. 

It is difficult to manually manage a huge amount of music, it could be time consuming and it can drain you as well. However, UkeySoft Music Converter will not let that happen because when you convert a file, it will have the same ID tag as well as the metadata information of the original file. Thus, it becomes much easier for you to organise your converted music or audiobooks for that matter. 
How to Convert Apple Music to MP3 with UkeySoft Apple Music Converter?
Step 1. Launch Apple Music Converter
First of all, download and install UkeySoft Apple Music Converter on your PC or Mac. Then, run the program from the desktop icon. iTunes or Apple Music app will be opened at the same time automatically.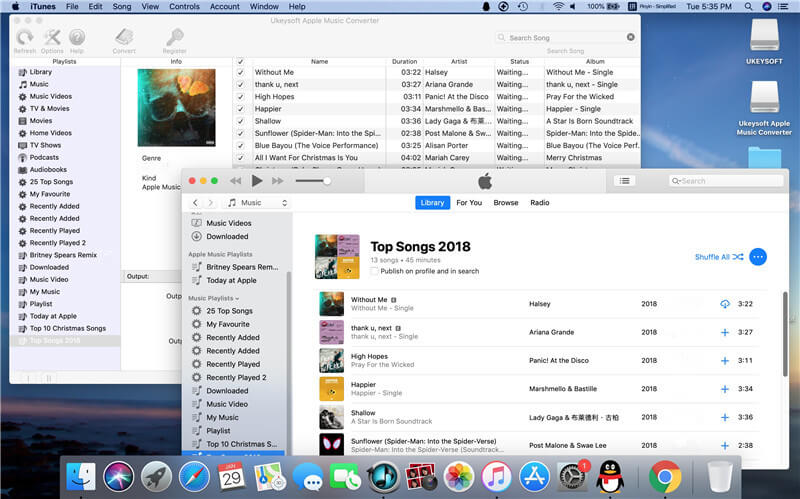 The start screen shows all the list of iTunes library locations on the left panel, audio tracks and track information at the center and output conversion settings on the bottom panel.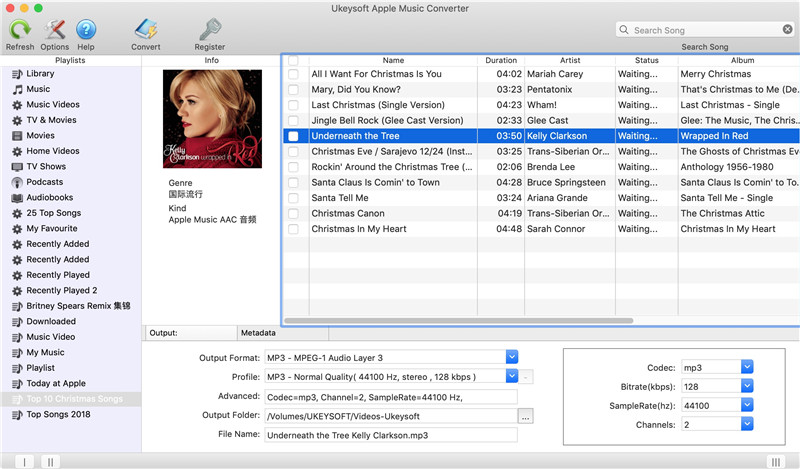 Step 2. Select Apple Music Tracks
Click the playlist in the left column, then you can easily select the Apple music that you want to convert. The program can help you batch convert as many songs as you like, so you can choose a few Playlists, or select a few songs.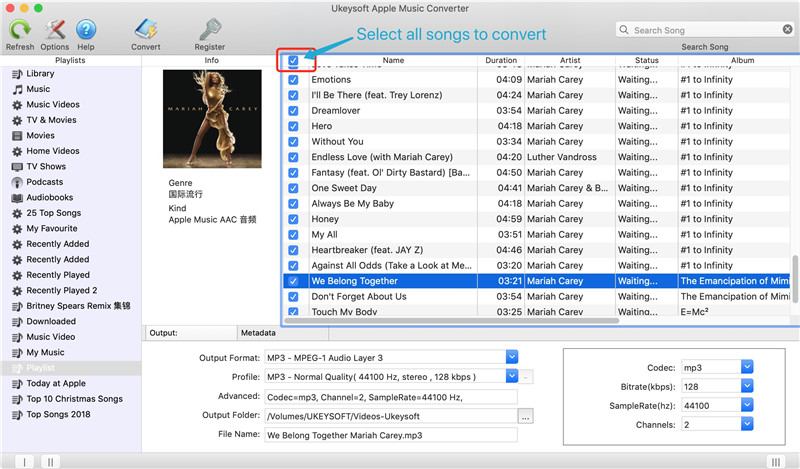 Tips: If you cannot find the music you want to convert, you can search it. And please make sure that you have added the Apple Music tracks to the library or Apple Music app.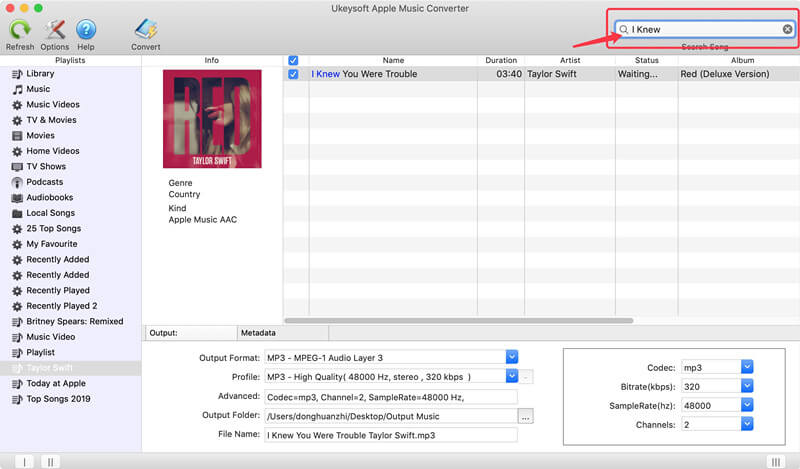 Step 3. Select MP3 as Output Format
In this step, you can choose the MP3 as the output format. According to your needs, you can also choose to output WAV, AAC, AC3, M4A, M4R, AIFF or FLAC as output format.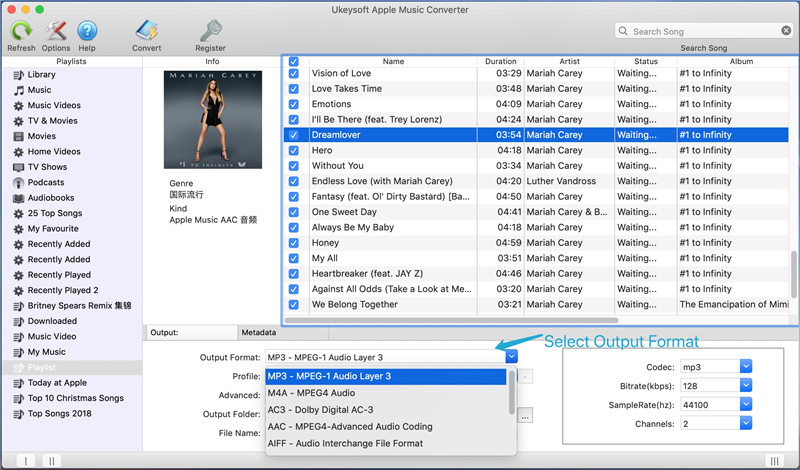 Step 4. Adjust Conversion Speed(Only for Windows version)
If you use the Windows version, you can adjust conversion speed from 1X to 16X, please click "Options" and setting the conversion speed. However, for the Mac version, because of system limitation, the application can only use 1X speed when you are using Mac 10.13 High Sierra or later. If you are still using Mac 10.12 Sierra or older OS, the conversion speed will be automatically up to 16X faster. So, if you want to save time to convert a lots of Apple Music files, I suggest you use the Windows version.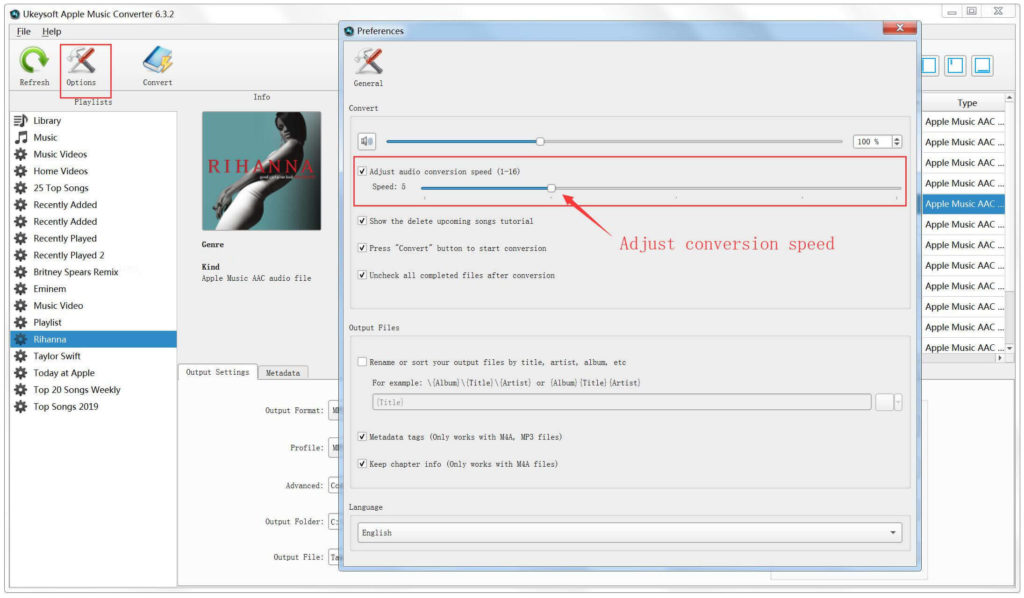 Step 4. Start Converting Apple Music Songs to MP3 Quickly
The last step, just click the "Convert" button and the program will immediately pop up the conversion window. You can see the UkeySoft Apple Music Converter start to convert Apple Music tracks to MP3 format, the software will help you remove the DRM protection from Apple Music during conversion process, please wait patiently.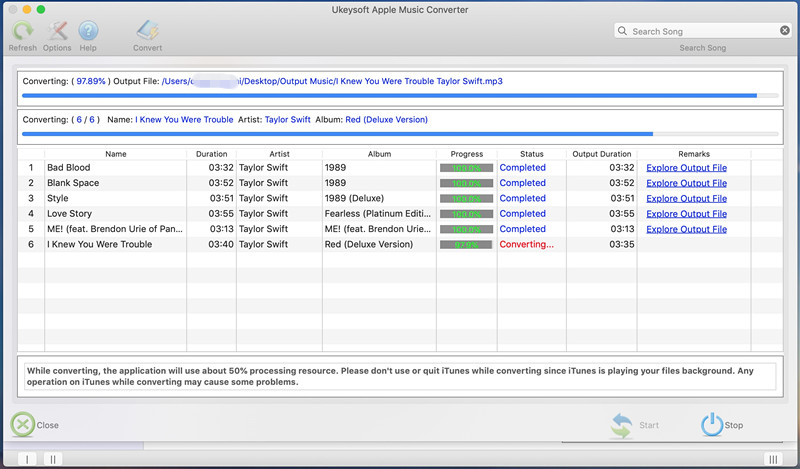 Once complete, you can click the "Explore output File" button to locate the output Apple Music in MP3 format, you also can see that all ID tags and metadata information be preserved in the output songs.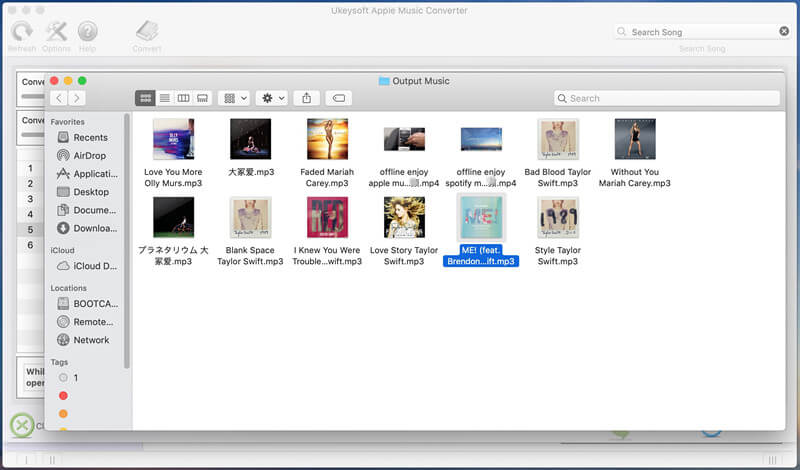 After you getting the DRM-free Apple Music songs, you can play Apple Music on many other popular media devices, such as MP3 player, iPod nano/shuffle/classic, PSP, Sony Walkman, car media player, chromecast, smart TV and more devices. What's more, you have kept Apple Music files forever, even after you unsubscribe.
UkeySoft Apple Music Converter Pros and Cons:
Pros:
Following are the pros of UkeySoft Apple Music Converter:
Supports multiple output formats 

Adjustable audio parameters like codec, sample rate, bit rate and channels

Have the same quality as the original file even after converting

Convert infinite number of Apple Music as much as you want 

Fast conversion
Cons:
Following are the cons of UkeySoft Apple Music Converter:
You have to install the Apple Music app if you use MacOS 10.15 or above.

You have to install the iTunes app if you use Windows 10/8/7 or MacOS 10.14 or below.
UkeySoft Apple Music Converter Review and Verdict
Because all Apple Music tracks are protected by DRM, we always want to convert Apple Music to MP3, M4A, WAV, AAC, FLAC, WAV, M4B, which can be played offline on any device. With the help of UkeySoft Apple Music Converter, you can convert Apple Music to MP3 and keep them forever.
The UkeySoft Apple Music Converter software works very well for its purpose and it is super intuitive for users of all classes (i.e., there's no learning curve needed to use the software). It has a swift, easy-to-understand interface; plus,  you don't need to download Apple Music tracks to your computer first, just add songs, albums or playlists to the library of iTunes or Apple Music app, all your added songs will be synced to the Apple Music Converter automatically after launching it.
Also, the app comes with a few configuration settings; thus, you can customize the speed rate and other advanced settings. Furthermore, the UkeySoft Apple Music Converter supports different output audio formats, so you can convert and transfer Apple Music, iTunes M4P songs and Audiobooks to all kinds of devices.
All in all, the UkeySoft Apple Music Converter software is recommended for all Apple Music subscribers who are looking out for the surest way to keep Apple Music songs forever and enjoy Apple Music songs offline on any device. In addition, UkeySoft also offers Spotify Music Converter for Spotify users/subscribers to free download songs from Spotify. In a wrod, both two excellent streaming music converter software is a must-have for Spotify and Apple Music subscribers.