Spotify is one of the most popular digital music streaming, hosting millions of songs to millions of users and regularly adds audiobooks, music and podcasts of various artists, including your favorite. Spotify is mostly providing features online and it has a limited offline access. There are only limited tracks which you can download and you cannot even display it for 30 days because after that, Spotify deletes the offline music. If you want to backup Spotify songs/playlist/albums and make them available playback on any devices offline, you should convert Spotify Music library to MP3.
This is where UkeySoft Spotify Music Converter comes in because it is everything you need to maximize your Spotify needs. In this article, we will give you a detailed review of UkeySoft Spotify Music Converter.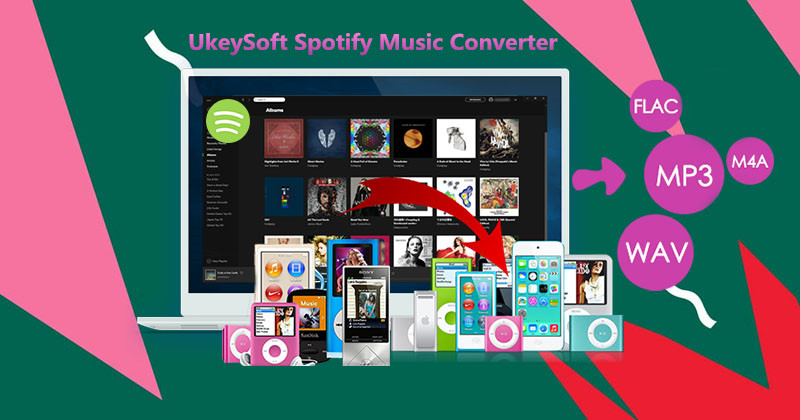 UkeySoft Spotify Music Converter Overview
UkeySoft Spotify Music Converter is basically a tool which helps you convert all the DRM-protected Spotify songs to various formats such as MP3, WAV, FLAC or M4A up to 5 times faster conversion speed with ID tags kept in place even after you convert the songs. 
Through UkeySoft tool, you can remove DRM protection from free and premium subscriptions and it allows you to convert all your music files to non-DRM protected files like MP3. Thus, you can listen to your Spotify music offline absolutely free of cost. 
Features of UkeySoft Spotify Music Converter:
UkeySoft Spotify Music Converter comes with ton class features which makes it a must-have especially if you are looking to listen to songs offline.
Download Spotify Music without Premium
All the Spotify users want just one thing and that is to download the songs for offline playback. Through UkeySoft Spotify Music Converter, you can now download the Spotify music without having the need to install plugins or subscribing to Spotify for that matter. You can easily get it on your windows or Mac with all the ID tags and information kept in the file as it is. 
Convert Spotify Music to various formats
You can easily remove DRM protection from Spotify music in just a few steps and convert it to various formats such as MP3, WAV, AAC, and FLAC without compromising on the quality of the original audio and you can do it with upto 5X the speed. You can enjoy your songs on various music players such as iPod Shuffle, iPhone, PS4, Car Players, etc. 
Get all the Metadata information and ID Tags
When you use UkeySoft Spotify Music Converter, you do not have to worry about losing the metadata information and the tags of the original audio while converting because all the information such as titles, artists, artwork, genre, track number, etc is intact even after converting the music. The sound quality also remains the same unless you decide to change it or compress it. 
Get Spotify Audio at 5X Conversion
When you are downloading music from Spotify using UkeySoft Spotify Music Converter, you can run it up to 5 times the original speed and can add various songs simultaneously from Spotify for conversion of those songs together instead of selecting one song at a time, which could be time consuming. 
UkeySoft tools also supports burning CDs from the songs you converted, with just one click. You simply have to insert a blank CD and then click on the share button. Once you have done that, you need to simply select the " Burn CD " option and your process to burn your CD directly will begin. 
Not only do you have the option to burn CD directly, but also you can share your converted Spotify music with all your friends via an email. 
Play Spotify Music on Any Devices Offline
Once you get your DRM-free music tracks from Spotify, you can play that on any device as you like such as MP3 players, car Players, PSP, PS4, iPod, iPhone, AAC compatible music players, Zune, etc. Even when you have cancelled your Spotify premium, you can still have all these songs offline with the help of UkeySoft Spotify Music Converter.
How to Download and Convert Spotify Music to MP3 for Free?
With the help of this free Spotify downloader – UkeySoft Spotify Music Converter, either free or premium subscribers can download and convert Spotify songs, albums or playlists to MP3, M4A, FLAC or M4A for listening offline on any devices.
Firstly, you have to install the Spotify app and log in Spotify app with your account, whether free or premium.
Step 1. Download, Install and Launch UkeySoft Spotify Music Converter
Download the Spotify Music Converter software and install it on your computer. After installation, please double the icon to launch it, you will see the following interface, then it will launch the Spotify app automatically.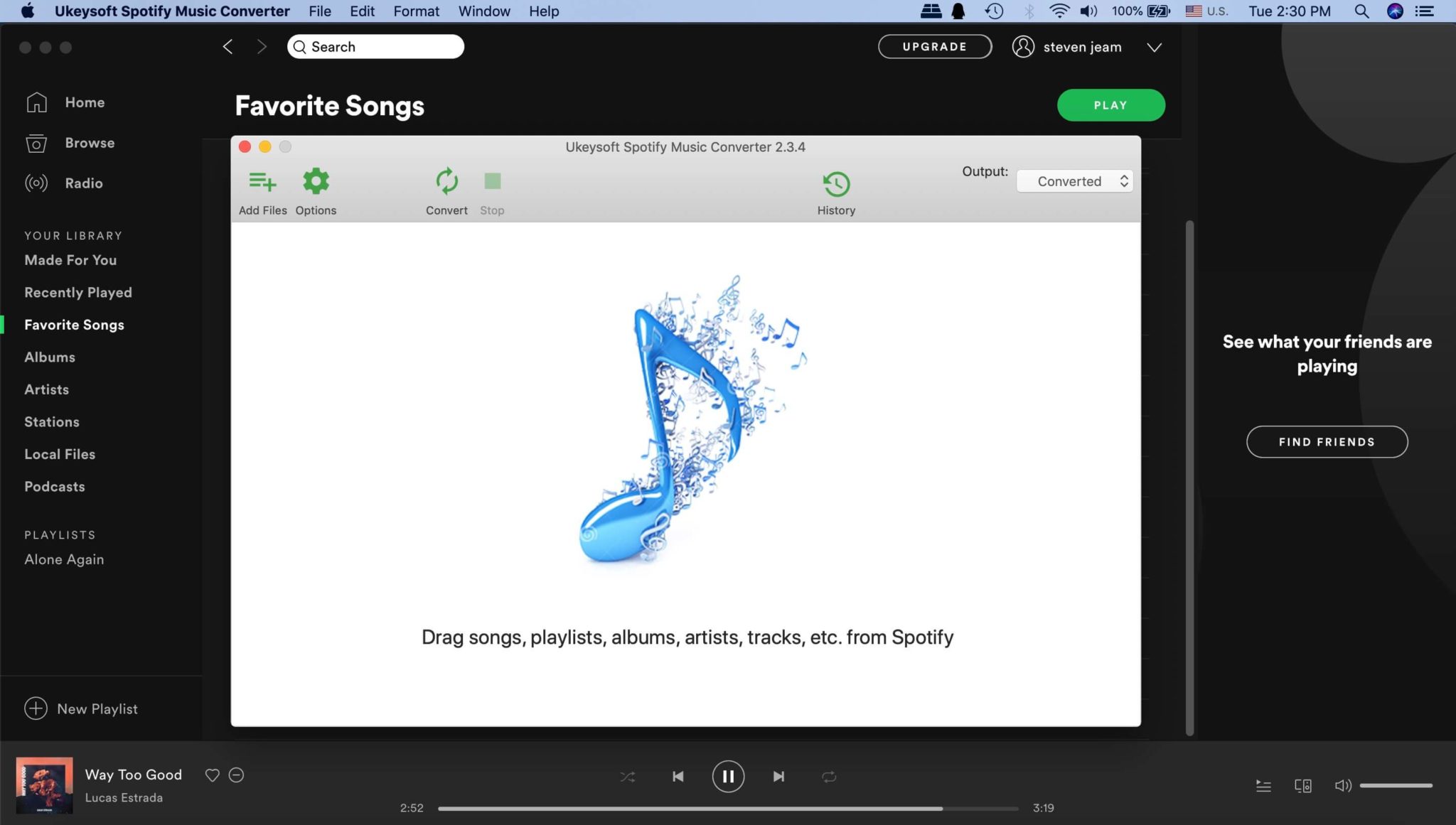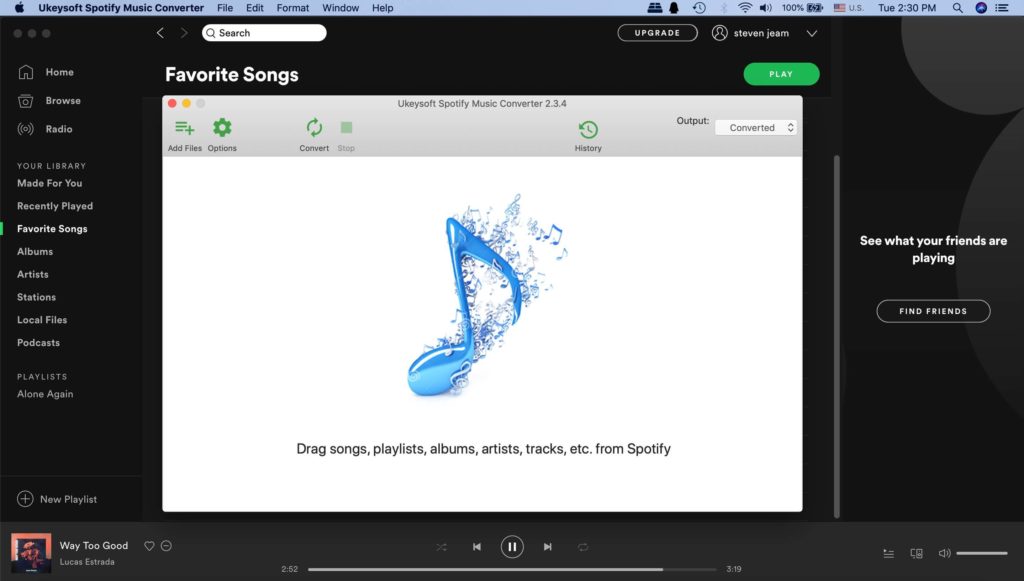 Step 2. Add Spotify Songs/Playlist/Albums
There are two ways to add songs to the Spotify converter: You can add your songs by simply dragging them to the software Window. Alternatively, you can copy the link to the Spotify song/playlist and paste it on this software to add a song.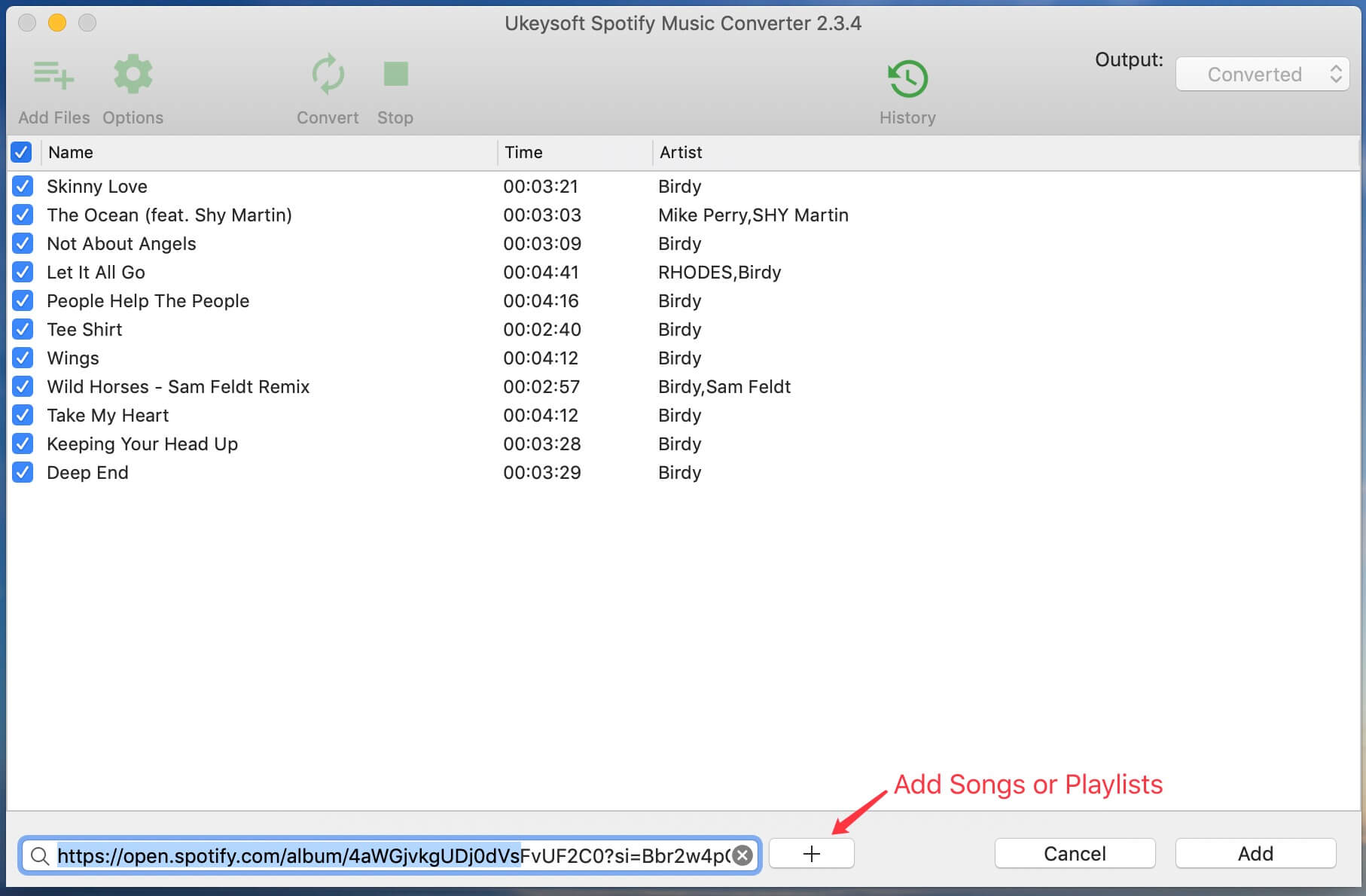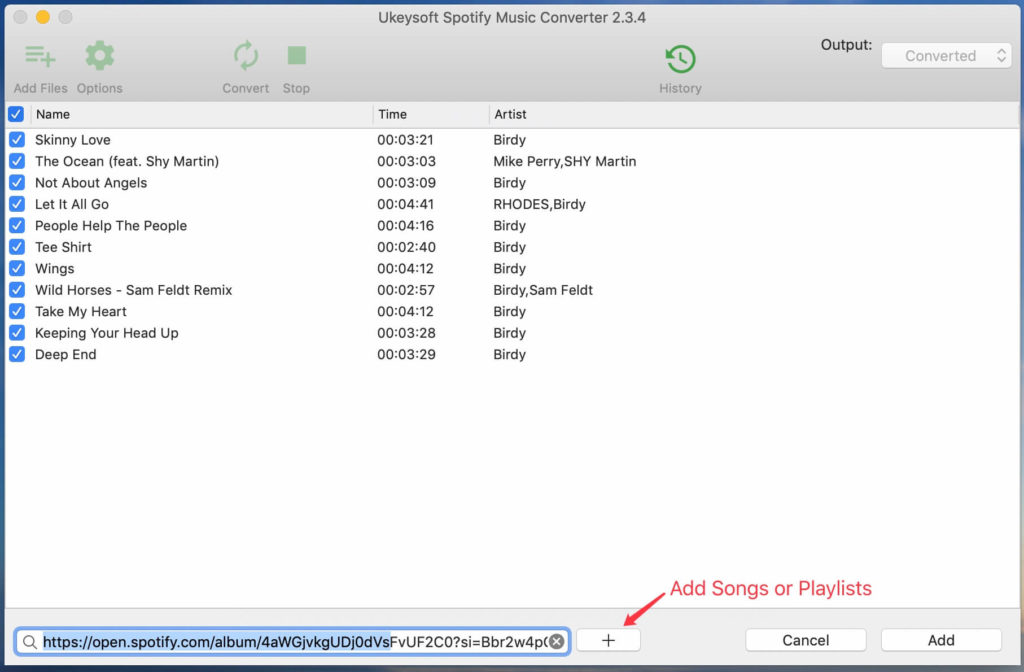 Step 3. Choose Songs You Want to Download
When you're done adding your files, please choose songs that you want to download and convert, and click on the "Add" button at the bottom of the software window.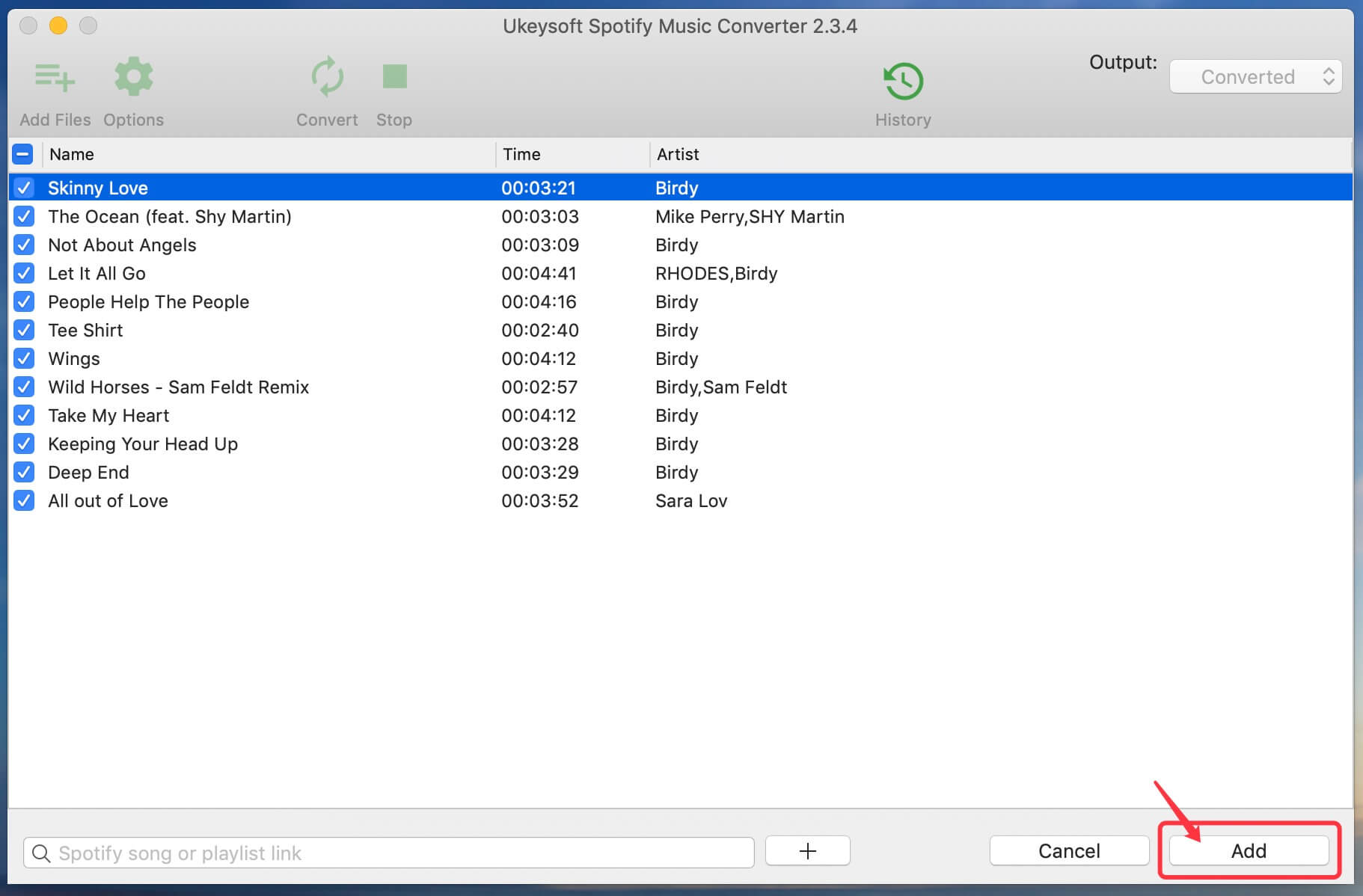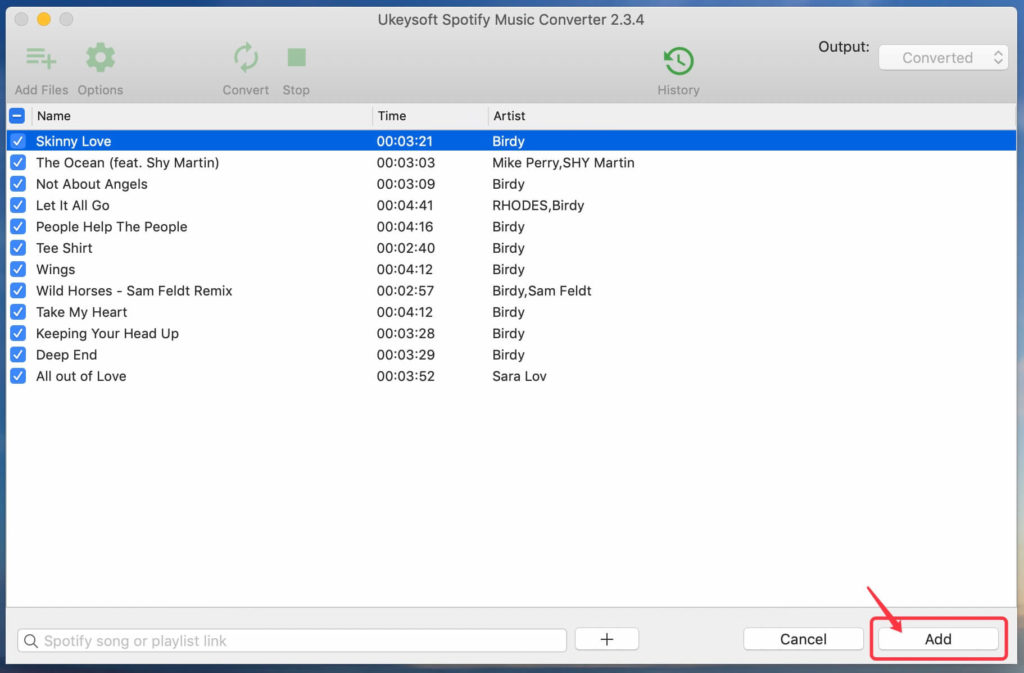 All selected songs have be added into the Spotify Music Converter, you can see all metadata of those added songs, such as artwork, name, album, artist, etc.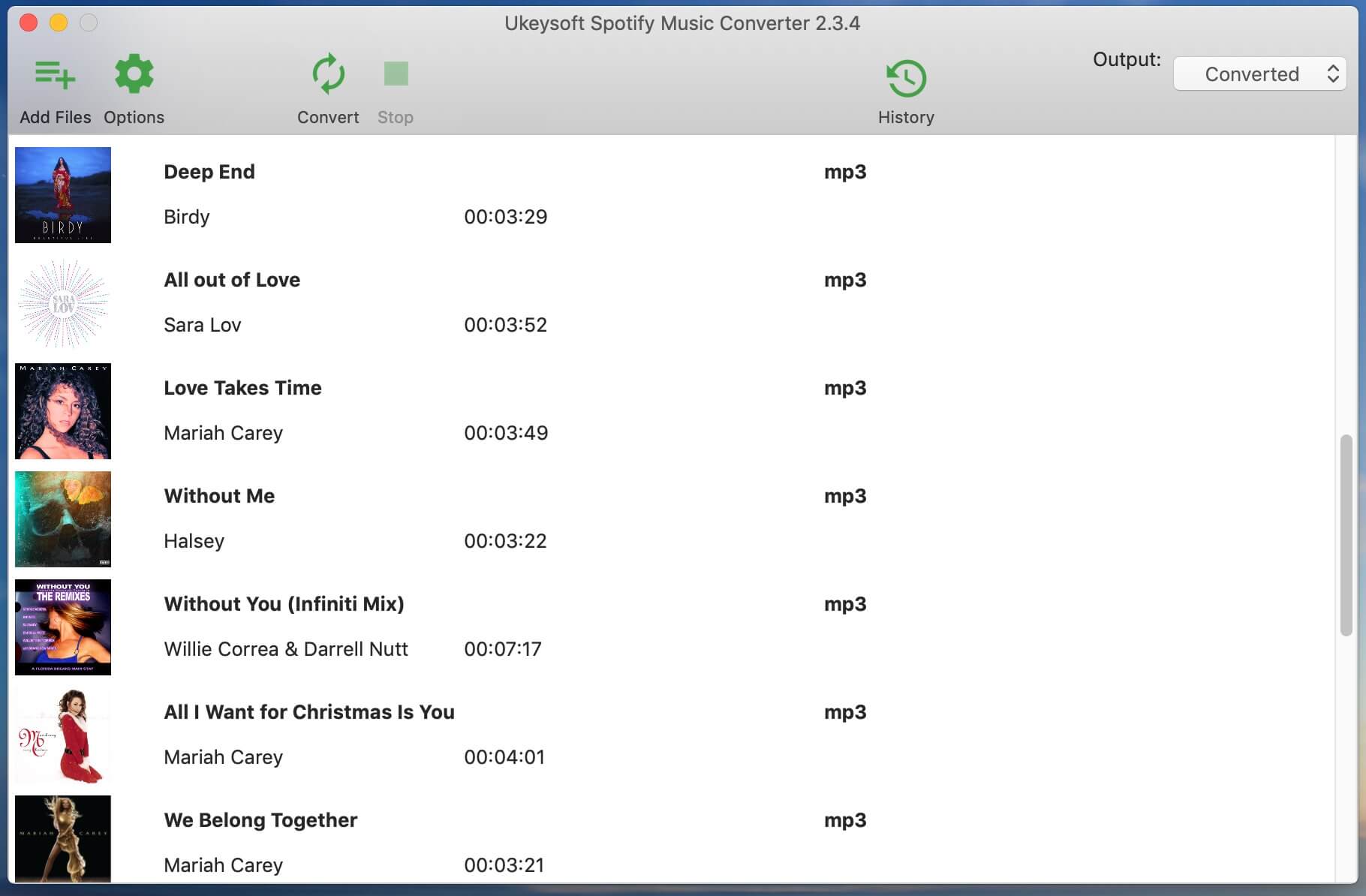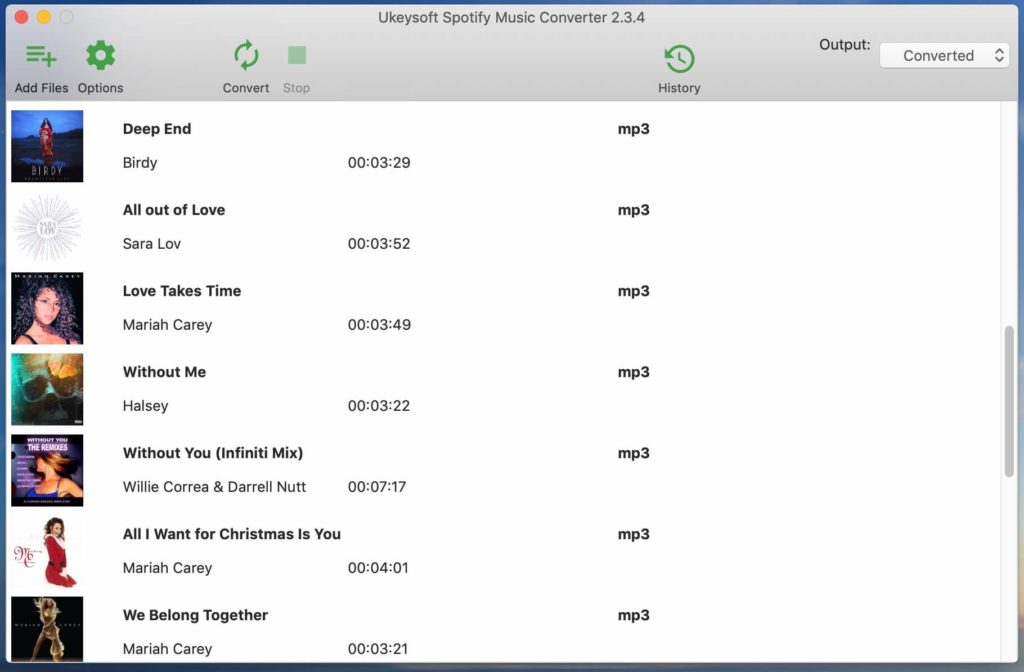 Step 4. Select MP3 as Output Format
After you are done adding your Spotify songs, click on the "Options" tab and the program will immediately pop up the setting window. You can select MP3, M4A, FLAC or M4A as output format, as well as set sample rate, bit rate, format, and more.
Step 5. Set Conversion Speed – 1X to 5X(Only for Windows version)
For the Windows users, you can adjust the conversion speed rate from 1X to 5X, which helps you download Spotify songs much faster than using audio recording software. However, for the Mac version, because of system limitation, the software has been set 1X faster conversion speed.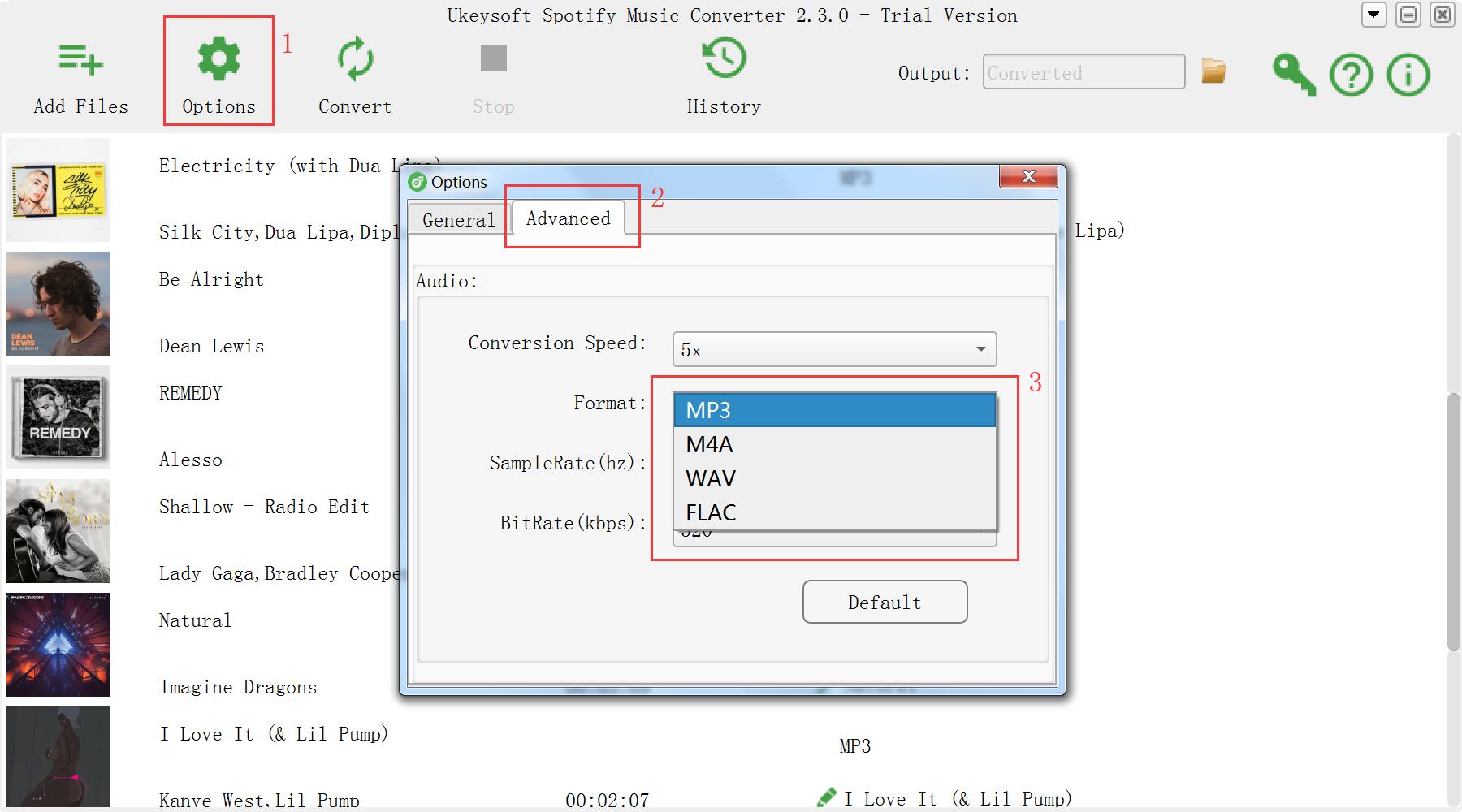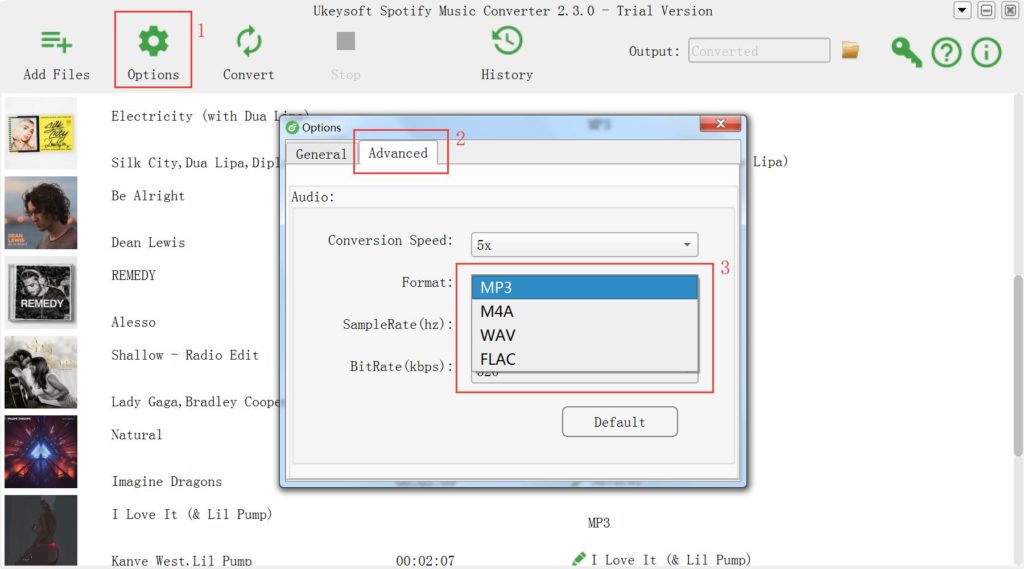 Step 6. Start to Convert Spotify Songs to MP3
Finally, click on the "Convert" button to start converting your Spotify songs. This software supports batch conversion and is quite faster. During converting, Spotify plays songs in the background (muted), so you'd better not using Spotify app to play other files until the whole conversion process complete, please wait patiently.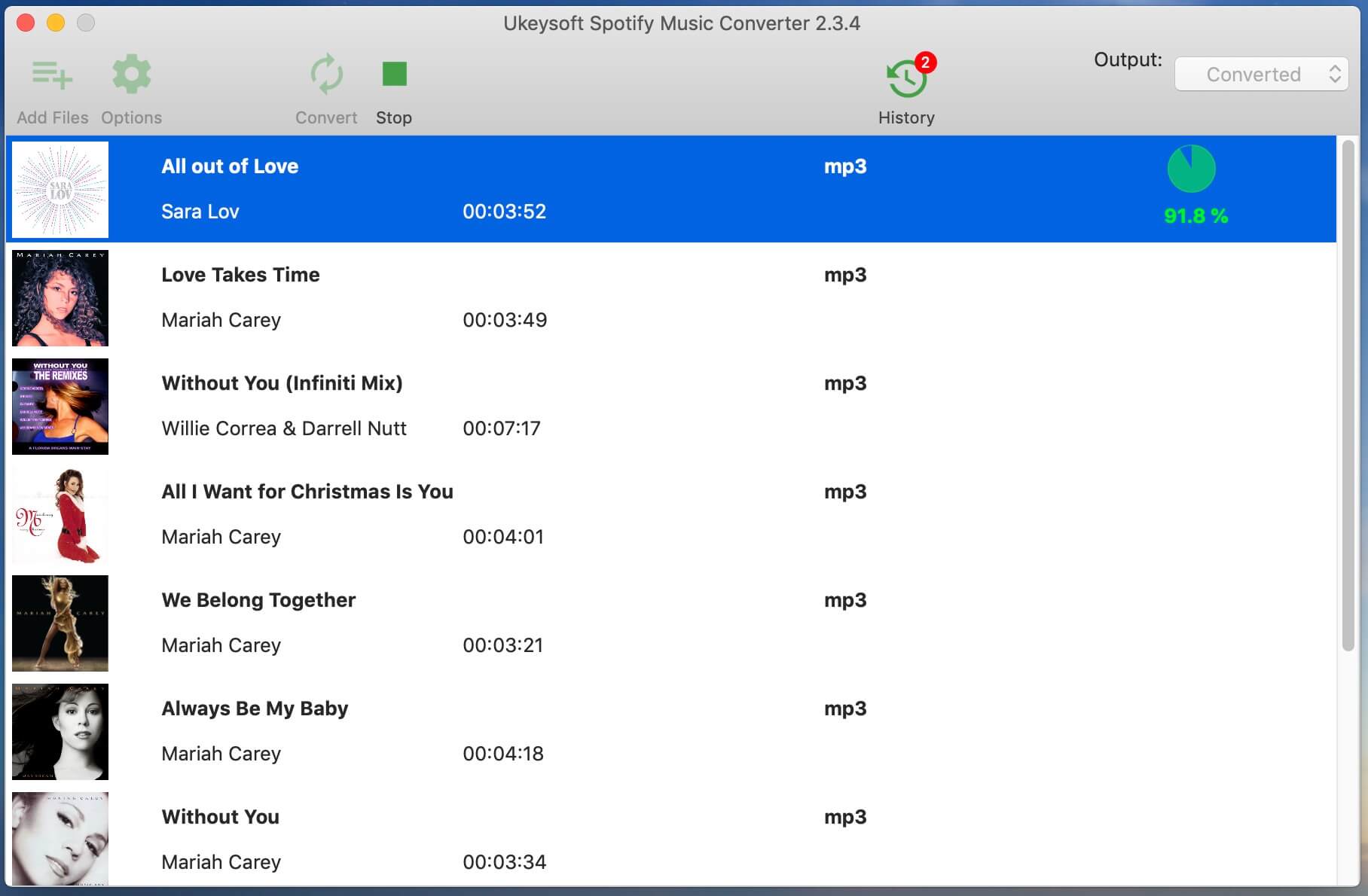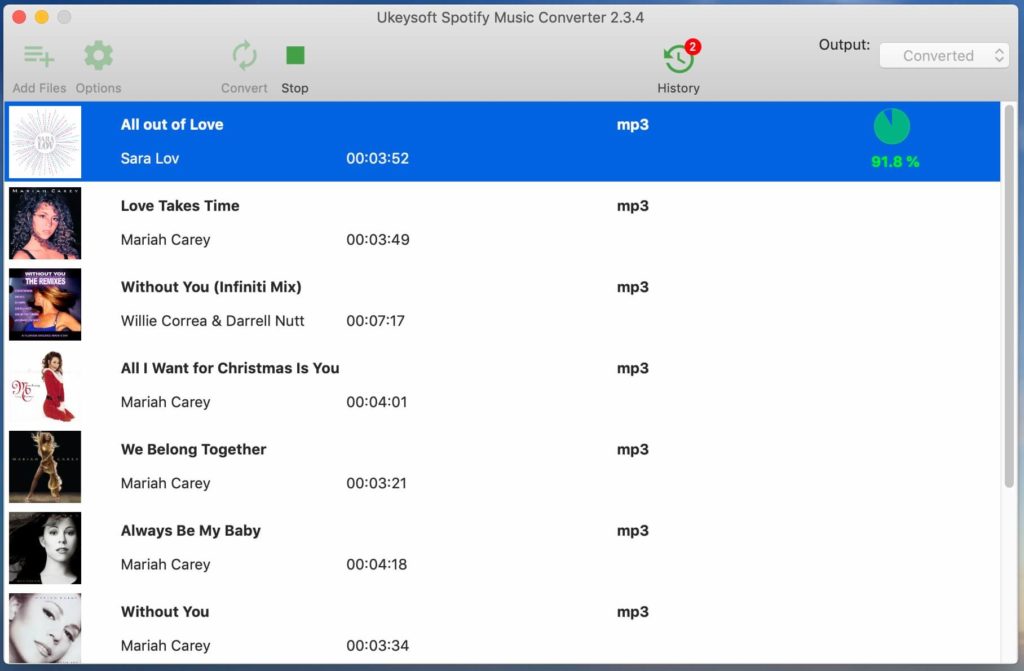 Tips: You can stop the conversion at any time you want by clicking the "Stop" button.
Once complete, you can click the "History" tab and click the blue folder icon to locate the downloaded Spotify songs in MP3 format.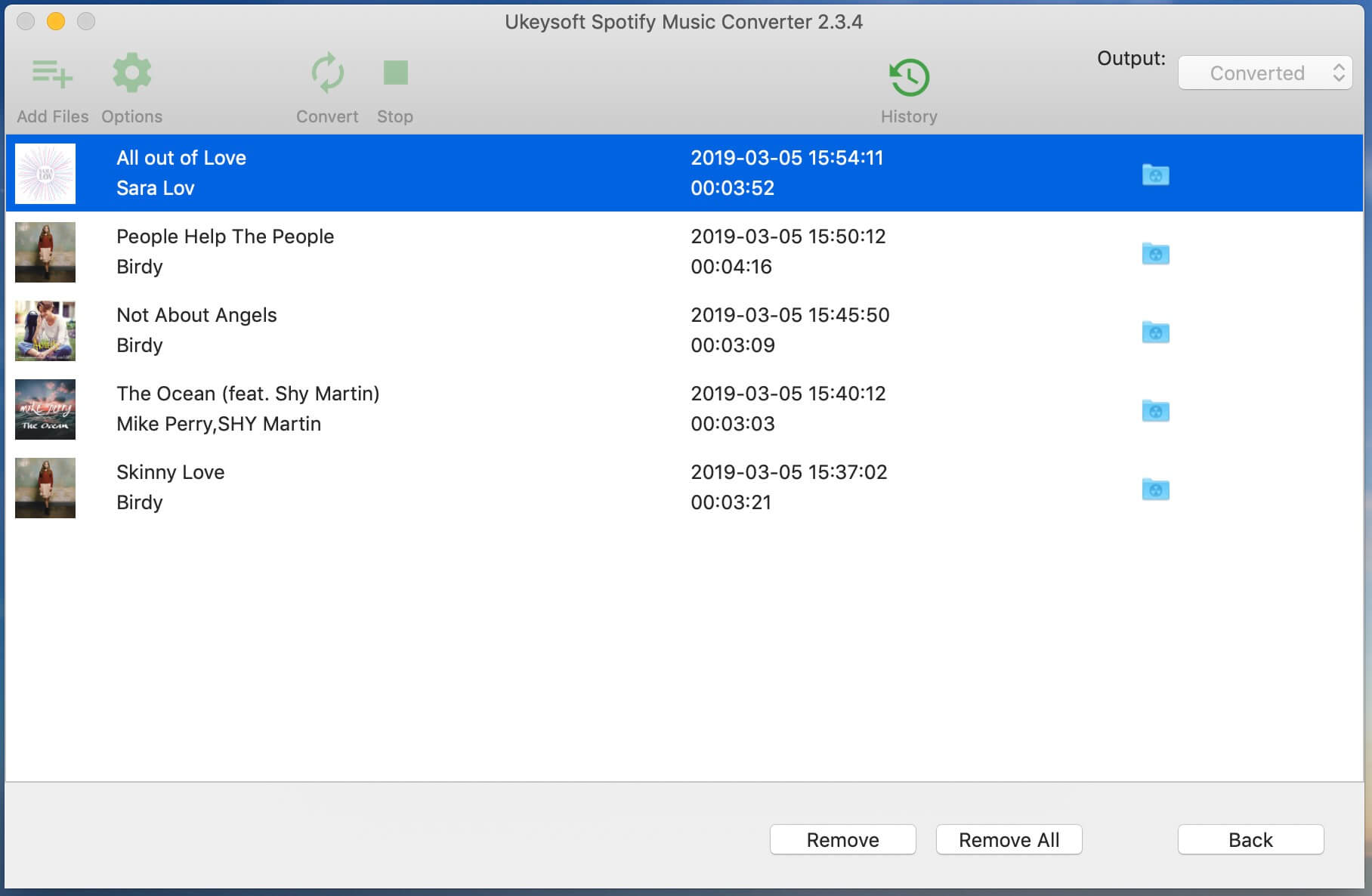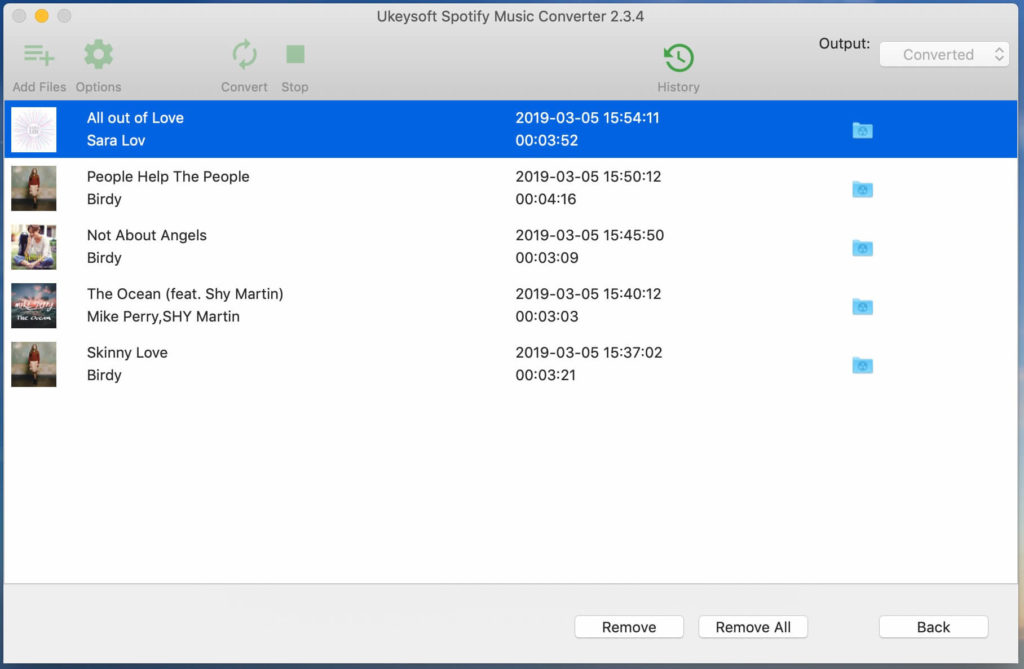 Now, you can add the downloaded MP3 songs to iTunes, then sync them to your iPod Nano/Classic/Shuffle, iPhone, iPad; or directly copy them to any MP3 players, such as Sony Walkman, SanDisk, Sony NWE395, etc.
UkeySoft Spotify Music Converter Pros and Cons:
Pros:
Following are the pros of UkeySoft Spotify Music Converter:
Supports multiple output formats

Adjustable audio parameters like codec, sample rate, bit rate and channels

100% keep original quality

Preserve ID tags and metadata information to output MP3 and M4A. 

5X fast conversion(Windows Version)
Cons:
Following are the cons of UkeySoft Spotify Music Converter:
You have to install the Spotify app on the computer firstly

Need to log in your Spotify account firstly, whether free or premium