Got caught out in the rains again? Even after you checked your phone multiple times before leaving the house? Does your phone still say that it's gonna be a sunny day when it's pouring all hell down outside?
Even though you might consider the native weather app that's shipped with your phone to be satisfactory, it might just be time to move on to the next good thing in weather reporting. We're here today reviewing the popular app WeatherBug and why you should consider making the switch over.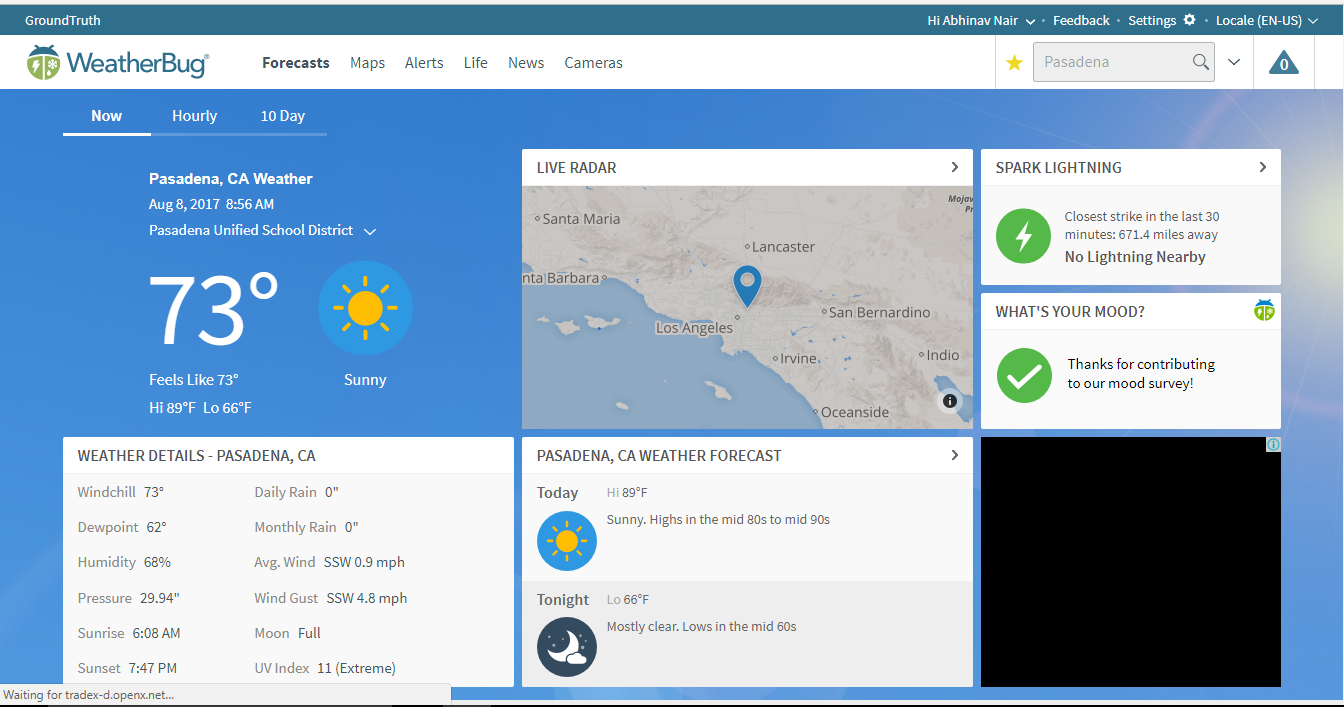 So why should I leave my weather app?
There's no reason for you too. Of course. It's working, and it gives the weather report. What else does one need?
Accuracy, for starters. You may have gone through your daily schedule of checking your phone to make sure that the weather was clear before heading out for a nice bike ride only to find yourself stranded in the middle of nowhere, while a hailstorm issues. The possibilities can be endless, but the fact remains the same. You need a source that you can trust with your eyes shut. And WeatherBug is one such source. With their incredible weather tracking servers, you are bound to be updated on the latest weather minute by minute. The service also comes along with alerts, lightning alerts, and hurricane alerts to keep you safe and updated wherever and whenever.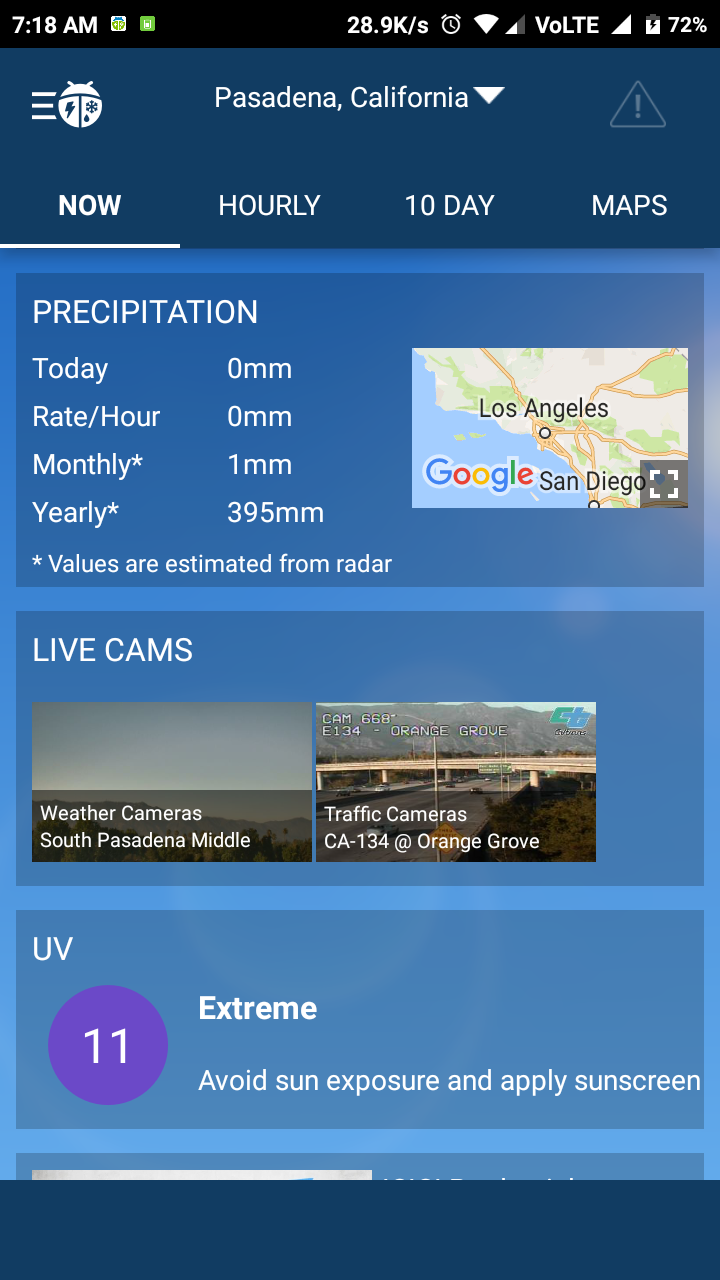 It also comes in with a bunch of handy features you can read more about below:
Features
Weather Forecast
Well, duh you say, "What else could one possibly expect from a weather reporting app?" Well, this comes in as a feature because of the sheer level of detail the service provides. You get your regular current, hourly and 10-day weather report. But along with this you get other salient features such as Windchill, Dewpoint, Daily Rain, Humidity, Wind Gust, Pressure, Sunrise/Sunset times along with a UV Index. Where else could you find such an in-depth insight?
Alerts
The service comes in with a built in alert feature which lets you know about any impending calamities before they actually happen so that you can be forewarned. The alerts to have a unique diversification. ranging from Storm/hurricane alerts to spark lightning alerts which inform you about the nearest, most recent lightning strike near you along with how far away and how long ago it was. This comes in especially handy when you're trying to decide whether you should get out during a thunderstorm (You ideally shouldn't but you never know when the situation might demand a proactive measure.)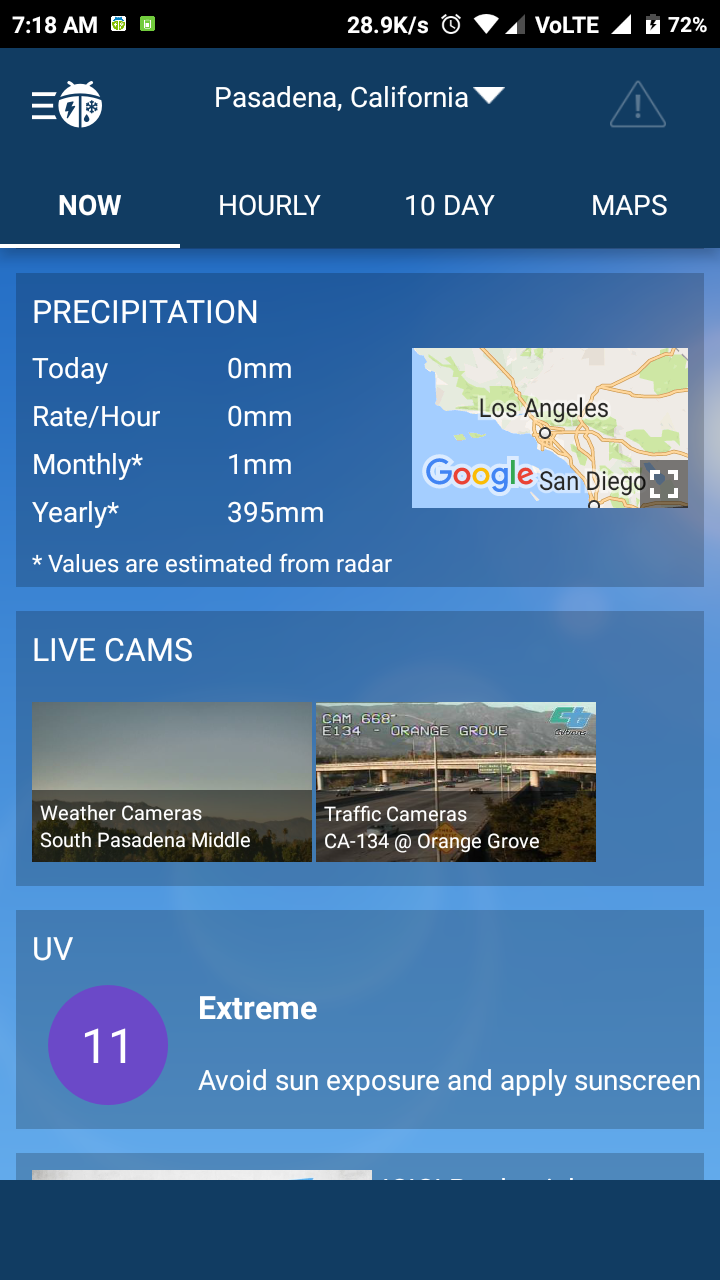 Top Stories
Keeps you up to date with the latest whereabouts of everything going on in the world, weather-wise.
Allergies and Pollen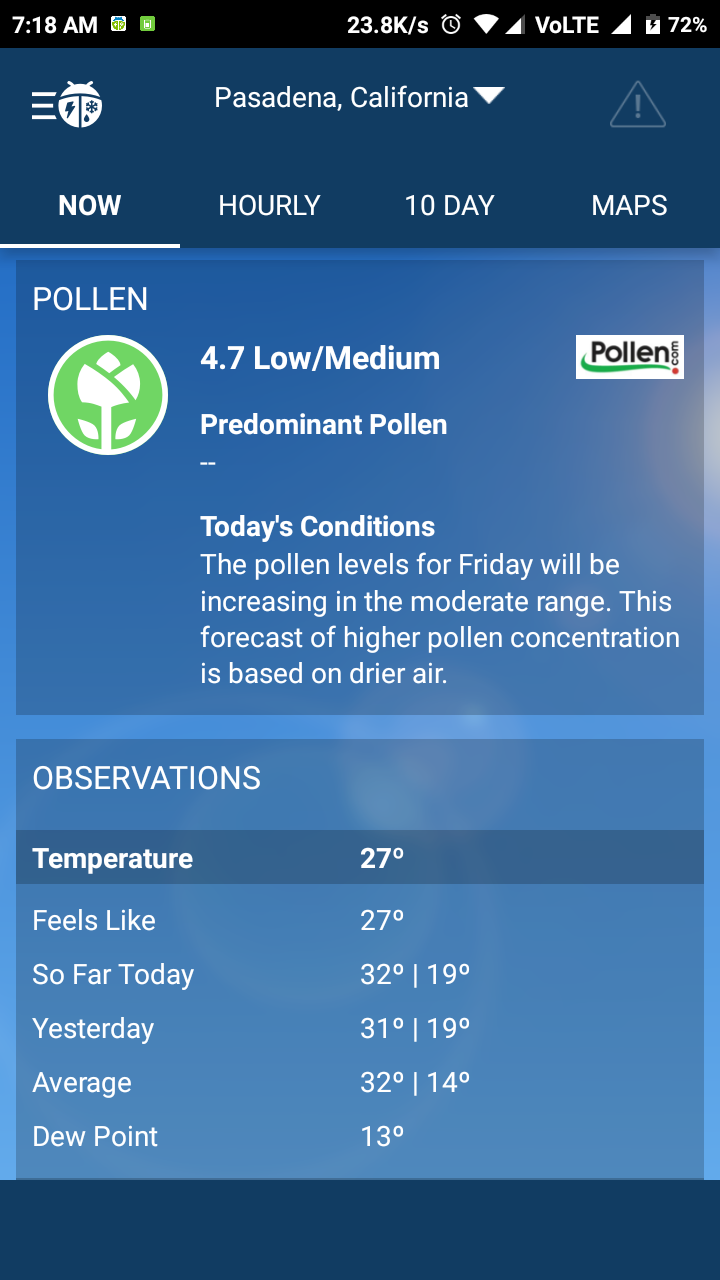 WeatherBug also keeps a track of the pollen content in the air daily and makes forecasts for the future. You can also look u\loads of facts and figures about different allergies and their cures.
Cold and Flu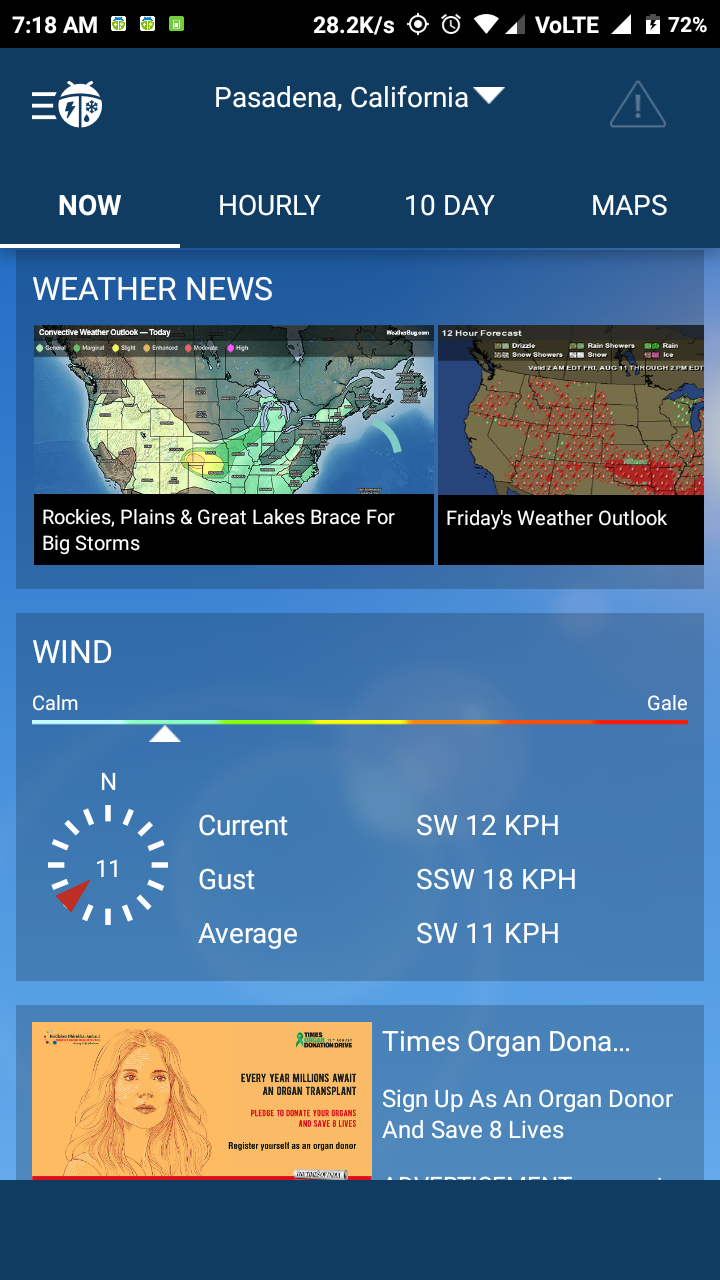 The cold and flu section comes in handy when you want to find out whether what you're coming down with is just the flu or something serious. This also lets you prepare beforehand and carry those wet wipes and masks with you when you know the flu is out and raging in your region. You can check all this with the help of the map provided with all the flu affected areas marked down.
Lawn and Garden
This feature helps you figure out whether today is the best day for you to get out and do a little garden-scaping. It also gives you some tips to get your garden looking perfect.
Snow and Ski
Let's you know about the nearest Snow and Ski resorts around you and the status of the weather there. This comes in handy when of course the weather is right.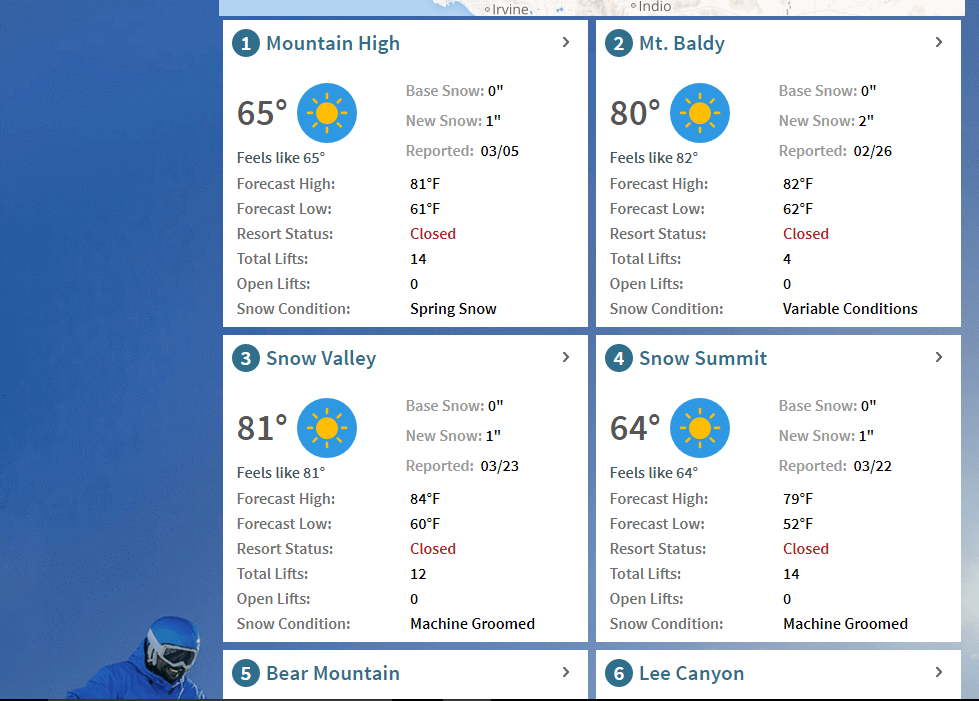 Cameras
The cameras section provides you with the local weather and traffic cameras of the locality you're currently in. Now you can use these to maximize your efficiency as you make your way to work. (You could also use Google Maps, but having access to traffic cameras is pretty cool if you ask us).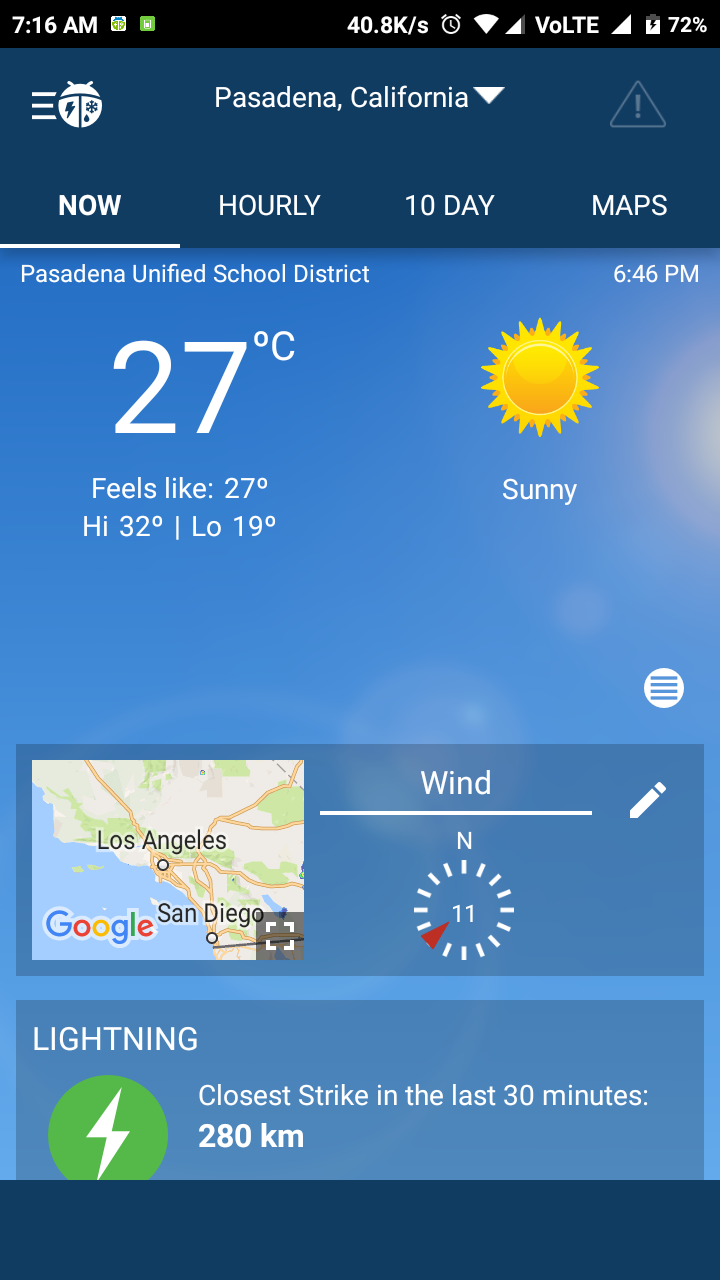 The Verdict
The sheer versatility of the service is what makes it so desirable.Sure you can get access to all the services provided by WeatherBug a la carte. But having them all wrapped up in a neat package has its own charm. The website is easy to use. The apps even more so. The service is currently available on Windows, Mac, Android, iOS and on the Chrome Web Store.
Oh did we mention that it's completely free? The icing on the cake.