ITIL 4 Framework, Processes, Benefits and More 
The goal of every organization is achieving success in their field of business, and for that, they adapt to every practice that can help in their path of growth. However, it is widely understood the fact that success is majorly dependent on the efficient delivery of organizations' products and services that can cater to customers' growing expectations. 
The end goal of every success story in business is complete customer satisfaction. Moreover, the products delivered should be able to win the hearts of their customers that can help the product capture the market, fully respecting the market standards and regulatory needs. In this Digital Age, the companies are required to move faster and adapt to all popular tools and techniques to keep up with their competitions. 
Furthermore, the growing demands and choices available on social media channels are changing the market and industry dynamics at a faster speed. This digital transformation saw a complete remodeling of the organization. There was a drastic transformation in their ways of working methods and communication.
After that, the changes became the new normal. Today, we see technology advancing at high speed and organization finding new ways to adapt themselves to further changes. Many cost-effective tools and techniques are at the forefront to make this possible to meet the growing demands of the market. This is when organizations can take refuge in ITIL (Information Technology Infrastructure Library), one of the leading IT Service Management frameworks in the world. Out of several ITIL levels, ITIL 4 is the newest version of ITIL. 
ITIL 4 provides models that can be operated digitally to enable organizations to co-create effective and valued products and services that are supported by Information Technology—built on ITIL's decades of growth, helping in the progress of the well-recognized ITSM practices, keeping the value streams, customer experience and digital transformation in the framework. Alongside, also aligned with various new and advanced approaches like – Lean, Agile, and DevOps.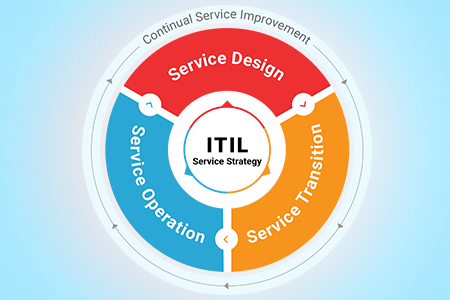 What is ITIL (Information Technology Infrastructure Library)?
Consistently serving for more than three decades now, ITIL is a globally well-established IT service management system framework, providing complete, practical, and time-tested guidance to the companies planning to adapt to the most advanced digital setup. It also motivates companies for continual improvement in business by embracing IT empowered services. 
It is a fourth level, expanded version of ITIL v3 ('ITIL 2011), ITIL 4 provides complete direction to the organizations that require to adapt to new service management requirements and at the same time use the endless possibilities of new technology in the age of Agile, Cloud, DevOps for progressive transformation. In simple words, ITIL 4 provides a flexible foundation to support organizations as they move from their existing and obsolete world to the new world of digital transformation. ITIL 4 designates an operating model for the organizations using which they deliver their tech-related products and services.
The Primary Components of ITIL 4
The primary entities of the ITIL 4 service management framework are the ITIL service value system (SVS) and the four dimensions' model. The service value chain of ITIL provides a flexible model for an operation that helps in the creation, delivery, and continuous improvement of services. 
The primary entities of the ITIL SVS are:
ITIL service value chain

ITIL practices

ITIL guiding principles

Governance and Continual improvement
The ITIL Service Value System (SVS)
The purpose of the four dimensions' model is to balance the focus on the ITIL SVS following an all-rounded and effective method. 
The four dimensions that are followed:
Organizations and People

Information and Technology

Partners and Suppliers

Value Streams and Processes
From the components mentioned above, it is very much clear that there has been notable progress in ITIL from previous iterations. The improvement can be seen in specific attention on delivering services to more extensive possibilities of value formed by products and services delivered to the customer. The main objective of ITIL 4 has been to provide a seamless adaptation from the existing investment of organizations in ITIL and its present method of functioning to a quicker, flexible, and easy to adapt approach.
Who Benefits from ITIL?
Who does not use ITIL? The advantages of ITIL have attracted almost every size of the organization to adapt to their system management, which is also the reason why you will see many professionals opting for ITIL 4 certifications. You see, from small, medium to larger organizations across the world are using ITIL to upgrade their value of services. ITIL is helping organizations across industries and sectors in solving their business challenges and enhancing their IT capability. ITIL works as a guide for the organizations to help them progress in their process of functioning and apply necessary system management services that can add value to the business.  
What are the Benefits and Advantages?
Listed below are some of the benefits of adopting ITIL in the organization:
You get faster, easy to adapt, and flexible service delivery methods to make your digital transformation smooth and convenient. 

ITIL provides you much improved strategic alignment facilities. The alignment between IT and the business becomes more effortless.

The integration between growing software delivery applications and the organizational customer service approach becomes easy and smoother. 

ITIL enables organizations with bettering their service delivery and increasing customer satisfaction

Moreover, the cost goes down through upgraded use of resources

ITIL helps in getting better clarity on IT costs and asset management

With ITIL, you also get better risk management in business, disruptive service, or failure. 
Wrap Up
The course is open to professionals from any stream and may include but not be restricted to IT professionals, business process owners, and business managers. The benefits of ITIL continues to support individuals and organizations to gain maximum from the Information Technology and Digital Services. 
With ITIL v4, service providers are fully equipped with proper capability models, which are aligned conveniently with the organization's business strategy and their customer's requirements. ITIL v4 supports organizations across industries by economically enhancing their service quality. It provides a robust IT service management framework to identify, plan, execute, deliver, and at last, offer support to IT services applied across the business environment.