Best SMS App for Android
Everyone sends texts. True, WhatsApp has now become the go-to messaging platform but every once in awhile you might just need to send out a good old SMS and sure you can use the stock Android messenger app to do so and it'll get the job done for you, but if you too are bored of the stock messaging app and are looking to spice things up, you've come to the right place. Read on to find out the best SMS app for Android.
Best SMS App for Android
Google Allo!
Price: Free


The HYPE is REEAAAALLL.
Google recently dropped this all new smart ( very smart ) messaging app. The application is very light and fluid. Allo works same as Whatsapp does, taking your phone number to create your profile. The best part is the Google Assistant which is very smart and hopes are high for its improvement! Assistant is accompanied by Google's search engine so it really makes it easy for the users to get what they are looking for.
There's still a lot to come for Allo so we'll leave it here.. and come back to it full heads-up later!
Google Hangouts
Price: Free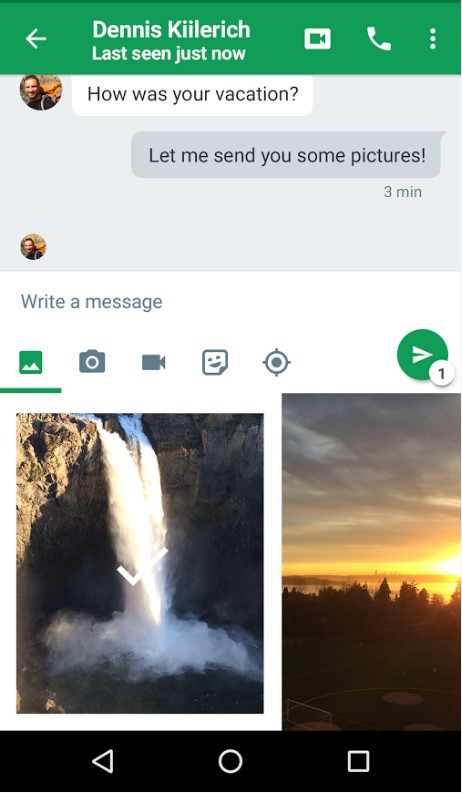 Now here's something Google did right. Many of you might be unaware of the fact that Google Hangouts, the app that comes preinstalled on most Android devices these days, can actually be set as your default messaging app. And to be quite honest here it's miles ahead of the stock app. For starters, you can send out cute little stickers. STICKERS. Who doesn't like stickers? Another cool thing about Hangouts is the fact that it can double up as an online messaging app as well and just to make things better you can video call using Hangouts as well. Three in one? Thank you very much!
As said before Hangouts comes preinstalled on most Android devices but if you don't have it on yours you can find the link down below.
Handcent Next SMS
Price: Free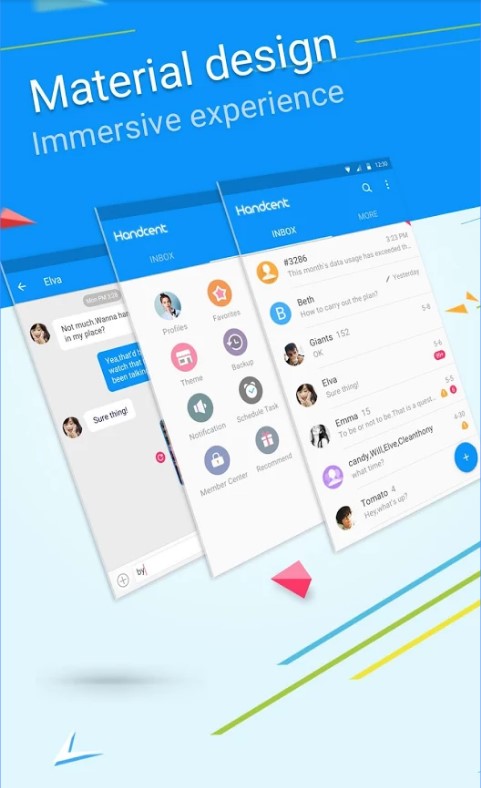 Customisation is the forte of Handcent Next Sms. Literally, you can change everything from the chat background to your keyboard style. It almost feels like you're still using WhatsApp but the only difference here is that you're actually being charged per message. Handcent comes with pre-installed themes that you can change on a whim. These themes are constantly updated and always works seamlessly. The clutter-free and simple UI of the app is what pretty what excited us the most.
Try the app out and let us know what you feel down in the comments!
Chomp SMS
Price: Free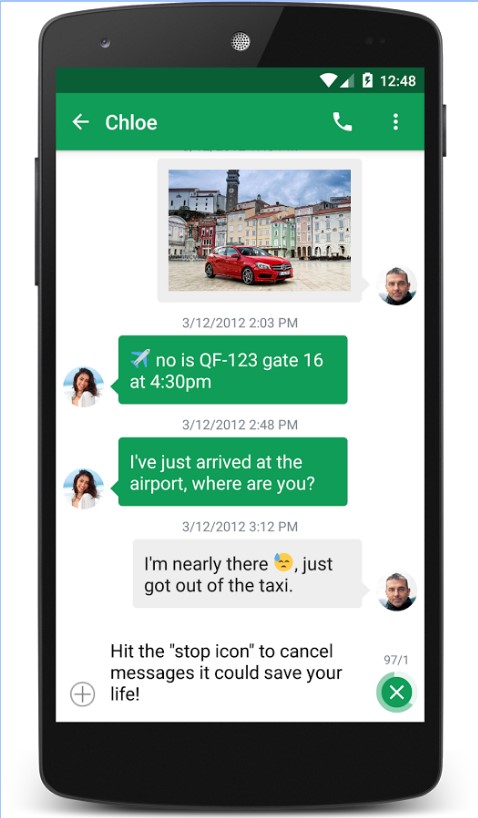 Chomp SMS is the grandfather of all messaging apps. Literally! It's been around ever since Android Cupcake and has stuck around ever since no wonder it's been downloaded over a whopping 10 million times! Now if an app so popular there must be something good about it right? Correct. Chomp SMS comes with a clean material design which you can, of course, alter using the many themes available on the market, but the simple clean UI is again something that we like. The app comes with a cool quick reply feature that lets you reply from whichever screen you're on, with no need of having to switch apps to reply. Other cool features include SMS blocking, MMS and group chats.
Signal Private Messenger
Price: Free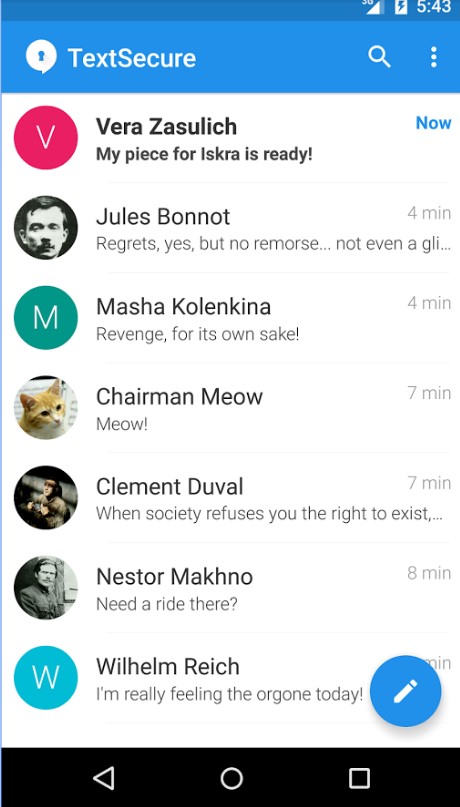 Now this one's for the super spy in you. Signal Private Messenger is high-end security messenger which not only needs a password to open up but also doesn't allow anyone to even click screenshots from within the app. What's more? It comes with an end to end encryption. That means even NASA couldn't intercept your messages if they wanted to. Okay perhaps they could but.. you get the point. So if you're looking for a safe platform where you can converse with M freely (Bond reference cause why not? 😉) Or maybe if you just want a little more privacy in your life, then Signal Private Messenger is the app for you.
EvolveSMS
Price: Free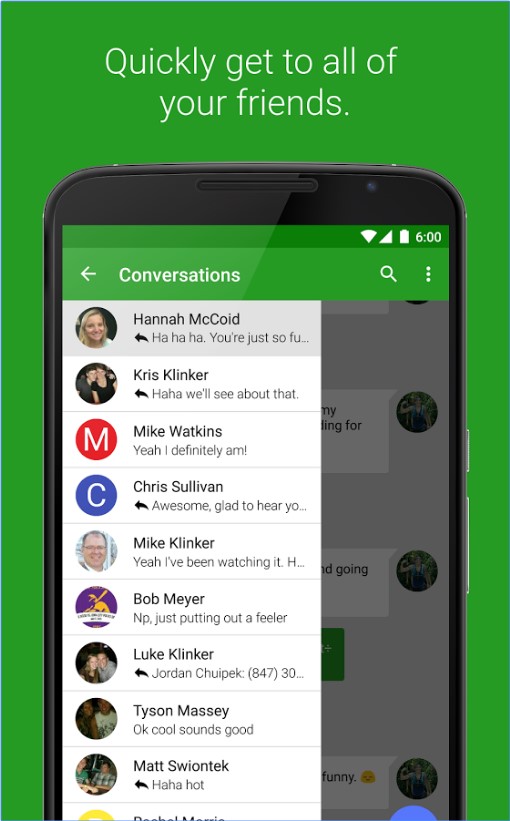 EvolveSMS is another free alternative you can use to send text messages. With a clean material design and a feature set that includes archiving messages, customizable notifications, and password protection. The best thing, however, about EvolveSMS is the fact that it manages to pack everything into am ignorable 10MB download. If you're looking for a change and are trying to cut down on space usage EvolveSMS might just be the solution for you.
QKSMS
Price: Free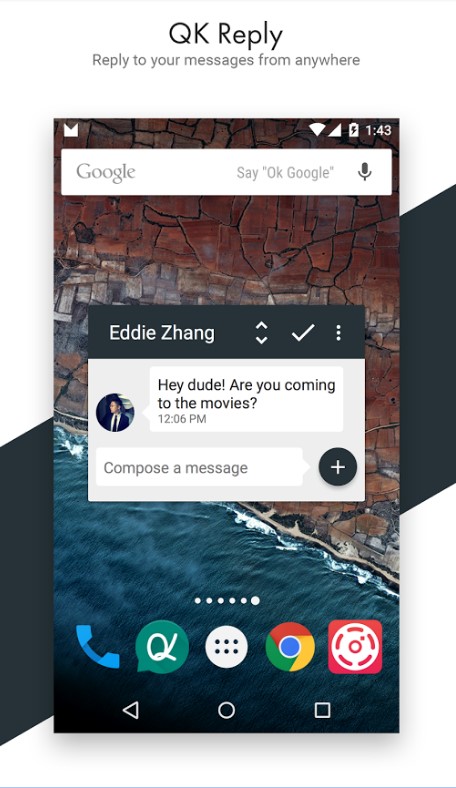 QKSMS is one of the best SMS apps for Android, hands down. The app comes with a bucket load of themes so you'll never have to worry about getting bored of a messenger app ever again. Quick replies, Android wear support, night mode is some of the features of this pretty little messaging app. The app is completely free but comes with the option of a $2 fee to unlock premium features which don't really count for anything but act as a great way to show support for the devs.
Hoverchat
Price: Free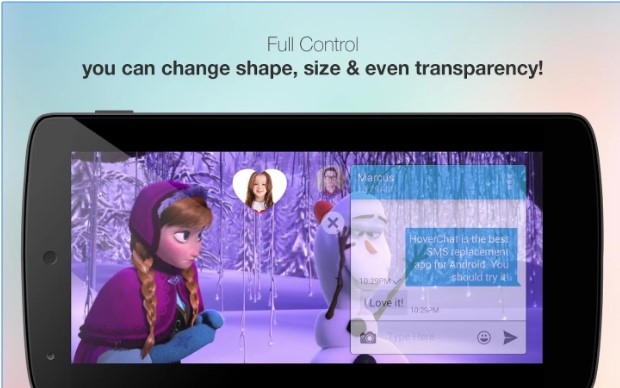 Hoverchat as its name suggests is an app the pops up on your screen everytime you get a text message. If you've ever used Facebook Messenger you'll probably know what we're talking about (if you haven't used Facebook Messenger, where on earth have you been?) Hoverchat works exactly the same way as the Facebook Messenger except that instead of Facebook messages you can send and receive text messages. It's a pretty nifty app and has a very loyal following worldwide.
Conclusion: Best SMS App for Android
Those are some of the better alternative messaging apps you can use on Android. Think we missed out on your favorite app? Let us know in the comments down below.