The internet is a tool that transcends any other; however, it can also be a daunting place for children to navigate independently. Children can encounter various online threats, such as inappropriate content, cyberbullying, predators, and scammers.
Monitoring tools like the ClevGuard KidsGuard Pro can be a handy digital apparatus for today's parents to use for their children's online safety. It is available on Android and iOS and has numerous features, such as location tracking, browser history tracking, social media monitoring, etc. This article will review KidsGuard Pro in depth.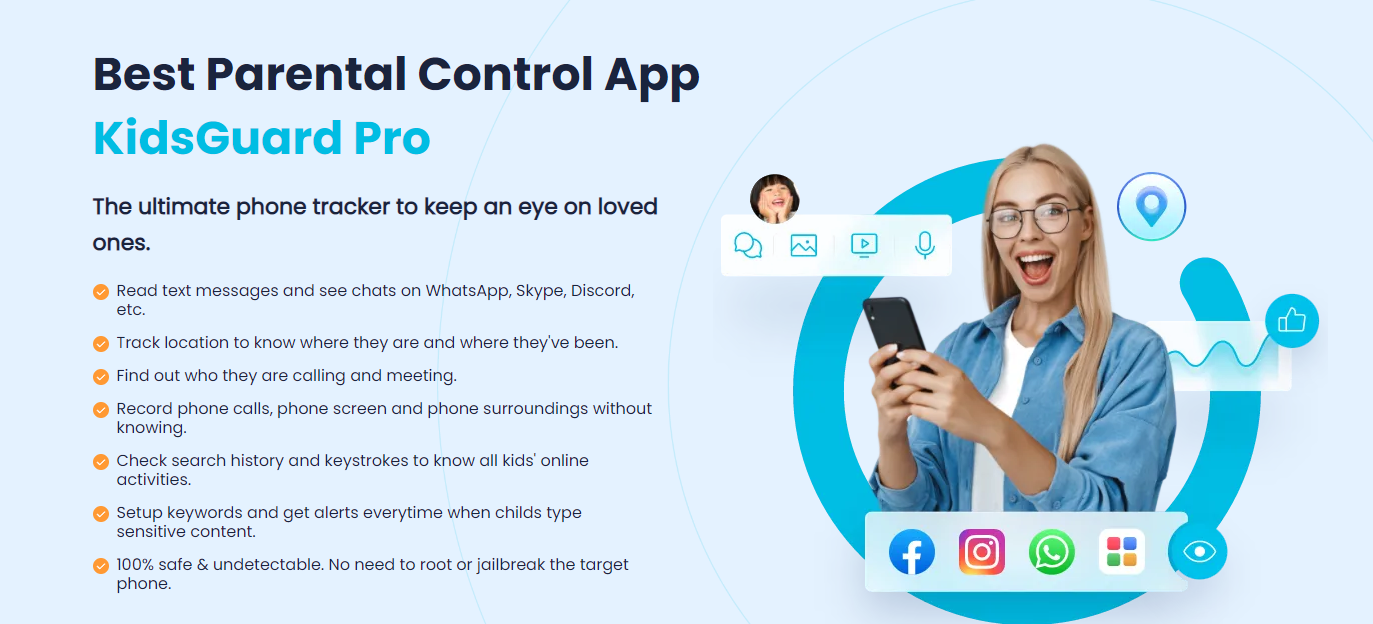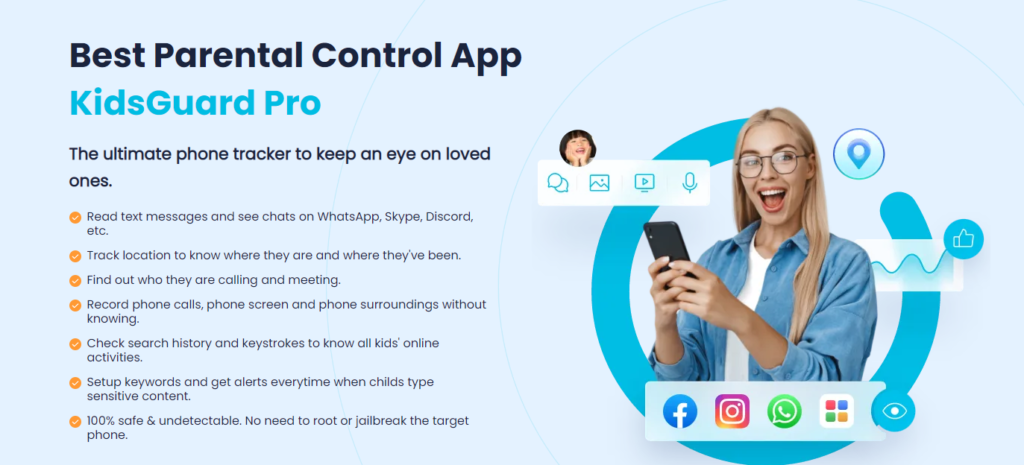 KidsGuard Pro Features
KidGuard Pro is a feature-packed application designed to cover all kinds of threats your child may encounter while growing up. Here are some of its most notable features:
1. Social media monitoring 
Kids spend most of their time on social media platforms while on the internet. KidsGuard Pro allows parents to track data from over 16 popular platforms such as Instagram, YouTube, Snapchat, TikTok, etc. 
You can track data such as messages, search history, profile data, and much more. We recommend using this tool while keeping the autonomy and privacy of your child and remembering only to question them if they indulge in illegal activities. 
2. Location tracking
Location tracking is an excellent tool in KidsGuard Pro, ensuring your children are always within reach. The application provides the real-time location of the target device alongside historical data.
It can be handy for parents handling children of all ages. Parents of younger children can use it to monitor their children if they are away from them. On the other hand, parents of older children can track their child's daily activities, such as driving routine. You can also use this tool to geofence your child, wherein you will be notified if your child crosses the geofenced area set by you. 
3. File monitoring 
While covering its bases online, KidsGuard Pro also tracks device files, including contacts, call history, browser history, calendar, text messages, photos, and videos. This data is regularly refreshed with an intelligent backup mechanism that ensures files are stored for viewing, even if deleted from the targeted device. 
4. Recordings and screenshots
Once set up on a device, KidsGuard Pro lets users record phone conversations and activities from the device. It also allows users to take screenshots and save them for later. All this is undetectable; however, this tool should be carefully used while protecting the targeted user's privacy. 
5. Keyword monitoring 
KidsGuard Pro allows users to set any keyword that will notify you if typed by the targeted user. Parents can use this tool to ensure their child does not encounter any malicious web pages or links. Even if they do, you will be the first to be notified, allowing you to be prompt to fix it. 
How to install KidsGuard Pro? 
KidsGuard Pro can be installed on both Android and iOS with an easy installation process. Here is how to do it for Android:
Step 1: Visit

https://www.clevguard.com/

and set up an account there. 

Step 2: Select KidsGuard Pro from the products list and purchase a subscription. 

Step 3: Once purchased, you can install the app on the target device using the APK provided and monitor it from your user portal on the website. 
Note: Make sure to allow/disallow app permissions as per user requirements. For example, allowing location access will allow you to track the device's location.
iOS users can follow the same installation guidelines; just select "iOS" on the website before installation, and you will be guided as per your device. 
How to use KidsGuard Pro?
Handling many features simultaneously can be a tough ask with KidsGuard Pro. However, it is very seamless once installed on the target device. All you need is to set up the user's profile after installing the app and visit it on the website's portal. You can browse each feature from the portal and learn how to use each for your child's safety. 
Pros and Cons of KidsGuard Pro
Pros
Undetectable on the target device

Covers all grounds of safety

No root access or jailbreak required

User-friendly

Excellent price
Cons 
Possesses powerful monitoring tools which can be harmful in the wrong hands
Frequently Asked Questions (FAQs)
Q1. What does KidsGuard Pro app do?
KidsGuard Pro is a parental control app for Android and iOS. It allows parents to keep an eye on their children's online activities, such as social media usage, web browser history, etc. It also covers the child's offline safety with location tracking and geofencing features. 
Q2. Is it easy to install KidsGuard Pro?
KidsGuard Pro can be installed and set up within 5 minutes on any device as long as you have a subscription and access to the device. The developers provide an APK for Android installation and multiple installation processes for iOS users. 
Q3. Do you need root access to get KidsGuard Pro?
No. KidsGuard Pro does not require root access for installation.iOS users also do not need to jailbreak their device to use it. 
Q4. Is the KidsGuard Pro app hidden on the target device?
Yes, the application comes with the option to hide it from the targeted device's user. However, we recommend hiding and using it while keeping the user's privacy and autonomy in mind. 
Q5. Is KidsGuard Pro available on iOS?
Yes. KidsGuard Pro is available on iOS and iCloud; however, some features may vary from the Android version. Make sure to go through the features list before purchasing a subscription. 
---
Conclusion 
The safety of their children is of utmost priority in a parent's life. Using comprehensive safety tools like ClevGuard KidsGuard Pro is a sensible choice. It is easy to use and install and comes comparatively cheaply. Its powerful monitoring features cover your children's online and offline safety. They include real-time location tracking, call logs, social media usage, and web browser history, among many others. Overall, it is a no-brainer for parents looking to shield their children in this digital world.