Adsense Alternatives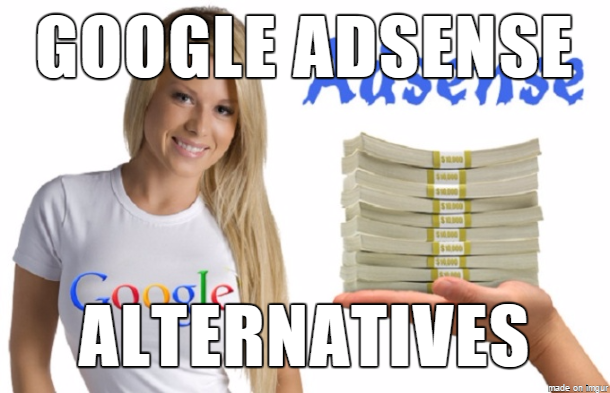 First of all let me tell you What Google Adsense is..
Google AdSense (AdSense) is an advertising placement service by Google. The program is developed for website publishers who want to show targeted text, video or image ads on web pages and earn money when site visitors view or click on the ads.
The ads are controlled and managed by Google and Web publishers simply have to create a free AdSense account and copy and paste given code to display the ads. Revenue using AdSense is generated on a per-click or per-view basis. It is free to become a verified website publisher in the Google AdSense program.
RECOMMENDED : GET GOOGLE ADSENSE APPROVAL QUICKLY WITH A NEW BLOG!
WHY AdSense Alternatives
There are many reasons to look for alternative ad networks. The most popular reasons are:
Google AdSense rejects many sites for not having enough content or if they feel your site would not be appropriate for their advertisers.
Getting a site approved for Google AdSense is no more as easy as it was in the past.
If you read any of the internet marketing or webmaster forums, I'm sure you've see thread after thread with a title that goes something like… "AdSense banned me! Why?"
Google AdSense has a lot of rules and they monitor sites all the time. If you happen to break even a single rule, they will not just ban your site, they will ban you and won't let you open a new AdSense account. And even if you somehow manage to open one they will catch you later, they will ban the new account.
Did you know that if you even accidentally click on an ad on your site you could be banned for life?
Many site owners feel that Google AdSense rules are just too strict. Conforming to the many rules often leads to site design problems.
In some cases, you have to redesign your entire site just so you can use Google AdSense.
Contextual text ads sometimes just don't fit a site's design and layout. Other ad formats that Google AdSense does not support work better on many sites.
Check out : Online Jobs from Home Without Investment of 2016
List of Highest Paying Adsense Alternatives
1. Media.net
Media.net is one of the best Adsense Alternatives. Media.net is an industry-leading technology company that develops innovative digital advertising products for both publishers and advertisers. By Revenue, Media.net runs the #2 largest contextual ads program globally. Media.net powers the Yahoo! Bing Network Contextual Ads program. Their services are exclusively made available to web publishers with high-quality content. They deliver long-term superior performance by using leading-edge technology, high-quality research, and proprietary processes that allows them to display the most precisely targeted, highest paying sponsored links and ad topics.
At present you need an invite to register to Media.net
2. Adstera
Adstera is one of the fastest growing premium ad networks and it currently serves over 10 billion geo-targeted ad impression per month. Adestra has been empowering their clients to maximize marketing ROI through email-driven technology for over 10 years. Their flexible account structure, obsession with customer success, and service have gained the trust of brands. It offer various popular ad formats for web and mobile devices: popunders, standard banners, pushups, interstitial, sliders, and direct links.
Websites that have over 50K impressions per month can easily choose as one of an adsense alternatives.
Payments are on-time and are made bi-weekly via major payment systems.
3. Revenuehits
Revenuehits accepts that they are not as good as AdSense, but they believe they are better than other Adsense alternatives.
RevenueHits help publishers to generate more revenues with state of the art Contextual & Geo targeted Ad Serving technology. Their  innovative Performance Base (CPA) Ad Network helps publishers to monetize online assets, including toolbars, websites, search, widgets, IM applications and more. They have a huge inventory of ads comprised of effective text and display ads that promotes performance-base offers. By serving these proven ads they help their publishers to increase revenue and improve their bottom line.
Revenuehits offers Banner ads, Sliders, Pop-unders, button etc. Their minimum payout is $20.
4. Adversal
If your site gets over 50,000 page views per month then adversal is a great alternative. They have fast approvals but you need to make sure that your site meets their requirements before you apply to be a publisher.
Being an Adversal publisher you can choose a wide range of advertising formats like banner, pop-under, leaderboard, ministitial, medium rectangle, skyscraper and wide skyscraper.Adversal pays its publishers on page impression basis. Unlike other contextual advertising networks Adversal consider page view as the metric to pay. This is a great news to the small publishers. Moreover Adversal ad code can escape most of the pop-up blockers available. And the CPM rates of Adversal is comparatively high in the market.
Presently their minimum payout is $20. A PayPal option also is available.
Adversal is also one of the few ad networks that has an affiliate program.
Please be aware that Adversal will reject any site that does not receive at least 50,000 page views per month.
5. Infolinks
Infolinks is a global advertising platform offering ad solutions for both publishers and advertisers. Online advertisers can utilize the Infolinks Self-Serve Marketplace to customize their own campaign. Advertising with Infolinks means delivering brand messages to engaged users.
Online bloggers and website owners can monetize their websites with Infolinks while keeping the Look & feel of their sites undisturbed. Infolinks publishers can select their winning Infolinks ad combination from their ad unit buffet: InFold, InTag, InText, and Inscreen. It takes less than a minute to integrate Infolinks on a publisher's site.
Infolinks' ad units are fully customizable and invite higher engagement and CTR because of their unique positioning and the relevance provided by their smart algorithm. Infolinks platform extracts intent and auctions ad inventory in real-time, delivering relevant ads at optimized moments. This is one of the ways that Infolinks overcomes banner blindness to actually engage with users and provide ads matched to what they are seeking and reading. Infolinks supports a marketplace of over 100,000 websites operating in 128 countries. Infolinks advertisers are selected based on quality, that's why they work with worldwide leading brands such as: Facebook, Amazon, Ebay, Ali Express, Pizza Hut, TripAdvisor, Hyundai and many more.
6. Chitika
Chitika is very similar to Adsense. They allow you to customize your ads, but they only serves contextual ads. One good thing is that you can use it along with Adsense and there are no problems at all.
They have a network of 350,000+ quality publishers. They serve four billion strategically targeted ads  per month. They have Access to top tier advertising partners like Yahoo!, SuperMedia and HomeAdvisor.
Chitika pays through Paypal ($10 USD minimum, which is good for starters) or through check ($50 minimum). If I were to recommend an ads service as one of the Adsense Alternatives, Chitika would be my first choice, hands down.
7. BidVertiser
BidVertiser pays you on both clicks and conversions. This could help you make more money from your site.
Bidvertiser serves text ads in all types of standard ad units, including banners, buttons, skyscrapers and inline ads.
They offer publishers a point-and-click ad builder tool that helps them to customize the ads to fit the look and feel of their site.
They pay monthly by check, wire or PayPal. The current minimum payout is only $10 if you choose to receive payments through PayPal.
Bidvertiser On-Site Bid Per Click offers website owners with the ability to sell their ad space, automatically, to the highest bidder, on a price-per-click basis, where the price is mostly effected by the quality and popularity of their website. Advertisers can place ads directly on sites of their choice and pay only when a visitor clicks-through their site. So, it may take some time for advertisers to find your site in the BidVertiser network and start bidding on your ad spots.
8. VigLink
VigLink is totally different from other Ad networks.
VigLink's content monetization solution connects potential consumers to products by hyperlinking particular keywords in a website's content.
The company's technology, VigLink Insert, scans a page for words that could be potentially profitable to the publisher of the page, and connects the keyword with a product from an affiliate program. The publisher is paid when a reader clicks a link contained in the content to buy or learn more about a service or product. That is it converts normal links into affiliate links. If someone makes a purchase by using your link, you'll earn commission out of it.
For example, if you have a post about iPhone or you mentioned iPhone on a post, VigLink will automatically add new affiliate links or convert existing links to affiliate links.
9. PopAds
PopAds is a performance network specialized in Pop Under Ads. They have good rates and they can monetize all countries.
Something great about PopAds is that they can pay daily as long as you earn $5 or more per day.
Their quality is good, and they also have pop ups, tab ups/unders and other monetization methods. Their approvals are easy and setting your ads takes just a few minutes.
10. PropellerAds Media
Propeller Ads is one of the biggest pop-under networks available. They started working on 2011 and quickly developed into one of the biggest networks with great CPMs.
They specialize in monetizing websites for the following niches: entertainment, videos/movies, games, dating, finances, software, gambling and more. If you've got one of this sites, you could make more money with Propeller than with Adsense. They also have banners but the pop unders work better overall. Also, if you've got mobile traffic, they're one of the great Adsense alternatives as they work closely with ad networks that monetize apps and mobile services leading to huge ROIs and great CPMs too.
Propeller pays on a NET 30 basis and they have a great fill rate for tier 2-3 countries. So if you're struggling to monetize traffic from countries like India, Singapore, Turkey, South Africa, etc. Propeller has a big inventory for them too.