Nowadays, we are increasingly inseparable from the world of mobile phones, and most people use their mobile phones to take a lot of photos to record their good times in life every day. If you want to keep these unforgettable times forever, you should keep your photos safely. 
The most common method is to store these photos on mobile phones, but the mobile phone may be lost or damaged, which will increase the risk of losing all photos. And the storage space of the mobile phone is limited, and thousands of photos can easily fill the storage of mobile phone. In addition, mobile phones are constantly being updated, and people can't avoid changing their phones. This will cause photos in old mobile phones not to be viewed or shared in time when we have new mobile phones. Fortunately, don't worry, with the development of the Internet, users can store their photos from mobile phone to cloud drive. How to safely save and easily access photos? Just need a cloud drive, so many people choose OneDrive, Google Drive, Dropbox, MEGA or Amazon Cloud Drive to store their precious photos.
Migrate Photos from OneDrive to Google Drive?
When talking about cloud drives, many people might think of OneDrive and Google Drive. Because they are the products of two large computer technology companies.
OneDrive is a file hosting service that allows users to store and sync files and then access data from a web browser or mobile phone. OneDrive offers paid storage and free storage for different users. However, the available storage space has been reduced from 15 GB to 5GB in 2016. Google Drive is considered a file storage tool that provides users with 15GB of free storage. 
The gap between the available space of the two cloud drives is one of the reasons users want to transfer photos from OneDrive to Google Drive. With a Google Account, users can use almost all Google apps, so photos in Google Drive are also easy to access and view. In general, for various reasons, people are looking for the way to transfer photos from OneDrive to Google Drive. So how do you move photos between OneDrive and Google Drive? Please continue to read, I will introduce two free methods to achieve this goal in this article. Let's take a look.
Method 1. Migrate Photos from OneDrive to Google Drive by Downloading and Uploading
Open a browser and log in to the OneDrive.

Select the photos you want to transfer and click the "Download" button to download them to your computer.
Sign into Google Drive. On the Google Drive page, click "Upload Files" button. You will find the photos you downloaded from OneDrive in Google Drive.
In this way, users can download photos from OneDrive and upload them to Google Drive. But if you plan to transfer fewer photos, you can use this method to complete the transfer mission. If there are a lot of pictures and the network is not too fast, it is best to choose a better solution.
Method 2. Migrate Photos from OneDrive to Google Drive Directly with MultCloud
Is there a more direct and simpler method to help users to transfer photos from OneDrive to Google Drive without worrying about photo size or the speed of network? Tell you a good news, here is a free online multiple cloud storage manager – MultCloud, which are able to transfer pictures directly from OneDrive to Google Drive and even manages all cloud drives for free in one place. It helps you organize all your cloud drives into a simpler interface and provide more intuitive file management across multiple drives. No need for too much effort, just transfer your photos from OneDrive to Google Drive with a few clicks. Let's check out.
1.Create a MultCloud account. Or, you can click "Experience without signing up" option.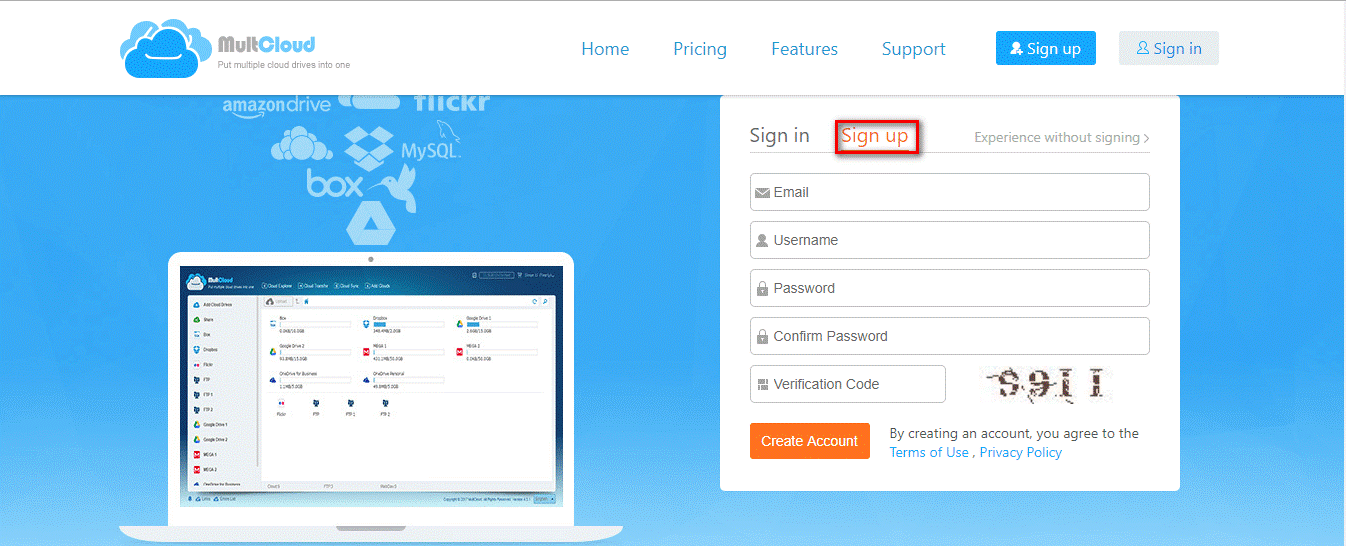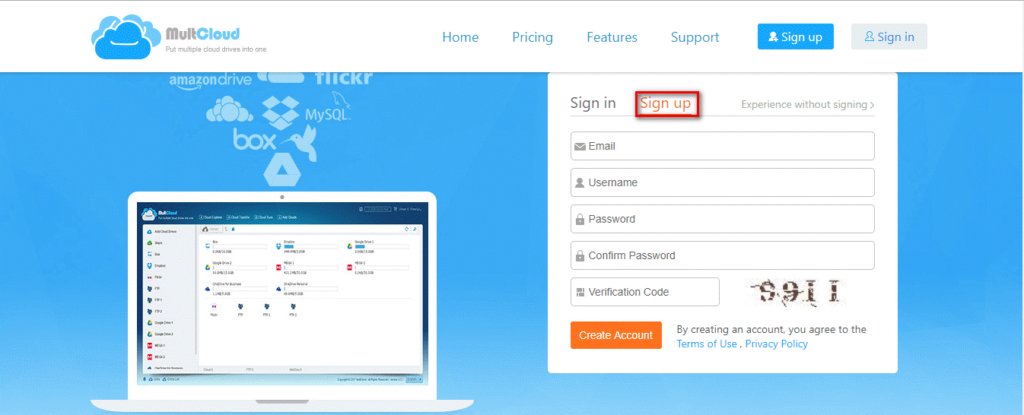 2. Click "Add Cloud Drives" button to add your OneDrive and Google Drive accounts to MultCloud one by one.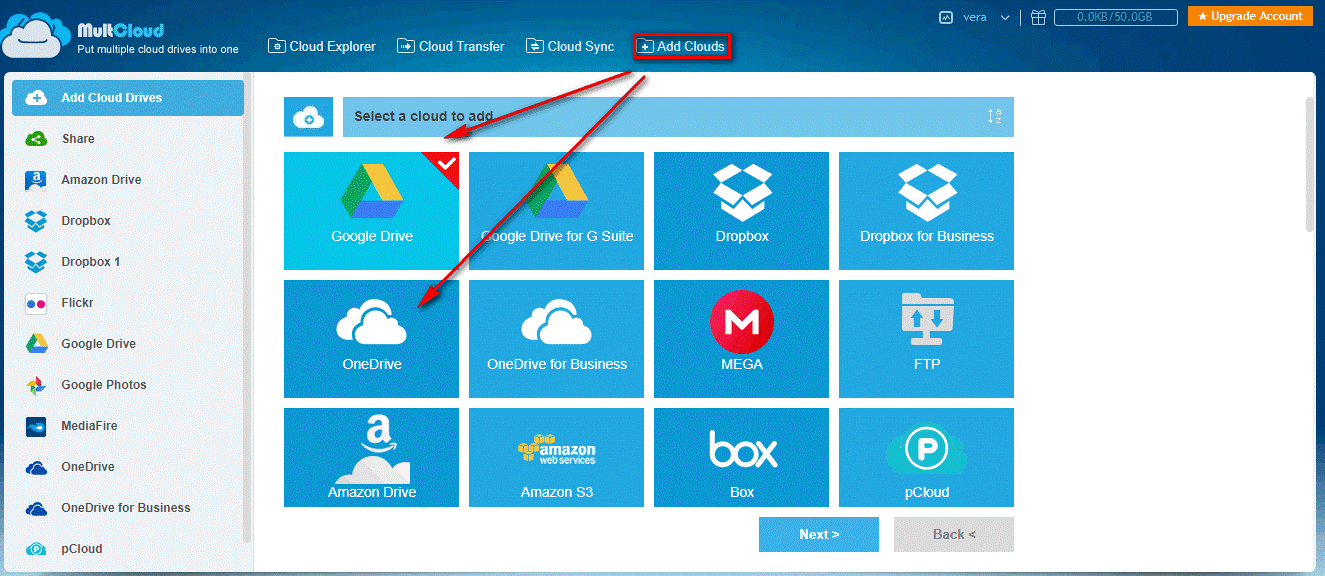 3. Hit "Cloud Transfer". Choose OneDrive as the source and select Google Drive as the destination. Click "Transfer Now".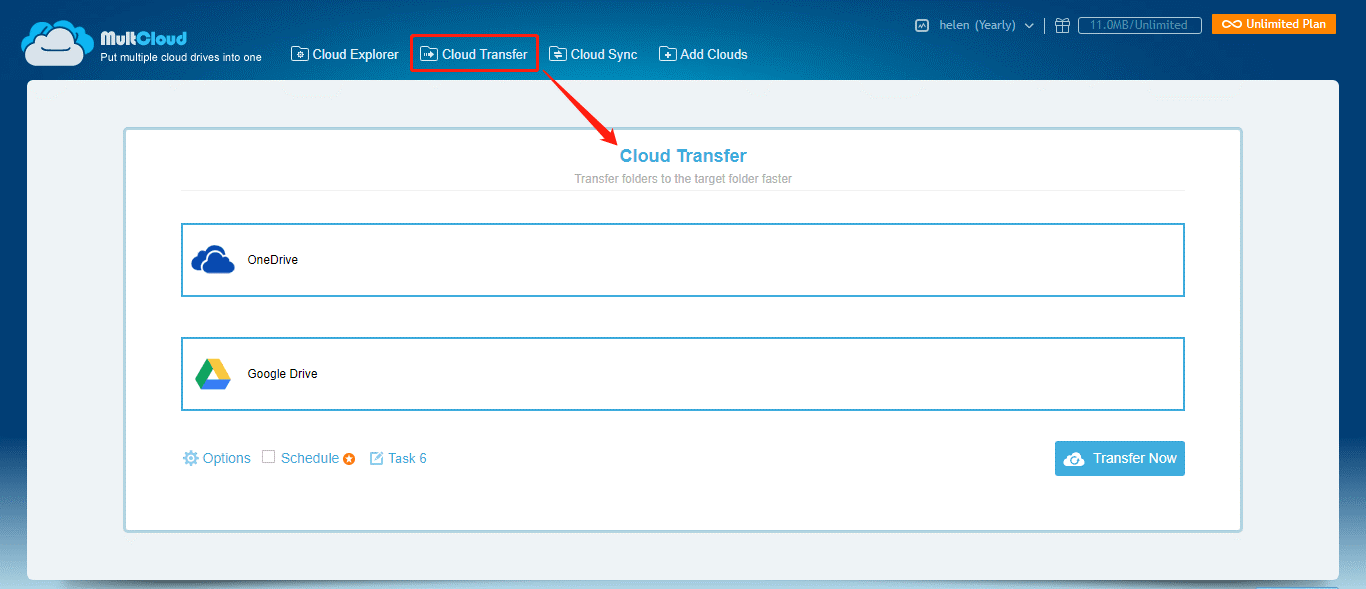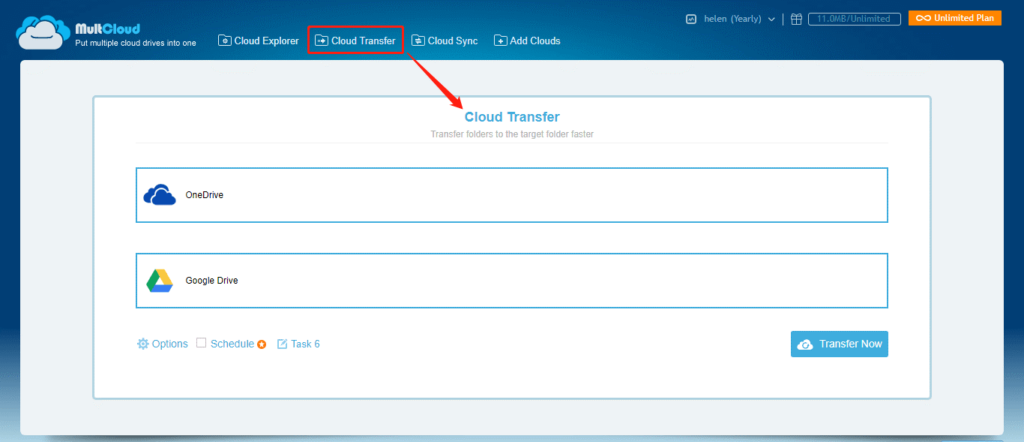 The transfer has already completed, you have successfully transferred photos from OneDrive to Google Drive and saved them safely in the cloud drive.
The Bottom Line
These two methods can help you migrate photos from OneDrive to Google Drive. In conclusion, the first way of constant downloading and re-uploading is perfect for you when there are few photos to move or the network is fast. However, if you often need to transfer photos between OneDrive and Google Drive and have a lot of photos, the second method would be better, because sometimes finding the right way will make us do more with less. If you want to manage all your cloud drives in one place, easily move files between cloud storage, MultCloud is definitely a great solution. More importantly, MultCloud is a free tool, give it a try!