Are you looking for pocket money? Do you want to make some money sitting from home to pay of your bills and other stuff? Well that is possible. Here are some websites which may help you make around 5000 or even way more depending on your situation. I have used many of them personally.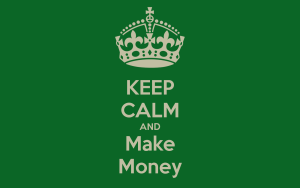 1. Using social pages to share links
If you have a facebook page, twitter page or a website, you can share money links on them so that you get your fans to click on them. More clicks is more traffic and you receive more money. Here's the top three sites for doing this and it has my income screenshots too!
2. Good at something? Do it for money.
Fiverr.com is site where you can do something for others in which you are good at. This 'something' is referred to as a 'gig' on Fiverr.


There are many things you can do and do it for others and make money. For example, writing a article for someone, creating a logo for someone,etc. and sell them for atleast $5. Many people make three figure dollars from Fiverr, all you have to do is to attract more people by the quality of your service.
3. Use apps like mCent to download apps
Downloading android applications has got cooler! Apps like mCent allow you to make money by downloading there suggested apps and using them for a specific time. You can easily use this money in recharges and paying bills.
4. Use your mobile phone's lockscreen – Slidejoy
Slidejoy is an amazing app which shows ads and deals on your lockscreen. So everytime you open your phone, you make money!
Features
-Get money to see news and ads on an intelligent lock screen
-Receive Carats and redeem them for real money or gift cards
-Enjoy trending news and timely ads on your lock screen
-News, deals and ads on the lock screen are tailored to your preferences
-What you get paid is updated daily the next day
-Slidejoy provides you with 12 additional redemption options to get paid or receive gift cards, just for unlocking your phone!
-Quick, fast cash payments
5. Blogging!
Can you write awesome articles on a particular niche? Well there you go. Blogging can be huge money but it is a game of true patience and passion. Here's how to get started!
Do share this if you find it useful and comment any of your strategies! TADA!