Best PowerPoint Templates
Finishing your presentation and making it look really good requires time and effort. Microsoft PowerPoint is by far the most popular tool to make presentations. It is part of the Microsoft Office suite and installed in billion of computers, available for Mac or PC.
To get the audience attention you can rely on pre-designed PowerPoint presentations that are visually-appealing and helps to engage your audience. Preparing these slides may not be an easy task for the average use. Fortunately, there are resources online that help to get the perfect slides without needing to hire a professional graphic designer to do the job.
Best PowerPoint Templates
One of these resources is SlideModel.com where you can download thousands of professionally designed templates for business slide decks, including attractive diagrams for popular business concepts and topics and slide layouts.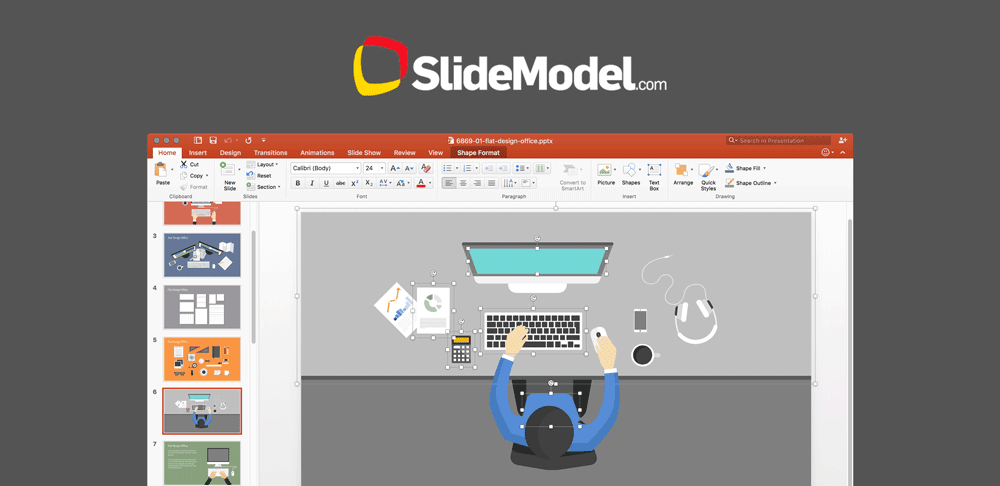 Presentation Templates with Flexibility in Mind
SlideModel.com offers more than 10,000 PowerPoint graphics and presentation templates for their subscribers. One of the main benefits of this resource is that all the presentation templates were prepared with edit-ability in mind. That means you can get access to PowerPoint templates that are very easy to edit and customize for your own presentation needs.
The graphics are created with built-in PowerPoint shapes feature which offers a high level of customization by providing vector graphics that can be resized to any size without losing the image quality.
Also, changing the colors and shape properties is possible. The level of personalization of the slides is huge, enabling the user to perfectly gel the presentation theme and adding their own content into the slides within minutes, like in the following SWOT Analysis PowerPoint slide.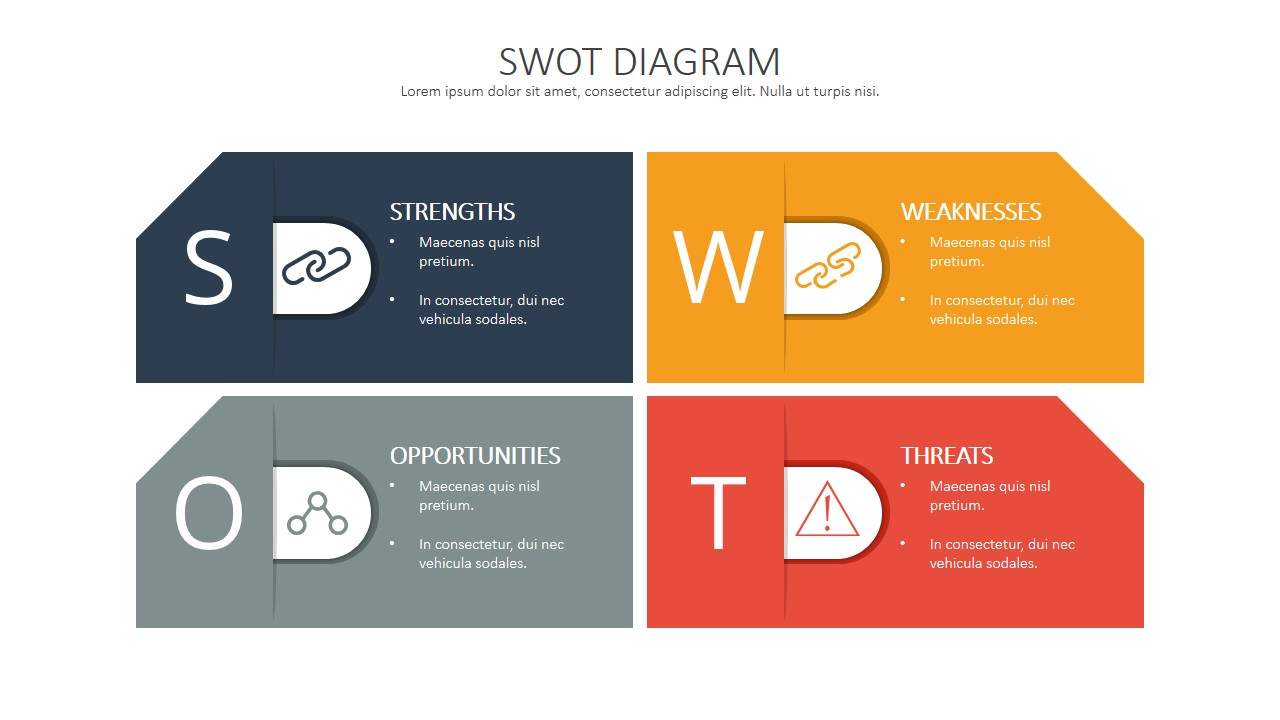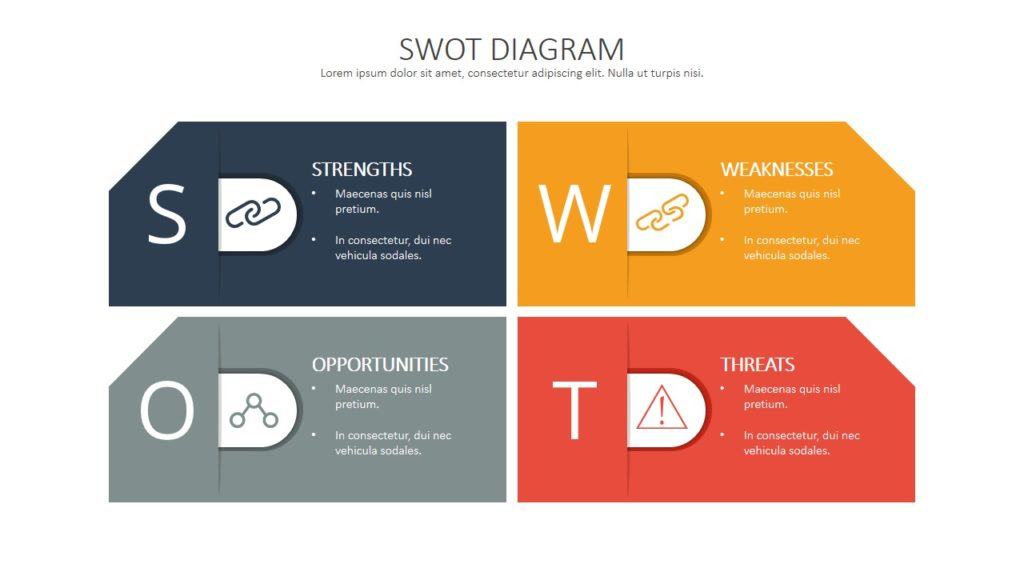 Award Winning Best PowerPoint Templates
The presentation templates provided by SlideModel.com have helped presenters around the word to create amazing slide decks in minutes. It also supported the most elite events. For instance, back in 2014 students from the Berkeley, won the US Department Of Energy Award using SlideModel's templates. SlideModel played a key role in their success and thanked the SlideModel team for their support.
One of the main uses for this kind of resources is to create business PowerPoint presentations. Thousands of presentation templates from SlideModel.com can be used to make compelling presentations for business purposes. The Company PowerPoint Template is an example of this kind of business templates that can be used effectively to present the company profile to an audience or create project proposals. It also comes with editable charts, timelines and column slides that can be customized to match the presenter's needs.
High-Quality Best PowerPoint Templates
SlideModel.com also offers compatibility for other platforms aside Microsoft Office. During the last years, the content started to be converted to other presentation tools like Keynote and Google Slides. This provides the convenience of seamlessly managing your slide decks across multiple platforms.
Infographic Templates
SlideModel also includes a large collection of graphics that were created with built-in PowerPoint shapes. Now that Microsoft closed the Clipart gallery, accessing shapes like those provided by SlideModel can help to decorate your slides with stunning graphics and achieve impressive designs in your presentations. For instance, it is possible to make attractive infographics using PowerPoint templates.
There are a number of infographic templates which provide complete toolkits for preparing and making your infographics in Microsoft Office.
As a complementary tool, users can download an all-in-one slide deck with 65 professionally designed slides from SlideBundle. This toolkit contains common slides that can be used for many presentation purposes, including a wide range of presentation topics. If you need to make presentations regularly, this toolkit can help you to save a lot of valuable hours.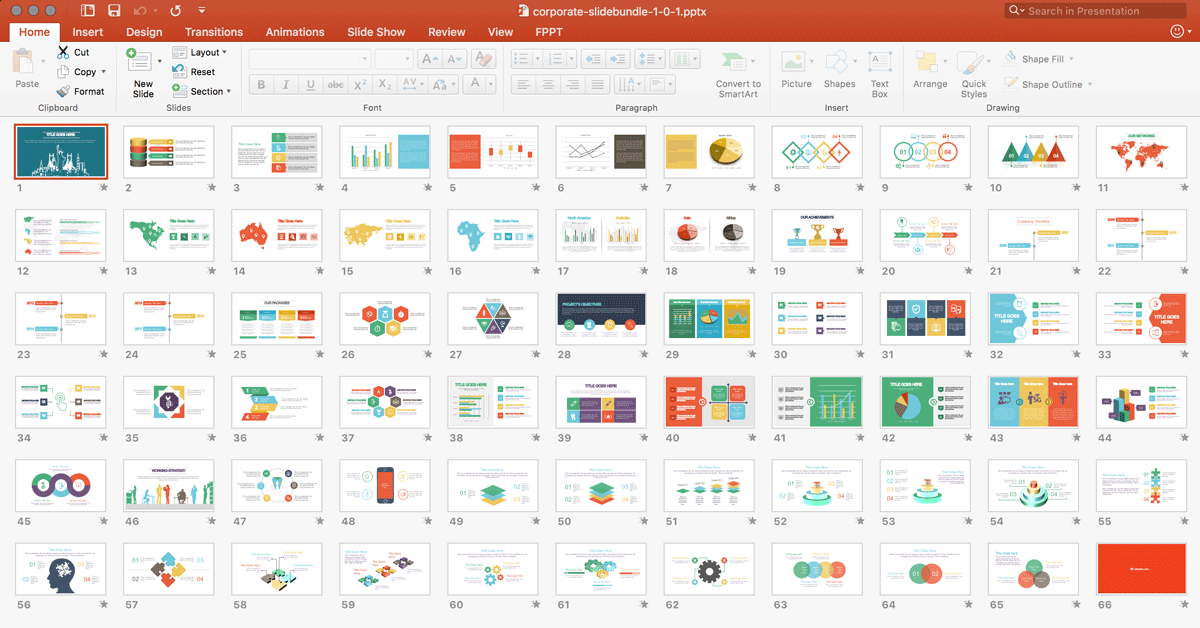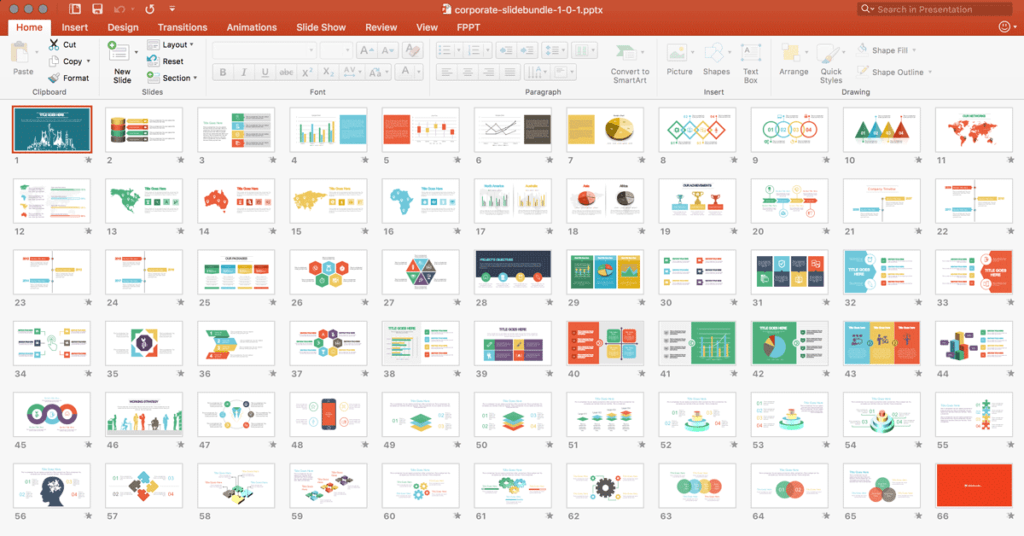 Presentation Dashboards & Data-Driven Charts in PowerPoint
If the purpose of your presentation is to show your company data, then the PowerPoint dashboard templates provided by SlideModel.com can help you to present your data in an attractive way.
SlideModel offers a wide range of editable business dashboard templates that are compatible with Microsoft PowerPoint and provided as .pptx files. These high-quality dashboard templates can be fully customized and it is possible to change the associated data, edit the text placeholder, or even change the slide colors and rearrange content using drag and drop.
Elegant dashboard templates in PowerPoint can be a cost-effective solution for accommodating large chunks of data within small spaces on a single presentation slide.
Maps with Editable Regions
The map templates provided by SlideModel can be used to present your location & demographic information with a good style.
SlideModel.com provides a large gallery of PowerPoint maps for different countries, popular areas, continents, and regions, as well as world maps for global presentations. Furthermore, it is very easy to highlight individual states or regions, as well as to pinpoint any desired location using the special map marker shapes provided. These map templates in PowerPoint give the user a fully customizable solution.
As an example, here we can see the United States Map PowerPoint Template which comes with editable states. Using drag and drop in PowerPoint it is possible to separate individual States and resize the areas to highlight any desired location. It is possible to re-color the areas based on custom criteria or using a legend. Similar templates can be found in many other countries, regions or even world continents.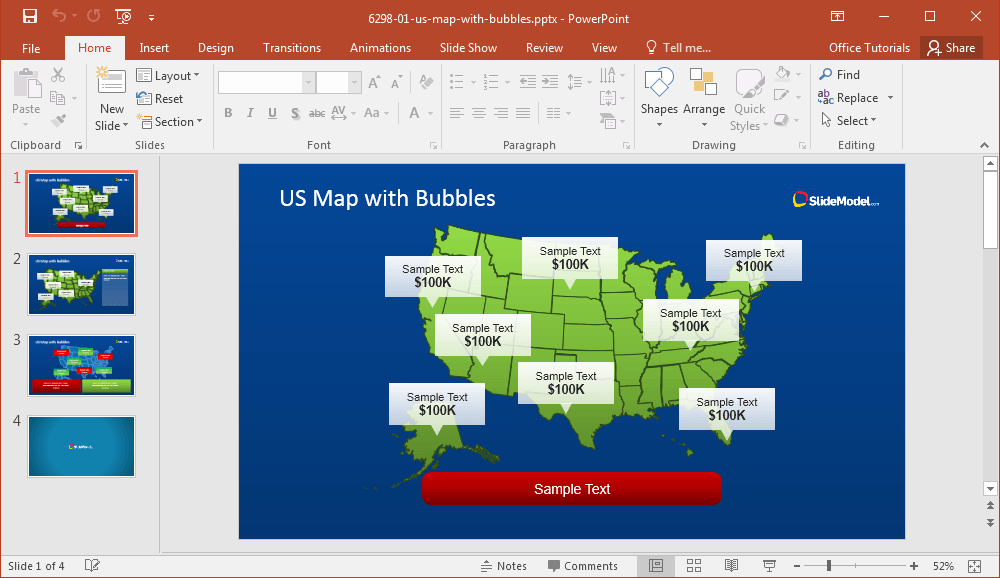 Subscribe for the Premium and Best PowerPoint Templates
SlideModel.com offers a free section where you can download free PowerPoint slides every week, however to access the premium catalog you'd need to subscribe to any of their plans. Each plan has its own download limits, but there is also an Annual Unlimited plan offering unlimited downloads and 1-year access. The templates from the premium catalog can help to create amazing slide decks within minutes and the slide designs have been crafted by expert presenters and professionals. Professionally designed PowerPoint templates can be a blessing for presenters.
Whether you need to make an educational PowerPoint presentation or impress your potential investors with a professional Pitch Deck presentation, SlideModel.com can provide you with a template that's just right for you.