With the launch of the latest Windows 10 we have got to get our hands on many
cool features
, one of them is Windows Game DVR. In this post i'll be explaining this deeply integrated Windows 10 feature which can capture your awesome gameplay without any notch. Press "WINDOWS KEY + G" to Start 😛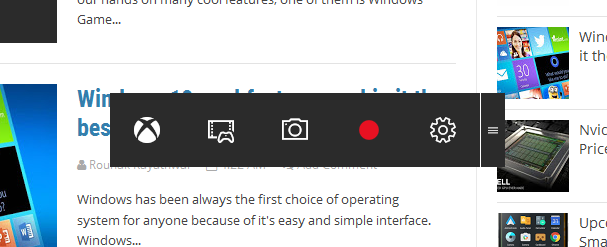 Windows 10 GameDVR Recording Software Explained
GameDVR works just like any other recording softwares out there, Nvidia ShadowPlay, Bandicam, etc. These other third party softwares have actually more functionality and features than then GameDVR and they are no different when it comes to capturing or recording, then why GameDVR still better? Well the other softwares might have more functionality or features but one thing that they lack is they are third party softwares which are installed seperately into the operating system while the GameDVR is the part of Windows core design which works and performs with it.
When it comes to budget PCs or old PCs with cheap or outdated hardware, there's always a lag while playing games and accessing multimedia but with Windows 10 Microsoft have tried hard to remove that and improve the performance and guess what, they are actually able to do that. When it comes to capturing the gameplay on these kind of PC, oh forget it, ShadowPlay only supports high end graphic card and Bandicam well, either you can play at 40fps without recording or record it and play at 20fps which is you know! While GameDVR can record it with a little or no performance drop and game will be still playable. So that what it's power is, it's integrated into Windows 10 which help the software encode the video at the same time it streams on your screen and give you a nice playing environment. Well you might be getting some bugs or some of your games will not be supporting it, but we can ignore that for the time being as this is the first version, the software is still in development and when games build on DirectX 12 comes out, i am sure this thing will knockout other softwares.
For a little benchmarking, I myself tested this on my old laptop, i5 2430M 2GB RAM GT5XX something, and well the games i could play on this setup are only a few once. I tried playing Minecraft on 35fps without recording and 28fps avg while recording which was nice. I also tried running CSGO, without recording i was getting 20-25fps and while recording it went down to 15-20 which was actually my hardware's drop so no issue with GameDVR. So basically it's a great addup, specially for budget PCs.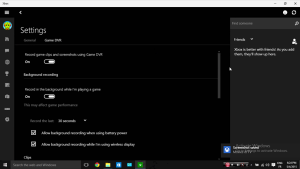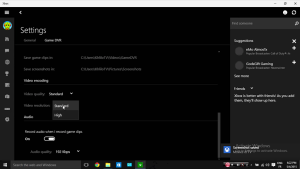 Talking about the settings there are only a few once like you can set the shortcuts, or change the directory for saved files or switch Resolution and Video Quality between two options, Standard and High, the resolution will be set according to your screen size, there is no option for changing that to 1080p or 720p, and also no option for setting or locking FPS which is a major con. You cannot record your Microphone for that you have to use other software, i suggest Audacity. Whatever I am not giving up yet as this is only the first version of this application.
One of the major feature is "Record that", which when enabled, the app will keep the last 30 seconds of gameplay in a 30 fps, 720p video file, so right after you got that sick no-scope you can hit the button and quickly save a clip of everything that just happened. This thing was first introduced in Shadowplay. And Obviously this thing won't work on many low end computers as it requires lot of computing power to always record something.
That's it so it's basically a under developed top software which gives nice performance while being the first version, hopefully it will get all required features in the upcoming updates and comes out a well performing top level software.
Some default shortcuts are:
To open the app ingame: WIN KEY + G
Start Recording: WIN KEY + ALT + R
Take Screenshot: WIN KEY + ALT + PrntScr
Record That: WIN KEY+ ALT+ G
In the last I will chhott down some pros and cons:
PROS:
Records without minimum or no lag.
Comes preinstalled with Windows 10.
CONS:
Lacks a lot of features in it's first version.
So what do you think of GameDVR, new gameplay/screen recording software, tell us in the comments sections and stay tuned as I'll be updating this post when GameDVR gets more updates. Peace!