Full System Backup : Windows 10
Backups are rescuers, they sure are!
If you mess up anything on your computer, there is nothing more helpful than a timely backup. But most of the Windows users don't know how to take a full backup of the PC.
Truth be told; it isn't as difficult as it sounds. Microsoft has integrated a dedicated option from the Windows 8 itself, which helps you take the full backup of the system without sweating much.
How to Create a Full System Backup in Windows 10
First, I want to give you an overview of the full PC backup. Then, I will guide you in the process.
·        What Exactly is Full System Backup?
The backup is actually called image backup as the system utility imposes an image into a removable media you plug into the system.
Being a method to backup the system completely, it replicates every bit of your data. Windows user details, personal data, files, installation data and what not! So, you can bring your computer back to the previous state in case something goes wrong.
Read Also: How to Insert "Registered" Symbol in Microsoft Word Document
One of the major con of image backup is it won't let you back a particular portion or settings. Apparently, you can't restore a particular thing as well.
But you will face problems if you don't have a habit of taking regular backups. In such a scenario, you will be left with only one choice of restoring with the help of available backup no matter how old it is.
Despite the minor drawbacks image backup feature on Windows is helpful for those who want to take the complete backup of a system.
Read Also: History of Windows operating System
You are going to find the steps needed for the same below.
Step 1: You have to open Control Panel first. It can be done in two ways; right- click on Start button and choose Control Panel or unveil the start menu and search for the same.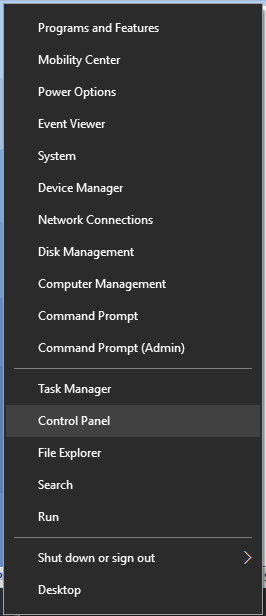 Step 2: Look to the right of View by given on the top-right portion of the screen. You need to change the selection to Large or Small icons.
Then, skim through each of the items given there to stumble on File History. Don't forget to open right away when you spot it.


Step 3: You need a removable drive to copy all your files and settings in the form of image backup. As long as you don't plug in a drive, the option stays as turned off.
Once you insert a removable media, you can turn it on.

Step 4: You can see multiple options when the setting is turned on. Choose System Image Backup from it, which can be found at the bottom-left corner of the window.
Again, make sure you have plugged a removable device into the PC.

Step 5: Then, you will be asked to choose from three different radio buttons. The first one represents the USB or external HD you plugged in; the second one indicates a DVD whereas the third one, a network location.
Though you can store the complete backup in a DVD or network location, I recommend you should go with a USB media because the rest slow down the process and you will have to wait desperately for hours after hours to get it finished.
So, choose the first one here. And, press Next.
Step 6: The wizard will display the target drive you chose to store the backup and the local disk on which the OS is installed. You have to confirm both and hit Start backup to initiate the process.
No one can predict how much time it takes because the duration solely depends on upon the amount of data you have on your computer. The larger the size of the data, the longer the process will be.
If your computer hasn't many data, it will not take more than ten minutes. But the process may last more than 2 hours for a computer with a wholesome of files.
Once the process finishes, you can unplug the storage device. Don't forget to keep it safely.
Whenever you encounter with any issues, you can use this backup along with Windows Restore Media disk to bring your computer to its initial state.
Read Also: Best Unblocked Music Websites for School
Wrapping Up : Full System Backup
I have given you proper steps you go through when you perform a full Windows 10 system backup. If you have any doubts in your mind, don't forget to reach out to me with it using the comment section down below.
As I said earlier, taking backups regularly is pivotal. So tell me, do you have a habit of making regular backups? If yes, how often you do it? I am waiting to hear your response.
And, don't forget to share this post on social media. You will help many by doing so.
________________________________________________________________
This is a Guest Post Written by Swaraj Nandedkar from TechLila – Tech Blog.