Google I/O 2016
Every year, google holds a developer conference where they showcase their latest advancements in the field of technology to the whole wide world, this conference, known as Google I/O is held in San Francisco and is open for everyone to visit. It's become somewhat of a ritual for everyone over at Google to give us something to be excited about for the rest of the year at these conferences, be it the announcement of Project Brillo last year or the release of Android Wear and VR the year before that, Google never seem to disappoint. And this year is no different, along with the incoming Android N, Google made plenty of big announcements including Google Home, a fully revamped Google Assistant and two brand new apps called Duo and Allo. Read on to find out more about the keynotes from this year's conference.


Infographic Created by : Techonloop.com 
The Revamped Google Assitant
The Google Assistant is now able to hold conversations with ease, meaning you won't have to ever open new tabs or start a new search on something you have already searched about. Google CEO, Sundar Pichai started the keynote demonstrating how easily Google Assistant was able to link up two different pieces of conversation. Care for an example? You can ask Google "Who is the creator of Facebook?" and then follow up that question with a "Is he married?" and Google will understand that the second question you asked is about Mark Zuckerberg i.e. the creator of Facebook you had asked the initial question about. Smart, isn't it? This now obviously opens the doors to having conversations with the assistant that actually make sense, and that, we think, is a brilliant addition.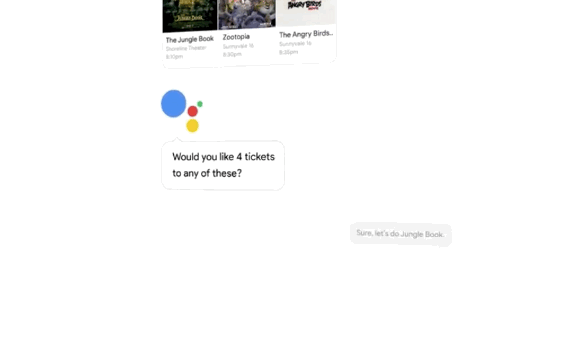 The Assistant is also an integral part of the new instant messaging service named Google Allo (more on that below) and comes integrated with the new Android N. All in all a feature we are definitely looking forward to.
Google Home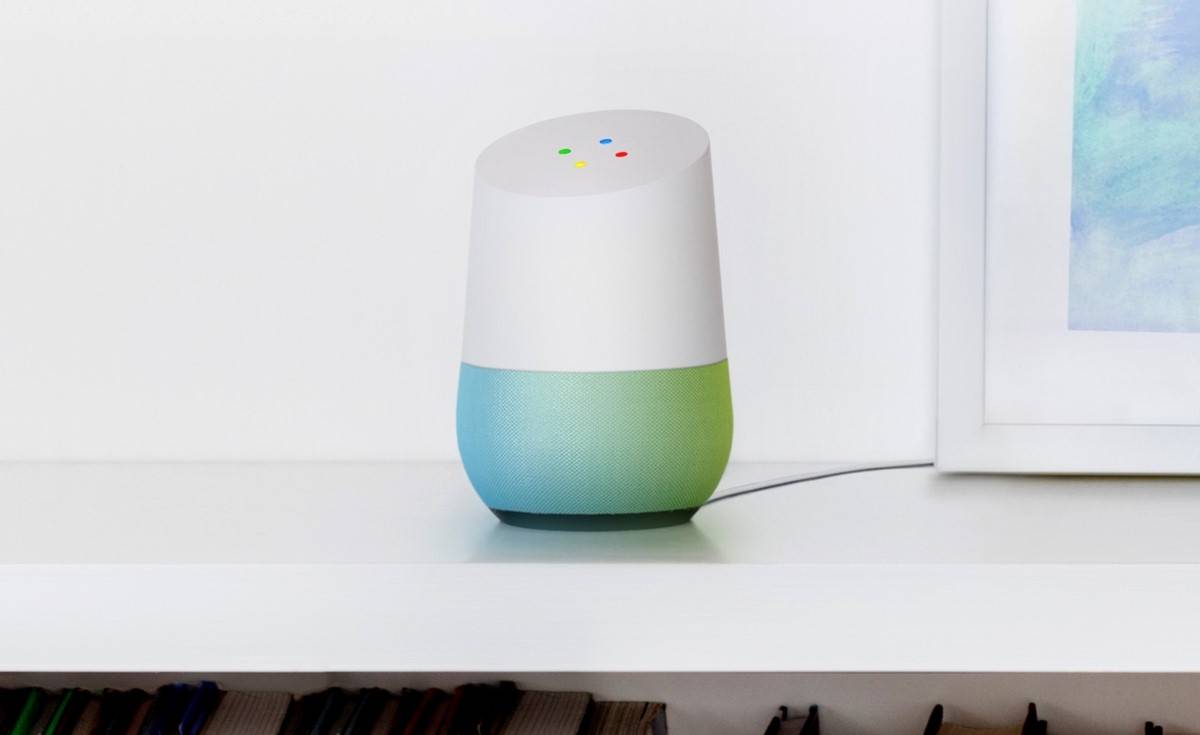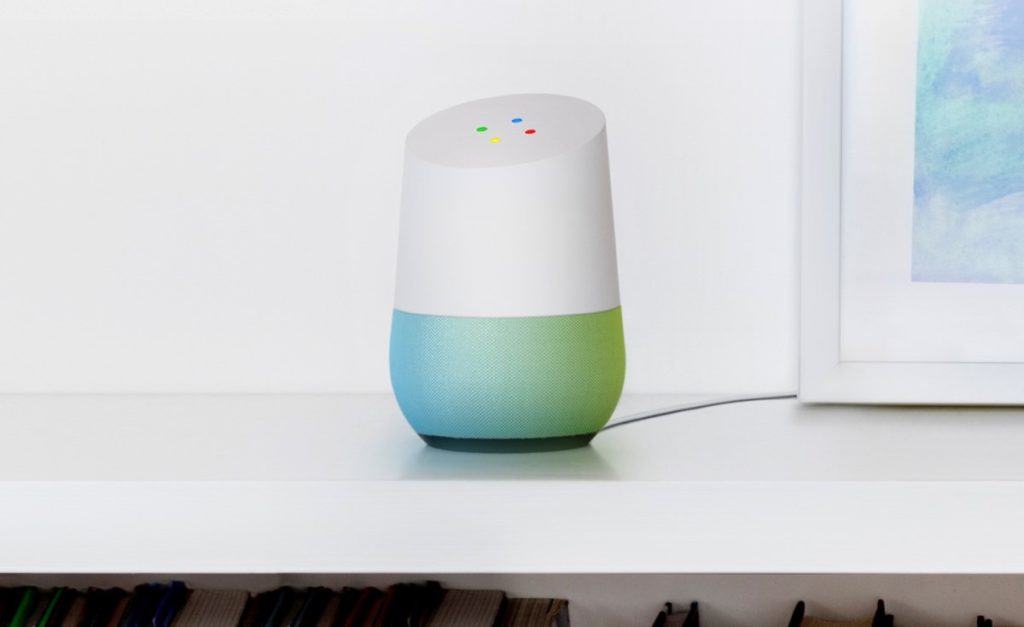 In to rival, the Amazon Echo Google announced its own home automation companion called Google Home. Similar to Echo in most ways than not, Google Home comes with a built-in speaker and makes use of the Chromecast software to give multi-room audio support, something that Echo lacked. This nifty little device links up all your smart devices and gives you the power to control them using simple voice commands. The Google Home makes use of the Assistant we previously talked about to help you solve all your queries throughout the day, whether its finding recipes or playing music, it's like having the very own trusty sidekick that's sure to help you get through each day, with ease.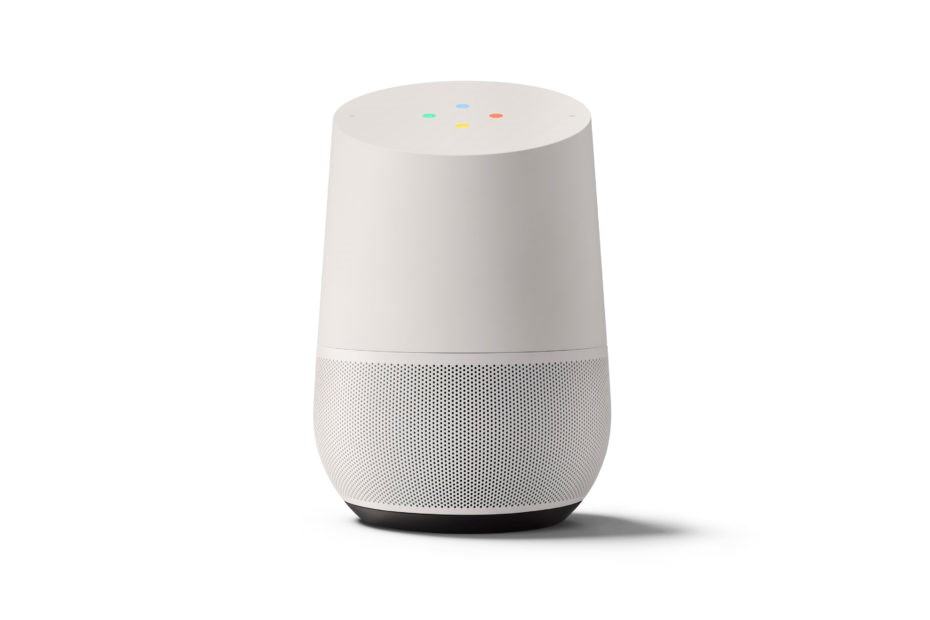 Priced at a modest $130, Google Home is marketed as direct rival to the Amazon Echo, and we're just judging by first looks here, but we might just be leaning towards the Home a bit more. JUST.
Google Allo And Google Duo
At I/O 2016 Google announced the release of two new communication apps named Allo and Duo, the former being a messaging app and the latter, a video calling one. Both apps have enjoyed their fair share of the limelight and here's why.
Allo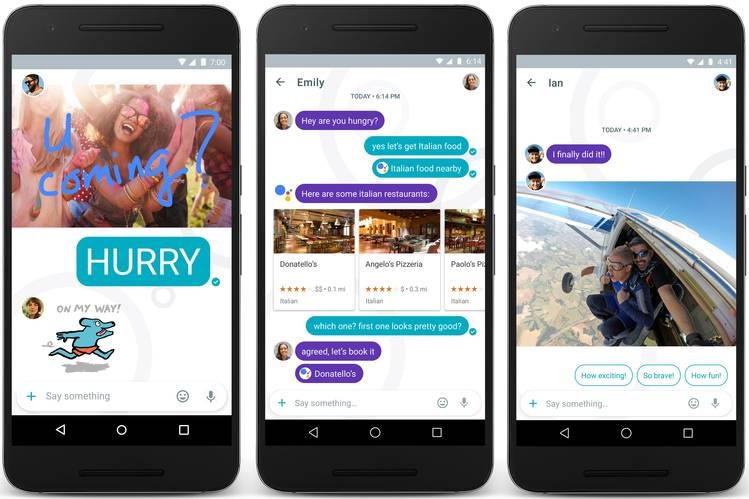 Allo is the all new messaging app released by Google Inc.  Why do I need another messaging app? You ask? Well, you don't really, but you're missing out on trying out the Google Assistant chat bot, which according to us a valid enough reason to try the app. But we're not here to promote anything (Google, if you're reading this, hit us up 😉 ) We're not going to make you personally go and download the app but we'll just tell you why we think this app might be the next big thing and maybe you'll want to go and try the app yourself.
The Google Assistant Chat Bot
Why wait right? Let's talk about Allo's best feature first. The Google Assistant Chat Bot is THE thing that sets Allo apart from all the other messaging apps out there. What the bot essentially does is use Google vast database to answer all your queries in a conversation based format. Key in "I'm Hungry" and the bot will serve you up with the best restaurants nearby. You can translate phrases, book movie tickets, check your emails all from within the app. Bored? Lonely? You can ask the assistant to tell you a joke or perhaps play a game with you.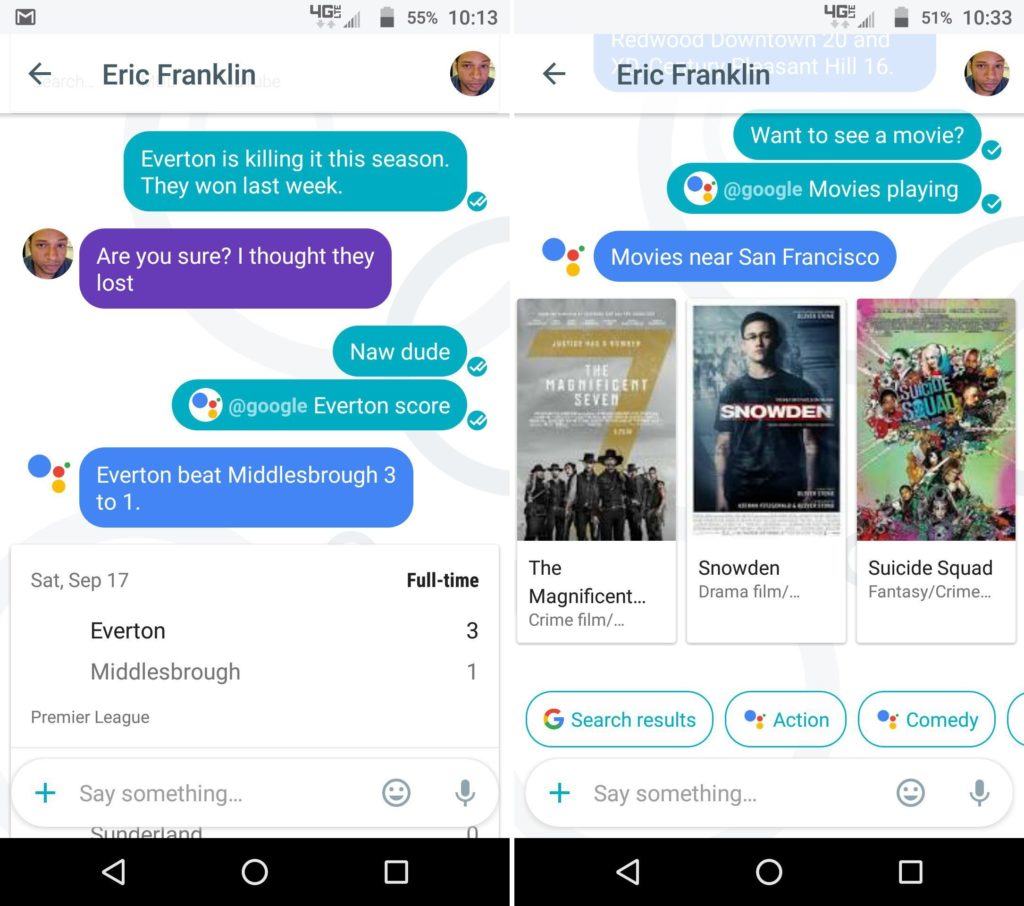 What's more? You can call up the assistant into a group chat by using the keyword "@google" and let your friends interact with it as well. Gone are the days when you had to switch between apps to find out movie listings, now it can all be done in within the same app, all thanks to Google Assistant.
Smart Reply
The new smart replies are a significant upgrade to the age-old auto-correct we're all used to. What's different? Well for a change, they actually make sense. For example, if someone asks you "Are you busy?" smart reply comes up with "Not really, you?" "What's up?" and "Yes, why?" the replies are pretty generic at first but the best part about them is that the app learns how you type and reply to specific questions and generate similar replies the next time you are approached with the same questions.
The smart reply isn't only work restricted to text messages, it also works pretty well will images. How? A picture of food can conjure up responses ranging from "Om nom nom" to "Looks delish!" whereas a picture of a famous monument will lead its search for the monument and provide you with information on it.
Incognito Mode and other cool stuff
Along with the feature already mentioned above Allo comes with an incognito mode which is, as the name suggests, and incognito chat mode, where all your chats are end to end encrypted and no one remains the wiser about them once you get out of the chat.
Other cool stuff includes stickers, the ability to "Shout" or "Whisper" or the way you can caption pictures before sending them by simply doodling on them.
Duo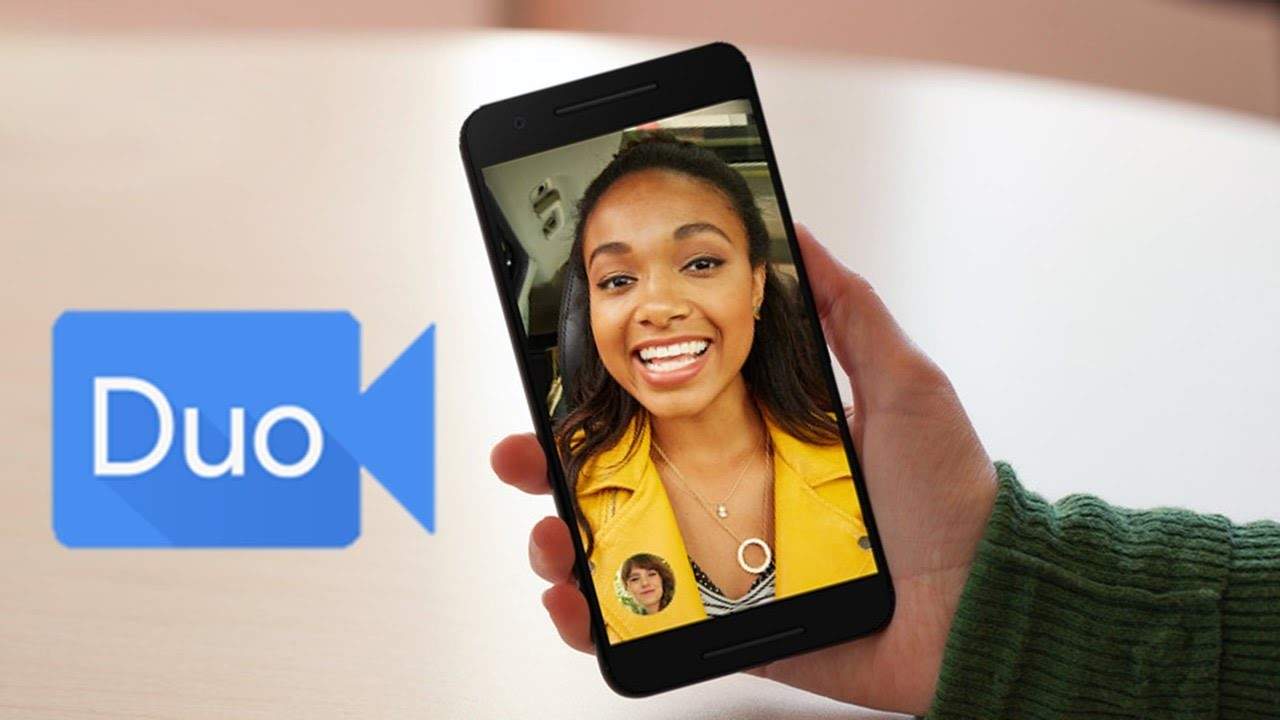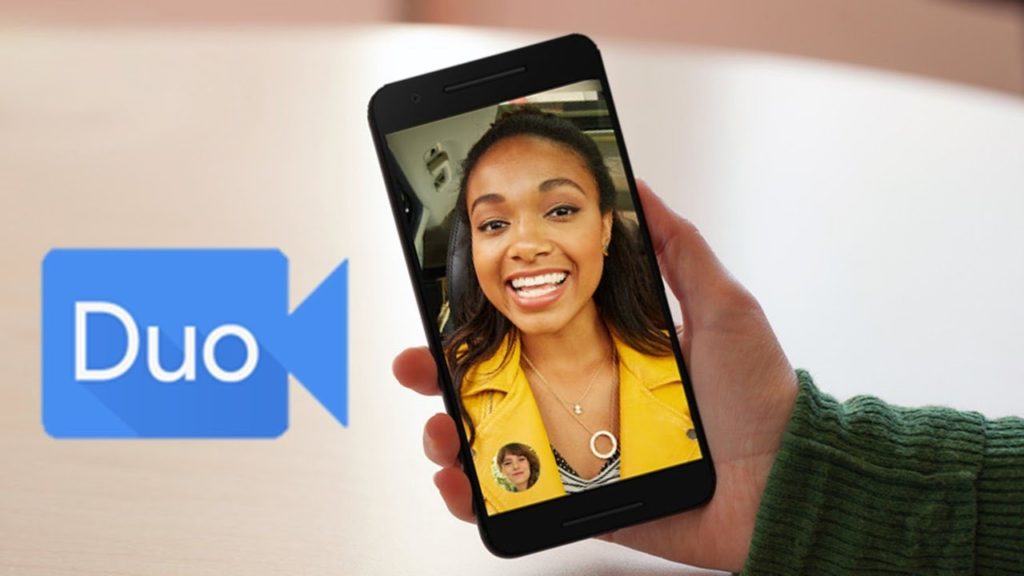 Duo, many say is Google's reply to Facetime™. Put simply it's a one to one video calling app that lets you call up your friends on their tab or mobile. So how is it different from Hangouts? Well, for starters it doesn't require you to use a Gmail ID to call up your friends, this instead relies on their phone numbers. Secondly, as said before it's a one-to-one video call whereas in Hangouts you always had the ability to add a bunch of friends into a call, this comes as more of a private approach.  Duo, you should note is pretty much restricted to only your phone and tablet, whereas you could access Hangouts from any platform you wanted, be it Laptop or Desktop. Now, this isn't a description of how Duo is different from Hangout, so let's get cracking and find out what works and what doesn't for Duo.
Knock Knock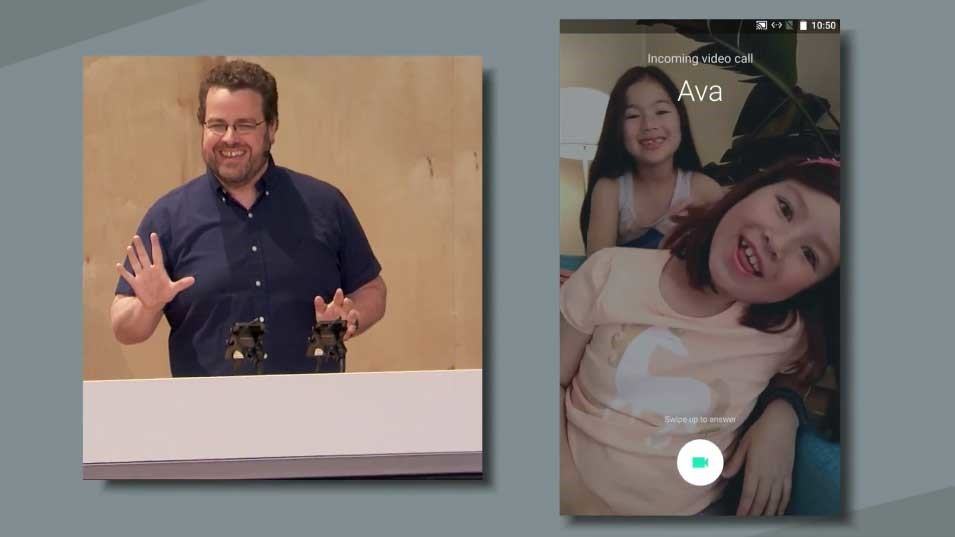 Knock Knock is a new feature on Duo that according to Google "makes you smile even before the video call starts". What this essentially does is share a live feed of you to the person you're calling, while you're making the call. Now this can have its advantages and its disadvantages. It can potentially let you see what the person is up to while calling you (we don't know why this helps really, but Google made a big deal of it and therefore we have to talk about it) meanwhile, you could also end up seeing something that you really didn't want to see.
Now of course, if Knock Knock doesn't really suit your style you have the option to only see Knock Knock's from your contacts or turn it off completely, but this feature does seem pretty cool right now, whether we'll get tired of it later we'll have to wait and see.
The Multi-Platform Aspect
For years unknown iOS users have been able to Facetime to connect to their friends on iOS pretty easily, but there wasn't really ever a method they could simply use to contact their fellow Android users and Duo provides a platform to do just that. So gone are the days where you'd have to go hunting for third party apps ( Okay, maybe we're exaggerating a bit here) to be able to connect to friends on Android. Now with the release of Google's in-house solution, which should be natively available on all new Android devices, Multi-platform video calling seems much less of a hassle.
As of today the two apps released have been downloaded more than 10 million times each and seem to be going down fairly well with the community. Whether they are able to take on the big boys is yet to be seen.
Android N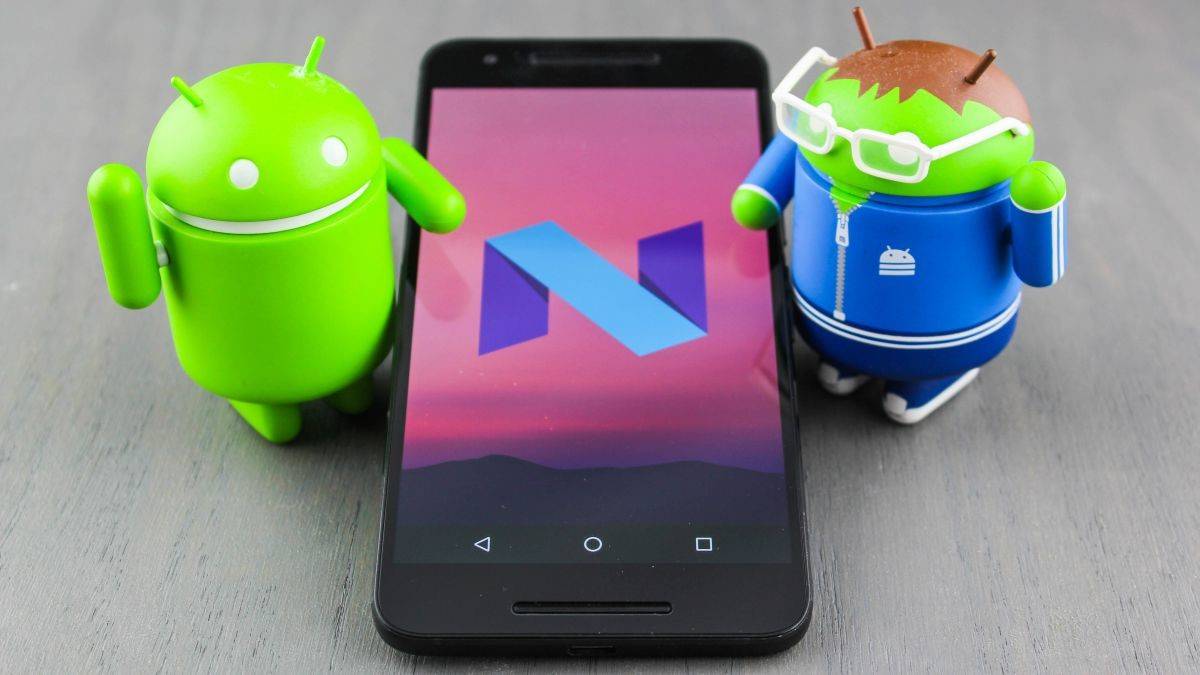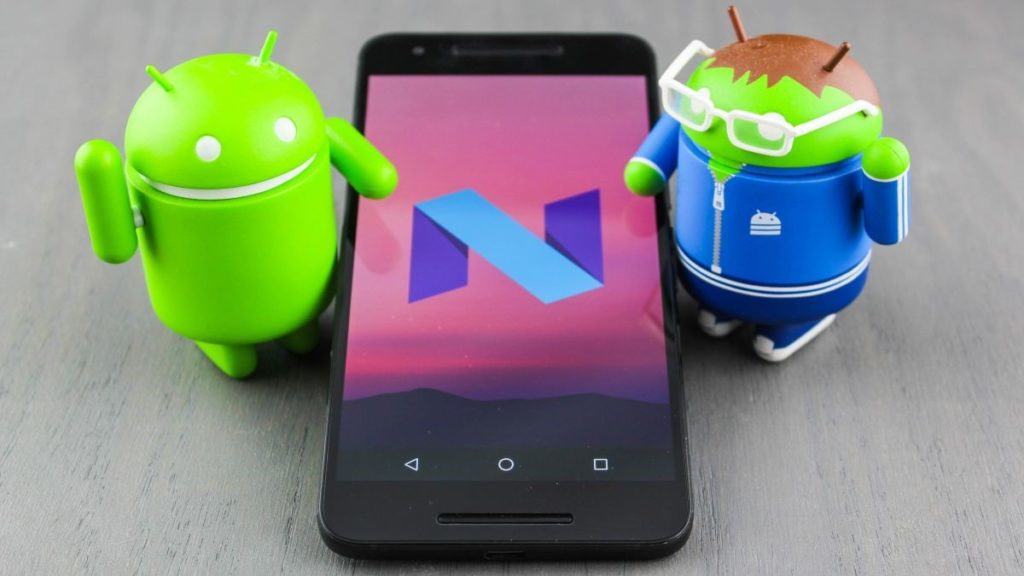 Android 7.0 or Nougat is the latest OS update set to be released by Android. The hype surrounding the latest Android has never been higher than now. With the full update already up on Nexus devices Android users can expect the update to reach them literally any moment from now, and on that note we thought we'd let you know what you can expect from Android Nougat.
"Nougat," said Google, "brings a number of new features to help make Android more powerful, more productive and more secure. It introduces a brand new JIT/AOT compiler to improve software performance, make app installs faster, and take up less storage. It also adds platform support for Vulkan, a low-overhead, cross-platform API for high-performance, 3D graphics. Multi-Window support lets users run two apps at the same time, and Direct Reply so users can reply directly to notifications without having to open the app. As always, Android is built with powerful layers of security and encryption to keep your private data private, so Nougat brings new features like File-based encryption, seamless updates, and Direct Boot."
Let's take a brief look at all the new features Google told us about.
Multi-Window
Although this isn't a feature that stands out immediately, it's something that had been missing from the previous versions of Android for whatever reason, and given the fact that Multi-Window has been around ever since the launch of Samsung Galaxy Note 2 way back in 2012, it's somewhat of a surprise that it took Google made us wait so long to make Multi-Window available natively.
A completely redesigned Notification Scheme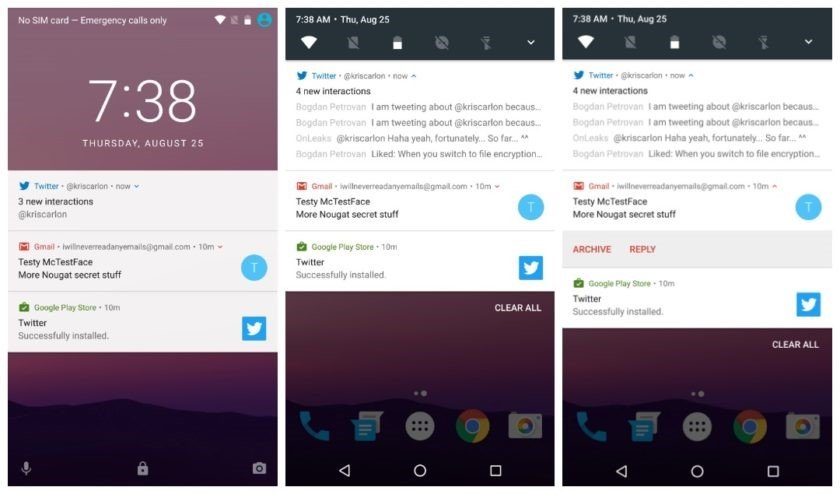 The notifications on Android Nougat have received a slight overhaul. Gone are the Google Now-esque card notifications and income the full-width flat notifications which do look pretty sleek. Also new is the inclusion of certain "quick actions". These "Quick Actions" include Quick Replies, wherein you can straight up reply to new messages without having to switch apps at all. Along with replying quickly you can also share, delete and archive directly from a notification, a very cool feature indeed. But this again wouldn't be new to some Android users who have been using custom ROMS.
Quick Settings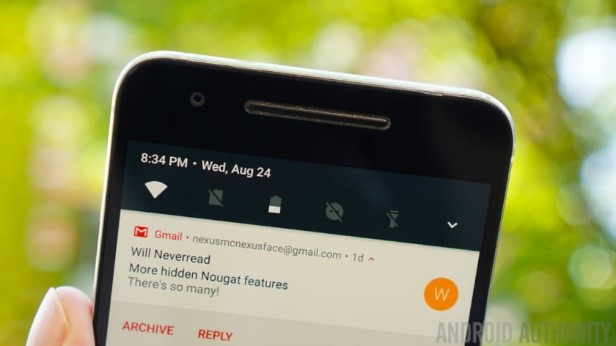 Quick settings have too, received an update in Nougat. Now you'll be able to see five quick settings right at the top of your notification shade. These five settings can be moved around and edited to be in the order you require them to be in and provide quick settings on the go. The tiny arrow at the side of the settings gives you access to the full settings page, which if you must know remains unchanged.
New Emoji  and Multilingual support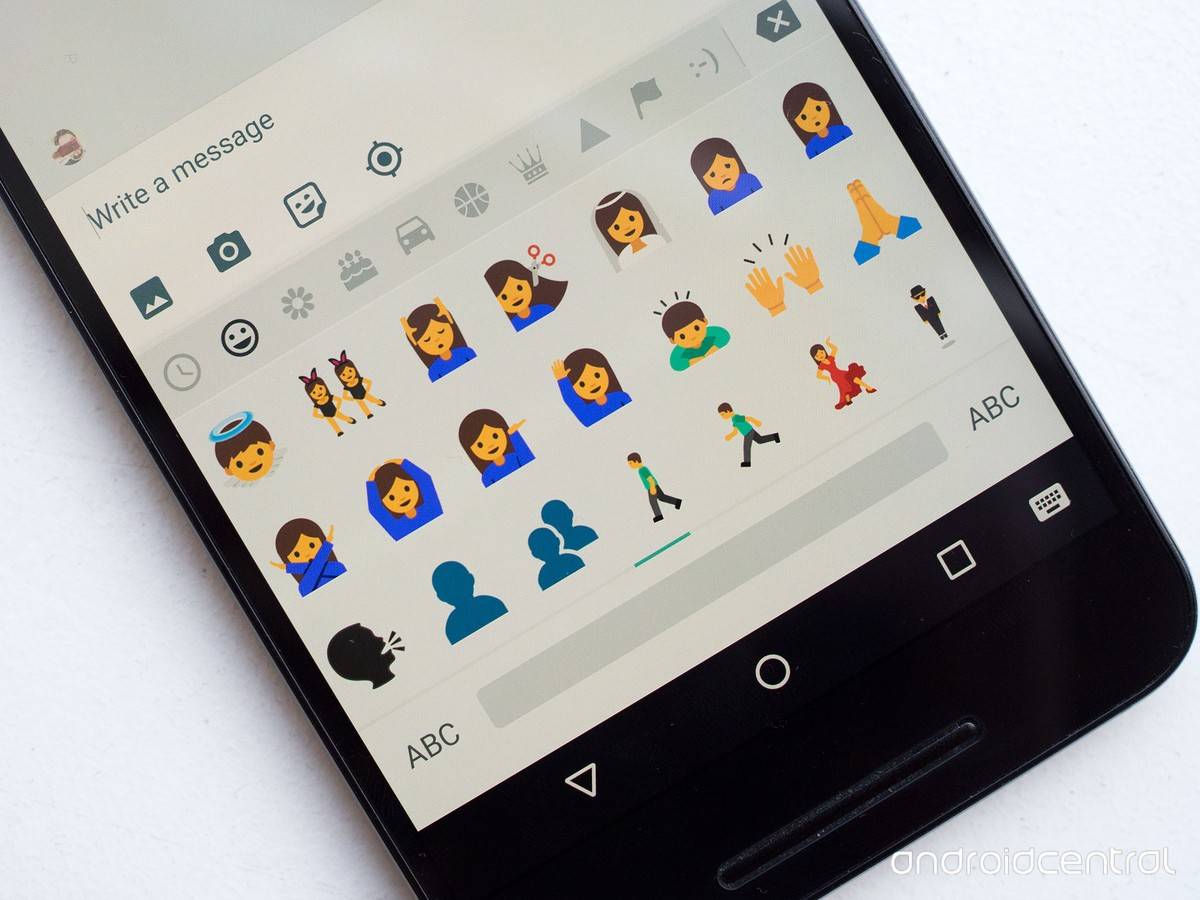 Android N comes with 72 new emoticons with all the different skin tones available thanks to Unicode 9 so that you have more freedom to express yourself without any limitations. N also comes with multi-language support so that you can set two default locales and switch between them effectively, this, of course, becomes handy for people who need to constantly travel about and need two different languages on their phone.
Vulkan API
The gaming scene on Android might just have to gear up for a big step forward with the newly added support for Vulkan API. What this does is promise better rendering of games which will, of course, lead to a complete visual overhaul in games. The addition of the Vulkan API gives devs the option to develop games using the newly introduced API or to stick with the age-old OpenGL format. It's pretty obvious that this will, of course, take a while to spread given the fact that Android N has reached only a select few devices yet.
JIT Compiler
The JIT compiler or rather the Just in Time compiler helps you boot up your faster than ever before.
How so? You ask?
Remember in Marshmallow and Lollipop you were always greeted with the same "Optimizing Apps" splash screen? Well actually was going on in the background while you were having a hard time not chucking your phone onto the wall was Android actually compiling all the apps on your phone so that you could access your apps right after booting up. Yes, this meant that you were able to access your apps right from the word go but this also meant that rebooting your phone actually took ages.
Now with the introduction of the JIT compiler apps are still being compiled when you reboot, but the difference here is that Android only some of the apps right at the start and only compiles parts of others when they are called. The result? Why faster booting phones, of course. That's what we all wanted, isn't it?
Google Daydream VR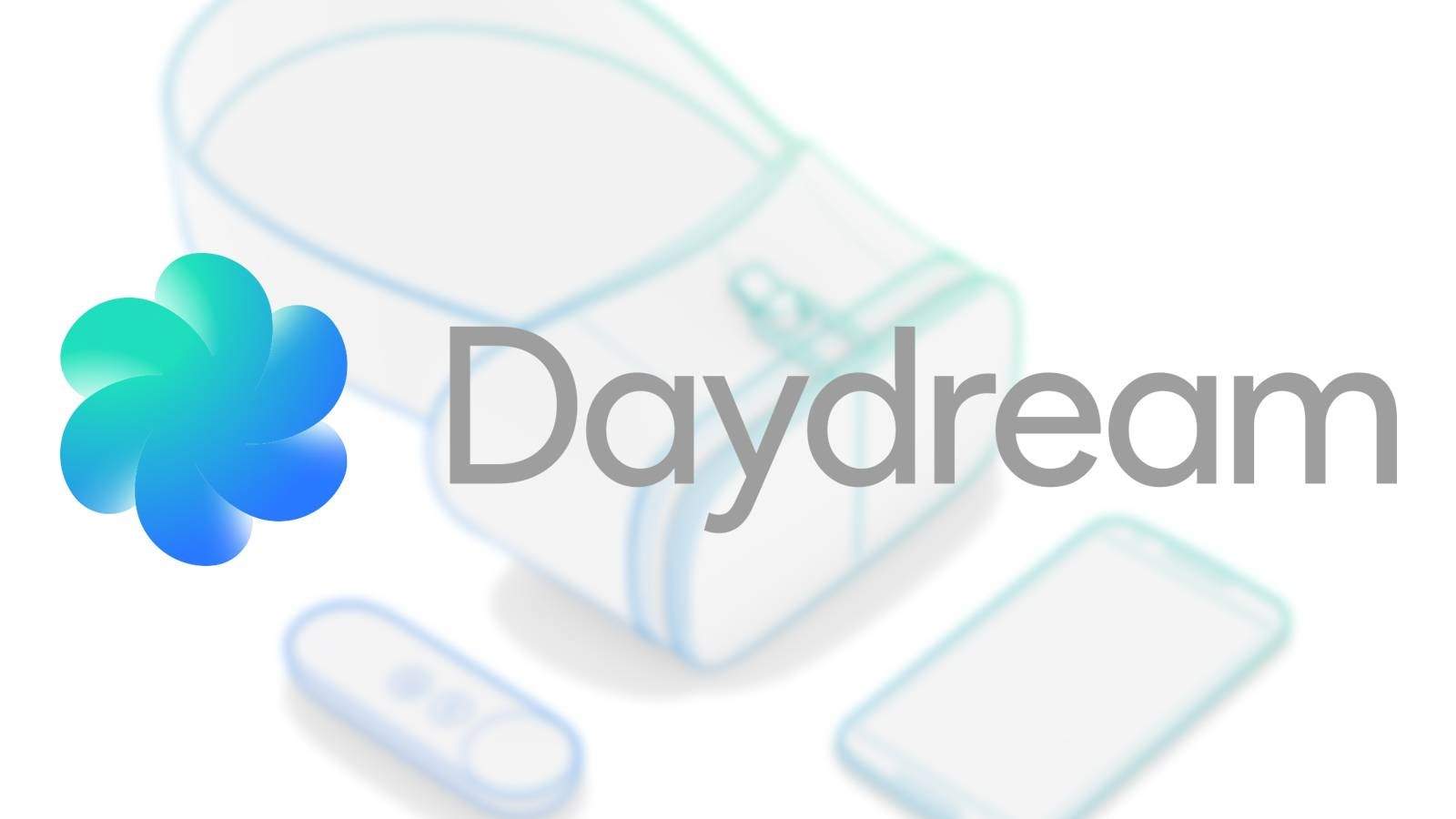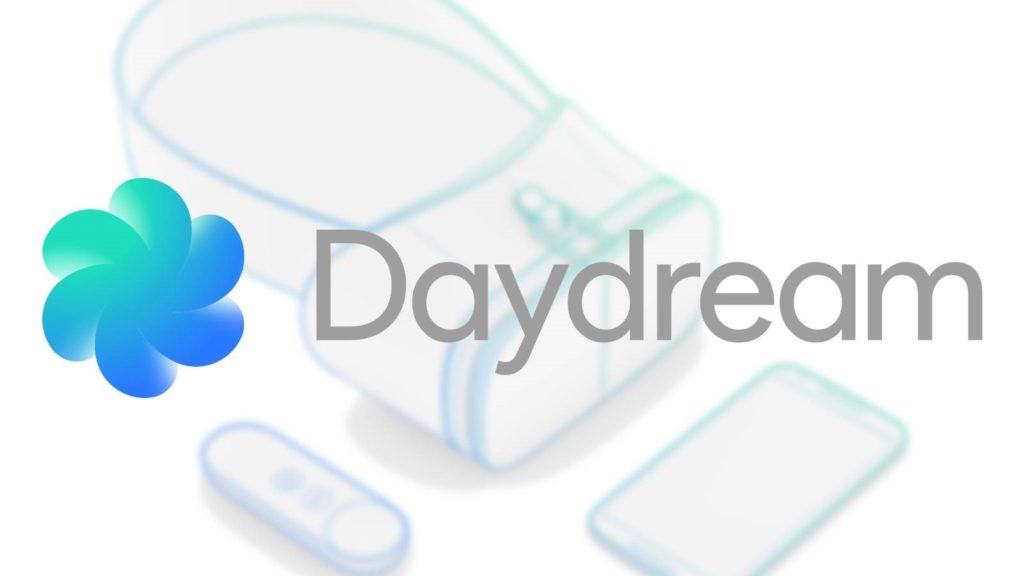 VR is the in thing these days and we were actually anticipating a VR headset from Google after the fact that the Google Cardboard left us all feeling a little salty. So in comes Daydream with its premium-looking headset and controller which essentially will blow the competition out of the water.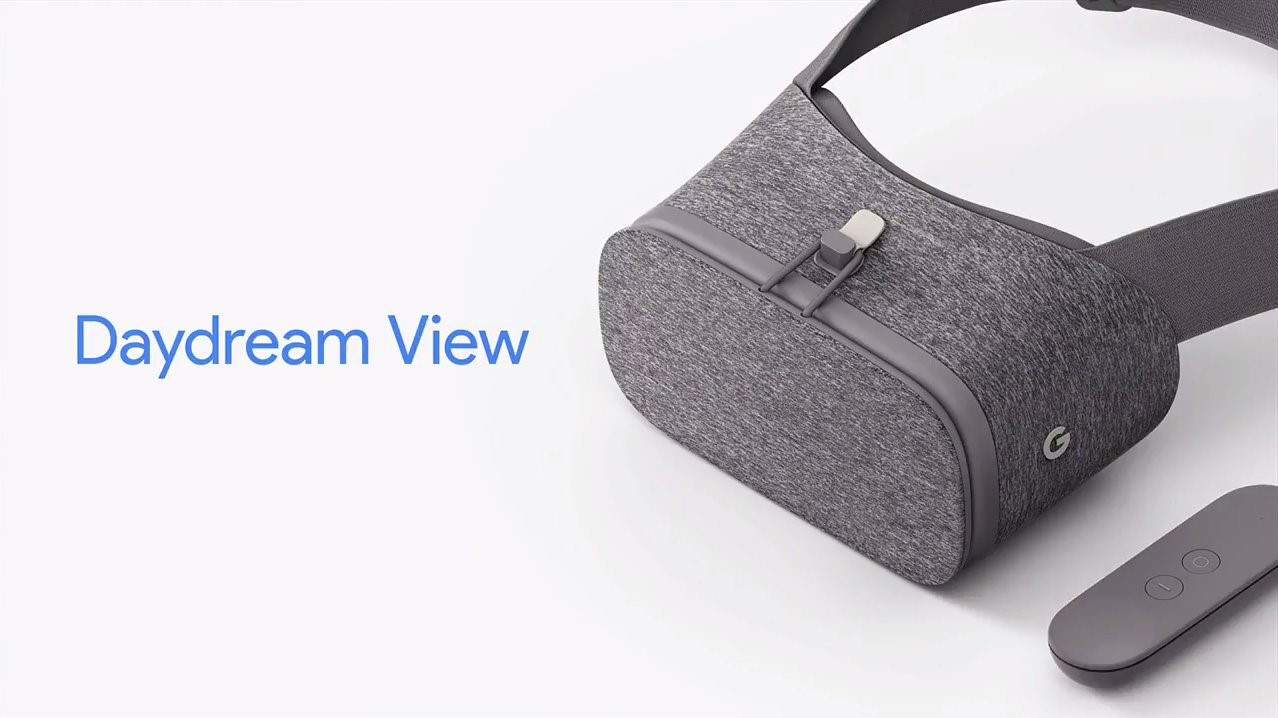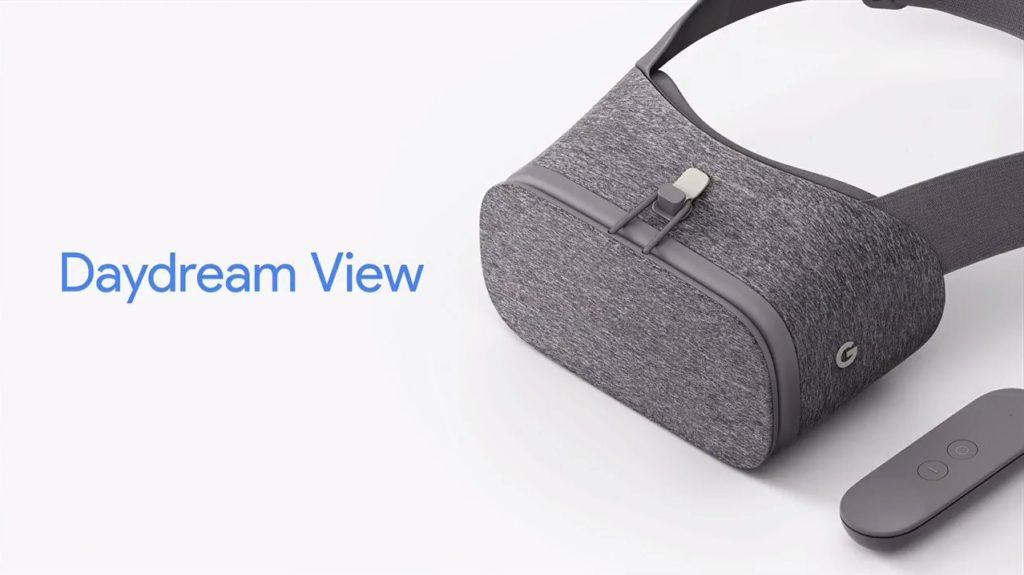 With Cardboard Google hoped to provide a simple and cost-effective method for everyone to feel out VR, and it did exactly that. Everyone that wanted to, was able to try out VR at barely minimal cost. Now, with the Daydream VR headset, Google looks to up the ante and provide a more premium experience for those willing to shell out the bucks. Priced at around $80, the headset comes with a Oculus Rift-esque controller that on first analysis looks like something that wouldn't be out of place in the future. Now, something to note is that all phones will not be daydream ready when the VR headset eventually launches in November, in fact, the only two headsets that are currently Daydream ready are the Google Pixel and Pixel XL. The mobile VR scene is at its peak at the moment and Google will be hoping to cash in big-time with the Daydream VR.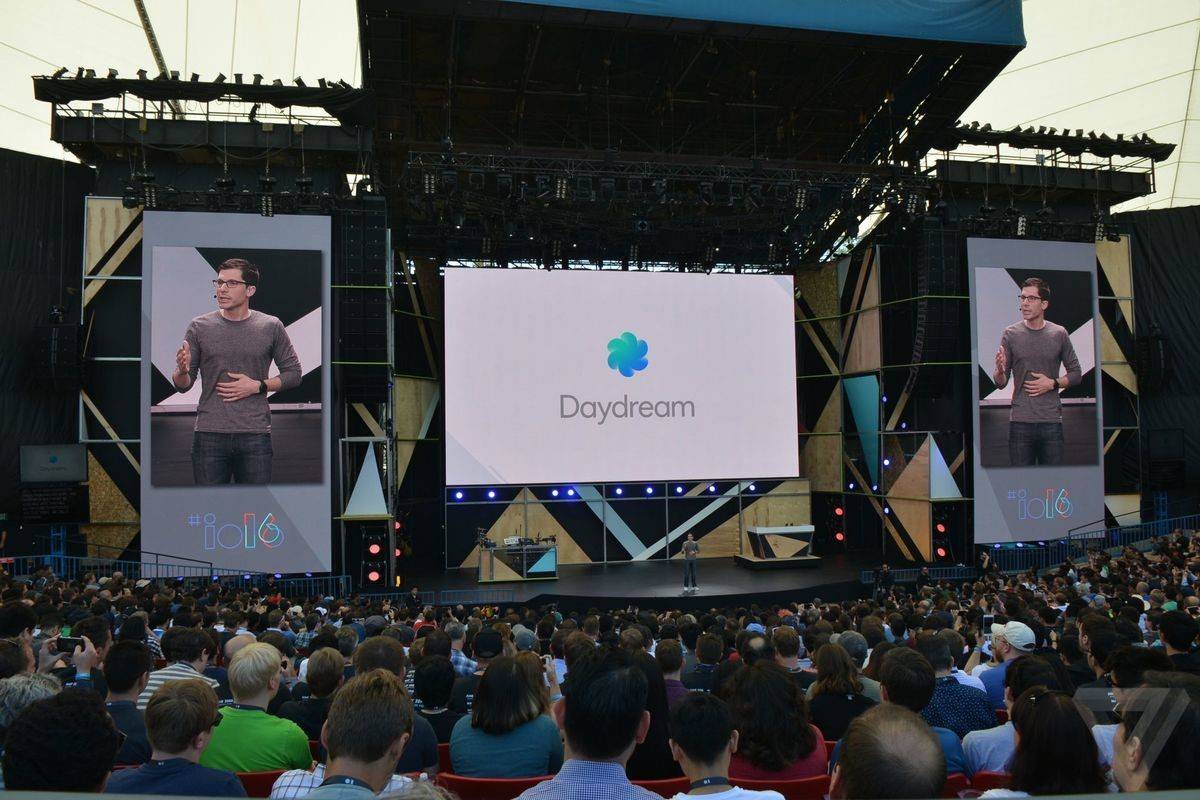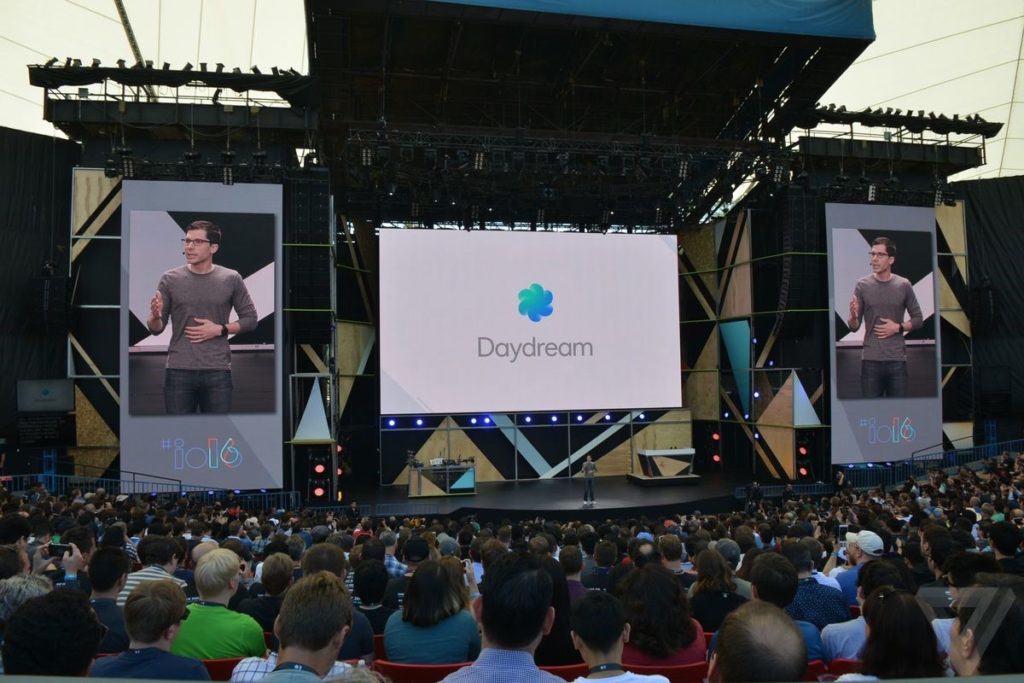 Android Wear 2.0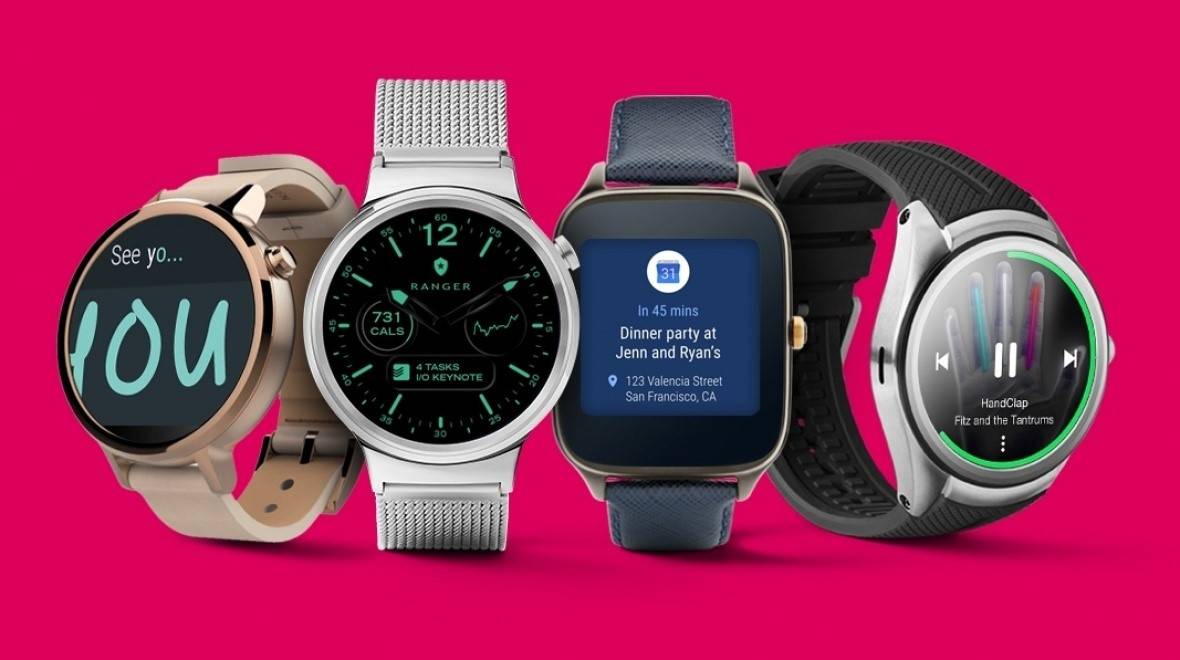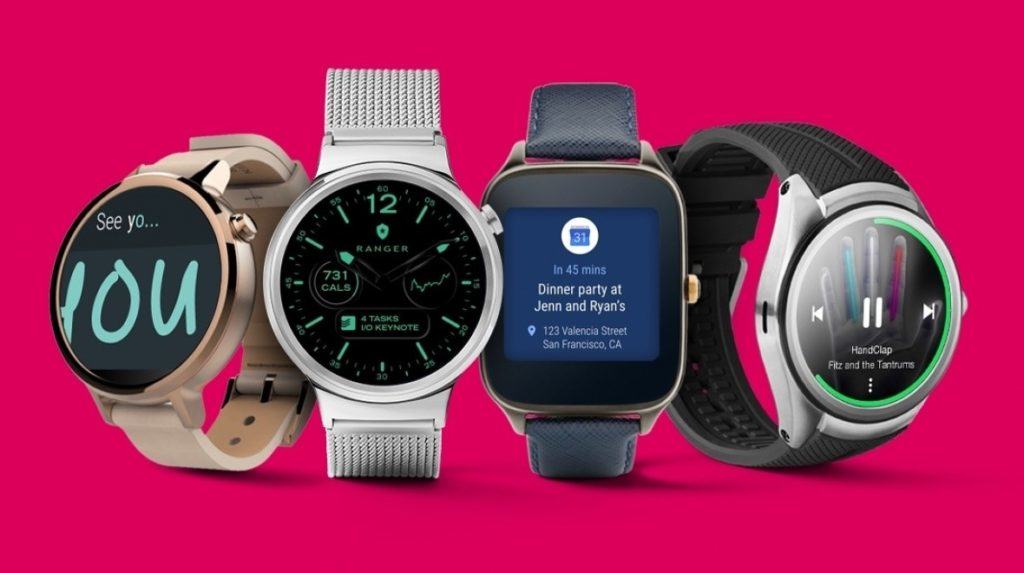 Android Wear too, like most of the features is set to receive a complete overhaul this time round. A completely new version to be precise. Android Wear 2.0 focuses on watch faces, messaging and fitness apps and most notably Standalone apps, yeah you heard that right, your watch will now be able to download and run apps without the need to be tethered to your phone via Bluetooth. Many watches with Wifi capabilities were able to function on their own anyway, but with standalone apps a notable difference will be visible to mainly iOS users who will be able to access the apps which aren't usually available on iTunes.
Android Instant Apps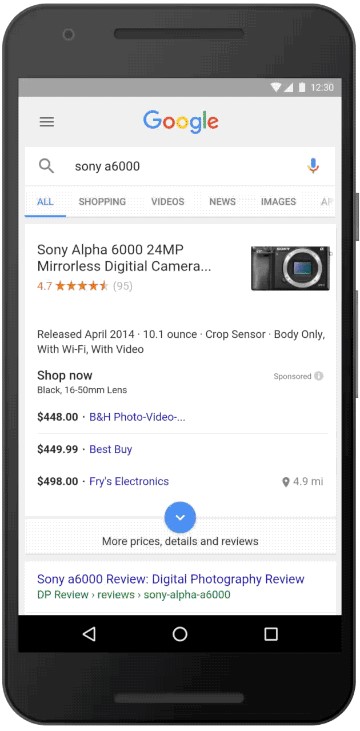 Instant apps according to Google is "An evolution in app sharing and discovery, Android Instant Apps enables Android apps to run instantly, without requiring installation. Instant Apps lets you experience what you love about apps- fast and beautiful user interfaces, high performance, and great capabilities – with just a tap"
Put in simple words Instant Apps will let you use apps without having to install them at all.  Need an example? Check out the gif above. Quite ingenious isn't it? Plus the brilliant fact that Google has announced that Instant Apps will be supported right back to Android 4.0.