I want to purchase a best budget gaming laptop? Do you have an idea which laptop can run the latest AAA titles games without turning out to be an oven?
If you would have asked the same question a couple of years back, my answer would have been different. Like, 6-7 years ago the definition of a gaming laptop was different. At that time, if you had seventh generation processor with a dedicated graphics card and 8GB RAM, you were right on the definition of a gaming device.
So, what about today's definition of a gaming machine?
A laptop with a dedicated GPU, acquired with a solid state drive, abundance of memory and above all proper heat system? No not completed yet….!
There are dozens of features which nowadays have been inducted into the definition. It does not matter whether those features help you out in playing the games better. There is a race and everyone just running into it if you see a friend having FPS gaming mouse, you would rush to grab that unit immediately, without knowing whether that FPS gaming mouse is necessary for you?
Even the definition of a gaming laptop varies. For indie series gamers, which plays old PC games a seventh generation laptop with 8GB ram would be more than enough. For pro gamers who love to play the latest released AAA series games, a different machine is required.
Each passing of the day new game releases and the definition once again changes.
So, you want a gaming machine that could offer splendid performance for the next couple of years without any upgrade. Plus, you could play your favorite AAA series of the games without freezing rendering graphics.
It is not easy for a novice to dig deep into the computer market and find the best budget gaming machine. We are here to help you; we have picked out a few of our favorite gaming devices. Let's have a look and see which laptop going to hit you hard and you make up your mind purchasing it immediately.
1-Acer Predator Helios 300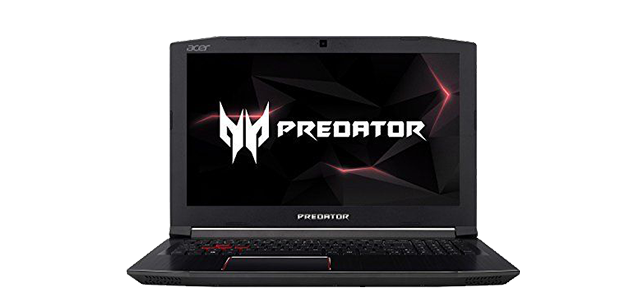 Yes, we are pretty impressed with the overall performance of Acer Predator Helios 300. This laptop by all accounts is a value gaming laptop which has the ability to run the latest games at low to medium settings. Though there are some glaring downside and couple of blemishes which are too obvious and apparent to ignore, still at the asked price range you cannot get better than this.
It is a powerful machine with a refresh rate of 144 Hz, this feature you rarely see in a low-ended gaming laptop.
Let's have further insight into this device.
The design of the device is pretty impressive, even a strong-critic would not be able to find a fault in the design. It is a stand out design in a cheap gaming machine.
You would love to see the numbers of ports, along with two USB ports and headphone jack, it powers with a USB 3.0 port, USB 3.1 port, and HDMI port.
The CPU performance of the game-oriented machine is superbly great; it is equipped with 2.2GHz Intel Core i7-8750H (hexa-core, 9MB cache, up to 4.1GHz) processor.
NVidia GeForce GTS 1060 with 6GB DDR5 can wreak the havoc while running latest games at high settings.
You get 16GB DDR4 MEMORY AND 15.6 inch LCD (1,920 x 1,080) Comfy View IPS (144Hz refresh rate).
The storage capacity could have been more improved, might be this was the only option to cut cash and bring forth an entry-level gaming laptop.
This mid-sized laptop is not a bulky one but looking at the overall size you would feel it a heavy device.
The keyboards and touchpads are also comfortable. Though some of you may complain about the bottoms keys sizes, this can be a personal preference.
The speaker of the machine is another top flaw. They have very little sound and their highs ends are cut off, resulting in dull, lackluster and hollow sounds.
Using it for gaming, you may not notice the poor audio performance, as gamers love to play games putting headphones one. For watching movies on open speakers and listening music would create some issues.
Pros:
Lots of power
Affordable
Superb battery performance
144Hz refresh rate
Cons:
Catches heat
Loud fans
Flat speakers 
2-Dell Inspiron 7577
Dell Inspiron 7577 is the ultimate choice for budget gamers. Either it is the gaming feels or the subtle performance; in every department this device sweeps the other machine from the roots. Although it has something very unique to offer in its design, the color performance may annoy you a little. From first glance, there are chances no one could recognize it as a gaming machine, but this is a power-oriented machine.
This machine strikes a great balance between the work and gaming on the go. With the fingerprint sensor, you can get the machine quickly signed in with just one tap.
Let's have a little insight into the specification of the machine and how they can help you out in making you a good gamer.
The dell 7577 has a 7th generation CPU, it offers three options to choose from, between the Core i7-875H, the Core i5-7300HQ or the Core i5-8300H. You can have any of the mentioned CPU; all have excellent handling and let you smoothly run your favorite games.
An induction of GTX 1060 6GB graphics card has given an extraordinary power to smoothly run the latest titles videos games, still, you cannot expect a desktop version performance from this. And do not try out this GPU with the latest titles games at high setting.
The standard version of the mentioned gaming laptop comes with either 8GB or 16 GB but it has an upgradable option. So, whenever you feel you have amassed enough money to upgrade the memory, can extend it to as high as 32GB.
In all inexpensive gaming laptops, you might have noticed, the battery performance sucks. I think this is the only way to cut cash and accumulate a budget gaming machine. In this device as well, you get a 56wh battery which only makes you hold for about 4.5 hours when you do work-related tasks, not gaming.
The dell 7577 glaring downside would be its storage capacity. An affordable gaming laptop cannot afford to have 128GB SSD hard. This amount of storage can only run an OS or some store some games. So, you will have to upgrade this feature if you are planning to store the latest series of video games.
The sounds of this machine are not up to the impressive marks. You cannot watch movies or listen to the songs on open speakers. For gaming a user normally put on the headphones, so this would not be a big issue.
Pros:
Relatively low price
Quiet and silent during loads compare to other notebooks
The relatively cool temperature when gaming
Superb GPU performance
Strong chassis back
Fingerprint reader
Cons:
Low battery life
Optional keyboard backlit
Display backlit could be brighter
Low storage capacity
3) MSI GL62M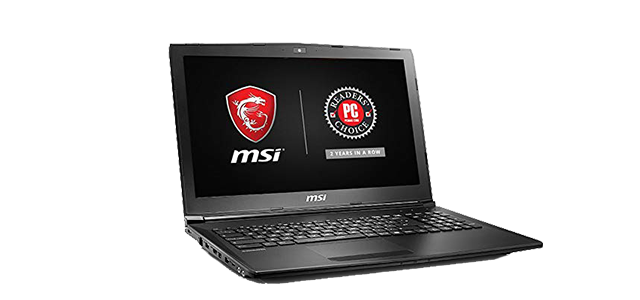 MSI (Micro-star international) is one of the renowned electronics manufacturing companies. It has been almost 30 years to this company provisioning its users with efficient, power-oriented and reliable gaming machines. This is the time for this brand to cherish its success as every gaming machine labeled by MSI hit the market very impressively.
There can be various reasons for this brand performing amazing. These can be the gaming power, budget oriented, moderate and high ended device which excels in every department of performances.
The company has recently come up another power-packed gaming laptop, MSI GL62M. This is iteration in its mid-range gaming segments, the laptop received accolades and globally recognized as the best seller.
You believe it or not the design of the MSI crafted gaming machine always hit the nail right. They might have been hired some absolute genuine designers, which craft laptop beautifully.
The case and the design of the mentioned laptop are identical to its predecessors. This is anyhow is slimmer and light weighed when compare to the previous installment of the same series.
The MSI latest offering comes with 5.6″ Full HD eDP matte-finished display and the display can hold the resolution of 1920-by-1080 pixels. Due to the IPS technology involvements, you get wide-viewing angles and cherish watching movies at better colors.
This gaming machine comes with Intel Core i7-7700HQ quad-core processor, for multitasking and handling the other processing you get an 8GB DDR4 RAM clocked at 2400MHz. The RAM can be further extended up to 32 GB an unused slot has been left by the manufacturers.
The graphics department of the MSI GL62M is not lesser than any of the other listed gaming laptops, you can play plenty of high-ended games and 4GB of NVIDIA GeForce GTX 1050Ti will surely maximize your gaming experience.
Even the storage front of the device will not let you down. It is a powerful combination of an SSD hard for handling OS performances and extra 1TB HDD hard to store the hell of the games.
Every department of this gaming laptop is power oriented, from the hardware to the thin lightweight chassis. The company's cooler boost technology minimizes the heat, even when the laptop is subject to play high-ended games.
For every gaming laptop, the trackpad and keyboards play a vital role. They stand as the secondary controller and this is where this machine stands out in the crowd. The MSI GL62N comes with the backlit keyboard and anti-ghost keys. The silver lining over the chassis gives a cool look and make you use it during low lights.
The audio quality of the machine is great. During our tests, we found you can have the speakers to fill an average sized conference room without injecting an extra speaker. Moreover, the audio department has been boosted by Nhimic Technology, which helps the speakers to produce clearer and louder audios. You can relay this machine on listening to the songs and watching movies in groups without any hiccup.
For a good gaming machine, good battery life is vital. From MSI GL62M you should not expect any wonder, as the battery life could only live up to 4 hours during our rundown tests, where we continuously browsed, listening to songs and watching movies.
Pros:
Stand out features in this price range
Portable
Comfortable Keyboard
Amazing combination of SSD+HDD storage
Impressive performance
Cons
The SSD capacity could have been improved
4-Asus TUF 504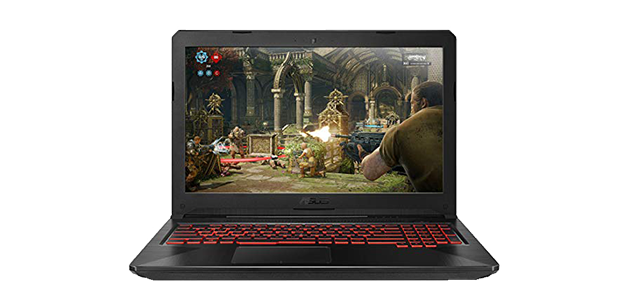 You might have noticed that even entry-level gaming laptop is around 1000-1500 dollar price range. And if I say that you are going to get the performance of a premium gaming laptop under 700 what would you say it?
Downright steel….!
ASUS TUF 504 houses 8th Gen Intel Core i5 Processor and NVidia GeForce GTX 1050 graphics card. And you know the power of this graphics card; this can run latest AAA series games on low or medium settings.
The TUF gaming machine is not a pretty looking device.
There are some downsides of this machine, but you need to overlook that tiny issue as the price is not much expensive. I found the SSD drive of the machine performing slowly, and the display is quite dim and bland. This machine does not run 1080P games and other media, and you will be quite annoyed with this only feature.
From the first glance of this device, probably Asus wants you to think of the word "Cyber". The blank hunk of artificial aluminum and the red pain line in the angular, quite impressive look this machine gives.
The speaker instilled in this machine is quite impressive and loud. You can say the speakers can fill a midsize room without any assisting speaker.
The GPU performance of the mentioned device is applaudable. This is housed with NVidia GeForce GTX 1050 GPU with 2GB of VRAM. And I am quite sure; you will not be annoyed with the gaming performance at all.
The performance can be just accumulated by sighting the other features such as Intel Core i5-8300H CPU, 8GB RAM, and 1TB SSHD. I guess you get pretty quick results and the RAM would not mind opening at least 20 taps on Google Chrome which is considered the graveyard of Random access memory.
The battery performance is above average, it endured only 4 hours on the battery test where we were continuously browsing the web and watching videos at 150 nits of brightness.
If you want to play the latest games and do not have enough money to purchase a premium gaming laptop, this would be the nicest option.
Pros:
Affordable price
Superb Gaming performance
SSD hard
It can hold heat
Cons:
Dim display
Slow SSD performance
Below average battery life
5-Acer Nitro 5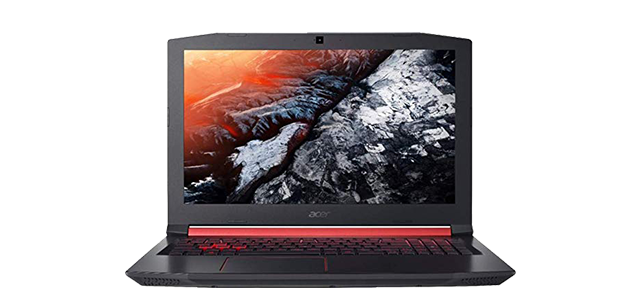 Sometimes we see premium gaming laptops models under expensive budget are not plentiful as some of the budget conscious laptop may like. So, it is very important to have a sharp glance at the latest entries of the gaming device. The refreshed Acer Nitro 5 is one such machine.
Acer Nitro 5 comes one hundred dollars below compare to other gaming machines while offering the power and performance to run AAA gaming titles.
We should dig deep into the machine and insight about what this 15 inches Screened laptop has to offer other than its standout key design aspects.
The price is less expensive and this would be the only laptop in the asked price range running fairly decent 1080p without tripping.
If you are a pro PC gamer and wanted to grab a power-oriented machine without breaking the bank, the Nitro 5 is one stop shop for you.
The unit looks amazingly well; the chassis is all black with red accents on Keyboard, touchpad, and lid. The laptop has been made entirely of plastic, which is expected under the price range.
Though the hefty to carry a gaming machine cannot be a good travel companion and hurt your shoulder. Still, the Intel-powered Nitro 5 has something extraordinary to cope with the latest released games.
This laptop has amazing multitasking power owing to the 8GB/256G combination. With 1.8-GHz Intel Core i7-8550U and NVidia GTX 1050 4GB dedicated graphics card, you blow away the games.
If you are looking for pure gaming performance and do not care much of the design, looks and weight Acer's Nitro 5 is a great option. It has a strong battery life, decent gaming performances, and user-controllable fans. What more you expect from a gaming laptop under 700.
Pros:
Very affordable
Powerful GPU
Good battery life
Superb gaming performance
Cons:
Thick display bezel
Hefty
Catches heat too often