If you are a PC Gamer, you would have to be living under a rock not to know that this 2017, AMD is going to launch their new CPU processor under the name Ryzen. Ryzen boasts of being able to compete Intel's CPUs. But from time to time, tech companies have been known to feed hype to potential customers to get their products sold. And AMD is already a company that is fairing poorly in the CPU market. So the question is, will AMD Ryzen live to the hype around it?
What is AMD Ryzen?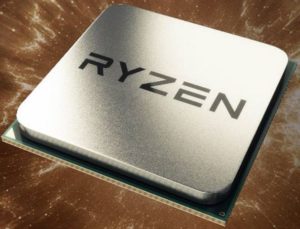 Ryzen is an AMD CPU much awaited by gamers because of its potential of being an alternative to Intel processors. Ryzen was codenamed 'Zen' in development-stage and this word stands for meditation and contemplation in Japanese.  A significant architectural change for AMD after a long time, it is expected to save the company from the possibility of a total failure in the CPU industry. Even though the company does well because of its Radeon GPUs, it has not had much luck in the CPU field. AMD Ryzen is an ambitious undertaking to change that.
AMD VS Intel
There's no doubt Intel is leading in the CPU field with their wide range of processors. While Intel processors are fairly good, they are not the best ones you get for the price, and this is because of the lack of options the buyers have. There's no competition whatsoever, and at most local markets the only processors that get sold are Intel. Without competition, Intel is free to set higher prices of their products and buyers with little knowledge of the value to end up buying them. This is good for Intel to make some cash, but for those who are prone to building PCs and keeping them updated for optimum performance, it isn't.
To sum up, what is needed is competition. A contender in the CPU market is sure to result in a dip in prices, and this is good news for those who are saving hard-earned money for their glorious PC build.
What AMD Ryzen Is Offering
Apart from competition, the rumors (could be facts, too) are that Ryzen is going to cost only half the price that Intel costs. This means that base 3.4 GHz 8 core Ryzen will be around $400, but just to be safe (and realistic) it is expected to be around 600-800$. This is a way better price than Intel's prices.
The AMD Ryzen specifications as compared to Intel's Broadwell-E Core i7-6900k are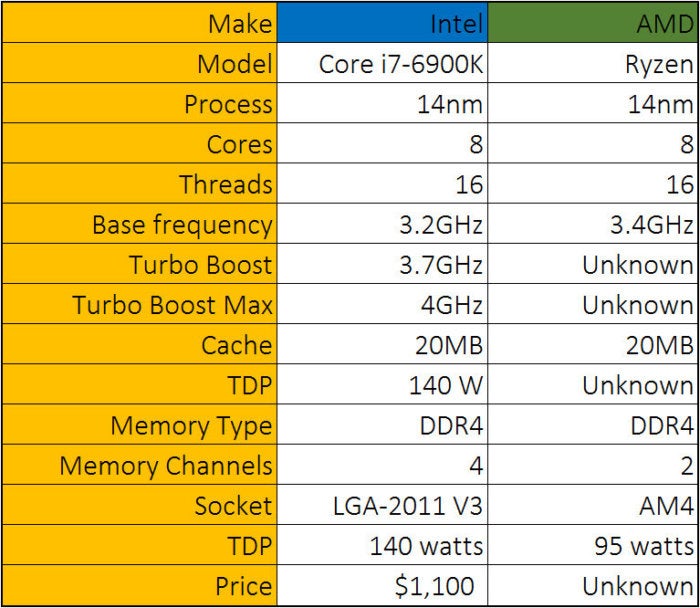 The 3.4 GHz is only the base clock speed of the eight core processor. The reason many people are waiting for AMD Ryzen is these specifications. It is going to compete with the Intel 6900K, a $1,000 CPU. The base clock is higher, thermal design power (TDP) is lower.
Instructions per cycle (IPC) is another significant aspect of a processor's performance. As many know, it is the mean of instructions executed for each clock cycle and for AMD Ryzen it seems to be very close on average.
The AMD Ryzen 5GHz Hype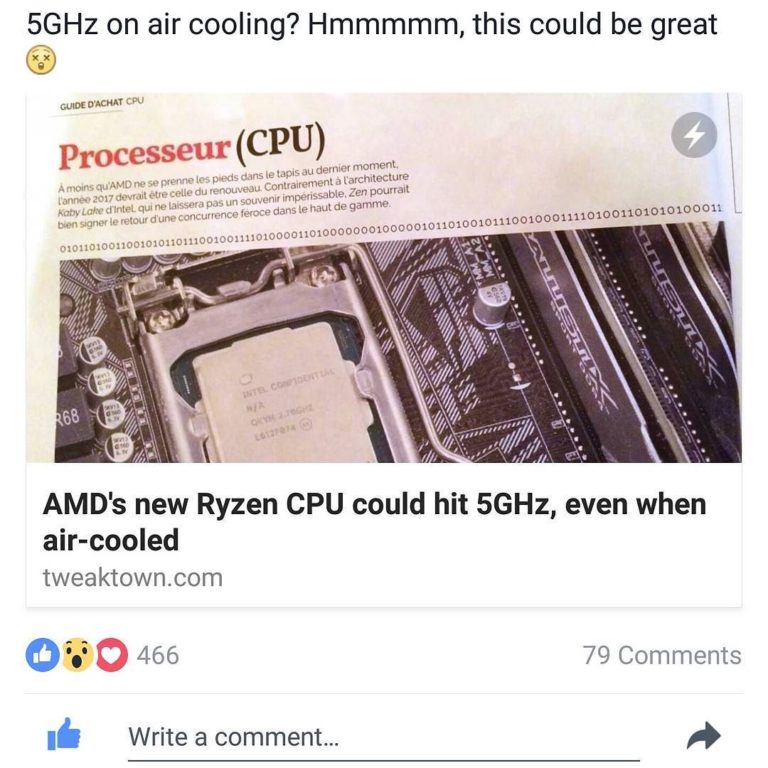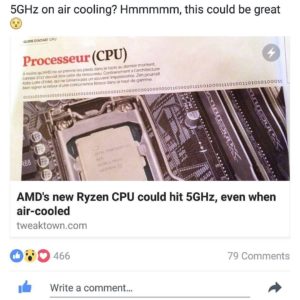 The hype is real, at least on the Internet. The rumour is that AMD Ryzen 5GHz is possibly one of the CPUs getting launched. Benchmarks are being made, real and fake alike, and it is a known fact that many PC users look for benchmarks before buying a processor. It shouldn't be a shock to assume that some of these benchmarks will be sponsored. But these contribute to the buzz that AMD Ryzen is making.
It is just because of the fact that Ryzen could be an alternative, PC enthusiasts have something to fuss about.
Will AMD Ryzen live to its hype?
Looking at the specifications, if they perform as described, there's no doubt Ryzen will be worth it. Many people are saving up for a Ryzen even now. The good thing is, there's nothing to lose in this because if Ryzen doesn't live up to its hype and is an average CPU, there will still be competition and prices will dip, even if only a bit. But if Ryzen lives up to the hype, the incoming dips are going to be substantial. It's a win-win situation.
Another thing to consider is that AMD is putting all their effort in Ryzen and they have invested a lot for its development. They need to prove to the fanbase they are still up and running, and this is their chance. AMD surely knows it and will do its best. Or so we hope.
The launch dates have still not been specified and assuming Ryzen kicks in the first quarter of 2017; this is the time the hype train will be at its peak.